+4,000 Reviews
...and counting!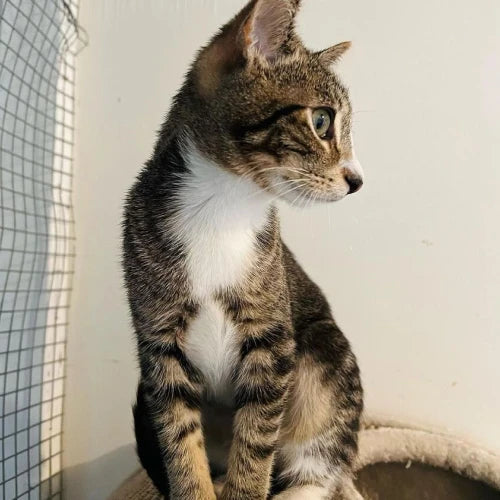 Michael W.
Verified Review
Your CBD oil has been a game-changer.
I was looking for a high-quality CBD product for my cat, and these chews fit the bill perfectly. She's more at ease, especially in new environments.
Melissa C.
Verified Review
Your CBD products are amazing!
I wanted to find a gentle option to support my cat's well-being, and this CBD oil has been a game-changer. She's been happier and more content overall.
Noticeable difference.
I purchased these CBD treats to help my cat stay calm during grooming sessions. They have made a noticeable difference, and she's more cooperative now.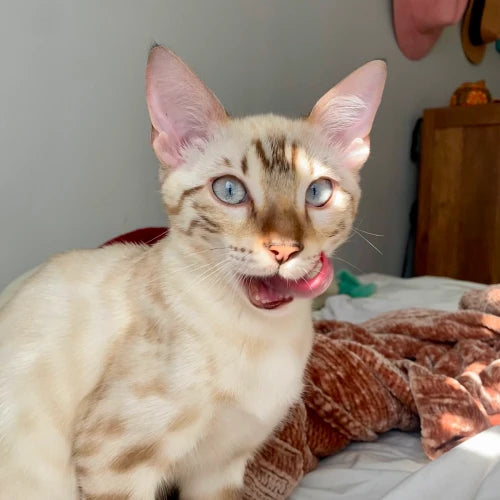 Jennifer C.
Verified Review
Irresistible treats, great value.
I can't say enough good things about these soft CBD chews for cats. My cat can be finicky, but she absolutely adores these chews. The quality is outstanding.

HolistaPet CBD For Cats
Our customers and their pets are the best, so you deserve the best! That's why all our CBD oil for cats products are made from hemp sourced in Colorado and Oregon (the top states for hemp cultivation). Our raw ingredients in our CBD for cats are natural. Furthermore, we only use what the industry refers to as "broad spectrum CBD oil" in our products. This means that our CBD oil has a wide range of cannabinoids and terpenes included — CBD as well as CBG, CBN, CBC — but no THC!
What Is The Entourage Effect?
Broad spectrum CBD oil is known to have a stronger effect then isolates (CBD-only products). This is because, with broad spectrum oil, other cannabinoids and compounds work together complementing each other to strengthen the CBD's effect. It's known as the entourage effect, and it is strongest in full spectrum products. Broad spectrum CBD oil also features the entourage effect.
CBD OIL FOR CATS
What Types Of CBD Products Are There For Cats?

We know your pet's health means the world to you, and they deserve the same high-quality ingredients in CBD for cats that you do. Fortunately, humans aren't the only ones who have great CBD oil products to choose from. Our feline friends also have many options when it comes to satisfying their CBD demands.

We carry various forms of natural, feline-friendly CBD oil including:

Cat Treats
Oil
Capsules
Soft Chews
What Is CBD And How Does It Work For My Cat?

Cannabidiol(CBD) is one of the most widely used compounds found in the hemp plant. Although hemp has many known chemical compounds, CBD oil has many of the same beneficial properties as marijuana but without the intoxicating "high" effect. This is why in the last few years CBD oil has been gaining a ton of attention from everyone including the government, professional athletes, the veterinarian field, and, of course, CBD for cats!

What Is The Endocannabinoid System And What Does It Do?

CBD works by activating your cat's endocannabinoid system (ECS). The ECS is an internal system involved in regulating many important body functions such as:

Mood
Appetite
Discomfort
Swelling
Memory
Is CBD Safe For My Cat?

One thing to be aware of when buying CBD oil for cats is that CBD products are not currently regulated by the FDA. It is important that you research CBD oil for cats before you give them to your cat.

Look For Lab Test Results

There are many different types of CBD oil products on the market. CBD oil can vary widely in quality. With CBD oil for cats, it pays to look for lab test results. Do not always go for the cheapest option, it may contain harmful additives. Lab results also specify THC amounts. THC is the psychoactive cannabinoid in hemp.

The Amount Of THC Matters

All our products use hemp-derived CBD oil for cats that contains0.3% THC or less. HolistaPet products will not make your cat high. Cannabis-derived products with higher levels of THC, though, might.

Can Cats Tolerate CBD Products?

CBD is a natural compound of the hemp plant and is generally well-tolerated by cats. Recent studies have revealed some potential side effects of CBD oil for cats, though they are mild and often disappear once your cat becomes used to CBD. Dry mouth and drowsiness tend to be the most common side effects in CBD for cats.

What Does The Research Say?

Research on CBD oil for cats and its benefits is ongoing, and the results so far have been promising.
How Much CBD Should I Give My Cat?

Because CBD is not regulated by the FDA or veterinarian bodies, there are no official dosage guidelines.

Are CBD Products Toxic To Cats?

CBD is a generally safe and non-toxic supplement that you can administer to your cat immediately. In order to get the best results, however, it is recommended that you consult your veterinarian. Using products that come from a trusted company will ensure that your supplements have clearly-marked and controlled dosage amounts. This will allow you to control how much you give your cat on a daily basis. You can give either a "regular" or a "strong" amount of CBD for cats to your pet.
Dosing Your Cat With CBD Oil

CBD oil for cats is available in a variety of strengths. How much CBD oil you can give your cat depends on how much CBD they can tolerate.

The following is a list of the most common dosages of broad spectrum CBD oil and the approximate amount of CBD your cat will receive per drop:

150 MG CBD (Bottle: 15ml / 0.5 oz): Pets under 20 lbs – 1 drop = 0.33 mg CBD, approx. 450 drops/bottle
300 MG CBD (Bottle: 15ml / 0.5 oz): Pets 20-60 lbs – 1 drop = 0.66 mg CBD, approx. 450 drops/bottle
600 MG CBD (Bottle: 30ml / 1 oz ): Pets 60-100 lbs – 1 drop = 0.66 mg CBD, approx. 900 drops/bottle
1200 MG CBD (Bottle: 30ml / 1 oz ): Pets over 100 lbs – 1 drop = 1.33 mg CBD, approx. 900 drops/bottle
3000 MG CBD (Bottle: 60ml / 2 oz): Pets over 100 lbs with severe issues – 1 drop = 1.66 mg CBD, approx. 1800 drops/bottle

The average weight of a cat is 8-10 lbs. For most cat owners, especially those new to CBD, it's recommended to use a 150mg CBD oil tincture since it provides a small amount of CBD per drop. This will prevent you from accidentally giving your cat more CBD than they can handle.

However, for a cat owner aware of their feline pal's CBD tolerance and dosing routine, you might want to consider using a larger-sized bottle for added convenience. Although larger bottles are more concentrated for larger pets (20-100 lbs), they have the added benefit of more CBD for cats per drop.

Not only will using a larger-sized bottle allow you to use fewer drops when dosing your cat's CBD, but you will also save yourself money in the long run since you'll get more bang for your buck, or in this case, more CBD per drop!
 CBD Oil For Cats
An oil (also known as tincture) is one of the most versatile CBD products for cats. Tinctures come in glass bottles and have a dropper conveniently incorporated into the cap for easy dosing.
Full spectrum oils contain trace amounts of THC. To avoid any THC toxicity for your cat, always use broad spectrum CBD oils. This type of oil is free of THC and contains CBD, other cannabinoids, and terpenes for a subtle flavor.
The most common carrier oil used in high-quality hemp-derived CBD oil is hemp seed oil. This nutritious superfood aids the absorption of CBD for your cat
What Makes A High-Quality CBD Product?

Finding quality CBD products for your cat shouldn't be hard. Thanks to companies like ours, we've prioritized safety, quality, and your cat's health over anything else.

At HolistaPet, we value quality and safety above all else. That's why you can expect the following from all our CBD products:

Broad spectrum CBD (contains CBD, other cannabinoids, and natural terpenes)
Contains no THC
Uses 100% all-natural ingredients
Non-GMO
Gluten-free
Dairy-free
No harmful additives or preservatives
Third-party lab tested with a Certificate of Analysis (COA)
Made from USA grown hemp
 Is Dosing The Same For All CBD Products For Cats?

Well, yes and no. While the amount of CBD your cat will benefit from remains the same across all products, you should also consider the other ingredients. 

For example, far less CBD will get into your feline friend's bloodstream when it's in the form of catnip spray compared to capsules. Most cats only give catnip spray a couple of licks until they're satisfied because the nepetalactone (catnip) is so prevalent. In this case, you don't have to be as concerned with dosing.

Capsules, on the other hand, deliver the entirety of their CBD dose to your kitty. When giving your cat CBD capsules or treats, you want to ensure you've got the correct dosage.

But no matter the product, calculating how much CBD your cat can handle will help you determine how much CBD you can give them. Use these simple formulas to calculate your cat its ideal CBD dose:

Regular Dose of CBD = (0.25 milligrams) x (Your cat's body weight in pounds)

Example: If your cat is 20 pounds, multiply their weight by 0.25 milligrams to get 5 milligrams of CBD (0.25 mg x 20 lbs = 5 mg CBD).

Strong Dose of CBD = (0.50 milligrams) x (Your cat's body weight in pounds)

Example: If your cat is 20 pounds, multiply his weight by 0.50 milligrams to get 10 milligrams of CBD (0.50 mg x 20 lbs = 10 mg CBD).

When giving your cat CBD, always start them off with a regular dose. If you notice your cat responding well to CBD or feel their regular dose isn't enough, gradually increase to their strong dose.
Frequently Asked Questions
Got questions? Well we've got answers! We've been pros in the pet CBD community for a long time now, but what good's all that knowledge and experience without someone to share it with? Below you'll find expert advice for commonly asked questions.
SHOP CBD CAT PRODUCTS
CO2 Extraction

The CO2 extraction process uses supercritical CO2 to extract the cannabinoids from hemp. This process is the cleanest method of CBD extraction because it leaves behind no solvents or chemicals for a clean, final product.

This method uses CO2 in a liquid state and any residual in the end product simply evaporates at room temperature.

Although CO2 extraction can be expensive and time-consuming, it's necessary to attain the highest-quality CBD extract possible. This is why at HolistaPet, we get all of our CBD with CO2 extraction for the best CBD oil and other products!
Where The Hemp Comes From Matters?

One thing to keep in mind when shopping for the best CBD oil for your cat is the origin of where the hemp comes from. CBD hemp oil is extracted from the hemp plant or the marijuana plant. It is legal throughout the USA and much of the world, only if the CBD is extracted from hemp. On the other hand, CBD extraction from marijuana is still a schedule 1 drug according to the DEA.

The reason you should pay attention to where the hemp was grown and extracted is that the USDA does not test or regulate import hemp fields or CBD extraction facilities. All hemp grown in the USA must follow strict guidelines set by three agencies. The United States Department of Agriculture (USDA), Environmental Protection Agency (EPA), and the Food and Drug Administration (FDA) work together to set and regulate legal hemp fields in America.
 Imported Hemp CBD Products

Imported hemp CBD products from outside the USA could be held to little or no regulations when compared to USA grown hemp and CBD products. Lower regulations usually convert to lower grade hemp and CBD products. How much pesticides, mites, and disease in import hemp could be unknown.

The origin of where your CBD oil for cats comes from should clearly state on the label or packaging of the product. If the origin is not on the label, it's best to assume that it is imported CBD.

We use CBD from USA Colorado-grown hemp in all of our products. The best CBD oil comes from a hemp field and extraction facility in the USA.

Imported hemp CBD products often use unregulated chemicals during the extraction process which they produce in huge volumes.
What Type Of Oil Do We Use To Infuse CBD?

Once the hemp is grown and the CBD extraction method is complete, the next step to making your cats CBD oil is the infusion process. If you are in search of the best CBD oil for your cat you should pay attention to what type of oil is in the product.

Ours is the best CBD oil for cats because it is a combination of two simple ingredients which are CBD oil (grown and extracted in Colorado) and 100% pure, Hemp Seed Oil.
Why Buy CBD From Holistapet?

Simply put – we carry the #1 vet-recommended CBD for pets online. Before we started HolistaPet, we noticed a lack of high-quality CBD for pets being sold online. We decided to fill that void. Every single batch of our CBD is lab tested by a third party for potency to ensure that your cat receives a precise dosage.

We only use all-natural ingredients in our CBD oils for cats. Our ingredients are always NON-GMO and we NEVER put any wheat, animal by-products, cornmeal, artificial flavors, or colors in any of our products. We believe your cat deserves to be eating just as healthy as you are!

HolistaPet is a brand you can trust to always deliver consistent and quality products, on time. We offer a 100% satisfaction guarantee on all of our CBD products or your money back.
Where Do You Ship CBD Products?

HolistaPet strives to deliver the best CBD for cats to your door no matter where you live in the United States or any other country listed on our FAQs page. To check if your country qualifies for shipping, just look under the "can you ship to my state or country" section. There you will find a list of countries that we currently ship to.

We ship to all 50 states in the US. We can ship to you no matter which state you live in. Our CBD for cats is made from 100% industrial hemp and contains NO THC. You can be assured that our products will not get your pet high.
Will CBD Get My Cat High?

Rest assured, cat owners, CBD will not get your cat high! CBD products designated as broad spectrum contain all the compounds derived from hemp except THC. All of our products on HolistaPet are broad spectrum to ensure your cat receives the optimal benefits of CBD without an overwhelming buzz.

Can I Give My Cat CBD Along With Other Medications? 

We don't recommend that you stop giving your cat medication prescribed by your veterinarian before consulting them. While there may be medications that could have possible interactions with CBD, with the help of your veterinarian, there are ways to still administer CBD to your cat! 

As previously mentioned, 60% of all medications are metabolized in the liver via specific enzymes it produces. Drugs often used for pain relief in animals such as NSAIDs (anti-inflammatory drugs), Tramadol, Gabapentin, or Prozac rely on these enzymes. This does not mean your cat can't take CBD; it just means that you have to be careful when dosing at first. 

It's important to note that CBD products can make certain pet medications less effective. The potential for adverse reactions not only depends on the CBD oil and the medication but also on your pet's body chemistry. It is recommended to administer CBD oil two hours before or after administering your cat's medication or supplements. 

We know how important your cat is to you and your family, which is why we urge you to seek the assistance and guidance of your veterinarian. It's important to fully understand how CBD can affect your cat before giving it to them!
How Can I Get My Cat To Take CBD?

The most common ways to get your cat to take hemp CBD are:

Oil tinctures: The versatility of pet CBD oil allows you to dose it in several ways. You can place some drops directly into your cat's mouth, put some underneath their tongue, or add a few drops to their food or drink.
Treats: Soft chews and baked treats often come packed with flavors that cats will appreciate.
Capsules: You can hide the capsule in your cat's favorite treat or crack it open and sprinkle the contents onto their food or into their drink.

What Do You Do If Your Cat Is A Picky Eater?

If your cat is a picky eater and finds the taste of CBD unappetizing, then you can use a CBD-infused catnip spray to give your cat the relief they need. Simply spray the catnip on their favorite toy, scratching post, or wherever your cat typically hangs out to provide them with some relief.

Make Giving Your Cat CBD Into A Daily Routine

The key to success for giving your pet CBD oil is to make it into a daily routine. By incorporating CBD products into your cat's daily health and wellness routine, your cat will become accustomed to taking them, and in turn, increase the effectiveness of CBD. Give one dose in the morning and one dose at night. Make sure to separate both doses by at least 8 hours.
Can I Add CBD Oil To Cat Food?

Yes, you can add CBD oil (or hemp oil) to your cat's food. In fact, adding CBD oils to cat food is one of the most effective ways to dose CBD for your cat. Just place a few drops on your cat's food or into their drinking bowl, and voila, you've given them CBD!

Can I Add CBD Oil To My Cats Water Bowl?

Yes, pet owners can add CBD oil to their cat's water bowl! However, because cats drink by lapping the surface of the water, they are more likely to taste the strong, earthy flavors of CBD cat oil. Give your cat some time to adjust to the flavor by easing them in with smaller doses.
Will CBD Make My Cat Sleepy?

CBD shouldn't make your cat sleepy, but it may provide more relaxation that can lead to deeper and fuller sleeps. If you give them a higher dose than they're used to or recommended to take, they may become slightly more drowsy or fatigued.
Is Hemp Toxic For Cats?

Hemp can be mildly toxic to cats if ingested, but the toxicity isn't from the hemp plant itself. The issue lies in THC, which is only present in trace amounts in hemp plants. Fortunately, HolistaPet offers broad spectrum products. "Broad spectrum" means the product has no THC at all. When buying CBD oil or other products for your feline friend, opt for broad spectrum.
What Are Some Other CBD Products For Cats?

Besides CBD oil, there are other forms of CBD for cats. For example you can get some catnip spray or a balm. The spray can be applied to an area you want your cat to focus on, while the balm can be rubbed onto the cat's skin. These products may promote relaxation, support normal emotional balance, and aid normal digestion.

Additionally, there are CBD treats and capsules that can be given to cats. While there is limited research on the effectiveness of CBD products for cats, many pet owners report positive results. If you're considering giving your cat a CBD product, it's important to speak with your veterinarian first to make sure it's safe.

As you can see, if you're not interested in CBD oil for cats, there's still plenty of options!
Follow us for more!
Welcome to our HolistaPet community! Discover the latest and greatest tips, tricks, and stories from fellow pet lovers like you.