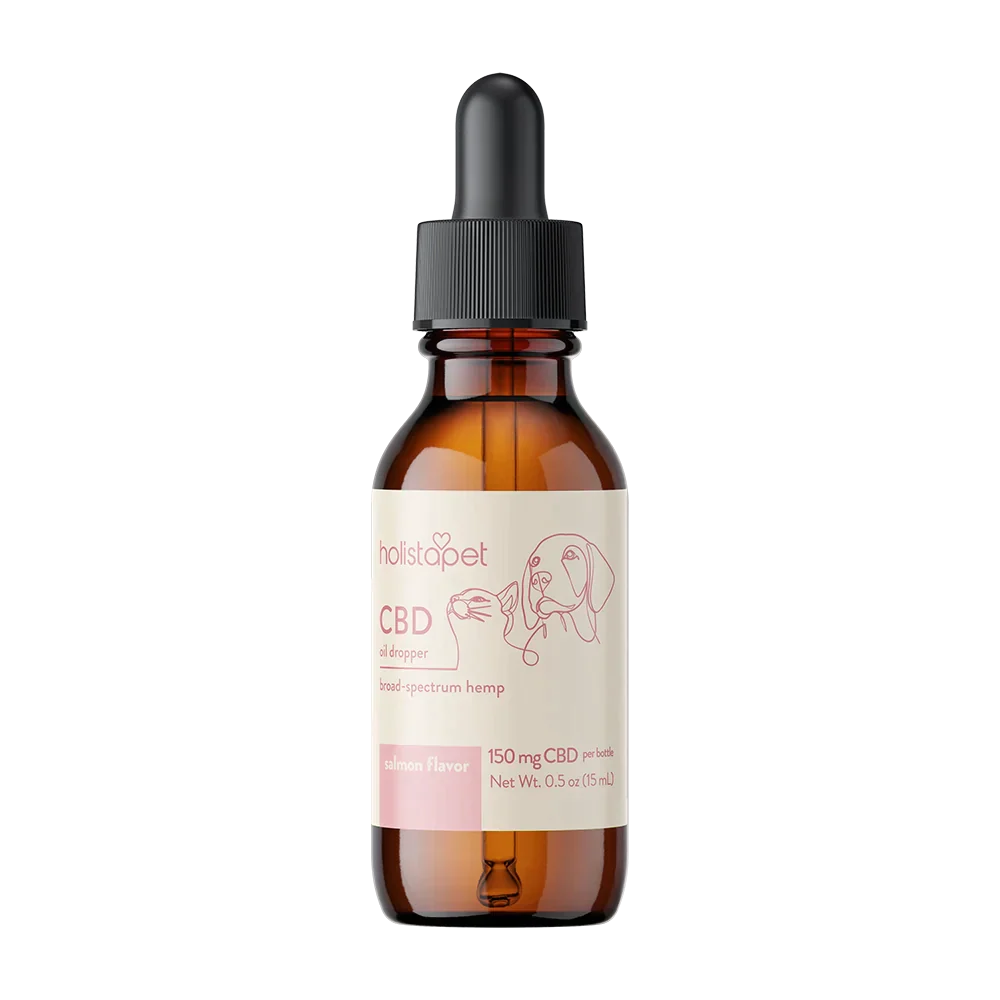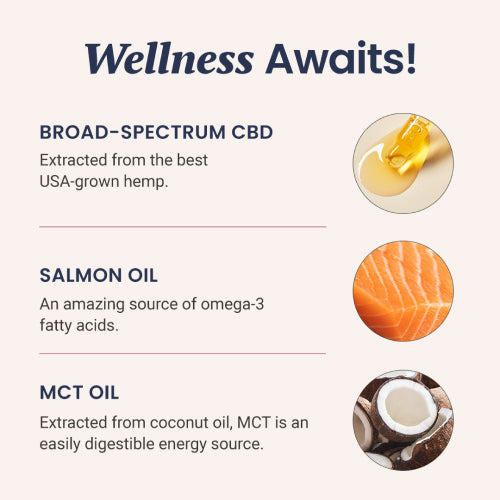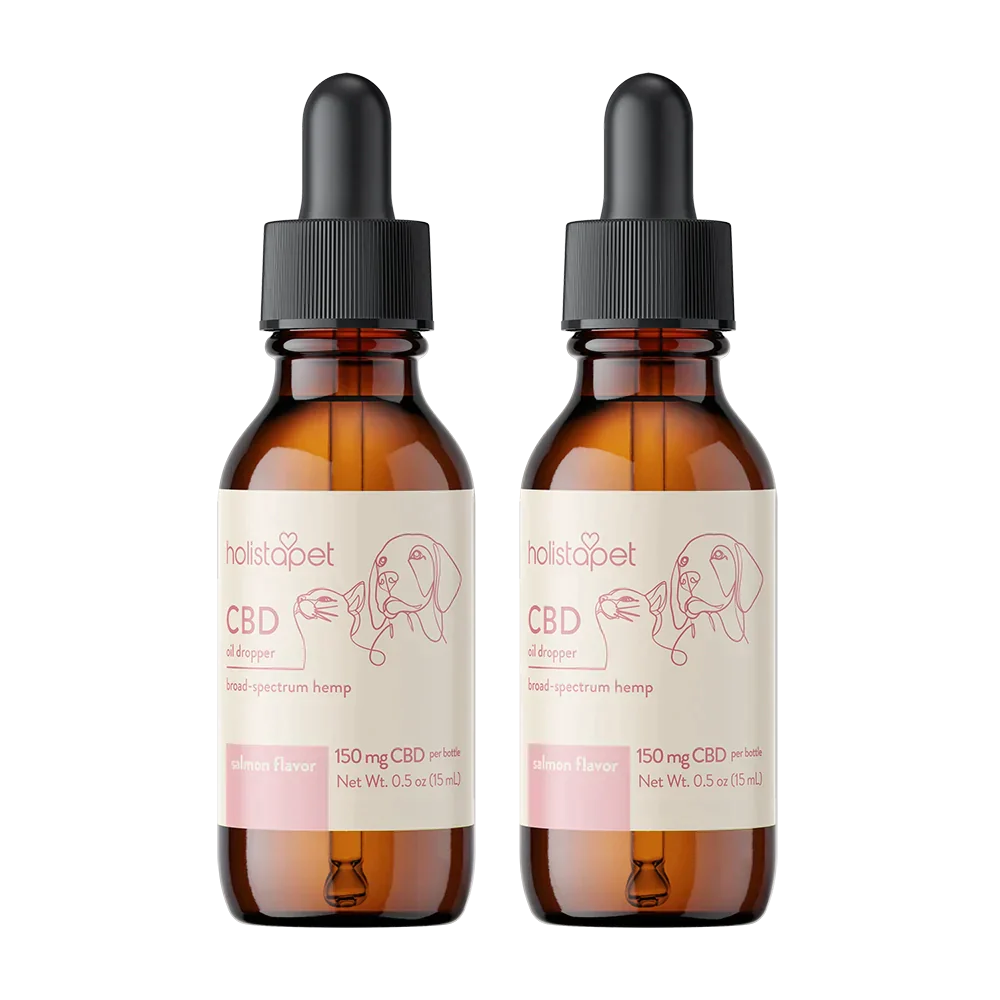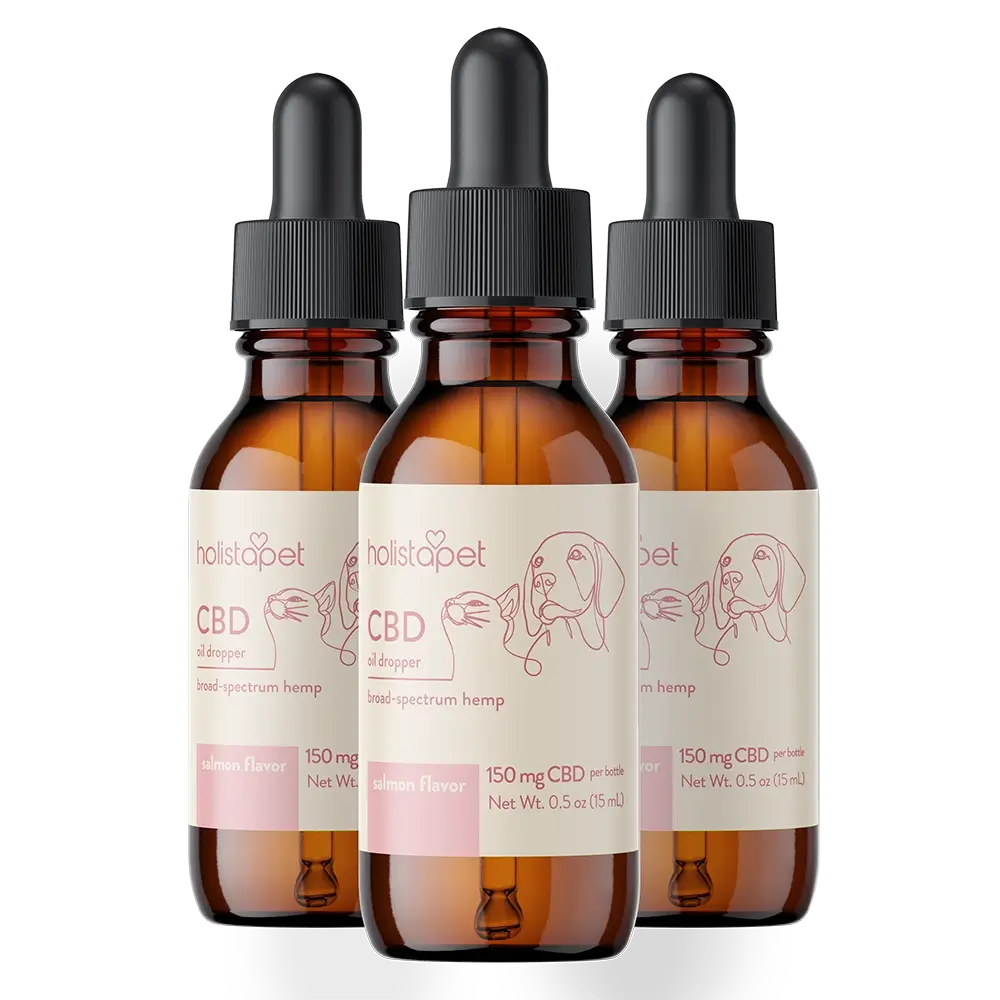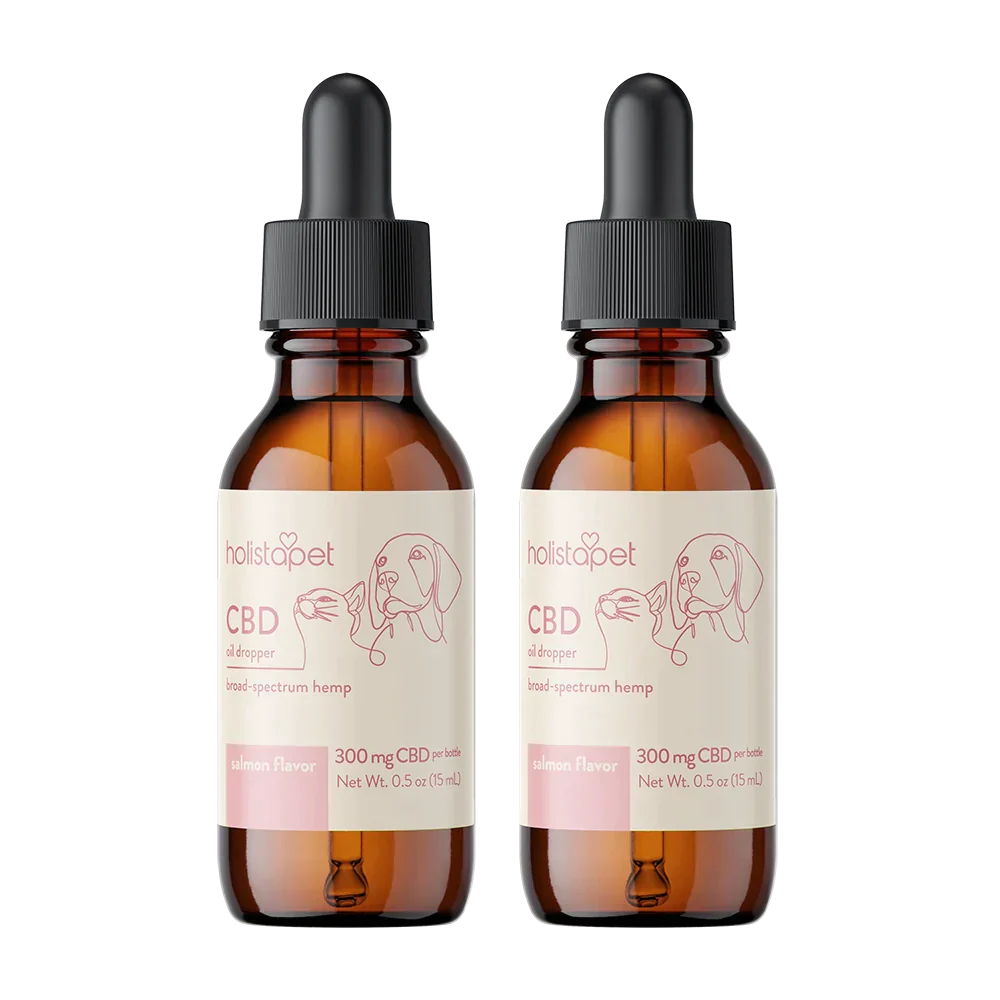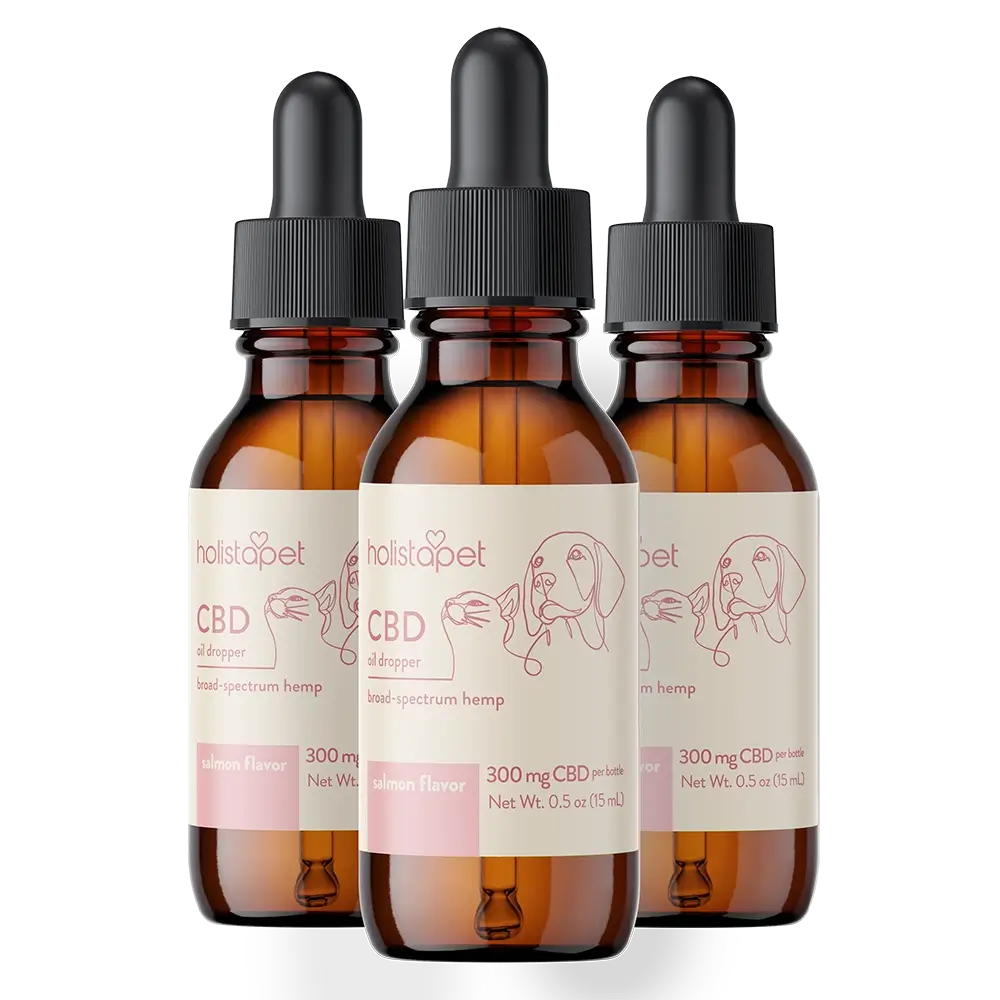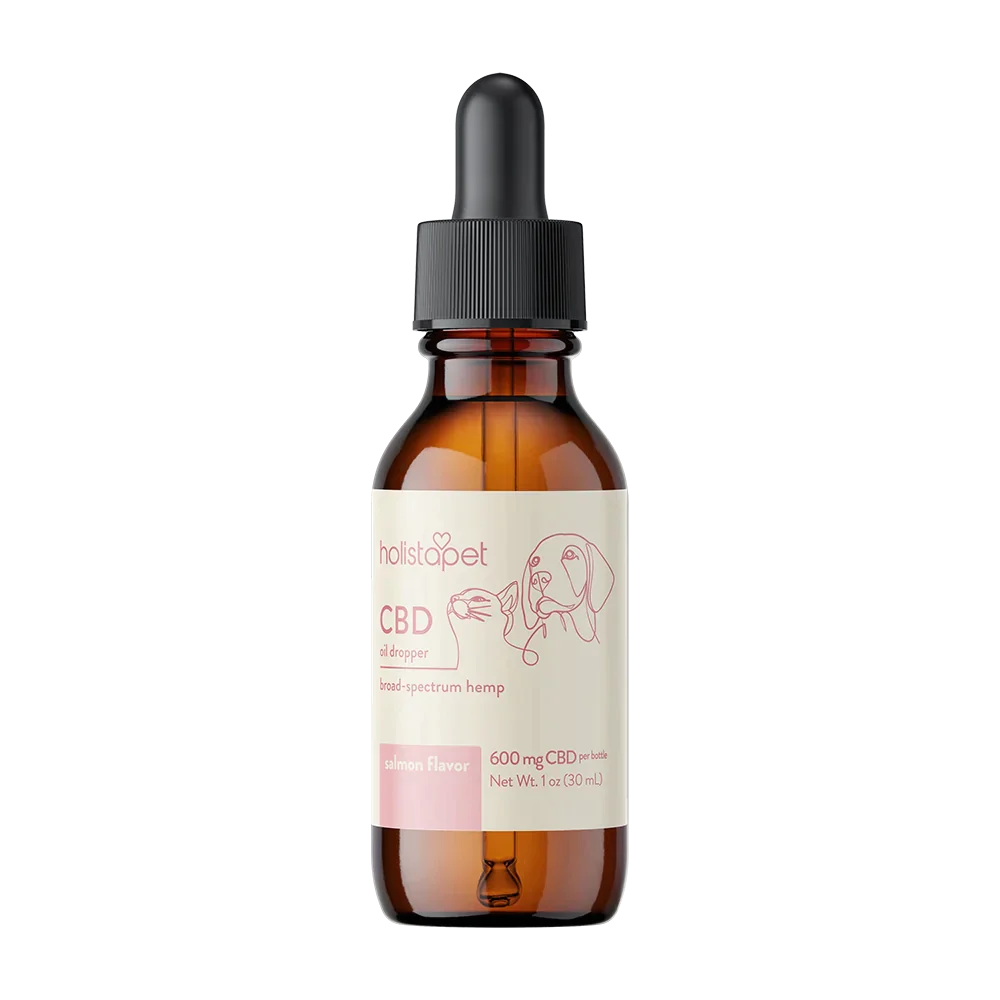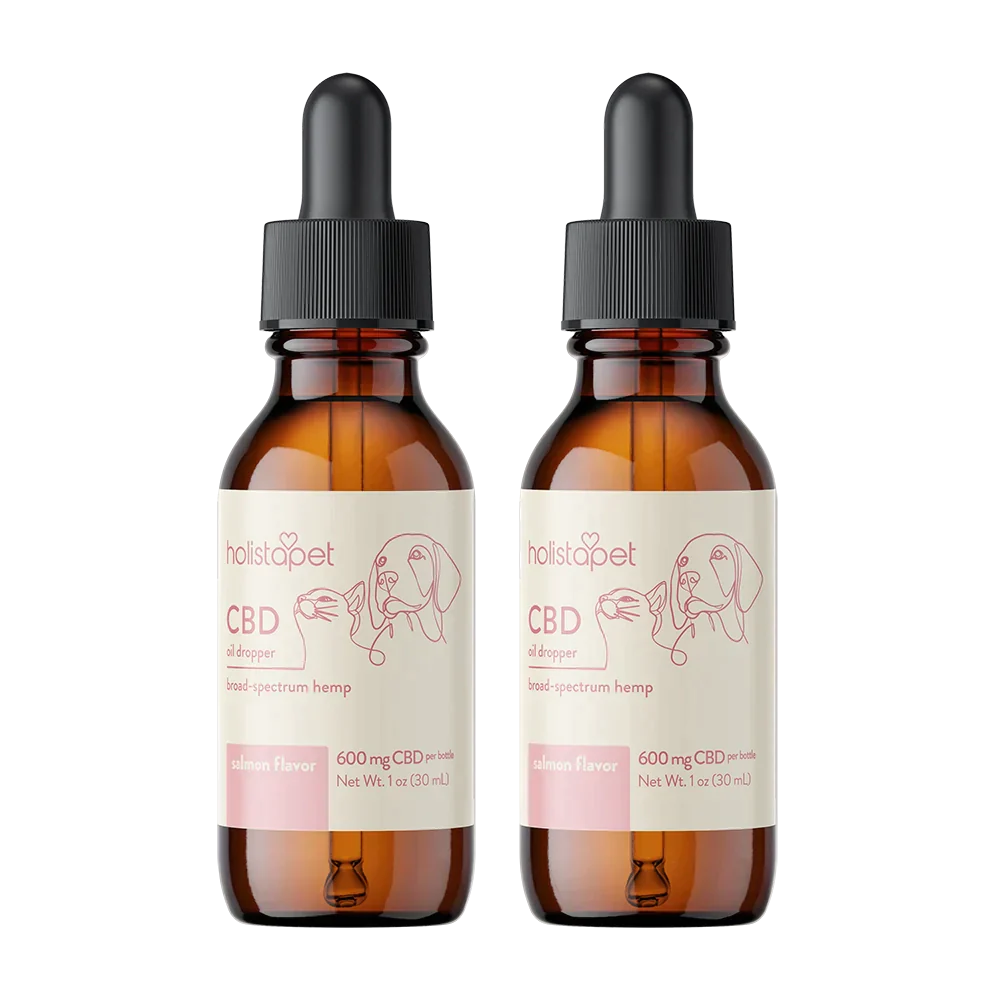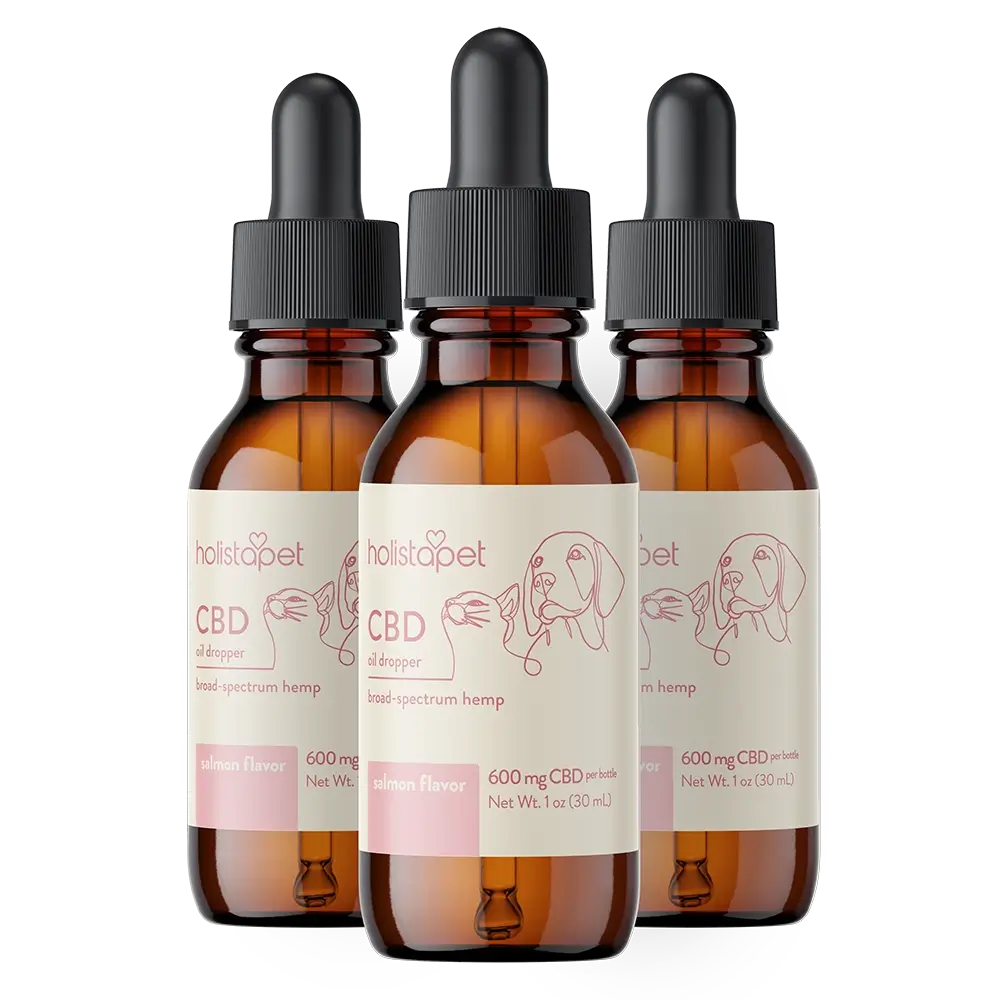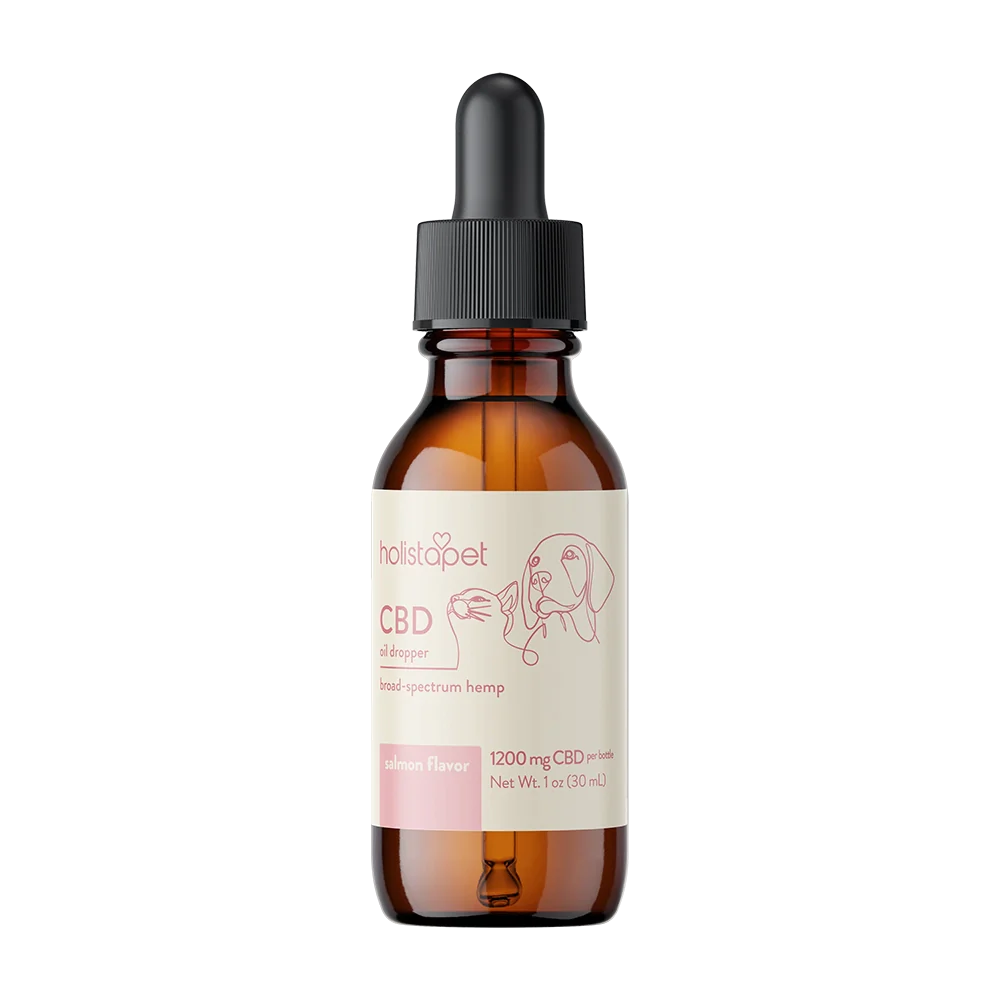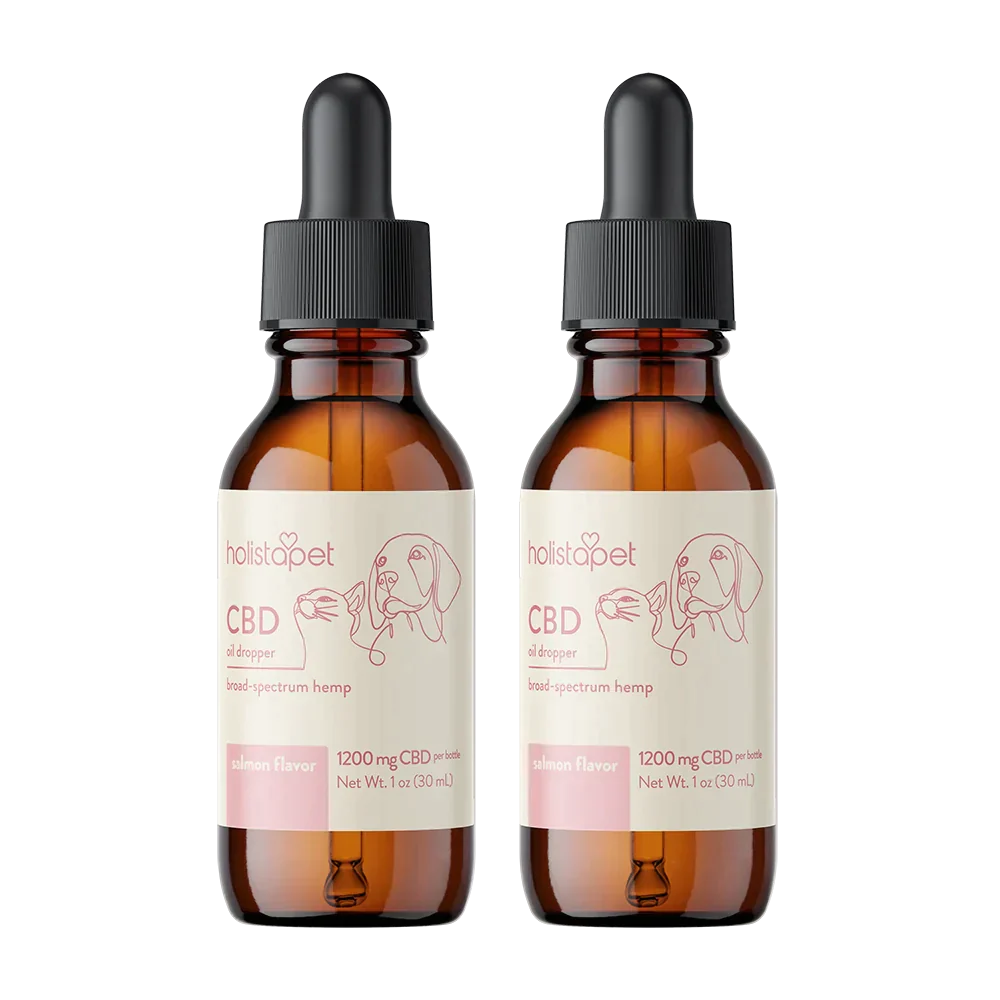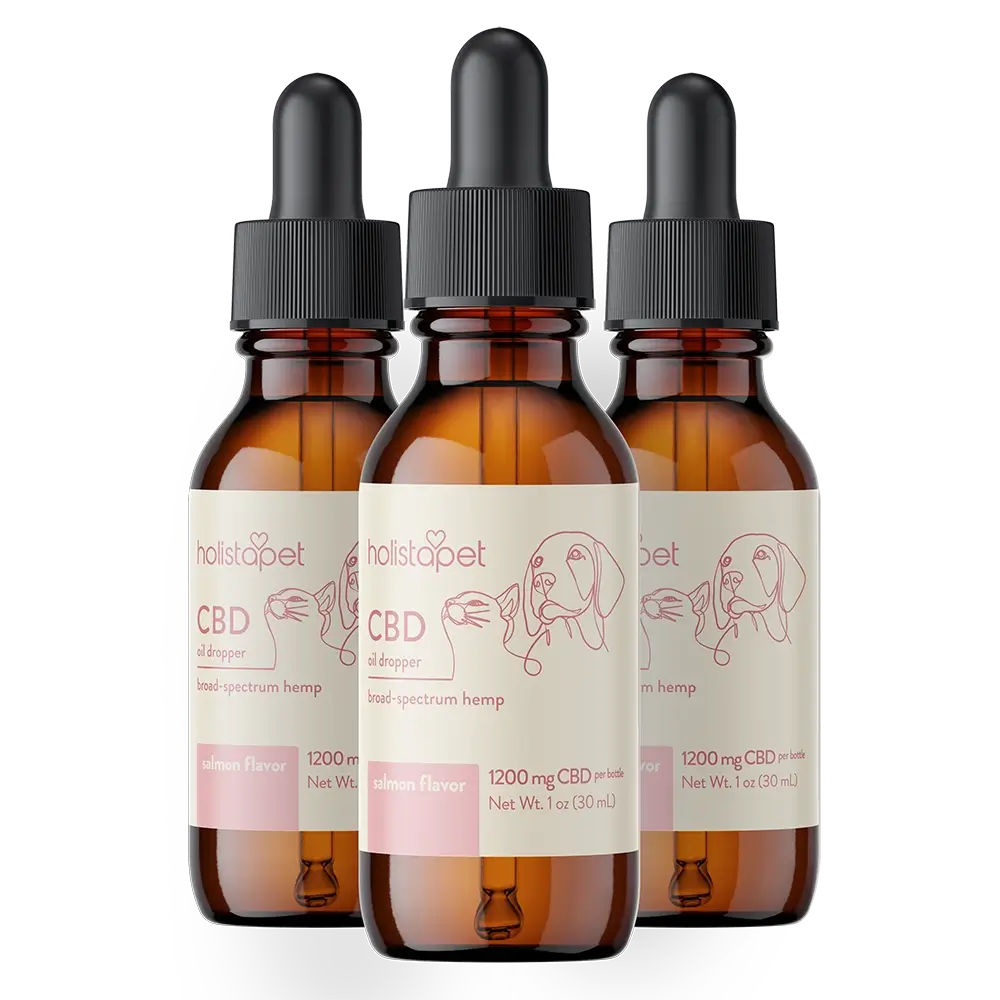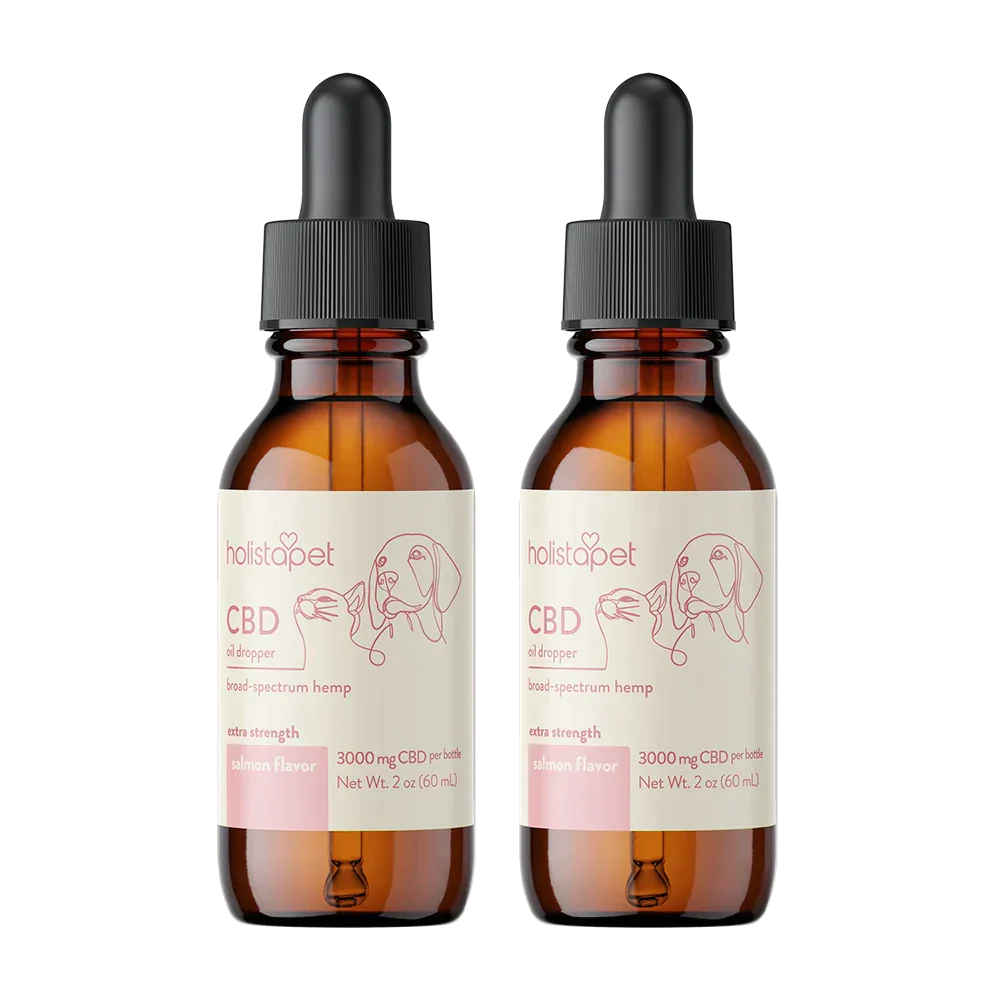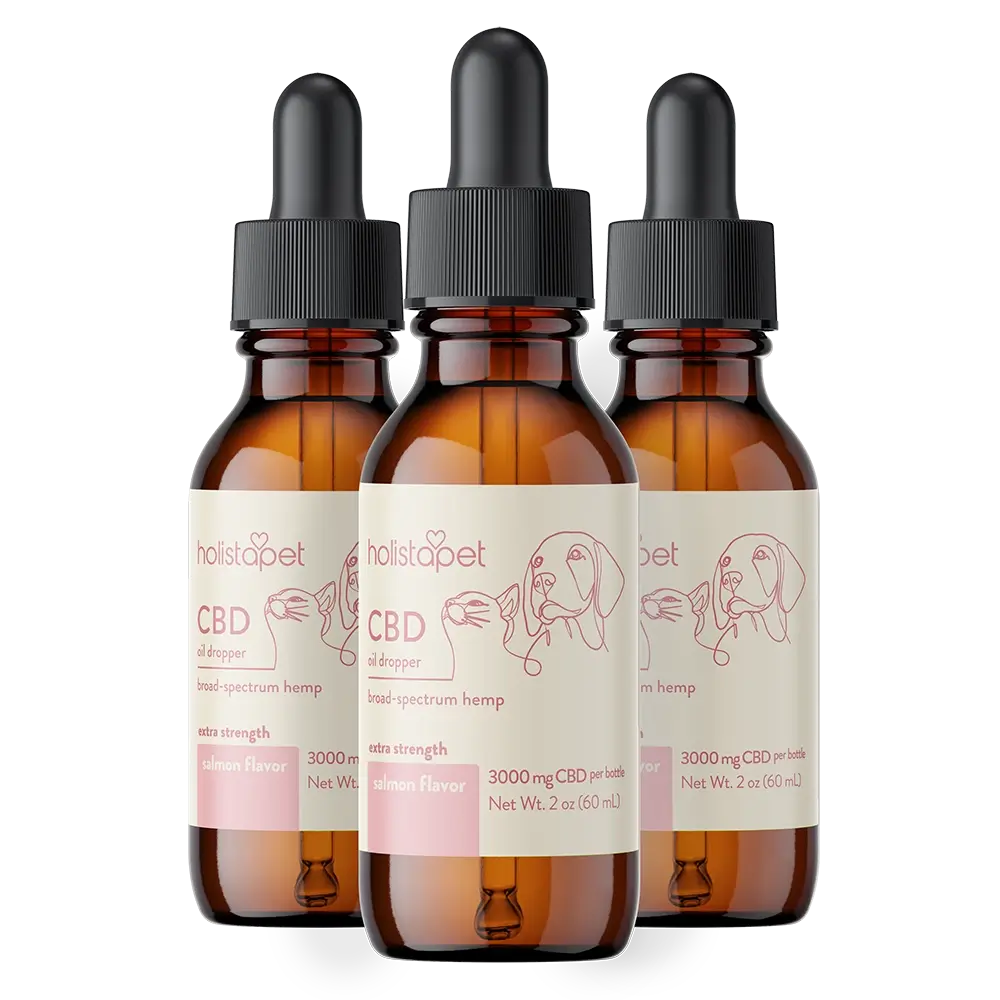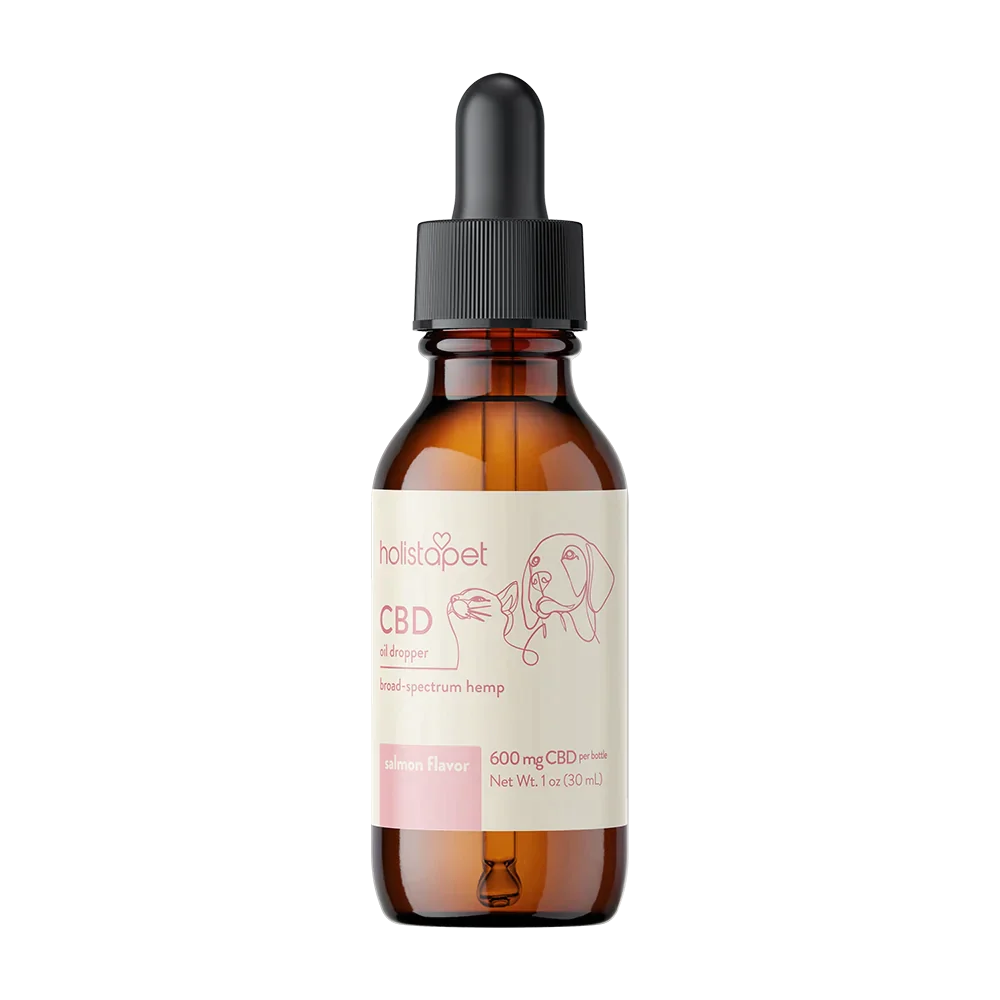 Salmon Flavored CBD Oil For Cats
Indulge your feline companion with the delightful taste of our Salmon Flavored CBD Oil for Cats. Specifically formulated for pets, this concentrated oil is packed with broad-spectrum CBD and other beneficial cannabinoids to support your cat's well-being. With 0% THC and 100% natural ingredients, including organic superfoods, our oil provides a non-psychoactive and wholesome option for your beloved furry friend. Simply drop it directly into their mouth or mix it in their water or food, following our Pet CBD Dosing Chart for tailored dosage guidelines based on their weight.
Benefits

We generally recommend between 0.25 mg (a Regular Dose) to 0.5 mg (a Strong Dose) of CBD per every 1 lb of bodyweight. See our Pet CBD Dosing Chart for specific product dosing guidelines about your products.
Serving Size

We generally recommend between 0.25 mg (a Regular Dose) to 0.5 mg (a Strong Dose) of CBD per every 1 lb of bodyweight. See our Pet CBD Dosing Chart for specific product dosing guidelines about your products.
Unlock your full potential with HolistaPet by joining our club today - offering the most substantial discounts and exceptional rewards, all for just $95.
30% off every order
2X rewards points
FREE shipping on all orders
Exclusive special offers
We donate 10% of your membership fee to help save the lives of shelter animals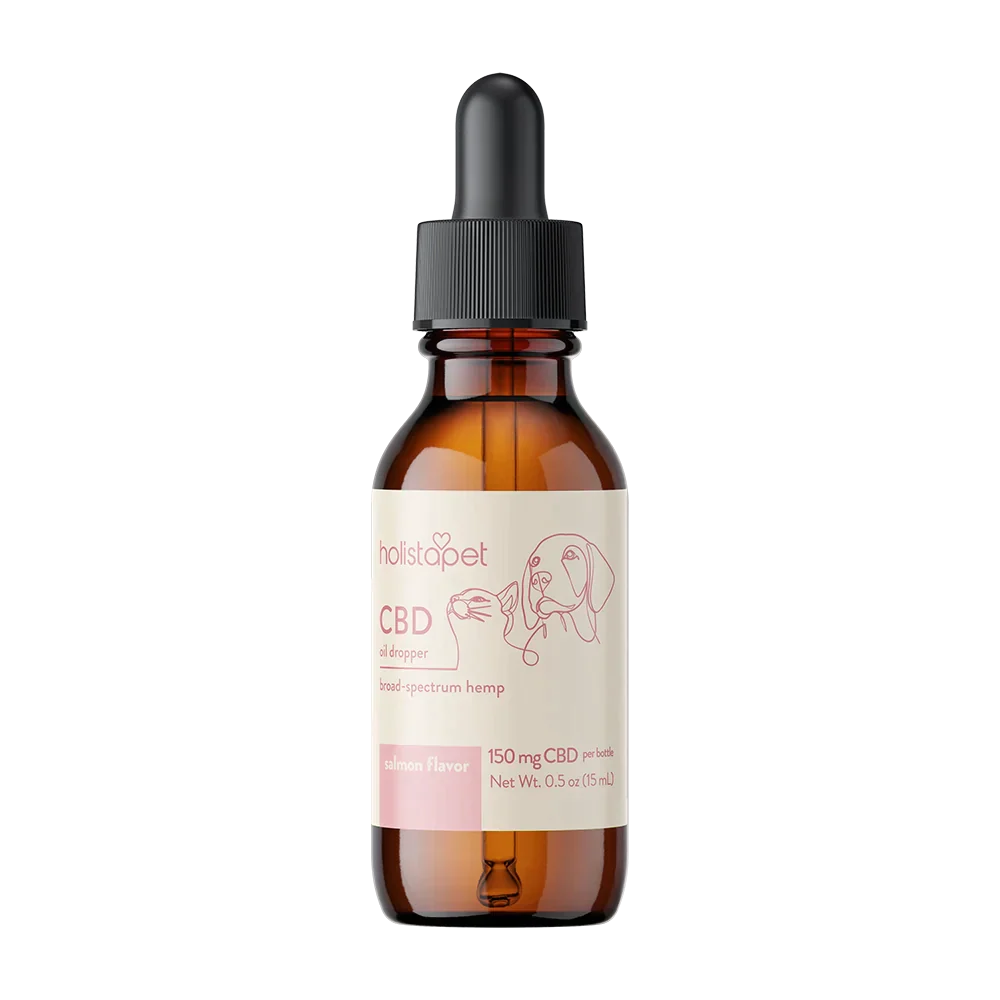 Featured In:

This product is rated 5.0 of 5.0 stars.
It has received 1 review.
Working great
My Bombay, Sin, has been having seizures and I was not comfortable with the dosing of gabapentin. I could not give him much of the unflavoured CBD, but he has no problem with this flavoured CBD. The best part is that he has not had a seizure in nearly three months and is taking a fraction of the gabapentin. I'm very happy with this product.
$1
Of every product gets donated to help rescue shelter animals!
$53,836
Has been donated since the 2023 launch of HolistaPet Helps!
CBD Oil For Cats Salmon Flavor
If you are searching for an effective and natural approach to helping your cat live their best life, try adding our CBD Oil for Cats Salmon Flavor blend to their daily routine. Your cat will enjoy the delicious taste, and you'll appreciate the benefits it provides, such as supporting skin health, easing anxiousness, supporting mobility, and more!
SHOP CBD OIL
What Is CBD With Salmon Oil For Cats?

Our CBD oil for Cats Salmon Flavor blend is a delectable and beneficial wellness oil that can help boost your feline friend's well-being. We derive our premium CBD oil from hemp plants and extract Cannabidiol (CBD), a primary cannabinoid, to produce a tasty CBD salmon oil that your cat will love. By simply adding a few drops of this golden oil to your pet's routine, you're helping them feel and look their best.

Many pet parents have turned to CBD oil for their feline friends as a natural way to address a range of issues, including stress, discomfort, and overall wellness. Our salmon-flavored CBD Oil provides a healthy, natural method to promote your cat's overall health and happiness.

We're proud to offer a high-quality and tasty CBD salmon oil for cats. We use only the finest ingredients and never include any artificial additives. We take great care to extract CBD from premium hemp plants to ensure maximum purity and potency. With the addition of salmon oil containing omega fatty acids, our salmon-flavored CBD Oil delivers even more wellness benefits!

Ingredients For Salmon Oil CBD Cat Tincture

We believe all pets deserve high-quality CBD oil, made with the healthiest and most natural active ingredients to help them live a happy and healthy life. Our broad spectrum CBD Oil for Cats contains hemp-derived CBD, natural salmon oil, and coconut-derived MCT oil. You won't find any artificial flavors or colors in our premium tincture for cats!

Because we include real salmon oil, you're also giving your cat salmon oil loaded with amazing omega fatty acids and amino acids. They have helpful health benefits on their own, and together, they accentuate the power of CBD!

To create our CBD Oil tinctures, we blend them with MCT oil because it enables your cat's body to naturally absorb our CBD Oil more efficiently. Unlike other brands that use olive oil or coconut oil for their CBD oil tinctures for cats, we choose MCT oil because of its numerous health benefits.
How Does CBD Oil With Salmon Oil For Cats Work?

When your cat ingests broad spectrum CBD oil, it enters their endocannabinoid system (ECS). Every cat has an ECS, a vital network in their body comprised of cell-signaling receptors in their major organs and brain. The ECS helps optimize several key processes important to cats and their everyday wellness. These biological processes include mood, mobility, digestive health, and rest. Together, all of these factors contribute to a balanced, active, and healthy life.
What Are The Benefits Of CBD Salmon Oil For Cats?

Many cat owners opt to give their feline friend broad spectrum CBD oil because of its various wellness benefits, promoting overall health and well-being. From cute kittens to elder cats, CBD oil can be a lifesaver to: 

Ease discomfort and stiffness associated with daily activities
Soothe daily stressors and jittery behaviors
Support good heart health
Encourage a strong immune system
Help with seasonal allergies
Promote healthier appetite
Support healthy skin
Provide deeper and fuller sleep
And much more!

Incorporating our CBD Oil for Cats with natural salmon oil and other healthy ingredients into your cat's daily routine is an excellent way to ensure they get the essential nutrients needed for better wellness!
How Much CBD Oil Should I Give My Cat?

If you're considering giving your cat our CBD Oil for Cats Salmon Flavor blend, it's important to understand how to determine the proper dosage. When shopping for CBD oil, you'll encounter various portion sizes, as well as broad spectrum, full spectrum, and whole plant extract options. To find the right amount of CBD oil for your cat, it's recommended that you start with a lower dosage, gradually increasing it over time.

There are no official guidelines for CBD oil dosages for all our furry friends, so you'll need to consider factors such as your cat's weight, age, diet, overall health, and fatigue level. When starting, it's best to give your cat a microdose of 0.25mg of CBD per pound of body weight to ensure they can handle it. From there, you can increase the dosage based on how your cat responds. Let's examine this a little further in the next section and determine exactly how much CBD is recommended for your cat.

Calculating How Much CBD Oil To Give Your Cat

To calculate the right amount of CBD oil for your cat, you'll need to know their weight and use a calculator. A good rule of thumb is to start with 0.25mg of CBD per pound of body weight for a regular dosage. For a stronger dosage, you can double the potency to about 0.5mg of CBD per pound of body weight.

For instance, if your cat weighs 10 pounds, a regular portion would be 2.5mg of CBD, while a strong portion would be 5mg of CBD. Keep in mind that the dosage may need to be adjusted based on your cat's individual tolerance level. Your cat's regular and strong doses are intended to be a range of what they can approximately handle; these dosages are not absolute, nor should they be taken as such.

It's important to consult your vet before giving your cat CBD oil, especially if they take other medications or have any underlying medical conditions. By following these guidelines and keeping in contact with your vet, you can ensure that your cat gets the proper amount of CBD oil to support their overall health and well-being.
How Do I Administer CBD Oil To Cats?

One of the greatest advantages of CBD oil products with natural salmon oil is their ease of use. You can quickly administer them to your pet to see quick and effective results. Simply add the CBD tincture drops to your pet's food or water bowl or apply them directly to their mouth with the convenient dropper top!
Is CBD Oil With Salmon Oil Safe For Cats?

CBD oil is considered safe for cats, as it lacks intoxicating properties. This means very little risk is associated with giving your pets CBD oil. There have been no reported cases of serious harm or injury resulting from giving CBD oil to cats, and there is no known toxic dosage for pets. However, that doesn't mean you should be relaxed in your dosing. Always exercise caution and stay within your cat's ideal range.
What Are The Possible Side Effects Of CBD Oil For Cats?

CBD oil is known for having very few side effects, and even if you accidentally give your cat too much, they will most likely be okay. The side effects of CBD oil for cats are generally mild and short-lived, typically lasting a few hours.

Some of the possible side effects that your pet may experience include: 

Dry mouth
Drowsiness or sleepiness
Upset stomach or nausea
Diarrhea

It's important to remember that each cat may react differently to CBD oil, so keeping a close eye on them when administering it for the first time is crucial. We always recommend starting with a lower dose and gradually increasing it until your cat achieves desired results. If you have concerns about how your pet may react to CBD oil, it's always best to consult a veterinarian for more detailed advice.
Where Can I Buy CBD Oil For Cats With Salmon Oil?

Your best option is to shop online with reputable pet wellness brands like ours! Online shopping allows you to ensure your cat's favorite salmon-flavored tincture is on sale. Also, you get the convenience of shopping from the comfort of your home and having your order delivered right to your doorstep. Having trouble finding a trusted salmon-flavored CBD oil for cats? No need to worry — you've already found it here at HolistaPet!

At HolistaPet, you can find natural salmon-flavored CBD oil designed specifically for cats. As a well-respected pet wellness company, we provide high-quality and reliable CBD products for pets. Our commitment to delivering the best possible products for your fantastic feline is reflected in our rigorous quality and safety standards.

We understand that your pet's well-being is of utmost importance to you, so we are dedicated to delivering exceptional products you can trust. Shop our CBD Oil for Cats today and experience the HolistaPet difference.
Why Choose HolistaPet Salmon Oil CBD Oil For Cats?

At HolistaPet, we understand that your pet's health and well-being are a top priority, and we strive to provide the best products and services to help you care for your cat. As fellow cat owners, we know what it takes to give your furry companion the care they deserve.

Our CBD oil for cats is made with premium hemp and is free of harmful additives or preservatives. We also subject our products to rigorous third-party testing to ensure they meet our strict quality standards and are heavy metals-free.

In addition to our high-quality products, we offer several other perks to our customers. For example, we provide:

 

Orders of $50 or more always qualify for free shipping when you join our HolistaPals rewards program. Buying tinctures all the time for your kitty? Level up and become a HolistaPal+ member for a low annual fee and receive free shipping on every order forever!
You can save 15% on every order by joining our free subscription service. Choose from bi-weekly or monthly deliveries.
We also offer a hassle-free 30-day return policy, and you can stay up-to-date on our latest sales and products by subscribing to our newsletter.

We take pride in providing our customers with the best possible experience, so if you have any questions, please don't hesitate to contact our friendly, knowledgeable, and prompt customer service team.
Final Thoughts – CBD Oil For Cats – Salmon Flavor

HolistaPet's CBD Oil For Cats with salmon oil is a natural, holistic solution to support your pet's overall wellness. Our high-quality CBD Oil for Cats Salmon Flavor blend is perfect for cats experiencing age-related issues, stress, or sleep disturbances. You can easily tailor a unique daily routine to suit your pet's needs, as our CBD Oil is versatile and easy to administer.

At HolistaPet, we prioritize your and your pet's well-being. We believe every pet deserves exceptional care and are dedicated to providing it. Give our premium CBD products a try for your kitty cat today and experience the difference!
FAQs About CBD Oil With Salmon Oil For Cats
Despite our best efforts at explaining all there is to know about CBD oil for cats, we know that you may still have some lingering questions that need answering. Don't worry, we're here to cover all the bases regarding this life-changing addition to your cat's health and wellness routine. Here are some of the most frequently asked questions about CBD oil for cats and their answers.
SHOP CBD OIL
What Is CBD?

CBD, which stands for Cannabidiol, is a natural compound in the hemp plant. It's considered a primary cannabinoid and has been shown to promote balance and overall wellness in cats, dogs, horses, and humans alike.
Will CBD Oil Get My Cat High?

No, CBD oil will not get your cat high no matter how much they consume, so you don't have to worry about your cat feeling intoxicated. CBD affects cats like it does most mammals, typically without intoxication.
Is CBD Oil With Salmon Oil Safe For Cats?

Our CBD Oil For Cats with salmon oil is safe for cats to enjoy. If they overdo it, they may experience slight discomfort that will gradually dissipate over time.
How Long Does It Take For CBD Oil To Work In Cats?

It takes approximately 45-60 minutes after ingestion before your kitty will feel CBD's pleasant effects.
How Long Do The Effects Of CBD Oil For Cats Last?

CBD's effects last approximately 6-8 hours after consuming it.
When Should I Give My Cat CBD Oil With Salmon Oil?

We recommend giving your pet CBD in the morning to allow them to experience the wellness benefits throughout the day. However, if you anticipate a stressful event such as fireworks, traveling, moving, or anxiousness from separation, give them our CBD Oil Salmon Flavor blend about 45-60 minutes prior to the event. This allows time for the CBD to take effect and potentially help reduce the effects of certain stressors.
Can I Give My Cat CBD Oil Every Day?

Yes, you can give your cat CBD oil every day! Daily consumption is the best way to provide optimal wellness for your best friend and ensure they receive the best results from CBD oil.
How Should I Store CBD Oil For Cats?

To maintain the quality of your CBD oil, proper storage is key. It is recommended to keep the oil in its original glass dropper bottle as it's sturdy and free from contaminants. This will help preserve the tincture's purity.

It's important to store your bottle upright and avoid storing it sideways to prevent leakage. Additionally, you should store your CBD oil away from direct sunlight and heat. Place your tincture in a cool and dry place. Finally, make sure to keep it out of reach of children and pets.
Can I Give My Cat CBD Oil Along With Other Medications?

In general, it's safe to give your cat CBD when they're taking other medications. Before administering our CBD Oil with Salmon Flavor to your cat, it is crucial to consult with your veterinarian, as they can provide valuable guidance on dosage, potential interactions, and the need for more filters to ensure your feline friend's well-being.
Can I Give My Cat CBD Oil On An Empty Stomach?

Yes, you can give your cat CBD oil on an empty stomach. Giving your cat CBD oil on an empty stomach is not a problem at all, as it helps your cat's body absorb CBD faster!
What To Do If I Give My Cat Too Much CBD Oil?

If you accidentally give your cat too much CBD, don't worry. The side effects are usually mild and disappear after a few hours. But, if you notice your cat is experiencing prolonged side effects, it's best to take them to their veterinarian for proper medical attention.
How Do I Know Which Dosage Strength To Choose For My Cat?

To find the right amount of CBD to give your pet, it's best to start with a microdose and gradually increase until you notice the desired effect. The ideal amount of CBD for your cat will depend on their body weight, health history, and how well they tolerate CBD. Please see our section about calculating your cat's regular and strong dose of CBD to get an approximate range of how much they can theoretically handle.

Remember that every cat is different, so the ideal amount of CBD can vary from cat to cat. If you have any questions or concerns about giving your cat CBD, it's always best to consult your veterinarian.
Is There A Difference Between CBD Oil For Cats And CBD Oil For Humans?

HolistaPet's CBD Oil products for cats are designed specifically for pets. Although they contain the same high-quality CBD as products made for humans and are taken the same way, there are differences in dosage and concentration that can make all the difference in intended results and benefits. While our CBD oil for pets is safe for human consumption, humans usually require higher dosages than pets. It's always best to use CBD products specifically formulated for your pet to ensure the correct dosage and maximum benefits.