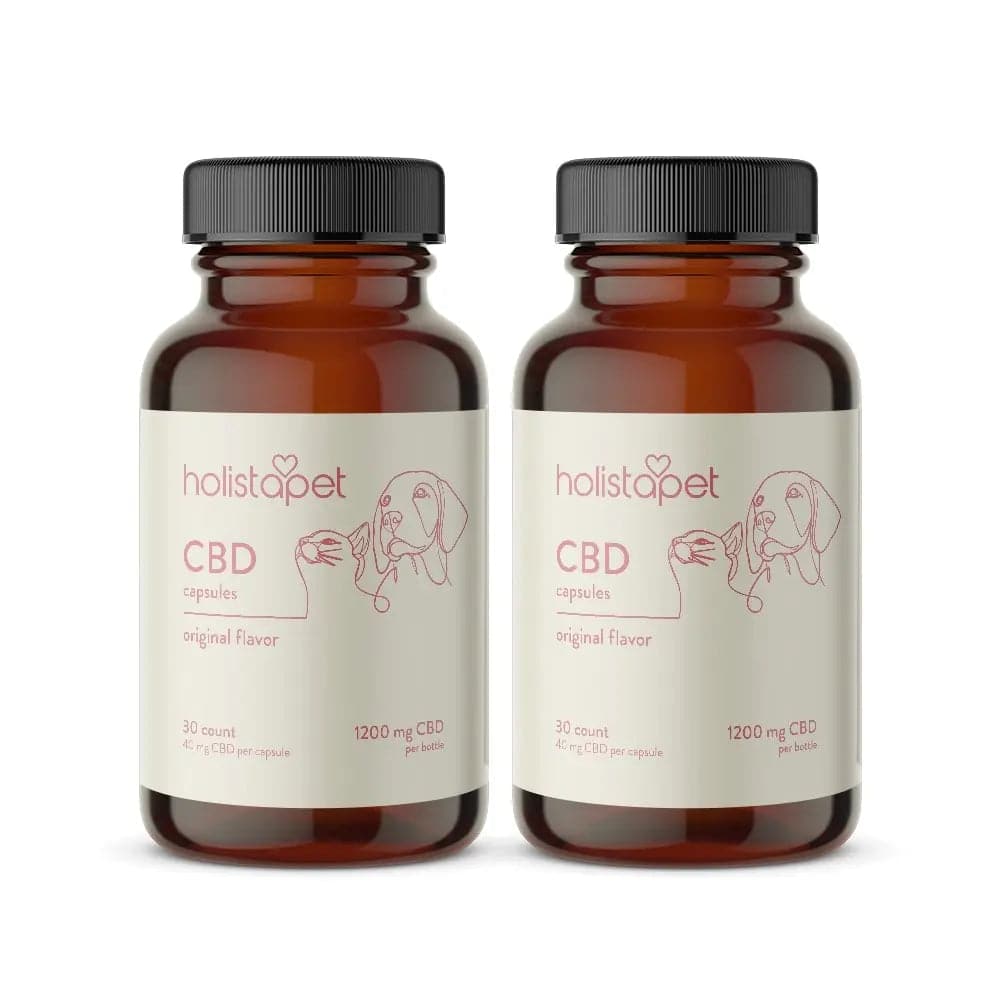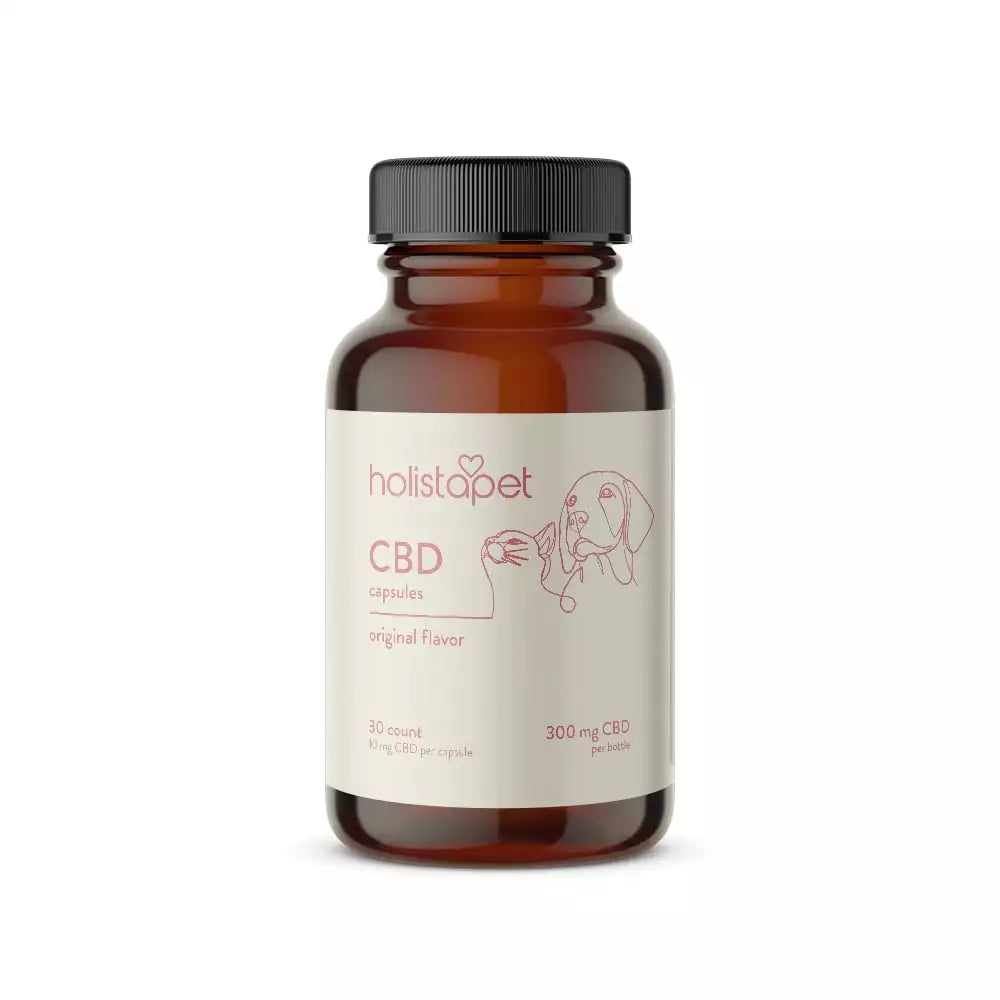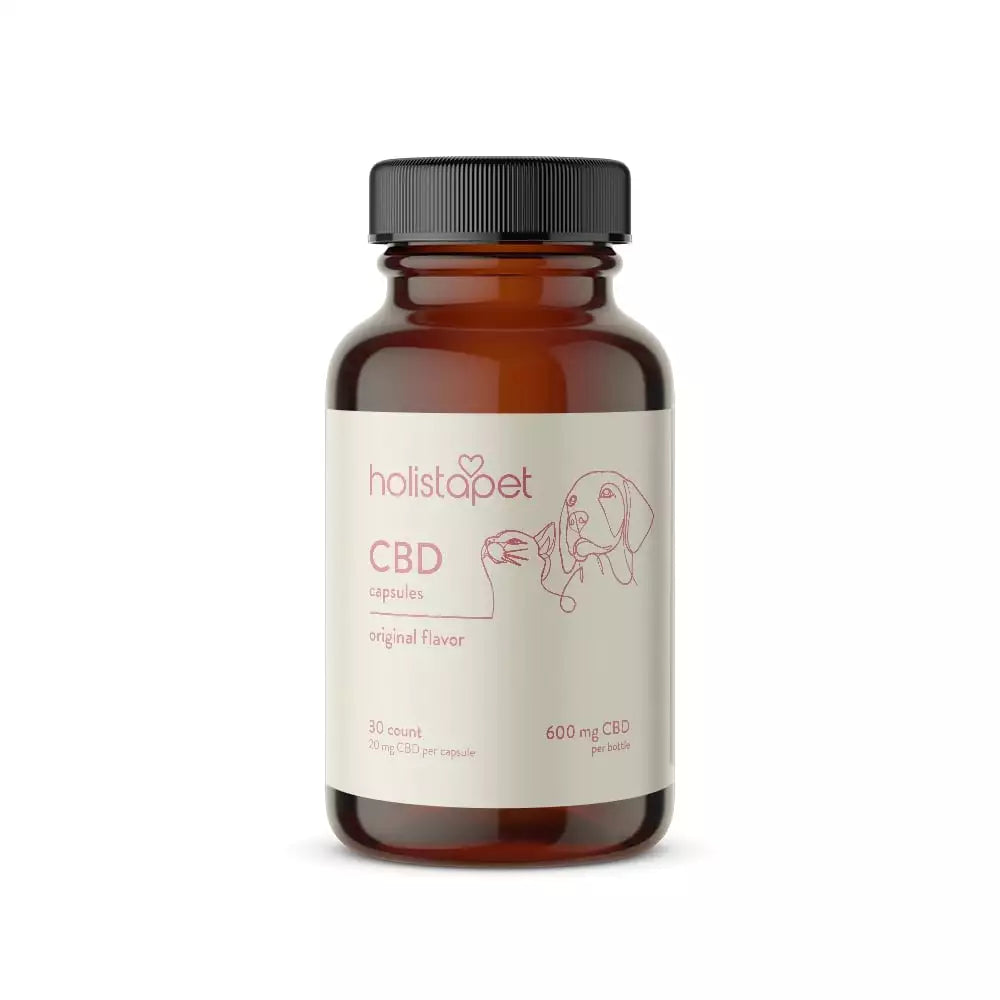 CBD Capsules for Dogs and Cats
Enhance your pet's quality of life with our carefully crafted CBD Capsules for Dogs and Cats. Our capsules provide a wholesome solution to support their well-being, allowing you to confidently choose the ideal strength from our range of sizes. It's so easy to hide the capsule in a treat or open it to mix in their food bowl or water.
Benefits

Formulated specifically for pets
0% THC = non-intoxicating = no "high"
CBD + hemp seed powder
Vegan capsules (no animal gelatin)
Made with all-natural ingredients
Packed in a small pill
Non-GMO, gluten-free, dairy-free
No additives or preservatives
Comes in 5 sizes: 150 mg, 300 mg, 600 mg, 1200 mg, or 3000 mg
Serving Size

We generally recommend between 0.25 mg (a regular dose) to 0.5 mg (a strong dose) of CBD per every 1 lb of bodyweight. See our Pet CBD Dosing Chart for specific product dosing guidelines about your products.
Unlock your full potential with HolistaPet by joining our club today - offering the most substantial discounts and exceptional rewards, all for just $95.
30% off every order
2X rewards points
FREE shipping on all orders
Exclusive special offers
We donate 10% of your membership fee to help save the lives of shelter animals
Featured In:

This product is rated 4.9 of 5.0 stars.
It has received 55 reviews.
CBG
I have a dog with IVDD. This works well in between her doses of Full Spectrum Hemp twice a day!!
We depend on your cbd caplets for all 3 dogs!
Your cbd caplets are a lifesaver! We have 3 huge black labs.
Festus was on 800 mg Gabapentin for emotional issues. He was born this way. He got so he wouldn't get in the truck. Vet wouldn't refill without seeing him.
We heard about the calming affects of cbd. You had the caplets we can break and hide.
It's changed his, and our lives.
Jake and Ralph get it for pain. Bad hips. It really helps with their pain and mobility.
I freak out if there appears to be a hiccup in my auto ship! 😂♥️😂
I recommend it to everyone with dogs. People marvel at the change in Festus' temperament.
Thank You!
Keep up the great work.
Sincerely, Suzie Lesser
Love the CBD Capsules
I have used the Holistapet CBD capsules for about 2 years now on my Great Dane. She has severe DCM and thought that I would give it a try to see if it helped her. She was diagnosed 4 years ago and they estimated that she had 6mos to a year to live. There really is no data to say that it would help her, but since it helps with Cancer and Seizures, thought I would give it a try. Since being on it, the thickness of her heart has increased, which is good and so far has been stable. We know that she is on borrowed time, but next week she will have her 10th birthday.
I use both the capsules and liquid for my 3 dogs. I don't bother hiding the capsule in their food. I open it and sprinkles the contents on the food. If we're going on a road trip or there is a thunder storm looming several hours away, I use the capsules. I use the liquid to help my 13 yr. old and 15 yr. old Jack Russell Terriers to sleep more peacefully at night. I initially got the liquid several years ago for my mixed Shiba Inu. He would go crazy when he saw anything or anyone he was afraid of. Nothing I said or did would snap him out of it. After 4 days of being on it, I saw a slight change in Chance. He kept improving. He hasn't done the "Shiba scream" in years. He will bark, but a correction from me will stop it. I'm glad I found CBD oil and capsules.
I want to say how thankful my family is to have found HolistaPet CBD capsules for our Labradoodle! He started having muscle spasms in September 2019. He had one every 7 weeks like clockwork until we had a friend tell us about CBD oil. We started him on it and he just passed the 12 week mark muscle spasm free! He is 3 years old and weighs 50 pounds. We give him one 20mg capsule once a day in the morning with his morning meal. I am planning on giving him a second capsule in the evening if he has another spasm attack.
We live in Virginia, and our vet said he is legally not aloud to discuss CBD oil with us, so I am thankful for HolistaPet.com and their wealth of information they have posted on their products. Thank you!


$1
Of every product gets donated to help rescue shelter animals!
$53,836
Has been donated since the 2023 launch of HolistaPet Helps!
What Are CBD Capsules For Dogs?
HolitaPet's CBD capsules for dogs are made with 100% plant-based ingredients. They contain no gelatin and are gluten-free! What can be better than CBD with none of the worries of harmful additives? Our CBD capsules contain a broad spectrum of natural cannabinoids derived from hemp.
We also combine hemp seed powder with our cannabidiol to create a powerful blend with the soothing benefits of CBD. CBD capsules for dogs allow for precise serving every time, never leaving you with the doubt of possibly giving your dog too much or too little.
Broad spectrum CBD capsules are transformed from high-quality hemp into a compact, ingestible alternative for your dog. Skipping the possible messiness of CBD oil, capsules can simply be wrapped in a piece of deli meat or a piece of cheese that your dog can consume in one bite. Rest assured that our CBD capsules contain the same high-quality hemp used in all our products. 

What are CBD Capsules For Cats?
CBD capsules for cats are exactly what they sound like! Just like their canine counterparts, CBD capsules can help felines maintain balance in their body while also reaping the soothing benefits of CBD.
SHOP CBD CAPSULES
What Are The Benefits & Effects Of CBD Capsules For Dogs & Cats?

The endocannabinoid system is an intricate system that plays a large role in maintaining homeostasis in us and our pets. Here are a few functions of the ECS in your cat's and dog's bodies. 

Appetite and digestion
Metabolism
Mood
Learning and memory
Motor control
Sleep
Skin and nerve function

When CBD enters your pet's bloodstream, it interacts with cannabinoid receptors. This interaction offers the ECS a helping hand. A properly functioning ECS is crucial for your dog or cat's overall well-being.
Why Choose HolistaPet's CBD Capsules For Dogs & Cats

We care about your pets just as much as you do. You can find HolistaPet employees crooning over a stranger's dog or cat any day! That's why we are committed to providing these precious animals with the best possible care. Top-notch care starts with natural hemp seed powder and CBD, and no synthetic additives or preservatives.

We care about your pets just as much as you do. You can find HolistaPet employees crooning over a stranger's dog or cat any day! That's why we are committed to providing these precious animals with the best possible care. Top-notch care starts with natural hemp seed powder and CBD, and no synthetic additives or preservatives.

You can also pair capsules with our dog or cat treats, which offer additional nutrients like omega fatty acids. Here at HolistaPet, we ensure that all our products come with a Certificate of Analysis (COA) from a third-party lab. This lets you fact-check our labels and claims. So what are you waiting for? Grab yours today!
How Do CBD Capsules For Dogs & Cats Work?

CBD capsules work the same way that the rest of our products do — supporting the endocannabinoid system. All animals have an endocannabinoid system, except insects. So no, don't leave your CBD products out for flies to try!

Cannabidiol complements the ECS and helps regulate many vital functions. There are various components involved in the ECS, the most important of which are endocannabinoids, cannabinoid receptors, and enzymes.

Endocannabinoids are molecules made by your pet's body. They're similar to cannabinoids! Experts have identified two endocannabinoids so far: anandamide and 2-arachidonoylglyerol (2-AG). These help keep internal functions running smoothly. Think of this as a well-oiled machine!
Cannabinoid receptors are found throughout the body. CB1 receptors are mostly found in the nervous system, while CB2 receptors are found in your pet's peripheral nervous system, especially immune cells.
Enzymes are in charge of breaking down endocannabinoids once they're done carrying out their function.

It's no wonder that pet owners turn to CBD to aid their pet's overall well-being. All of these components work together to help your pet relax during potentially stressful situations. CBD capsules can aid senior pets with their aging bodies and ease the stress of aging. Your dog or cat can become anxious due to decreased mobility that comes with age. CBD pills make a great option for pet owners who want to aid their pets with relaxation!
Frequently Asked Questions
Got questions? Well we've got answers! We've been pros in the pet CBD community for a long time now, but what good's all that knowledge and experience without someone to share it with? Below you'll find expert advice for commonly asked questions.
Serving CBD Capsules For Dogs

A good rule of thumb for a pet owner serving any CBD products is to start with 1 to 2 milligrams for every 10 pounds of weight. This is easy for capsules, which have a consistently pre-measured 10mg of CBD in every capsule. If you're using a different product — let's say CBD hemp oil — it may come in various concentrations. The amount listed on the label is the total amount of CBD in the whole bottle.
Serving CBD Capsules For Cats

In hemp, CBD is located in the aerial parts of the plant but not present in the roots or seeds. The aerial parts of the plant include the parts of the plant above the soil line, for example, the flowers, stems, and leaves. While hemp seed oil is made using hemp seeds, there is no CBD found in hemp seeds. The seeds do have a rich profile of nutrients, fatty acids, and useful bioactive compounds. This makes hemp seeds a great, nutritious snack!
Lab Testing Results

For the latest third-party Lab Test Results of our CBD Capsules for Dog & Cats Click Here!
Can CBD For Dogs & Cats Have Side Effects?

One of the most appealing aspects of CBD is the fact that it presents very few potential side effects. In the rare cases where pets experience side effects, the consequences are quite mild and short-lived. You should be able to avoid any adverse results by sticking to a consistent portion of CBD. Still, there is a slight chance your dog might experience some of the following:

Drowsiness
Dry mouth
Increased appetite and thirst
Mild stomach upset

As with any ingestible product, there is a slight chance that your dog might have an allergic reaction. However, hemp allergies appear to be exceedingly rare among dogs and humans alike. It never hurts to talk with a veterinarian about your pet's health history before giving them any new products.
CBD Vs. Hempseed Oil

In hemp, CBD is located in the aerial parts of the plant but not present in the roots or seeds. The aerial parts of the plant include the parts of the plant above the soil line, for example, the flowers, stems, and leaves. While hemp seed oil is made using hemp seeds, there is no CBD found in hemp seeds. The seeds do have a rich profile of nutrients, fatty acids, and useful bioactive compounds. This makes hemp seeds a great, nutritious snack!
Can CBD Capsules Get My Dog High?

Although CBD comes from cannabis, federally legal CBD products must contain 0.3% THC or less. THC is the cannabinoid in cannabis that induces a "high" feeling in large amounts. On its own, CBD cannot intoxicate your dog. However, as mentioned above, CBD is a non-intoxicating compound that naturally occurs in hemp. CBD may help level out your pet's mood if they experience feelings of nervousness in certain environments or around other people.

 Some products contain trace amounts of THC, as it can strengthen CBD's effects without causing a "high." These are called full spectrum products. An example would be full spectrum CBD oil. Broad spectrum products take the THC out, and isolates contain nothing but CBD molecules. Guess what's inside CBD capsules? CBD isolate powder! So your dog will only get the wonderful benefits of CBD.
Can CBD Capsules Get My Cat High?

As mentioned previously, unlike THC, CBD cannot intoxicate your dog. This also includes your cat! CBD can benefit all animals with an ECS, but it shouldn't ever cause intoxication.

Reports of side effects are minor and will eventually fade. Keep in mind that for your cat to have a bad reaction from too much CBD, it would need to have ingested an extremely large amount of the product. In this case, you'd have to give your kitty about 2,000 capsules to give it too much to handle. While we always recommend you start with a low amount and only increase it slowly, taking too much CBD is hard to come by.

A few side effects that may occur from taking too much CBD are:
Are Dog CBD Capsules Legal?

Yes. Federal law in the United States allows for hemp-derived CBD products with up to 0.3% THC by volume. Fortunately for dogs, CBD capsules for pets contain no THC whatsoever, so you can rest assured that your pet is getting a premium product that complies with all legal regulations.
Can Puppies Take CBD?

Puppies can benefit from CBD, just like adult dogs. CBD treats also make a great incentive during obedience training with your puppy. However, you need to adjust the quantity of CBD when you give it to a small dog. As a reminder, the recommended amount of CBD for pets is typically 1-2 mg per every 10 pounds of body weight. You can apply this logic to big dogs, small dogs, and puppies alike.
Can Senior Dogs Take CBD?

Yes! Senior dogs are some of our favorite customers, and they can reap so many rewards from CBD products. Many dogs experience age-related physical issues that call for the kind of soothing relief CBD provides. Try supporting them with CBD capsules or HolistaPet's CBD soft chews, which we make specifically for senior dogs and pets with dental problems.
CBD Capsule Serving Suggestions

If you've ever tried giving your dog a pill before, you know it can be challenging, but we have some helpful suggestions to make the process easier for you and your pet. You will have a hard time getting any pet to take a pill by itself, but you can try these methods instead:

Pill Pockets: Pill pockets are dog treats with a hole in the center where you can insert a pill or capsule. You can find pill pockets at many pet stores, or you can simply wrap a capsule in a slice of deli meat or cheese, which should be just as appealing to your pup.
Pill Dispensers: To get your dog to swallow a pill, you must place the capsule all the way in the back of their mouth, past the hump of the tongue. It can be dangerous to do this with your fingers in case the dog bites down. Pill dispensers grip the capsule instead of your fingers so that you can deposit it in your dog's mouth quickly and safely.
Add the Powder to Food: One final option is to use only the powder within the capsule rather than the capsule itself. HolistaPet capsules come in two halves that are easy to break open. Then, you can add the powder to your dog's normal food.
When Will My Pet Feel The Effects?

Ingestible CBD products typically kick in 45-60 minutes after taking them. The onset time may vary slightly depending on biological factors like your dog's gender, weight, and metabolism.
How Long Do The Effects Last?

The effects of ingestible CBD products such as capsules and usually last between 6 and 8 hours. That is longer than any other type of CBD product on the market!
Can My Dog Or Cat Have CBD Every Day?

Absolutely! In fact, we recommend giving your pet CBD daily to help maintain homeostasis, which is the optimal state of balance in the body. Maintaining homeostasis is an essential part of any animal's overall wellness, which is why daily CBD may benefit both your dog and you!
When Should I Give My Pet CBD Capsules?

CBD is useful for various short and long-term needs, so different pets might benefit from it at different times. If your dog has an immediate physical or mental need, you should address it ASAP. Since CBD capsules take about an hour to kick in, it's best to give them to your dog as soon as the need arises. Otherwise, you can give your dog a CBD capsule once a day to promote homeostasis in the long term.