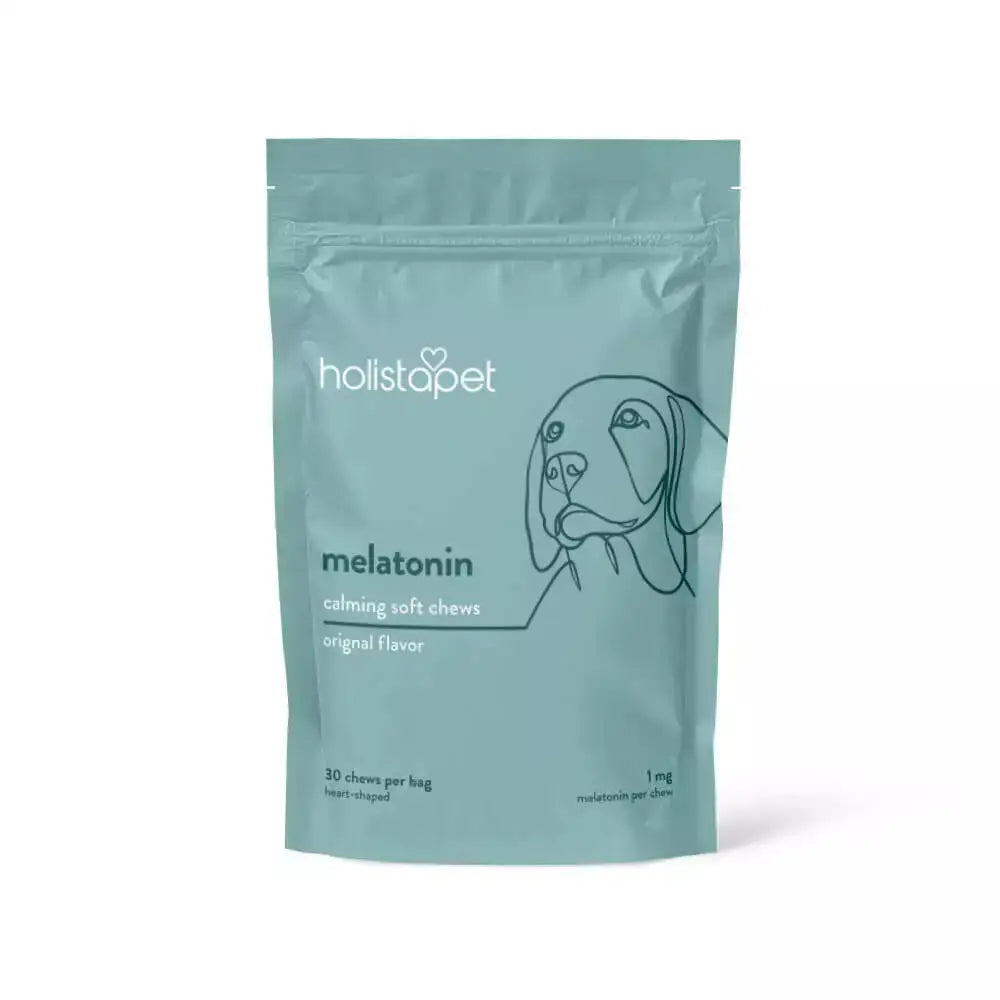 Melatonin Soft Chews
Made from natural ingredients, pur Melatonin Soft Chews feature a proprietary blend of calming ingredients like L-theanine, chamomile, passion flower, ashwagandha, tryptophan, valerian root, and more. Our chews help reduce anxiousness and promote relaxation in your dog. These treats offer a natural way to keep your pup calm, cool, and collected, easing their mind and body while supporting better sleep. Each bag contains 30 treats that your pup will love!
Benefits

100% all-natural ingredients
Proprietary blend of theanine, chamomile, passion flower, ashwagandha, tryptophan, valerian root, and other calming ingredients
Reduces anxiousness and promotes relaxation for your dog
Natural way to keep your pup calm, cool, and collected
Helps ease their mind and body for sleep regulation
30 chews per bag
Serving Size

Less than 20 lbs = 1 chew*
20-50 lbs = 2 chews*
More than 50 lbs = 3 chews*

*or as needed
Unlock your full potential with HolistaPet by joining our club today - offering the most substantial discounts and exceptional rewards, all for just $90.
30% off every order
2X rewards points
FREE shipping on all orders
Exclusive special offers
We donate 10% of your membership fee to help save the lives of shelter animals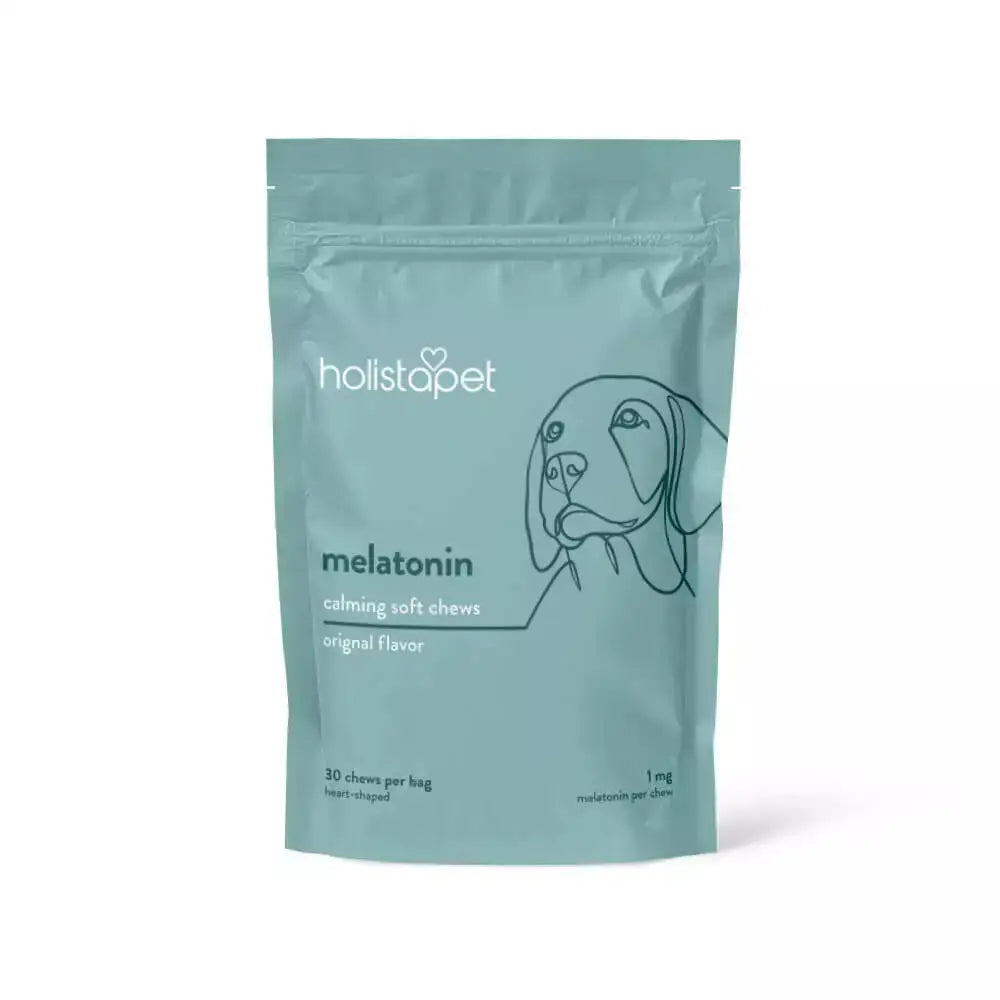 This product is rated 5.0 of 5.0 stars.
It has received 1 review.
Now that live in the city, the cars are so loud and keep my dog up. These chews make him so calm and let him get his rest!
$1
Of every product gets donated to help rescue shelter animals!
$53,836
Has been donated since the 2023 launch of HolistaPet Helps!
How Do I Know If My Dog Needs Melatonin?
If your dog is experiencing anxiety or stress, melatonin may be a helpful addition to your pup's wellness regimen. Melatonin is a naturally occurring hormone that helps regulate sleep. Giving your dog melatonin will help them stay relaxed, even during the most stressful situations. 
Ingredients

Active Ingredients:

Theanine – 100 mg
Magnesium Citrate Powder – 50 mg
Chamomile – 50 mg
Passion Flower – 50 mg
Lemon Balm – 25 mg
Ashwagandha Root Powder – 25 mg
Tryptophan – 25 mg
Valerian Root – 25 mg
Melatonin – 1 mg

Inactive Ingredients: Acacia Gum, Blackstrap Molasses, Calcium Propionate, Chickpea Flour, Flax Oil, Glycerin, Mixed Tocopherols, Nutritional Yeast, Natural Smoke Flavor, Rosemary Extract, Safflower Oil, Sorbic Acid, Sunflower Lecithin, Sweet Potato, Tapioca Starch, Water.
Directions For Use

We recommend you give your dog our Calming Melatonin Soft Chews once a day or as needed. Here are the recommended serving suggestions based on your dog's weight:

Under 20 pounds = 1 chew
Over 20 pounds = 2 chews
Is Melatonin Safe For Dogs?

Yes, melatonin is absolutely safe for dogs! Melatonin helps regulate sleep and wakefulness and is naturally produced by your dog's body. It's also available over-the-counter for both animals and humans in many countries. When taken as directed, melatonin is generally safe for dogs. 
What Are The Side Effects Of Melatonin For Dogs?

The side effects of melatonin for dogs are generally rare and very mild. The most common side effect is drowsiness, so it's important not to give your dog too much melatonin. Other potential side effects from giving your dog too much melatonin include an upset stomach and dry mouth. If you notice serious side effects in your dog, stop giving them melatonin and consult your veterinarian.
How Much Melatonin Should I Give My Dog?

As a general rule, most veterinary professionals recommend giving dogs between 1-3 mg of melatonin per pound of body weight. However, this amount can differ between dogs based on a variety of factors, like tolerance, diet, age, and more.

However, our Calming Melatonin Soft Chews are made with a unique proprietary formula of naturally relaxing ingredients, meaning your dog will receive just the right amount of melatonin to keep them relaxed without being overwhelmed.