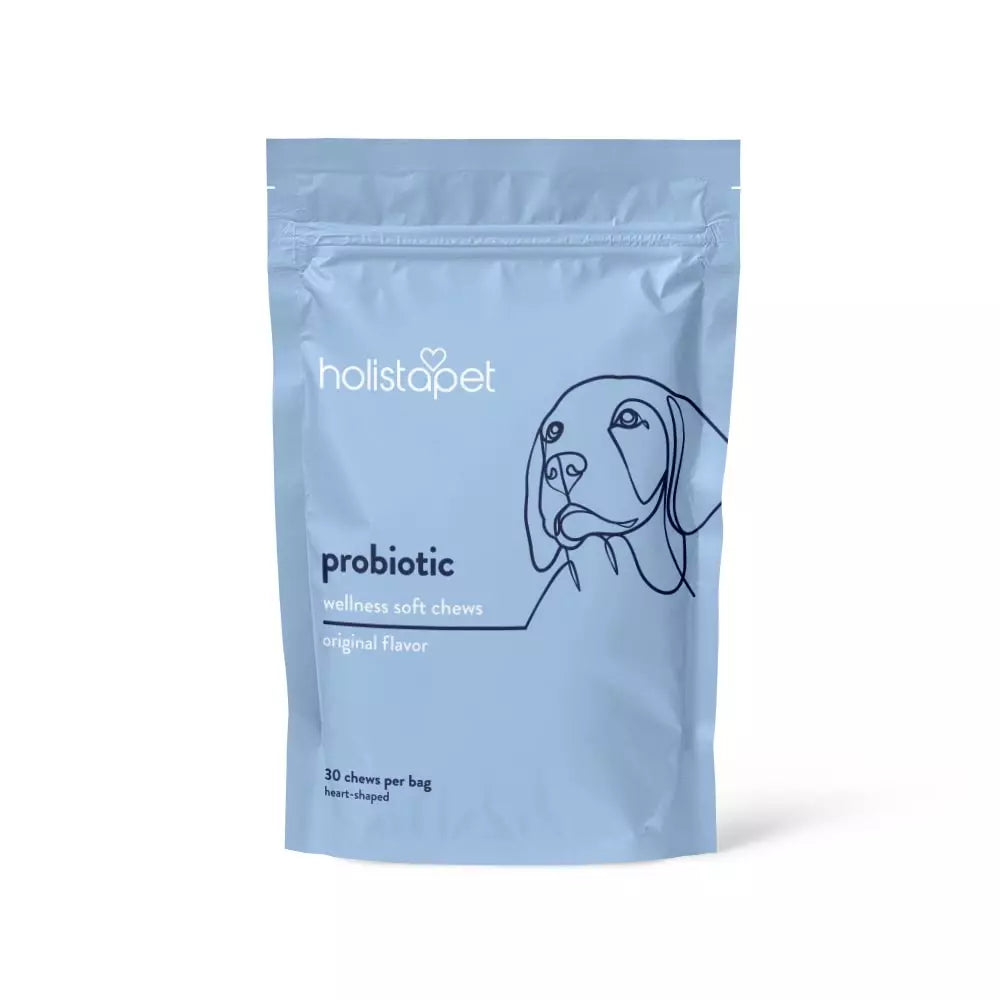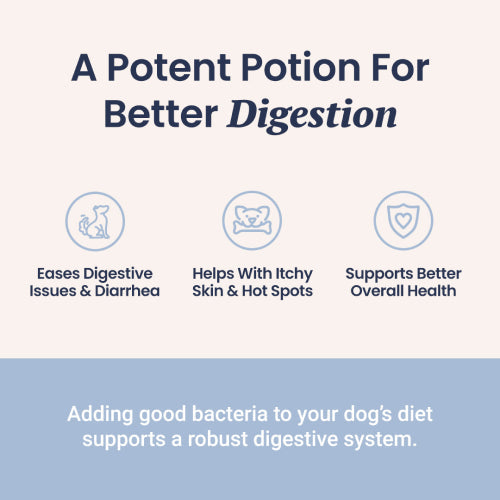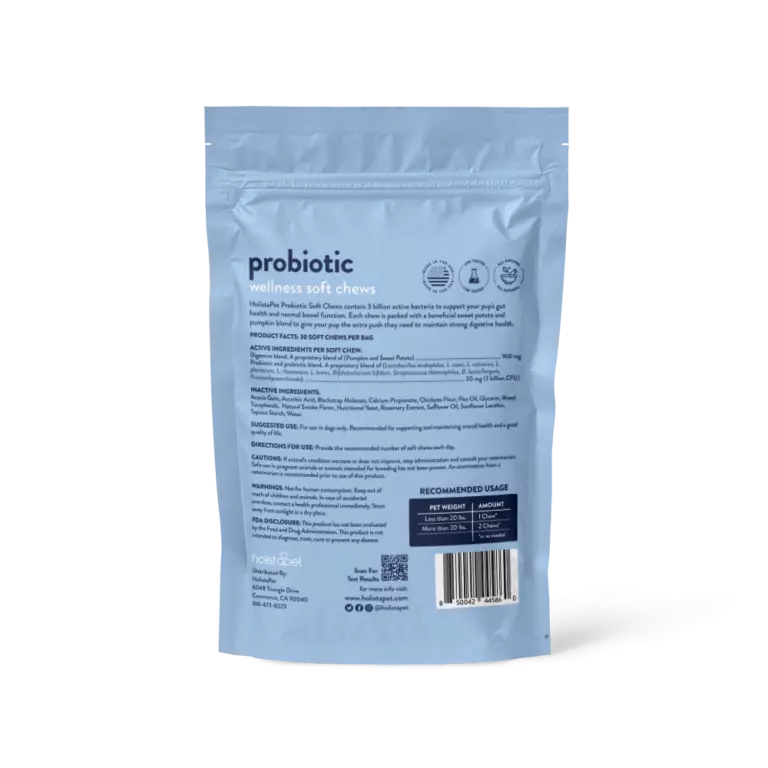 Probiotic Chews For Dogs
Our Probiotic Wellness Soft Chews for dogs support good digestive health, enhance well-being, and increase beneficial microorganisms in their gut, while restoring balance in their intestinal tract. Our chews also help soothe itchy skin, while promoting a happy and healthy digestive system. Each bag contains 30 chews, suitable for dogs of all breeds and sizes, supporting their overall health and quality of life.
Benefits

Can improve digestive issues and enhance your pup's well-being.
Increases beneficial microorganisms in their gut and restores balance in the intestinal tract
Maintains digestive regularity and reducing itchy skin
Supports overall health and quality of life for your furry friend
Suitable for dogs of all breeds and sizes
Promotes a happy and healthy digestive system
30 chews per bag
Serving Size

Less than 20 lbs = 1 chew*
20-50 lbs = 2 chews*
More than 50 lbs = 3 chews*

*or as needed
Unlock your full potential with HolistaPet by joining our club today - offering the most substantial discounts and exceptional rewards, all for just $95.
30% off every order
2X rewards points
FREE shipping on all orders
Exclusive special offers
We donate 10% of your membership fee to help save the lives of shelter animals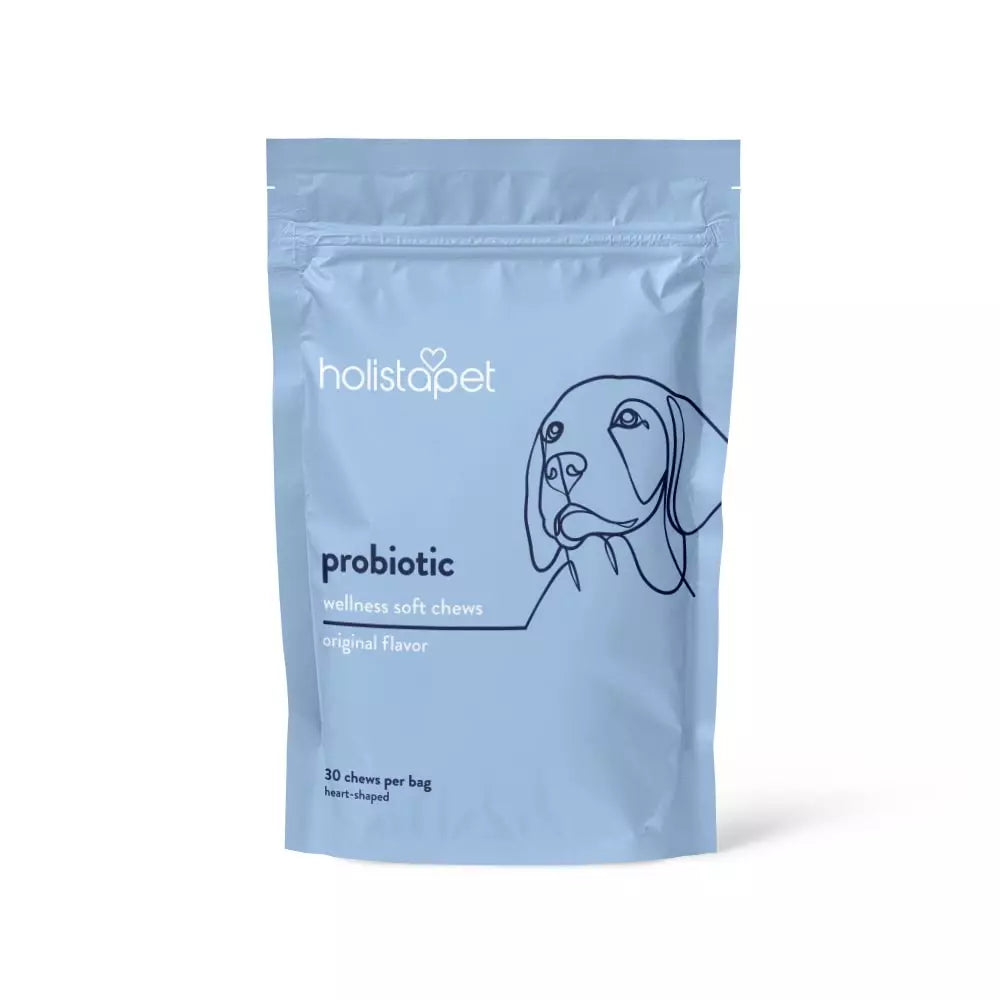 Featured In:

This product is rated 5.0 of 5.0 stars.
It has received 2 reviews.
Probiotic chews
My dog was biting and scratching her paws so much. I gave her a chew morning and night. After three/four days I noticed she wasn't biting or scratching herself anymore! I LOVE these chews!!!!
My puppy loves the flavors of the CBD soft chews
My puppy loves the CBD and probiotic soft chews. The soft chews are so much easier for him to eat.


Probiotic Chews For Dogs Description
HolistaPet Probiotic Soft Chews for Dogs will not only ease your dog's stomach troubles but also help put your pup on the path to better wellness. Each heart-shaped chew contains a proprietary blend of 9 beneficial bacteria — a total of 3 billion CFU — that will restore your pup's digestive balance. And with a delicious and beneficial sweet potato and pumpkin blend in every bite, these treats will give your pup the extra push they need to maintain good digestive health!
Ingredients

HolistaPet Probiotic Soft Chews contain the following naturally-derived ingredients.

Active Ingredients:

ProbioSeb Multi(TM): A proprietary blend of L. acidophilus, L. casei, L. salivarius, L. plantarum, L. rhamnosus, L. brevis, Bifidobacterium bifidum, Streptococcus thermophilus, B. lactis/longum – 3 billion CFU
Digestion Blend: A proprietary blend of (pumpkin and sweet potato) – 900 mg

Inactive Ingredients: Acacia Gum, Ascorbic Acid, Blackstrap Molasses, Calcium Propionate, Chickpea Flour, Flax Oil, Glycerin, Mixed Tocopherols, Natural Smoke Flavor, Nutritional Yeast, Rosemary Extract, Safflower Oil, Sunflower Lecithin, Tapioca Starch, Water
Directions for Use

We recommend you give your dog our Probiotic Soft Chews once a day or as needed. Here are the recommended serving suggestions based on your dog's weight:

Under 20 pounds = 1 chew
Over 20 pounds = 2 chews
Do probiotics help itchy skin in dogs?

Yes, probiotics can help itchy skin in dogs. When your dog's natural balance of good and bad bacteria is disrupted, it can lead to skin irritation and dryness. Adding probiotics to your dog's diet can help to soothe itchy skin and promote a healthy coat.
How quickly do probiotics work in dogs?

In general, most dogs will start to feel the benefits of probiotics within a few days to a week to as long as a month after starting them. However, the onset of benefits can vary depending on a few factors unique to your dog, such as your pup's gut health and the type of probiotic being used.
Can I use probiotics for dogs with diarrhea? 

Yes, you can give your dog probiotics when they're suffering from diarrhea. Bacteria such as L. acidophilus and Bifidobacterium bifidum are highly beneficial in reducing the symptoms of diarrhea. Both of these strains are present in our Probiotic Soft Chews for dogs, along with other beneficial bacteria to help your dog get through their bout of diarrhea and help limit the chances of it occurring again. 
How do I know if my dog needs probiotics?

Probiotics may be helpful if your dog has any digestive problems, such as diarrhea, constipation, gas, or bloating. Read Probiotics For Dogs for more information. In addition, probiotics can also be helpful for dogs taking antibiotics, as they can help replenish the good bacteria that may have been affected by the medication. If you're unsure whether your dog needs probiotics, consult your veterinarian.
How long should dogs be on probiotics?

Probiotics are generally considered to be safe for long-term use. If your dog is doing well on probiotics with no issues, you can continue to give them HolistaPet Probiotic Soft Chews.

However, some dogs may only need probiotics for a short period of time. Some factors influencing how long a dog needs to be on probiotics include the specific ailment, the dog's overall health, and any underlying medical conditions. If you have any concerns, always consult your vet first.