Dog Leashes
Enjoy worry-free walks with your furry friend using our Dog Leashes, expertly made with a perfect balance of:
Softness and durability to withstand any weather condition

Crafted from hypoallergenic PVC and comes in multiple sizes

The adjustable design features zinc alloy snap hooks and a carbon-coated steel D-ring, ensuring both convenience and high pull resistance.

Choose from an array of vibrant colors to match your pet's personality.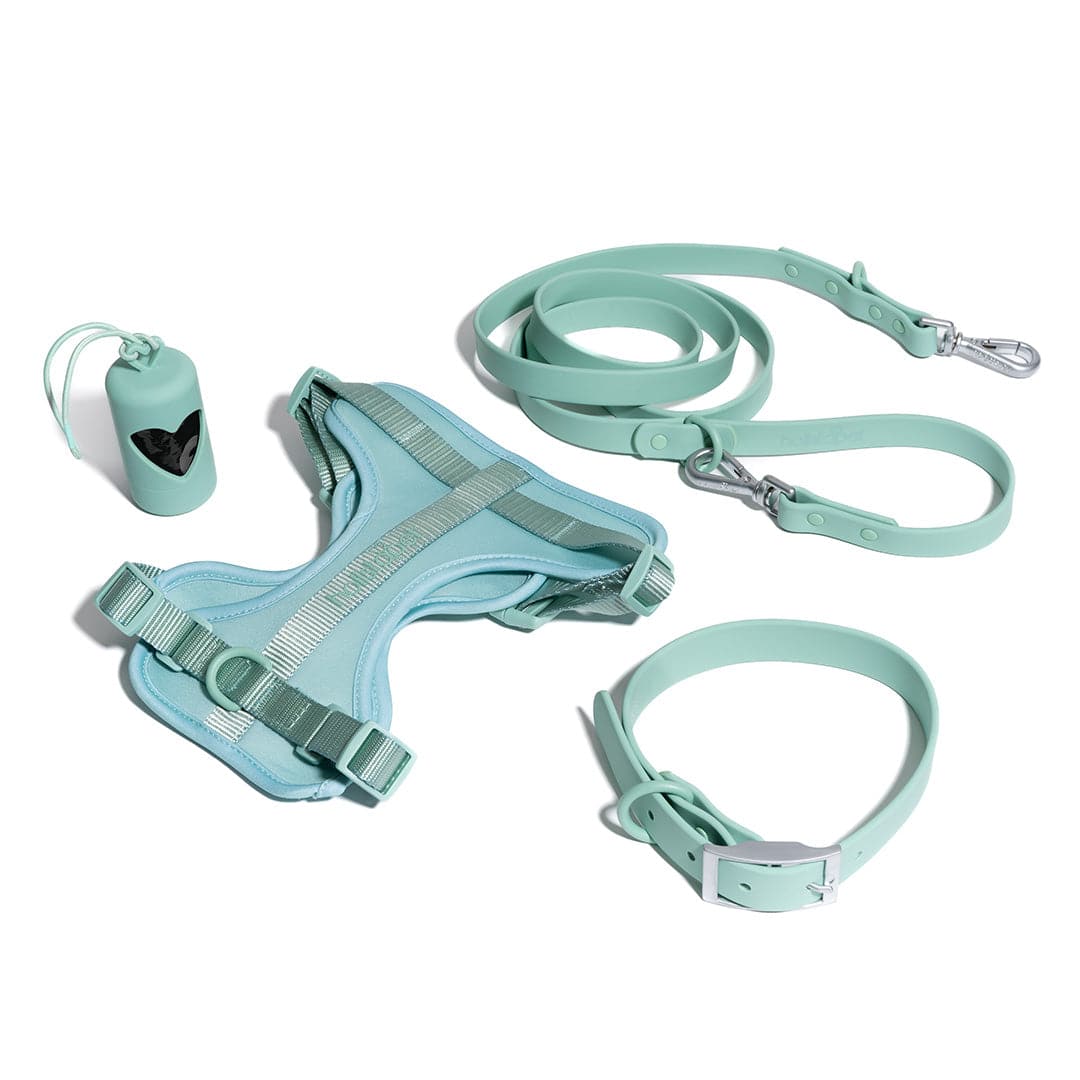 Unlock your full potential with HolistaPet by joining our club today - offering the most substantial discounts and exceptional rewards, all for just $95.
30% off every order
2X rewards points
FREE shipping on all orders
Exclusive special offers
We donate 10% of your membership fee to help save the lives of shelter animals
Featured In:

This product has no reviews yet.
$1
Of every product gets donated to help rescue shelter animals!
$53,836
Has been donated since the 2023 launch of HolistaPet Helps!
Dosing Recommendations:
CBD dosage depends on body weight and the type and severity of the condition for which you are using it for.
Also Available In Soft Chew Cat Treats

Are you looking to find CBD cat treats from a reputable brand? HolistaPet is the #1 supplier of high-quality CBD cat treats. Our CBD treats are delicious, nutritious, and 100% Grain-Free. The yummy salmon flavor makes these crunchy little bites irresistible. Give your cat a CBD cat treat and they'll thank you for it!

These CBD treats contain only the finest natural ingredients and never contain animal by-products, meals, corn, wheat, or artificial preservatives. We also completely avoid any artificial colors or flavors. HolistaPet CBD Cat Treats are the perfect treat to reward your little feline friend after a long, hard day.
Do Cats Have an Endocannabinoid System?

All mammals have an endocannabinoid system (ECS), including cats. CBD works within your cat's endocannabinoid system to regulate many important functions and maintain a natural balance internally despite external factors. This natural balance is sometimes referred to as "homeostasis." Some of the functions that the ECS balances include mood response, stress levels, pain response, inflammatory response, joint mobility, skin conditions, and others.

Currently, there is a lot of ongoing research on CBD and how it affects the endocannabinoid system. We keep all these benefits in mind when creating each CBD cat treat.
How Much CBD Oil Should I Give My Cat?

If you are wondering what the best CBD oil dosage for cats is, look no further. Our broad spectrum CBD cat treats are precisely infused with 2mg of CBD oil each treat. We recommend giving your cat 2 treats (4mg of CBD) for every 8-10lbs of body weight every day as a general guideline. If possible, you can also split this up into 2 separate doses. Give 1 treat in the morning and 1 treat at night or 1 treat every 8-12 hours as needed.

CBD is a natural compound of the hemp plant. There are no reports of pets overdosing when taking CBD oil in conjunction with other medications or from ingesting larger amounts. You and your cat can use CBD oil as you please and should experience no negative reactions.

However, there is a slight chance that rare side effects with CBD oil and other products may occur. These side effects are minor and usually subside once the body becomes familiar with CBD oil. No complications should occur, but just so you are aware, here is a list of possible side effects of CBD oil:

Dry mouth
Drowsiness
Upset stomach
May slow certain drug metabolism
May lower blood pressure 

If any side effect persists and does not subside, stop using CBD oil and seek veterinarian advice. Our general dosing guidelines for cats are broad because we want them to be simple and suitable for most conditions. Please take a look at our CBD Oil for Cats Reviews for more information on how broad spectrum CBD for cats has helped real verified customers and their pets.
CBD Cat Treats or CBD Soft Chews?

We offer two different types of CBD treats to cater to the needs of all kinds of cats! These CBD treats include traditional, crunchy cat CBD treats and CBD soft chews for cats. Both CBD treats have been extensively researched and tested for quality, and both are made with healthy, tasty ingredients. They come in irresistibly good flavors, so your cat is sure to enjoy whichever treat you choose for them.

Soft chews are perfect for kitties with sensitive teeth. You can find soft chews in the same great flavor as our regular crunchy treats. Read more about our CBD treats here to learn which kind is best for your cat, or try them both to let your furry friend decide for themselves!

CBD Cat Treats

Pros: These CBD treats are our original recipe! They're crunchy in texture (like most classic treats), and cats love that they're salmon-flavored. Aside from CBD, our treats also contain beneficial ingredients like organic chamomile and L-tryptophan.

Cons: Sometimes, crunchy treats can be too hard for older dogs to chew. They may also be difficult for pets who struggle with dental issues or sensitive tummies.

CBD Soft Chews For Cats

Pros: Our new, original soft chews recipe is the same yummy salmon flavor your cats know and love in a softer, tender bite. These treats are easy to chew, making them great for pups of all ages. They contain beneficial ingredients like CBD, valerian root, L-tryptophan, catnip, and taurine.


Cons: Though soft chew treats are good for cats with dental issues, they don't provide any added dental benefits for cats with stronger, healthier teeth. Crunchy treats can help remove tartar and keep your cat's teeth clean, while soft cat CBD treats only prevent further injury to weaker teeth.
Can My Cat Get High From CBD?

No — after consuming CBD, your cat is most likely to experience mild, soothing levels of relaxation. Even if your cat consumes more than their recommended dose of CBD, it's only likely that they'll become a little drowsy. Who says your cat's food shouldn't also benefit them?


On the other hand, THC or marijuana products should not be consumed by pets. These products can be dangerous for pets to ingest and should be kept away and out of their reach.
Is CBD Legal?

Yes, CBD is legal. Under the 2018 Farm Bill, CBD products are legal as long as they are hemp-derived. This means they must contain 0.3% Delta 9 THC content or less.

Since we only use broad spectrum CBD in our cat treats, pet owners don't have to worry about their furry friends experiencing the effects of D9 THC. Broad spectrum CBD products do not contain any THC — they only contain CBD, and other naturally-found beneficial cannabinoids.
Benefits of CBD for Cats

Cannabidiol (CBD) is a natural compound of the hemp plant. Many recent studies have uncovered just how this compound works with your cat's Endocannabinoid system (ECS), which is responsible for maintaining a balance within the body.

Cannabidiol treats are a perfect way to help your cat meet its daily nutritional needs. Plus, CBD oil may help balance your cat's overall wellbeing. They make dosing clean, easy, and more enjoyable for your pet. Veterinarians nationwide are starting to recommend HolistaPet CBD to promote better health and wellness.

You can buy CBD cat treats from the best name in hemp around: HolistaPet! We offer the best CBD cat treats, backed with our 100% satisfaction guaranteed or your money back, no questions asked.