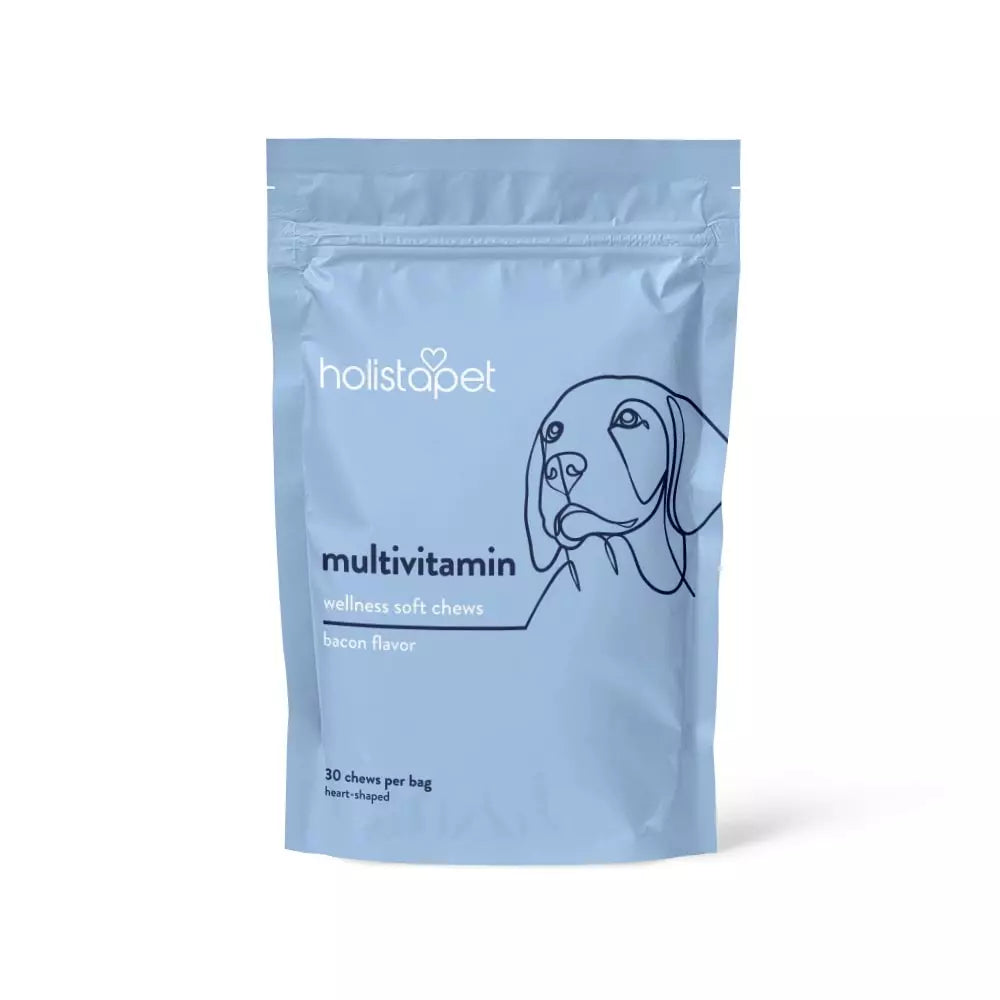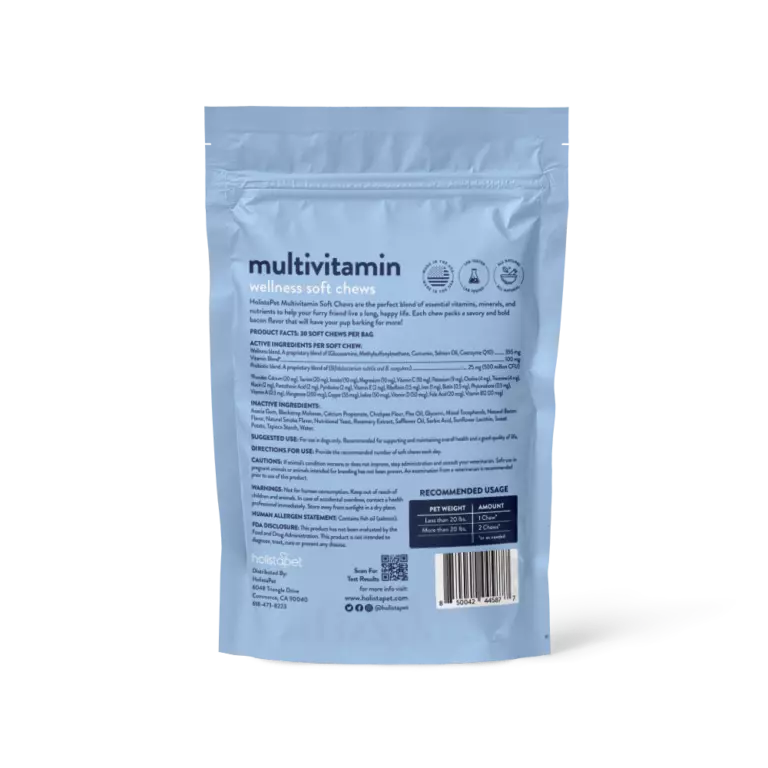 Multivitamin Soft Chews For Dogs
We make Multivitamin Soft Chews for Dogs with natural ingredients that provide building blocks for proper full-body wellness. Bursting with a crisp, savory bacon flavor, our soft-baked chews are suitable for dogs of all ages and sizes, helping to ensure essential nutrition with a delicious taste, and 30 treats per bag. 
Benefits

100% all-natural ingredients
Provides building blocks for proper full body wellness
Bursting with crisp, savory bacon flavor
Suitable for dogs of all ages and sizes
Ensures proper nutrition and delicious taste
Soft-baked chews for easy consumption
30 chews per bag
Serving Size

Less than 20 lbs = 1 chew*
20-50 lbs = 2 chews*
More than 50 lbs = 3 chews*

*or as needed
Unlock your full potential with HolistaPet by joining our club today - offering the most substantial discounts and exceptional rewards, all for just $90.
30% off every order
2X rewards points
FREE shipping on all orders
Exclusive special offers
We donate 10% of your membership fee to help save the lives of shelter animals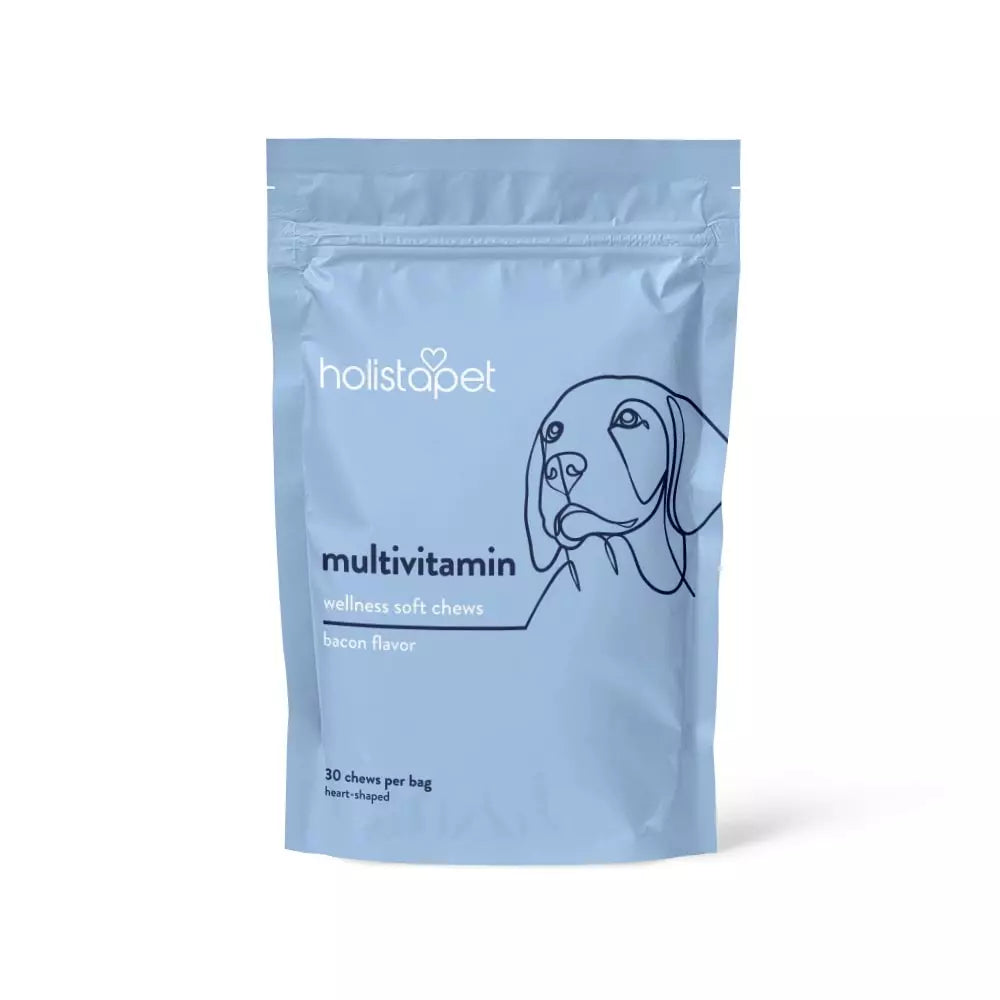 This product has no reviews yet.
$1
Of every product gets donated to help rescue shelter animals!
$53,836
Has been donated since the 2023 launch of HolistaPet Helps!
Multivitamin Soft Chews Description
These mouthwatering chews are packed with beneficial ingredients like glucosamine and MSM to support your pup's nimble joints, salmon oil to keep their coat looking vibrant and healthy, and probiotics to help support their digestion. Each heart-shaped chew contains a complete vitamin blend, making it the perfect addition to your dog's daily wellness routine.
Ingredients

HolistaPet Multivitamin Soft Chews for Dogs contain the following naturally-derived ingredients:

Active Ingredients:

Glucosamine – 150 mg
Methylsulfonylmethane (MSM) – 100 mg
Vitamin Blend – 100 mg
Curcumin – 50 mg
Salmon oil – 50 mg
Coenzyme Q10 – 5 mg
ProbioSeb Duo(TM). A proprietary blend of B. subtilis and B. coagulans – 500 million CFU

 Inactive Ingredients: Acacia Gum, Blackstrap Molasses, Calcium Propionate, Chickpea Flour, Flax Oil, Glycerin, Mixed Tocopherols, Natural Bacon Flavor, Natural Smoke Flavor, Nutritional Yeast, Rosemary Extract, Safflower Oil, Sorbic Acid, Sunflower Lecithin, Sweet Potato, Tapioca Starch, Water
Directions For Use

We recommend you give your dog our Multivitamin Soft Chews once a day or as needed. Here are the recommended serving suggestions based on your dog's weight:

Under 20 pounds = 1 chew
Over 20 pounds = 2 chews
Do Dogs Need Multivitamins?

Usually dogs can get the nutrients they need from a balanced diet, but for many, they still lack important vitamins and minerals. Multivitamins can help fill any nutritional gaps your dog may have and help them get the vitamins and minerals they need to lead a healthy life.
What Types Of Multivitamins Are Best For Dogs?

Look for multivitamins containing all the essential nutrients your dog needs, including vitamins A, C, and E, as well as essential minerals like calcium and phosphorus. Also, ensure that this multivitamin is specifically designed for dogs as multivitamins for humans can end up causing serious harm to your dog. Finally, make sure that the multivitamin you pick for your dog is easy to digest and tastes good!
Are There Any Side Effects From Multivitamins?

Multivitamins are generally considered to be very safe for your dog, with no known side effects. However, if your dog is currently taking any medications, you should consult your veterinarian to ensure there are no conflicting or harmful effects.
It Safe To Give My Dog Multivitamins Every Day?

Yes, it is safe to give your dog multivitamins every day. However, if you have any concerns, always consult with your veterinarian to ensure that the multivitamin meets your dog's individual needs.