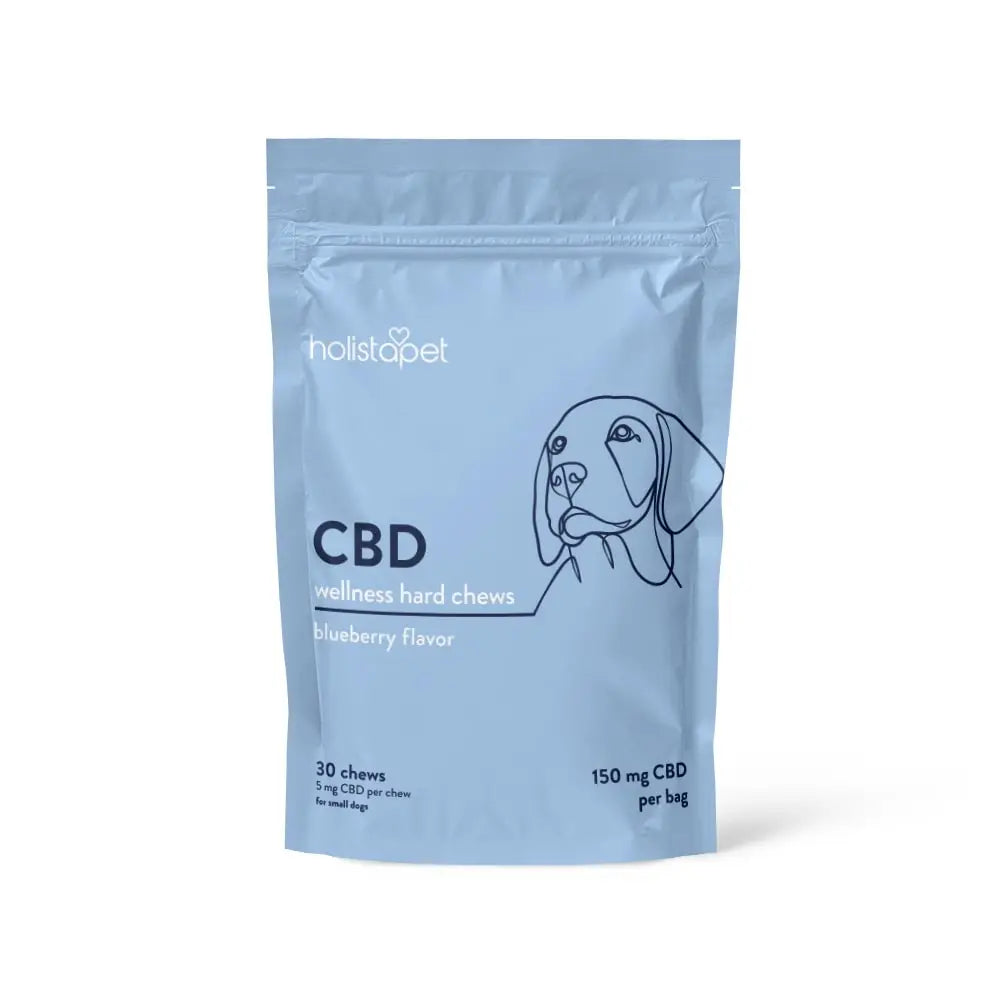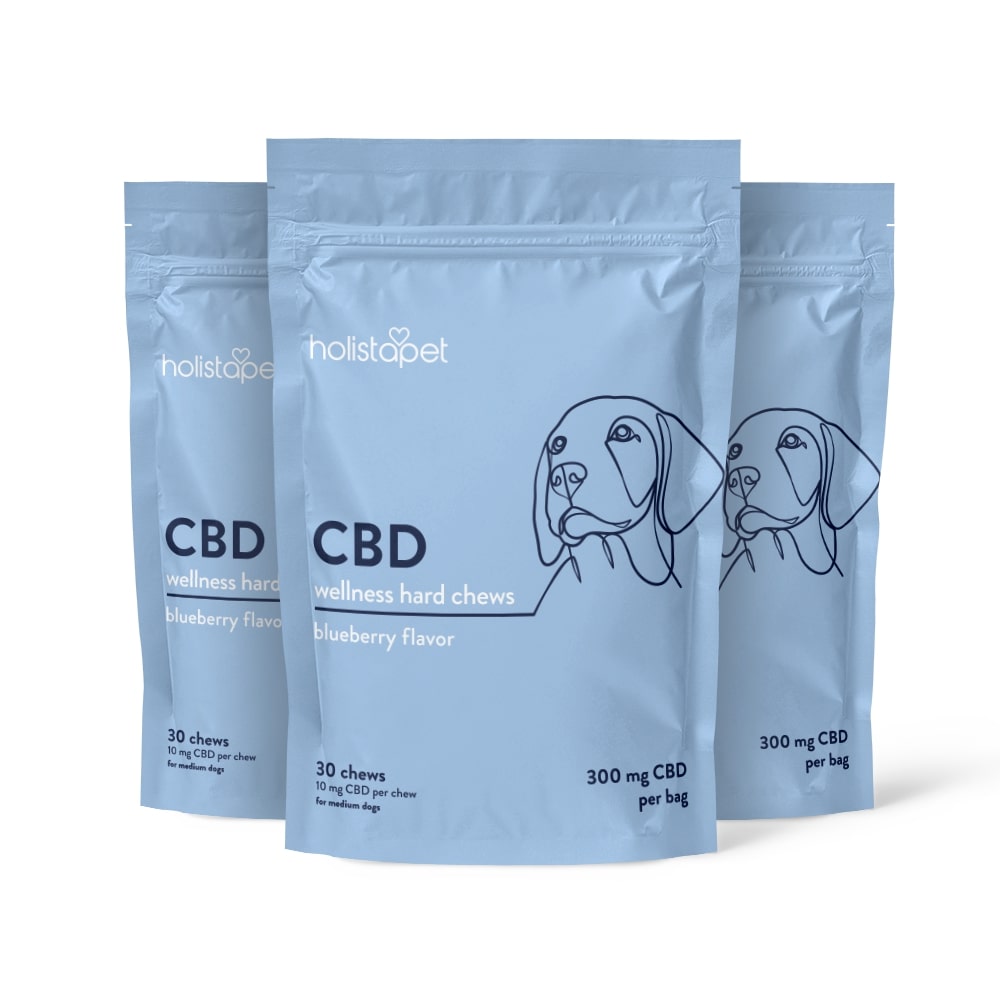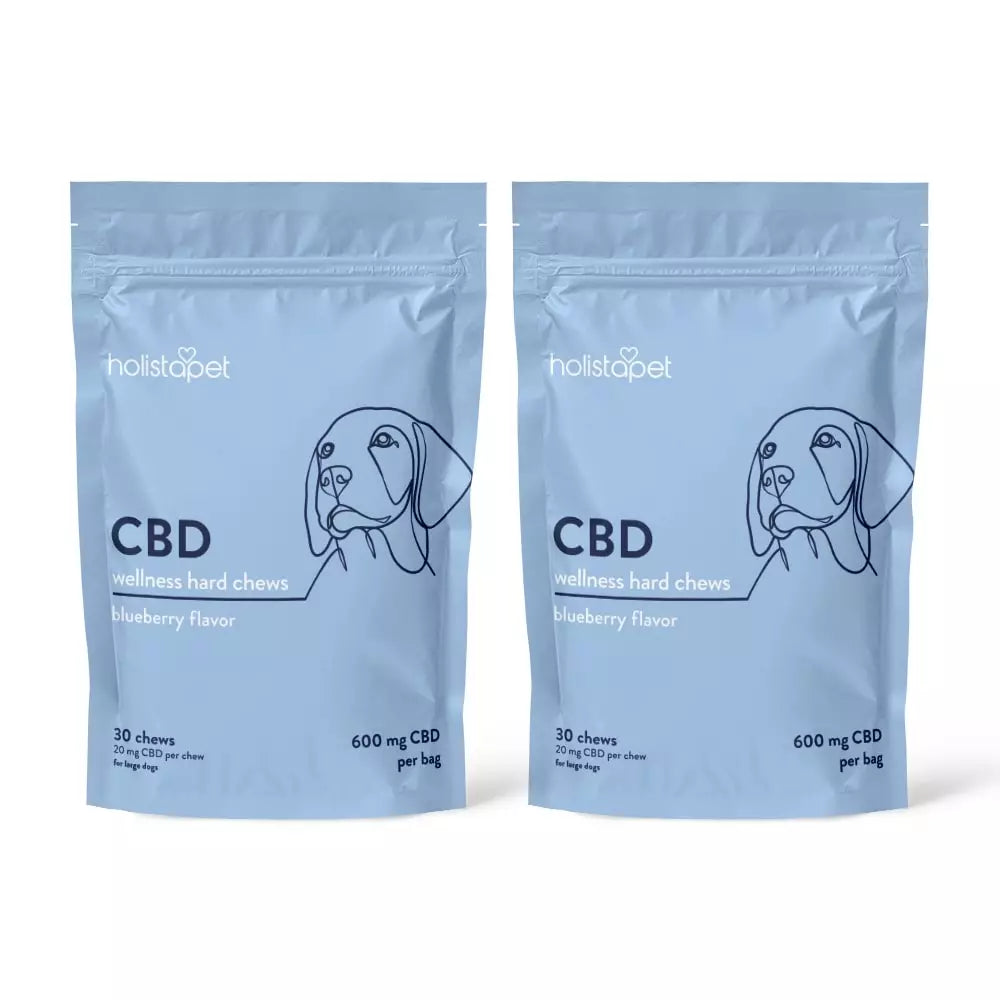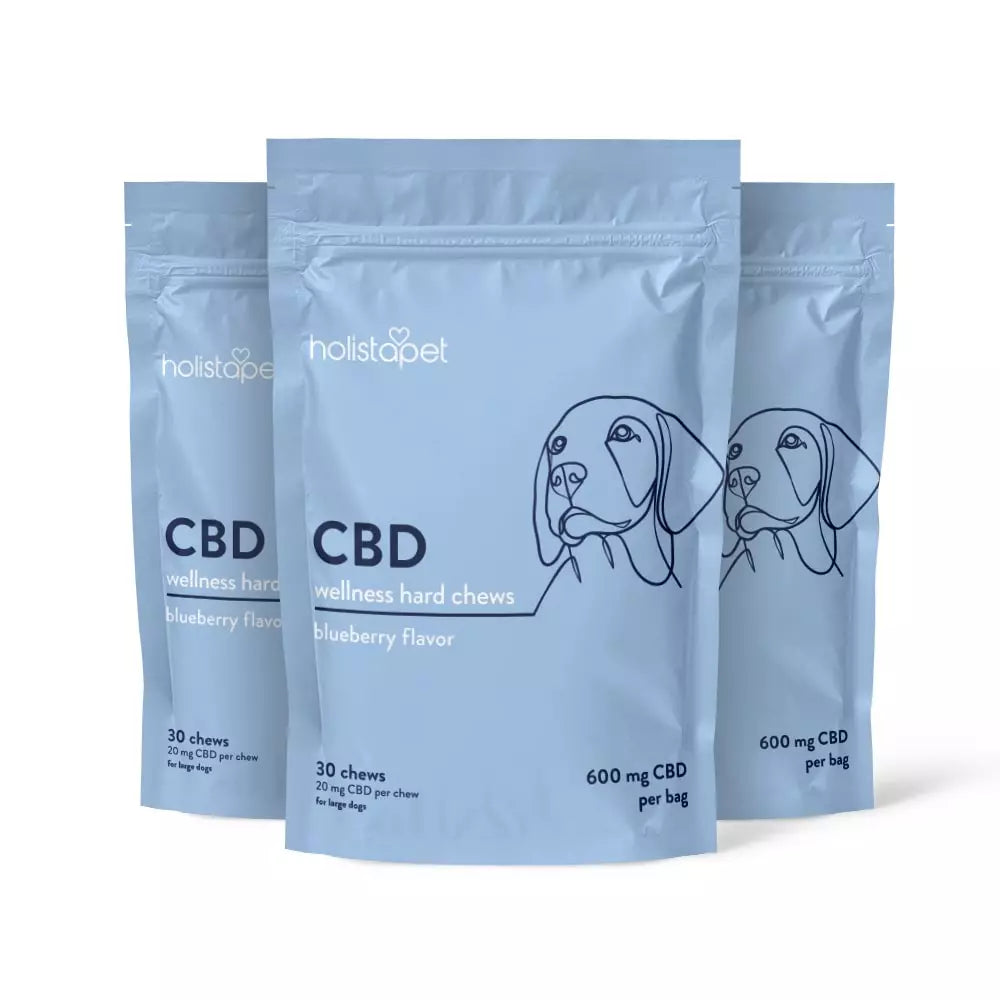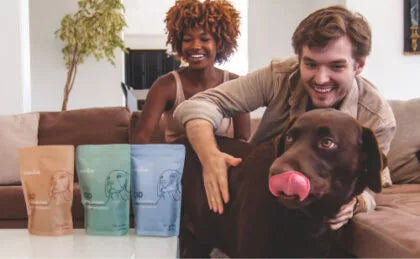 CBD Wellness Dog Treats
Enhance your pet's well-being with our CBD Wellness Dog Treats, carefully formulated to nourish their Endocannabinoid System. These irresistible treats are crafted using natural ingredients, providing a healthy and delicious option for your four-legged friend. With a mouthwatering blueberry and sweet potato flavor, each bag contains 30 treats that are 
gluten, and dairy-free.
Benefits

Supports the endocannabinoid system
Made with all-natural and ingredients
Non-GMO, gluten-free, dairy-free
Yummy blueberry & sweet potato flavor
30 dog treats per bag
Serving Size

We generally recommend between 0.25 mg (a Regular Dose) to 0.5 mg (a Strong Dose) of CBD per every 1 lb of bodyweight. See our Pet CBD Dosing Chart for specific product dosing guidelines about your products.
Unlock your full potential with HolistaPet by joining our club today - offering the most substantial discounts and exceptional rewards, all for just $95.
30% off every order
2X rewards points
FREE shipping on all orders
Exclusive special offers
We donate 10% of your membership fee to help save the lives of shelter animals
Featured In:

This product is rated 4.5 of 5.0 stars.
It has received 21 reviews.
Outstanding customer service
Had a small issue with first order that was taken care of in a speedy amount of time. C/S was very helpful, professional and fast communication. Will defiantly continue to be a customer. Puppers loves the treats and we can already tell a difference in him.
My 3 stars is not for quality. These have made a huge improvement in Bunnie. BUT... she is 13 with little amounts of teeth. These are like rocks! Even the chopper can not grind these. Maybe try making a SOFT chew? Even soaking in boiling hot water does not completely soften them. I am sad to say I can not continue buying them for this reason. If your dog has great teeth, it's a good purchase.
My 15 year old dog was diagnosed with a serious heart problem, I was told that CBD can help immensely along with a few other things. I found these CBD treats that are for heart health and has ingredients that the vet told me to give her, like blueberries, so I was so happy to try them! Honestly I figured I'd try them once because I didn't have much hope, but I was amazed at how these treats have helped her! I can see a difference when I forget to give her one, she starts showing signs of decline, so now I make sure she gets one everyday. I have my baby girl back and I can honestly say these treats have kept her going. So thank you so much holista pet for making these!
My 14 year old large dog continues to amaze the vet with how well she is doing. We credit things like these treats. Plus she loves them.
These CBD treats have been a key part of a plan to help our 1 year old Labradoodle conquer her separation anxiety. She loves the cookies and we see a positive change in her behavior which has allowed us to work on the separation issues.
$1
Of every product gets donated to help rescue shelter animals!
$53,836
Has been donated since the 2023 launch of HolistaPet Helps!
HolistaPet CBD Wellness Treats For Dogs
Our specially formulated CBD Wellness Treats for Dogs promote your pet's general wellness on a daily basis. These bite sized dog treats are vegan-friendly and made with natural ingredients straight from nature. Your dog will love the real blueberries and sweet potatoes in these delicious treats. In addition to CBD, they also contain flax seeds and hemp seed powder for added support.
All of our pet products contain broad spectrum CBD oil. This means they have all of the natural, beneficial compounds in hemp plants except for THC. To reiterate, these have CBD extract but zero THC, so you don't have to worry about your pet "getting high." If you see dog treats with full spectrum CBD oil on the label, this means they contain a small amount of THC.
BUY CBD WELLNESS TREATS
Dosing Recommendations​

There is no universal CBD dosage for dogs because it varies based on many factors. First of all, you should determine your dog's weight, as small dogs usually benefit from a smaller serving of CBD. We made this handy chart to help you calculate the perfect CBD dose for your pet.

We carry CBD dog treats in three different strengths to support dogs of all sizes. Each bag contains 30 treats. Here are the strengths you can choose from, as well as the recommended weight class for each:

5 mg CBD dog treat/150 mg total: For dogs under 20 lbs
10 mg CBD dog treat/300 mg total: For dogs 20-60 lbs
20 mg CBD dog treat/600 mg total: For dogs over 60 lbs`
Active Ingredients

Below are the active ingredients that make our wellness treats for dogs to deliciously powerful!

Blueberries: Contain natural antioxidants. Supports the cardiovascular system.
Flaxseed: Supports the immune system. Promotes healthy skin and coat.
Hemp Seed Powder: Good source of protein, vitamins, Omega 3, and Omega 6.
Broad Spectrum CBD Oil: Promotes overall wellness.
Other Ingredients: Sweet Potatoes, Rolled Oats, Brown Rice Flour, Molasses, Cinnamon, Coconut Oil
Benefits Of CBD Dog Treats

CBD wellness treats for dogs are highly versatile, as they offer a wide array of benefits. Here are the primary ways in why CBD can help your canine companion thrive: 

Offers relief from aches and physical discomfort
Promotes a calm and relaxed mood
Appetite and digestion regulation
Encourages natural sleep
Lab Testing Results

We list the potency for each of our CBD products on the label, but if you want to verify our claims, you can look at third-party lab tests. Reputable CBD companies send their products to independent labs, which test them for cannabinoid content. They will confirm that it contains the right amount of CBD and no THC whatsoever. Labs record their findings in Certificates of Analysis (COAs).
Why Choose HolistaPet Dog Treats?

We are a national leader in the CBD pet care industry. Our sustained success comes on the backs of our high-quality products, affordable pricing, discount deals, and outstanding customer service. If you want to see proof of our quality, just check out the thousands of five-star reviews we have collected on sites like TrustPilot, Google Reviews, and the BBB (Better Business Bureau).
Frequently Asked Questions
Got questions? Well we've got answers! We've been pros in the pet CBD community for a long time now, but what good's all that knowledge and experience without someone to share it with? Below you'll find expert advice for commonly asked questions.
Can CBD Be Addictive To Dogs?

CBD is non-habit forming, so you do not need to worry about your dog developing a dependence on our natural dog treats. This is one more way that CBD and THC differ from one another. THC binds strongly to cannabinoid receptors, which is why some people form a habit. This is not an issue with CBD.
What Can I Use Dog Treats For?

CBD is very versatile, so you can use it in all kinds of situations. The benefits of CBD that we listed before should give you a good idea of the issues CBD can help with. These dog treats are great for moments when your dog is experiencing discomfort, agitation, appetite issues, and skin irritation.

However, you don't need to hold back on the CBD dog treats until your pup exhibits an issue. These natural dog treats infused with CBD is most effective when you give them dog treats every day. This way, you can build up a reserve supply of CBD puppy treats in their body to help them in the long term.

Natural dog treats infused with CBD are a powerful incentive for your dog. Remember, they don't just have CBD at their disposal until you grant it. Our dog treats also have delicious blueberry and sweet potatoes that your dog can't resist. You can support their wellness and reward them for good behavior with out dog treats all in one!
Can I Use CBD Treats For Dog Training?

Since CBD treats are such a strong motivator for dogs, training treats can really help with training your dog. All reputable dog trainers and pet lovers agree that training treats with positive reinforcement is much, much more effective than punitive measures. Offer your dog a CBD treat to reward their good behavior. Through training treats you can teach them right from wrong.

Pet parents need to take a hands-on role in training, even if they hire a professional. Training is a round-the-clock process, so it shouldn't be limited to daycare or the dog park. You always want to keep CBD training treats on hand so that you can seize every teaching moment!
How Often Should I Give My Dog CBD Treats?

We generally recommend giving your dog a CBD treat every 8 hours or so, depending on their needs. We say 8 hours because that is about the duration time of CBD's effects. However, not every dog experiences the effects of our CBD dog treats for the same amount of time. Therefore, it is important to closely monitor your dog's condition, especially during their first month of having CBD in dog treats or oil.

The 10% Rule

When it comes to doling out our natural dog treats, you need to consider quantity as well as how often you feed them. Veterinarians recommend that treats make up no more than 10% of your dog's diet. Snacks, even healthy snacks, can't substitute for daily meals.

It is important to feed your dog a healthy diet. Choose pet food made with natural, whole ingredients. Don't settle for low-quality food that has artificial ingredients or meat meals. Wet foods are generally the most nutritious, and you can mix in a few drops of HolistaPet CBD oil for even more benefits.
What Should I Look For When Buying Quality CBD Dog Treats?

Of course, you don't want to buy just any old CBD dog treats or pet supplies. As a pet parent, you should always prioritize your dog's health. They deserve the best, don't they? Here's what to look for when you're shopping for CBD pet treats and pet supplies:

Natural Ingredients

The best CBD dog treats contain natural ingredients sourced directly from Mother Earth. If a company genuinely cares about its customers and their pets, it will not use any artificial ingredients in its dog treats or training treats. You should always look for ingredient lists with familiar, human-grade foods like fruits, berries, green tea extract, oats, etc.

American-Grown Hemp

CBD comes from hemp plants, which are a type of cannabis plant. Hemp is not marijuana! It contains lots of CBD and hardly any THC (plus, we remove any traces of THC when we make our pet products). The best hemp comes from farms right here in the United States, where farmers ensure that it meets the high standards set by the federal government.

COAs

We previously glossed over third-party lab tests and the importance of COAs (Certificates of Analysis), but we'd like to go a little more in-depth right now. What exactly does a COA tell you? In short, it provides a full list of the cannabinoids present in any given CBD product. We cannot overstate how important this is.

The first thing you want to look for on a COA for your training treats or otherwise, is the CBD content. It should match the strength listed on the label, although it could vary by a couple of decimals. Next, you want to look for the THC content. Specifically, you want to look for Delta 9 THC, which is the federally illegal compound in marijuana plants. If the COA says there is more than 0.3% Delta 9 THC in the product, it violates federal regulation.
What Ingredients Should I Avoid In CBD Dog Treats?

Now that we have talked about the high-quality ingredients you want to have in your CBD dog treats, it is time to visit the other end of the spectrum. We here at HolistaPet strictly adhere to high standards and use only the most desirable ingredients. However, we can't vouch for other CBD pet companies, many of whom maintain much lower standards. Do not get CBD treats if they contain any of the following elements:

Artificial Ingredients

Unfortunately, many mass-produced natural dog treats contain synthetic ingredients. You should avoid any artificial flavors, colors, or preservatives. Look at the list of ingredients – do you recognize them? Green tea extract, garlic powder, or rosemary extract?  Or does it look like a chapter from your old chemistry textbook? Containing vegetable glycerin, guar gum, cane molasses, or mixed tocopherols added? If the label is chock-full of chemical ingredients you can't even pronounce, we strongly advise you not to buy them, regardless of whether they are tasty treats or not. Look fro ingredients with fresh meat. A senior puppy or not, your puppy loves natural soft bites that make training sessions better and life more full. 

Imported Hemp

We explained that American hemp is the highest quality, but that doesn't stop many CBD companies from importing hemp crops from other countries, especially Canada, China, and Mexico. The problem with this is that other countries do not place the same regulations on their hemp farms, making the quality very unreliable.

So, why do so many companies use imported hemp to make their CBD pet products? Imported hemp is cheaper, so these brands can cut corners and save a buck saying they're committed to wellness, soft puppy bites. Unfortunately, this comes at the expense of the customer. Cheaper ingredients are almost always a sign of poor quality, and yet many brands still charge premium prices for these products.

Synthetic Pesticides

We strongly believe that organic ingredients are the only choice if you care about clean, quality products. Many commercial farms cover their drops with toxic chemical pesticides to keep pests away. These companies will tell you that they clean all the chemicals off the plants once they harvest them, but do you really want to take that risk?

Synthetic pesticides have been linked to numerous health issues. The last thing you want to do is worsen your dog's condition by letting them eat something toxic. Furthermore, inorganic farming is extremely destructive to the environment. When you choose to purchase organic products, you get to provide your dog with the highest-quality ingredients and show love to the environment at the same time!