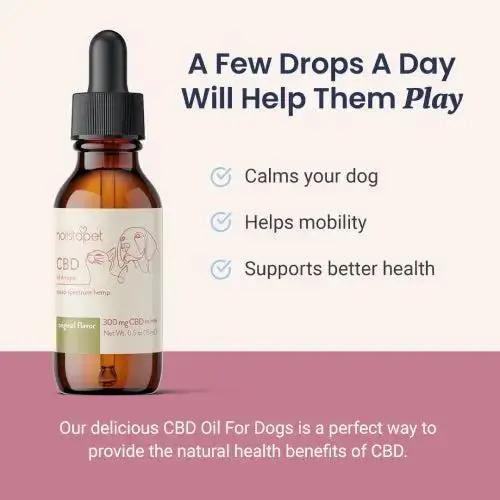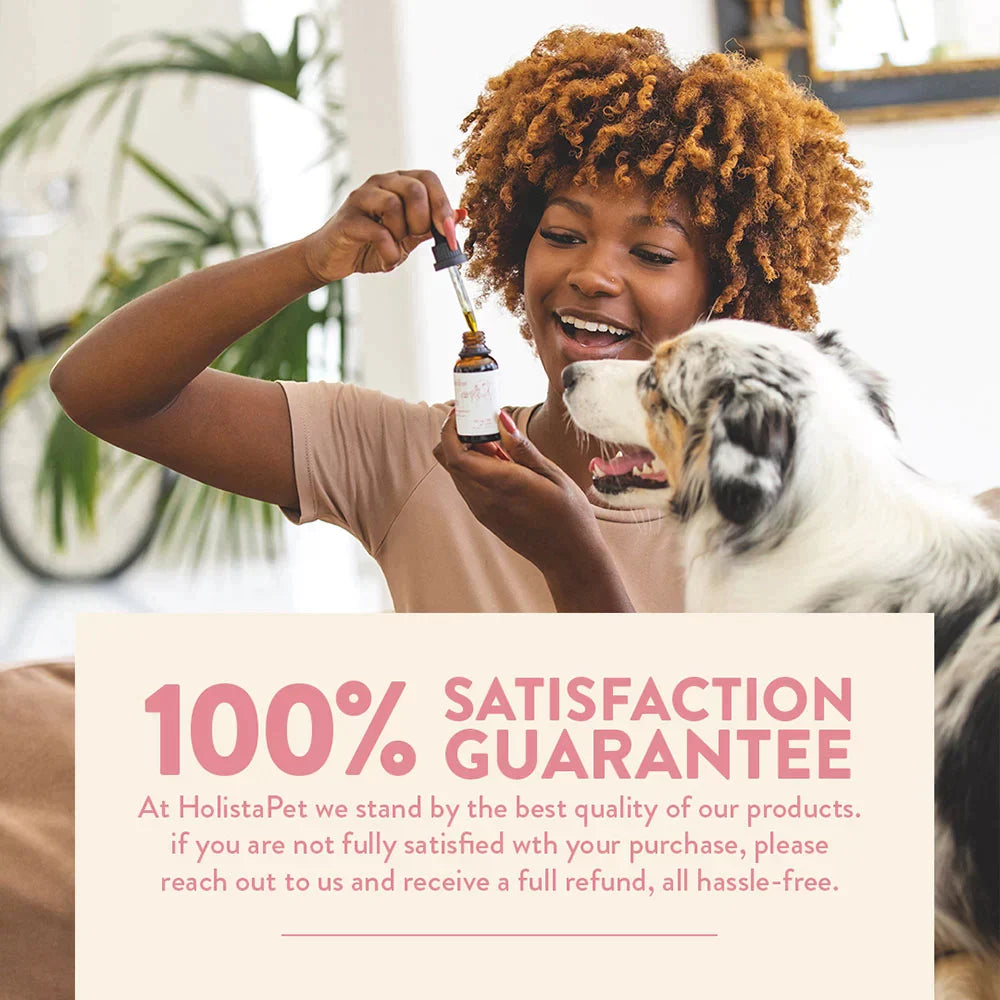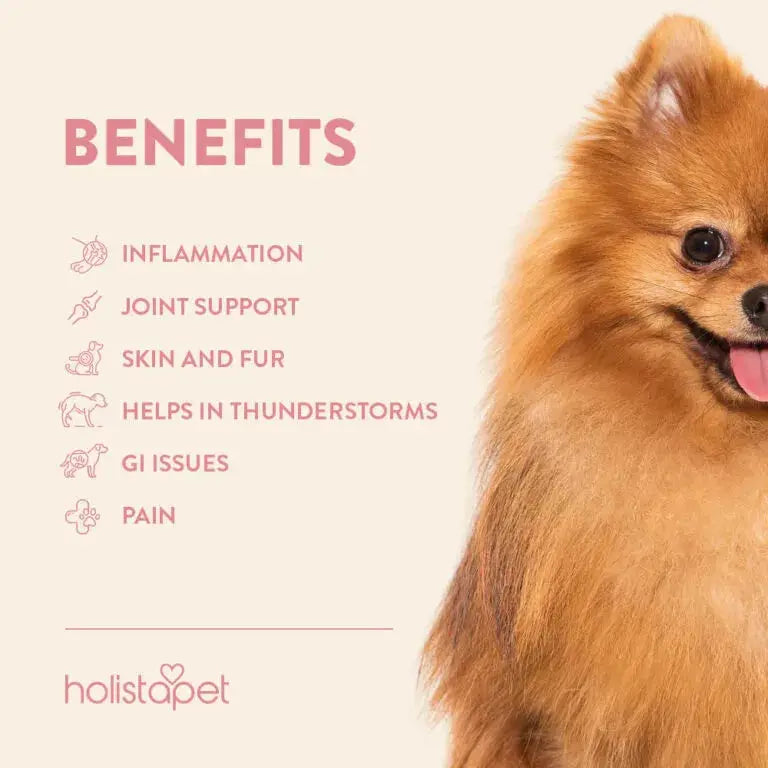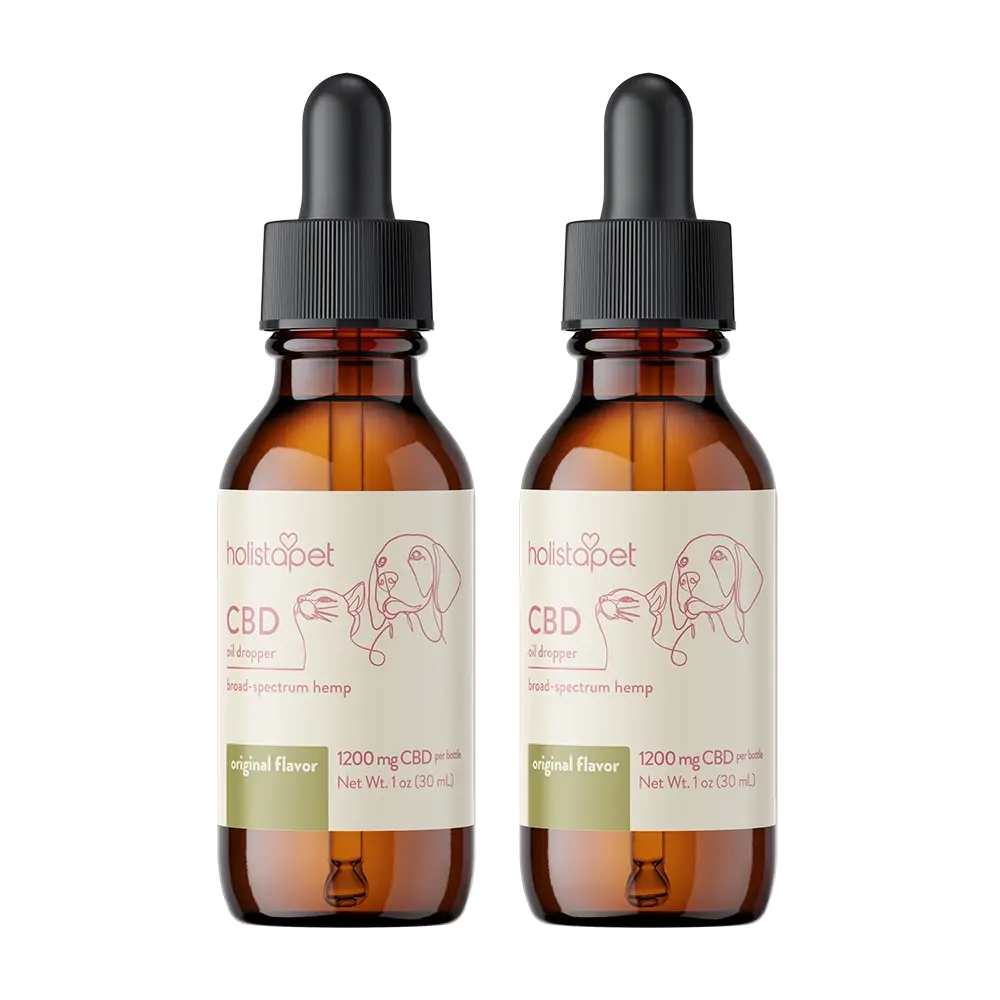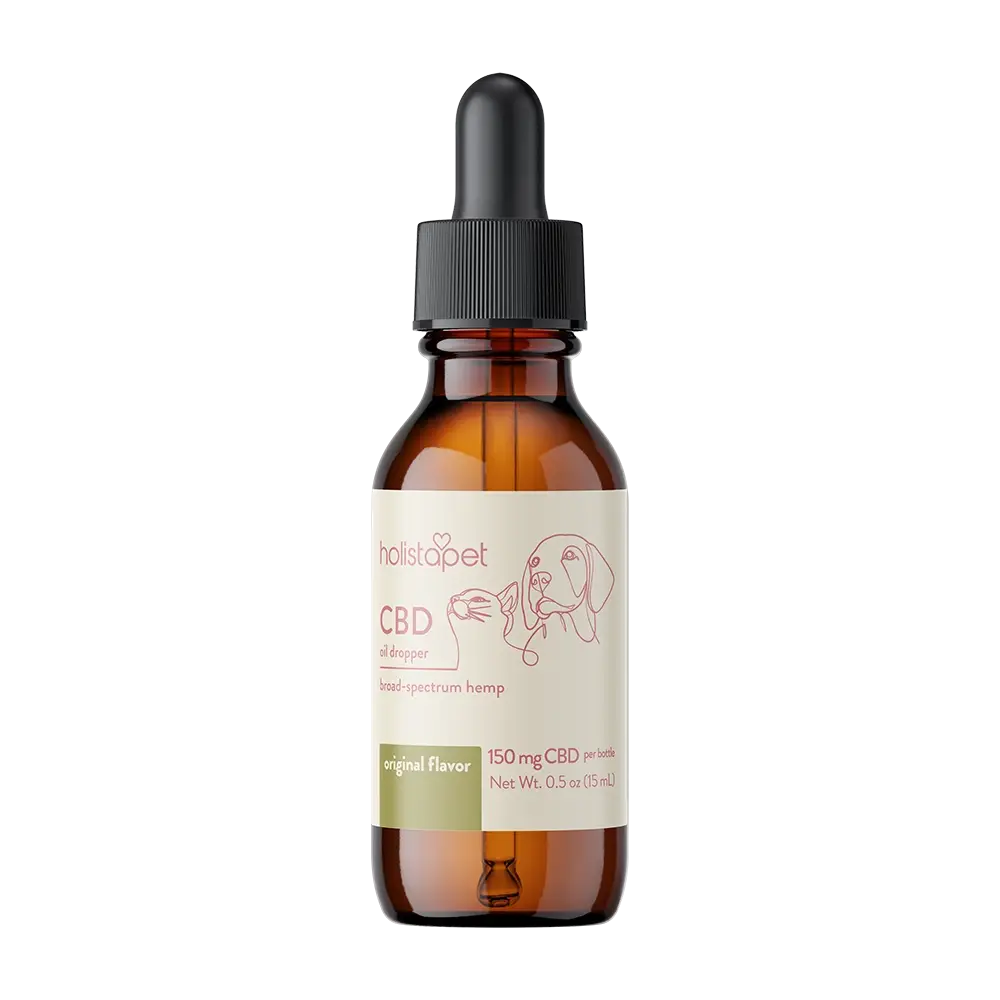 CBD Oil for Dogs
Provide your pet with the care they truly deserve with our premium CBD, crafted from the finest natural sources. Delivered in a convenient dropper bottle, it ensures effortless and precise dosing, whether administered orally or mixed seamlessly with water or food.
Benefits

Broad-spectrum CBD + other cannabinoids
Concentrated in a convenient dropper bottle
Easily drop directly into mouth or in water/food
Formulated specifically for pets
0% THC = non-psychoactive = NO "high"
100% all-natural ingredients
Natural superfoods + CBD
Non-GMO, gluten-free, dairy-free
No additives or preservatives
Manufactured in the USA
Serving Size

We generally recommend between 0.25 mg (a regular dose) to 0.5 mg (a strong dose) of CBD per every 10 lbs of bodyweight. See our Pet CBD Dosing Chart for specific product dosing guidelines about your products.
Unlock your full potential with HolistaPet by joining our club today - offering the most substantial discounts and exceptional rewards, all for just $95.
30% off every order
2X rewards points
FREE shipping on all orders
Exclusive special offers
We donate 10% of your membership fee to help save the lives of shelter animals

Before/After
CBD Oil for Dogs brings relaxation and vitality with every drop, and is a remarkable addition to every dog's routine.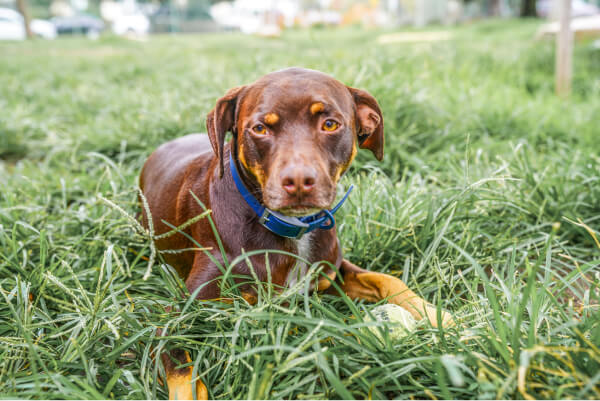 Before
After
This product is rated 4.9 of 5.0 stars.
It has received 104 reviews.
Thank you Janine!
Just want to give a thumbs up to Janine, who responded promptly to my email. I had a bottle damaged during transport, and the return slip was unusable, as it was covered with oil! I am 10 miles from the nearest Post Office, and not having to go in and return the broken item is extremely helpful. Janine is having a new bottle sent to me to replace the broken one. 2 of my dogs are old, and have arthritis, and the oil is very helpful! Thank you Janine!!!
CBD Oil
My dog has a polyp on his anus. There is nothing that the vet can do because of the area located. Rather than steroids for the rest of his life, we tried the CBD oil and laxative. It is working great. He seems to be in less pain and does not yell when going. As I see it, it has given him more life. Thank you for providing this amazing product.
cbd oil 600 for dogs
I was especially wishing the cbd would help my dog's back legs to work..
sadly no difference there yet. been giving it about 2 weeks now.
it does seem to have enhanced his appetite ~ a good thing. perhaps
I've not given the oil enough time ? any help or suggestions you might have would be very appreciated.
thank you,
cm
cbd oil
very good quality good prices
$1
Of every product gets donated to help rescue shelter animals!
$74,836
Has been donated since the 2023 launch of HolistaPet Helps!
HolistaPet CBD Oil For Dogs
HolistaPet CBD Oil for Dogs is formulated with pure CO2 extracted Broad Spectrum CBD Oil and Hemp Seed Oil to create a powerful concentration that can benefit your dog in many fantastic ways!
The best part of these CBD oil products is that you can easily administer them to your pets for fast, efficient results. Apply the CBD tincture drops directly into your pet's mouth or add to their food or favorite snacks.
We have the best CBD oil for dogs because it is always 100% non-GMO and vegan for a clean final product. We believe that all pets deserve only the highest quality, healthiest ingredients in their CBD products so they can live a happy and strong life!
Stick with us as we guide you through how we make CBD products from hemp plants, the best dosing for your pet, broad vs. full spectrum CBD products, and more!
Buy CBD Oil For Dogs
Dosing

To view the recommended dosing for this product, check out our CBD Oil Dosing Chart for Pets!

Remember that CBD oil for dogs dosage can be dependent on many different factors such as:

Weight
Age
Diet
Fatigue
Ailment

If your pet is new to CBD oil for dogs, start with a lower dose until they become used to it and then gradually work your way up.

Consult a vet if you are concerned about how CBD products may affect your pet.
What Dosage CBD Oil For My Dog?

When you're looking to buy high-quality CBD oil for dogs, you may notice that there are many different sizing and dosage options, plus things like broad and full spectrum CBD. We'll get to the broad vs. full spectrum CBD later, but for now let's talk dosing. It might seem confusing at first, but we can teach you how much pet CBD oil to give your dog!

Keep in mind that there are no official recommendations for CBD products by the FDA, so if your pet is new to CBD oil for dogs, start with lower dosages at first and then gradually increase it until your pet feels comfortable.
Calculating Dosage

Whether you're using broad or full spectrum CBD products, the general rule of thumb is to use 0.25mg of CBD per pound of bodyweight for a standard dose. For example, a dog that weighs 80 pounds can start with 20mg of dog CBD oil. 

In this case, a 600mg bottle of dog CBD oil for dogs may give you just enough for 30 doses.

On the other hand, small dogs weighing 20 pounds may only need 5 mg of CBD oil for dogs per dose.

In this case, a 150mg bottle of dog CBD oil for dogs will give you just enough for 30 doses. You can buy this bottle for medium dogs.

For a stronger dose, double the potency to about 0.5mg CBD per pound of body weight. The same 80-pound dog will now need about 40mg of dog CBD oil for dogs as an extra-strength dose.

In this case, that 600mg bottle will last about 15 doses, which will last about two weeks with daily doses. We recommend this strength for larger dogs.

Of course, you may want to lower the dose to even less than the standard dosage recommendation if your pet is new to the best CBD oil for dogs!

Depending on the CBD products you have (it's easiest with things like oil and treats), you can start with half the standard dosage and then work your way up until you notice increased relaxation or calm in your pet.

As always, consult a vet for more specific advice regarding CBD products. They will be able to help examine your pet and advise on how even the best CBD oil for dogs will affect them.
How Is Our CBD Oil Made?

It's simple – we make our pet CBD oil products by separating the CBD extract from the hemp plant and combining it with a carrier oil!

First, to separate the CBD from the hemp plant, it must go through a process known as extraction. There are several ways you can extract CBD: ethanol, solvent, or CO2. The CO2 extraction method is by far the cleanest method because it doesn't leave behind any solvent residue or byproducts that may be damaging to your pet's health.

CO2 extraction from the hemp plant is more expensive and can take longer to complete the extraction, but HolistaPet takes every measure to make sure your pet receives the highest quality product possible.

Once we have the CBD extract, we combine it with hempseed oil. Hempseed oil is an excellent choice for a carrier oil as it is exceptionally rich in many different nutrients, including omega fatty acids, vitamins, minerals, and proteins! 
Why Choose HolistaPet CBD Oil For Dogs?

At HolistaPet, our biggest priority is making sure your pet gets everything they need to live a healthy, happy life! As pet owners ourselves, we understand what it takes to take care of our beloved furry friends and that they ALWAYS take priority in our lives. We want to help you get there and provide them with the best quality of life that they can live!

With HolistaPet CBD Oil for Dogs, we're offering a holistic, all-natural, wellness solution for all of your pet's needs! Whether they're getting a little older in age, going through a tough time, or simply having trouble calming down, our CBD hemp oil for pets is one of our favorite products to tackle almost any issue you might come across. It's extremely versatile and convenient for any situation, and you can even customize a unique daily CBD routine for optimal results!

Most importantly, our promise to you is that we will always put you and your pets first. Because without our HolistaPet family, we wouldn't be here today! Your happiness is our goal, and if, for any reason, you aren't satisfied with your purchase, please take advantage of our 30-day, 100% money-back guarantee, absolutely no questions asked! While you're here, go ahead and check out our amazing selection of high-quality CBD products that people love for their pets!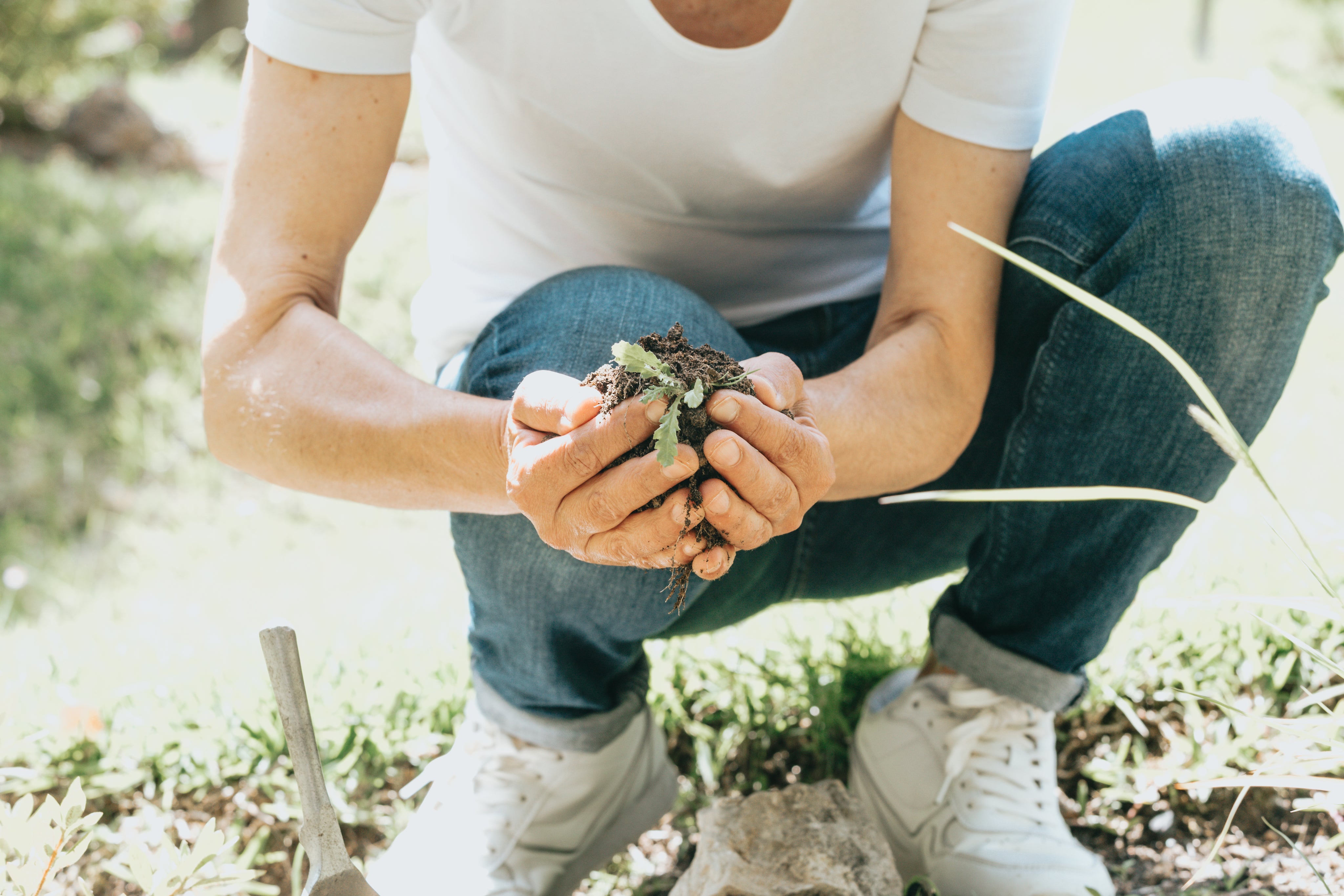 View Our High Quality
Lab Tests
Trust the Facts: Our lab tests prove the quality of our CBD Oil for Dogs.
View Lab Tests
What To Look For In CBD Tincture For Dogs
Nowadays, hundreds, if not thousands, of brands are selling CBD products for dogs.
But how many of these companies do you actually trust? Where you buy CBD oil for your pet can greatly determine the effectiveness and quality of the product!
Buy CBD Oil For Dogs
What Is the Best CBD Oil for Dogs?

We recommend trying HolistaPet CBD Oil for Dogs for your beloved furry companions!

With strengths from 150 – 3000mg CBD oil for dogs, we have something for pets of all sizes.

Using only two main ingredients (CBD extract and hempseed oil), our CBD oil for dogs is designed to help heal, protect, and strengthen your pet so that they can live their best lives!

From a quality hemp source to all-natural ingredients to the love and care put into each bottle, you'll want to pick up one (or more) CBD oil for dogs for your pet.

Giving them just a few drops each day is enough to get their wellness back on track. Not to mention, HolistaPet has a large selection of other fantastic CBD products if you want to try something other than CBD oil for dogs!

Check out the video below to see how CBD oil benefits dogs!
What Is CBD Oil for Dogs?

The best CBD oils are extracted from the hemp plant and has many amazing healing effects for dogs! CBD is a naturally occurring cannabinoid that can support your dog's mind and body to help them reach homeostasis. Helping your pup reach an internal equilibrium is important for a fulfilling, balanced lifestyle!

Using the CO2 extraction process, we can extract the best CBD oil for dogs without any use of harmful chemicals or solvents for a clean, final product. The best thing about CBD oil is that it's non-intoxicating, so you don't have to worry about your dog getting high!

Our CBD oil uses hempseed oil as a carrier, which has many significant health benefits for animals. Hempseed oil is an awesome superfood that is filled with vitamins, minerals, omega fatty acids, proteins, fiber, and more.

Many brands may use olive or coconut oil for their CBD oil tinctures for dogs, but we believe that hempseed oil has the most health benefits of them all! Is your dog a picky eater? If so, we also offer delicious CBD dog treats for fussy dogs who may dislike the flavor of CBD oil by itself.  

What Can CBD Oil Do For Dogs?

Many people have started to give their dogs CBD oil because it has a wide range of fantastic benefits that are great for their well-being.

If you have an older dog feeling some discomfort or a puppy that's always on edge, try giving them some CBD oil to help them get more soothing relief. Here are some of the main benefits that the best CBD oil provides:

Relieves discomfort like joint soreness or muscle aches
Promotes fuller, deeper sleep
Regulates appetite and digestion
Soothes nervous or anxious behaviors
Calms upset stomachs or queasiness

The addition of hempseed oil makes the best CBD oil a complete, well-rounded product that is perfect for your dog's wellness.

You can incorporate its superfood benefits into your dog's daily routine for a great way to make sure they are getting the necessary nutrients they need!
 Is CBD Oil Safe for Dogs?

CBD oil is generally very safe for both dogs, according to this 2019 study! Because there are no intoxicating properties, there is almost no risk to giving CBD oils to your pets.

CBD oil is well-tolerated by the majority of dogs out there, and there are currently NO reported cases of serious harm or injury from taking CBD oil and no known toxic dose for pets.

Are There Any Side Effects Of CBD Oil For Pets?

One of the best things about CBD oil is that there are minimal side effects! Even if you accidentally give them too much, they'll be okay. The side effects are typically very mild and don't last long. Some of the potential side effects your pet might experience are:

Dry mouth
Sleepiness or drowsiness
Diarrhea

Just remember that how every pet reacts to CBD oil can differ, so it's important to closely monitor them when taking CBD oil for the first time.

You'll want to start with a lower dose and gradually increase the amounts until you reach the desired effects. If you're worried about how CBD oil will affect your pet, you can consult a vet or an animal professional for more detailed advice!

How Does CBD Oil Work?

After consuming CBD oil, it enters your pet's system and supports their endocannabinoid system (ECS), which exists in all mammals on Earth. The CBD oil interacts with cannabinoid receptors in their body to support the mind and body to help your pet live a full, strong life.
 Ingredients

Finding products with all-natural ingredients is extremely important when it comes to your pets! You don't want to give them any products that use artificial or synthetic ingredients that can damage your pet's health.

HolistaPet is committed to only using natural, high-quality ingredients in ALL of our products because your pet's well-being is our priority!

Our CBD oil for dogs is 100% natural with only two main ingredients – CBD extract and hempseed oil.
Extraction Method

There are many different extraction methods for pet CBD oil. Some methods may be cheaper and faster but leave behind more solvents and chemicals in the final product.

For example, you might find that some brands will use an ethanol (alcohol) or hydrocarbon (butane, propane, etc.) extraction, which can be a far more dangerous process and leaves more risk of a contaminated product in the end.

However, at HolistaPet, we extract our pet CBD oil using the CO2 extraction method! This method doesn't involve any alcohol or solvents that could potentially cause harm to your pets.

CO2 extraction is by far the cleanest and most efficient method for maximizing CBD content so that you are getting the highest quality product available!
Hemp Source

The first thing to look out for is the source of the pet CBD oil. It's important to only buy brands that use USA-grown hemp because they must follow strict guidelines set by the FDA and USDA to ensure high-quality, pesticide-free hemp.

Imported hemp from foreign countries does not always follow these same guidelines and may use artificial fertilizers, pesticides, chemicals, or even genetically modified seeds to grow their crops. In some cases, the hemp may even be over 0.3% THC levels, which would be illegal under the 2018 Farm Bill.

All HolistaPet CBD products for dogs use all-natural, 100% hemp is grown in some of the best hemp farms in the country in Oregon and Colorado. We take great pride in using only the highest quality ingredients in our products because we believe your pets deserve the best they can get!
Certificate Of Analysis (COA)

COAs are a great way for you to determine the reputability and quality of any brand. COAs show that the specific product has been third-party lab-tested to determine quality, accuracy, and effectiveness.

You'll be able to get the entire cannabinoid profile of the product and find out exactly how much CBD is in the CBD oil your pet is consuming. Many brands will mislabel their products to show more CBD than what is actually included in the CBD oil.

If you're shopping online for your pet's CBD oil needs, look for lab testing results or COAs to verify for yourself! These COAs should be readily available for anyone to view instead of hidden away or completely non-existent. For the latest third-party lab test results for HolistaPet, click here!
Customer Reviews

Customer reviews and testimonials are some of the best ways for you to find out how a company operates and the quality of their products. You'll be able to read firsthand accounts of other customers to see if they were satisfied with their purchase or not. In some cases, you'll even find out the brand's service policies and how well they treat their customers.

With thousands of 5-star reviews, HolistaPet makes it a priority to ensure each and every customer is completely happy with their orders! If you're not completely satisfied, we offer a 30-day money-back guarantee, no questions asked!
Frequently Asked Questions
Got questions? Well we've got answers! We've been pros in the pet CBD community for a long time now, but what good's all that knowledge and experience without someone to share it with? Below you'll find expert advice for commonly asked questions.
What's the difference between broad spectrum and full spectrum CBD oil for dogs?

There are three main types of pet CBD hemp oil that you'll find – full spectrum CBD oil, broad spectrum, and isolate. So what's the difference between the three? Let's find out!

Full Spectrum CBD

When you first extract CBD from hemp, you get all of the compounds found in the plant (cannabinoids, terpenes, flavonoids). Having all of the 100+ cannabinoids present is when you get "full spectrum CBD oil."

The main benefit from full spectrum CBD oil is the entourage effect – a synergy between all the cannabinoids to produce an enhanced benefit than if CBD was by itself.

This includes THC, a major cannabinoid that makes full spectrum CBD oil the most effective type. Despite containing THC, these amounts in full spectrum CBD products do not exceed 0.3% to stay within the legal limit according to the 2018 Farm Bill.

These small concentrations are nowhere near enough to get any animals high, so you have nothing to worry about with full spectrum CBD oil!

Broad Spectrum CBD

Broad spectrum CBD oil is similar to full spectrum CBD oil with one major difference — there is no THC present whatsoever! Broad spectrum is perfect for those wanting to avoid THC for any reason.

Although the entourage effect may not be as strong in broad spectrum as in full spectrum, it is still extremely effective in broad spectrum CBD oil because the rest of the cannabinoids, terpenes, and flavonoids are still there!

HolistaPet CBD oil for dogs uses broad spectrum CBD oil to ensure a high-quality product while avoiding THC completely so you won't have anything to worry about.

The addition of hempseed oil makes our broad spectrum hemp oil tinctures extremely beneficial for your pet!
Is shipping really free for all orders?

Yes! We offer free shipping on all orders, no matter how small or large your order is. Always! This means that after your order has been processed, you should expect to receive your goods within 3–5 business days.

As an added perk for shopping at HolistaPet, if you aren't completely satisfied with your purchase, send it back within 30 days and get 100% of your money back!
 Is there delivery to my state?

We ship CBD oil to all 50 states in the United States! HolistaPet strives to deliver the best CBD oil for dogs to your door no matter where you live. Check out ourFAQs page for more information on our processing times and shipping policies.
What ingredients are in HolistaPet CBD Oil?

Here are the two main (and only) ingredients HolistaPet uses in our CBD oil for pets:

Pure CBD extract (cannabidiol)
Hemp seed oil
What potencies are available for me to buy?

150 MG CBD Oil for dogs under 20 LBS – Bottle Size: 15ml / 0.5 oz. | Appx. 450 drops per bottle | 1 drop = 0.33 mg CBD
300 MG CBD Oil for dogs 20-60 LBS – Bottle Size: 15ml / 0.5 oz. | Appx. 450 drops per bottle | 1 drop = 0.66 mg CBD
600 MG CBD Oil for dogs 60-100 LBS – Bottle Size: 30ml / 1 oz. | Appx. 900 drops per bottle | 1 drop = 0.66 mg CBD
1200 MG CBD Oil for dogs 100-160 LBS – Bottle Size: 30ml / 1 oz. | Appx. 900 drops per bottle | 1 drop = 1.33 mg CBD
3000 MG CBD Oil for dogs over 160 LBS – Bottle Size: 60ml / 2 oz. | Appx. 1800 drops per bottle | 1 drop = 1.66 mg CBD
When should I give my pet CBD?

You should give your pet CBD about 1-2 hours before any potential stressful situation. These events include but are not limited to veterinarian visits, large social gatherings, fireworks displays, and long-distance traveling. You can give your dog their appropriate amount of CBD every 8 hours up to 2 times a day.
Can I give my dog CBD Oil every day?

Yes, you can give your dog CBD oil every day! In fact, daily consumption is recommended to provide your furry friend with optimum wellness and ensure they receive the best results from CBD oil.
Should I give my pet a regular or strong dose?

Giving your dog a regular or strong amount of CBD depends on several factors unique to them. These factors include:

CBD tolerance
Body chemistry
Bodyweight
Reasons for consuming CBD oil

Calculating a regular or stronger amount of CBD isn't hard. All you need is their body weight (in pounds) and a basic calculator (for those good at math, scratch paper and pencil will suffice). Use the Dosage Calculations above to determine how much CBD a regular or stronger dose consists of. Remember, these calculations are not absolute; they're simply an estimated range of how much CBD your pet can ideally handle.

As with all CBD products, you should start your pet off on the lowest dose possible. Gauge how they respond to it. If your pet can tolerate this amount of CBD, or if you feel it's too little to be effective, you can gradually increase the amount until you reach the right level.
When will my dog feel the effects of CBD?

Your dog will feel the effects of CBD roughly 45-60 minutes after ingestion. When your pet consumes CBD oil, the tincture slowly makes its way through their digestive tract until they can finally feel the effects. This entire process takes anywhere from 45-60 minutes, so it's important that you give your dog their CBD approximately 1-2 hours in advance.
How long do the effects last?

The effects of CBD can last anywhere from 6-8 hours after your pet consumes it. Digestion offers the longest benefits when compared to other methods such as under the tongue absorption or topical application. Of course, this will also vary based on your pet's tolerance, weight, dosage amount, or condition.
Is CBD legal in the United States?

The 2018 Farm Bill legalized hemp and hemp-derived products across the United States. As a result, all hemp-derived CBD products are 100% federally legal as long as they contain 0.3% or less THC.

Although the federal government has no problem with CBD, your local government might. It's important to check your state's laws regarding the purchase and possession of CBD products. Because you just might find yourself living in a state with its own CBD laws that might conflict with and be stricter than the federal government's.
Does CBD oil go bad?

CBD oil may not necessarily go bad, but it will lose effectiveness over time. It typically lasts anywhere from 12 to 24 months after opening. You should try to keep it in a dark, cool place to prolong its shelf life as much as possible. However, we still recommend giving your pet CBD oil regularly and avoid letting it sit for too long between uses.