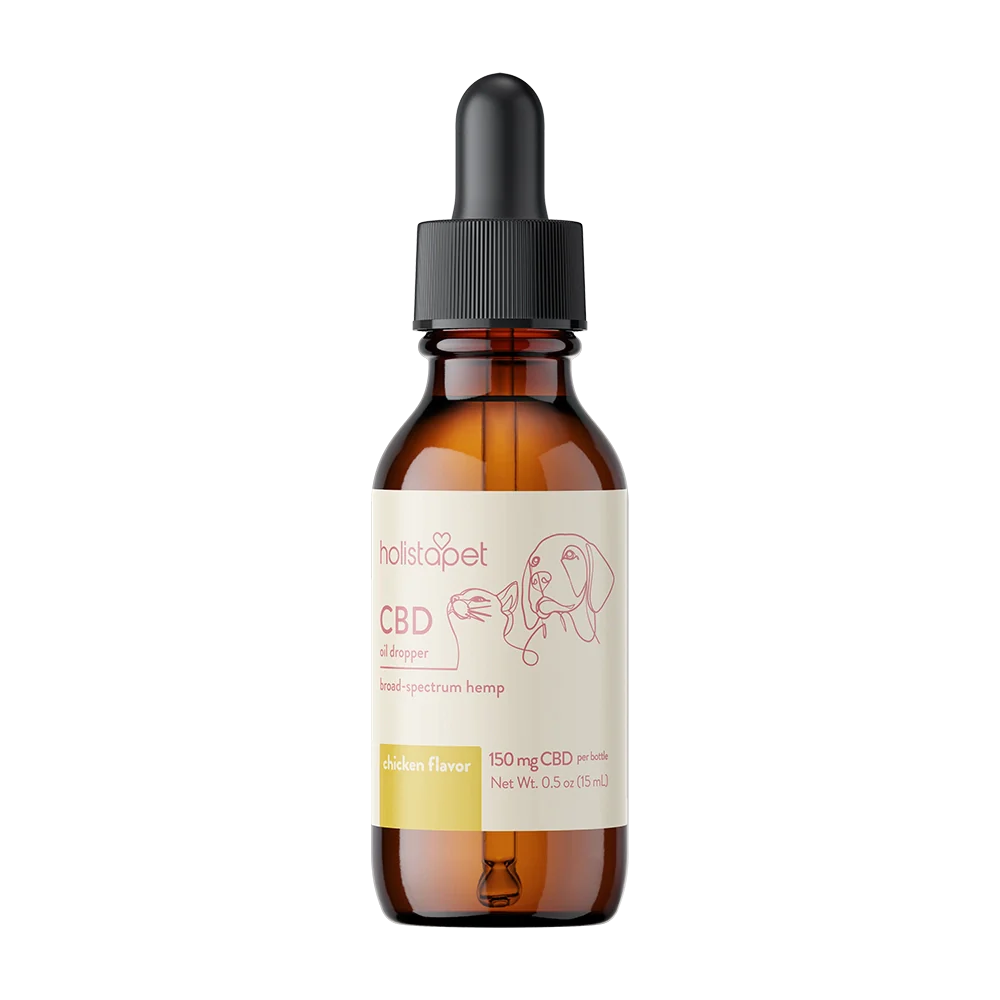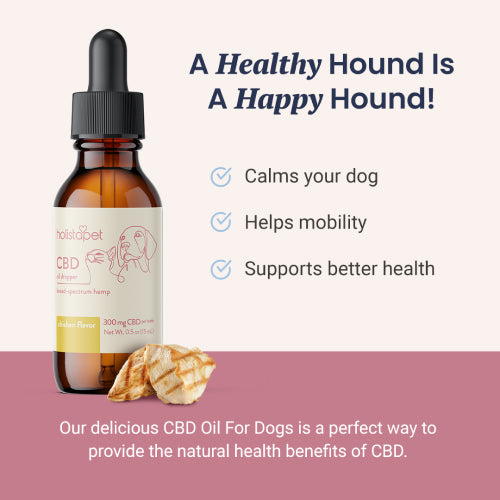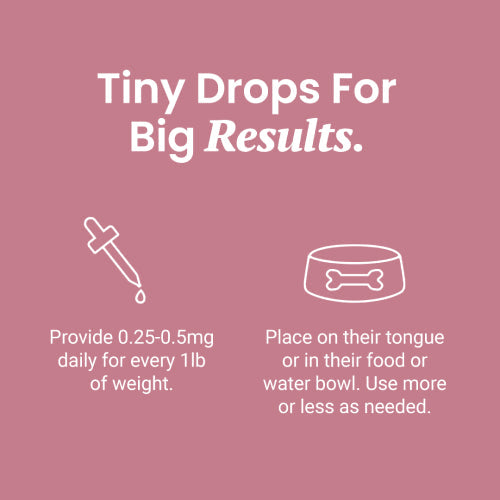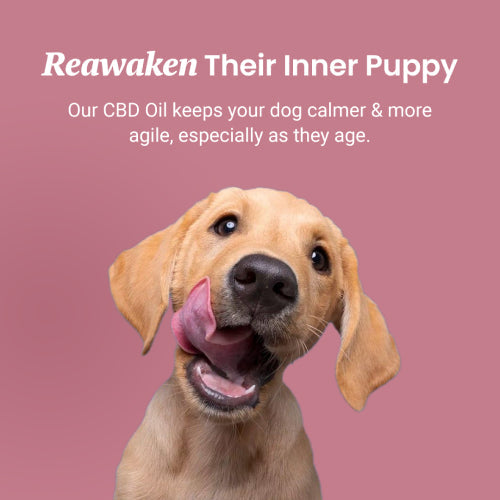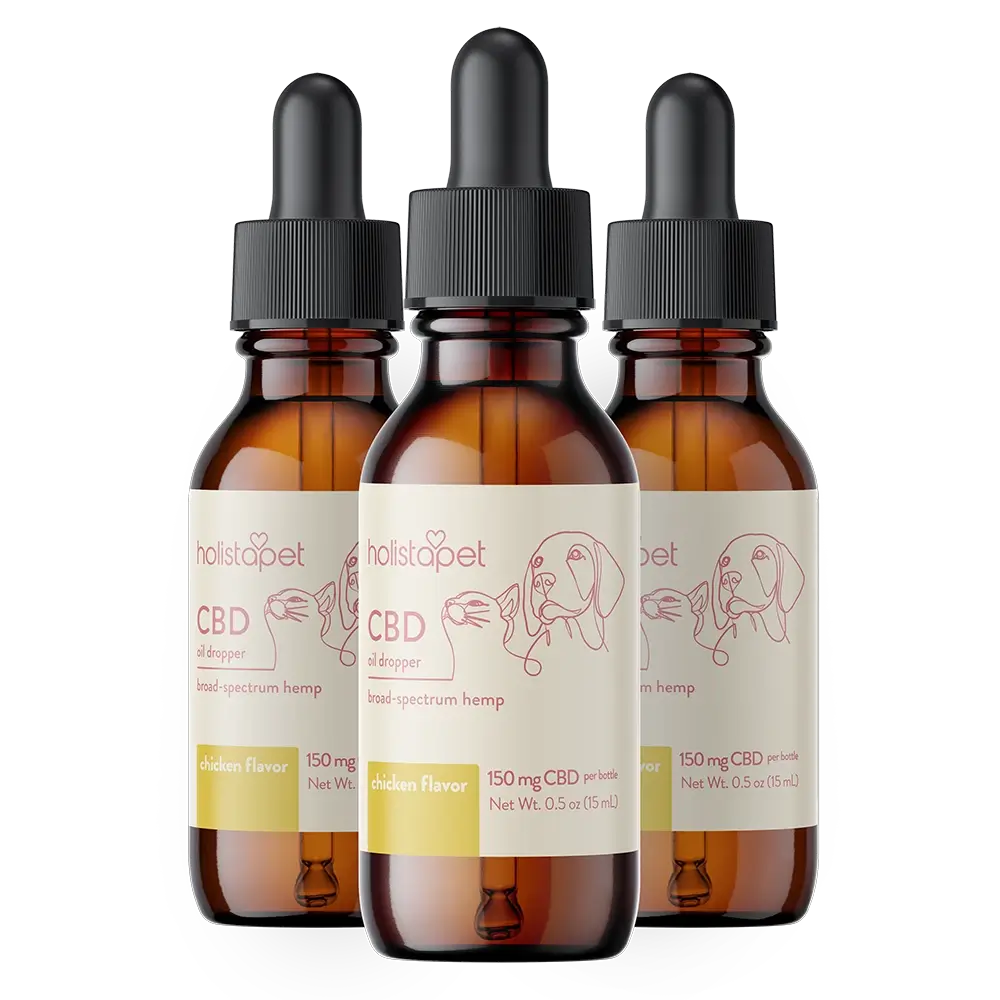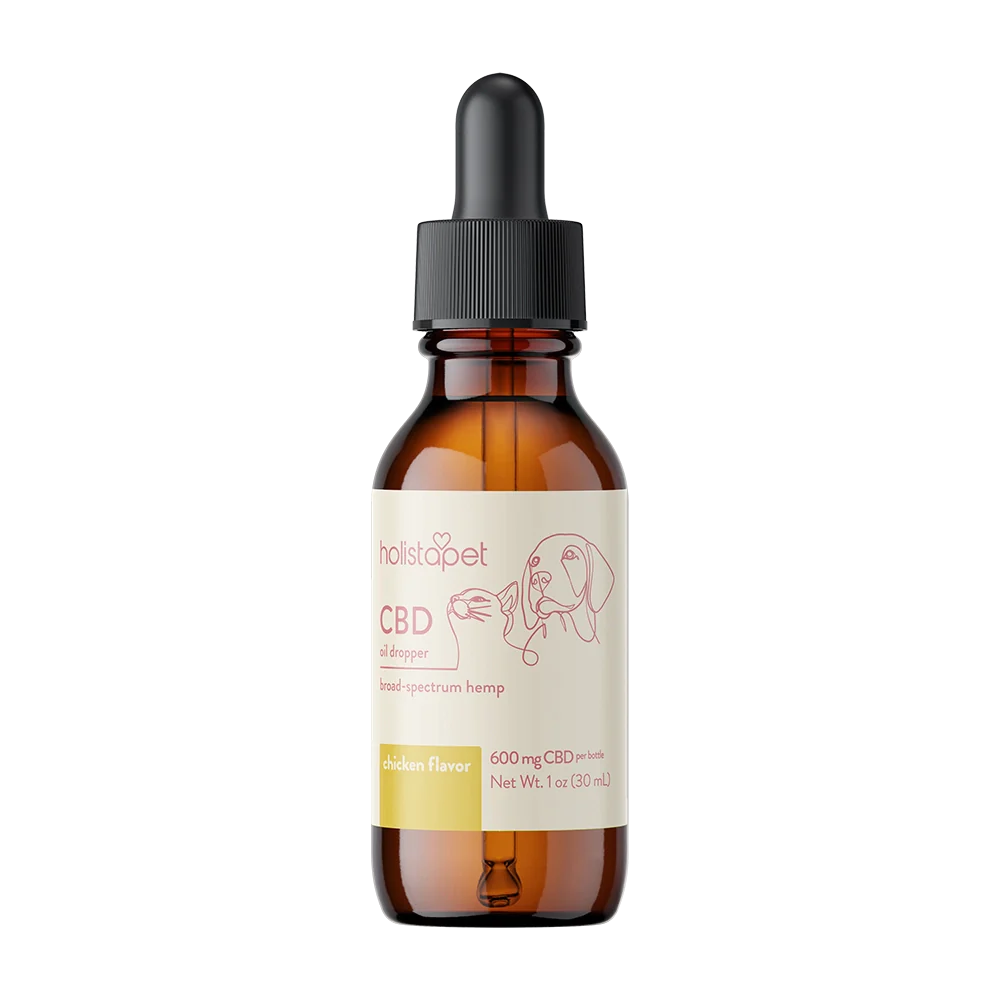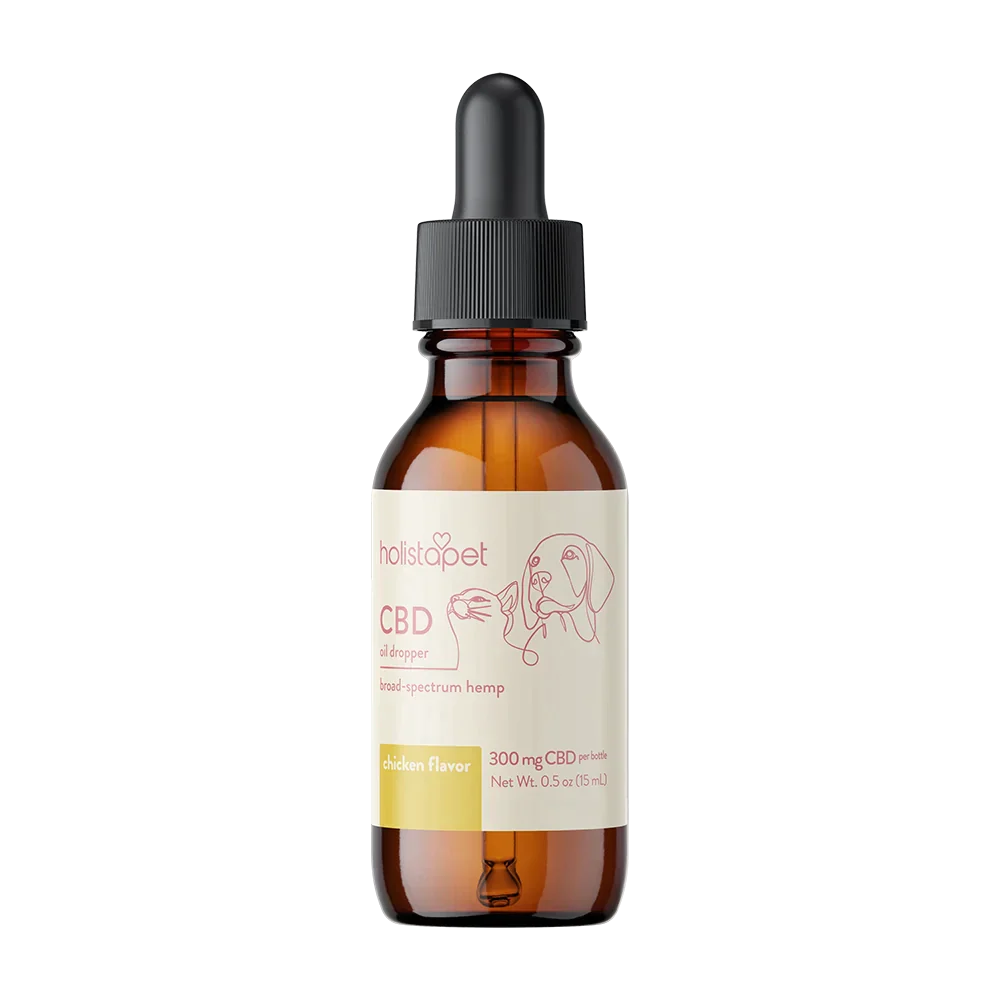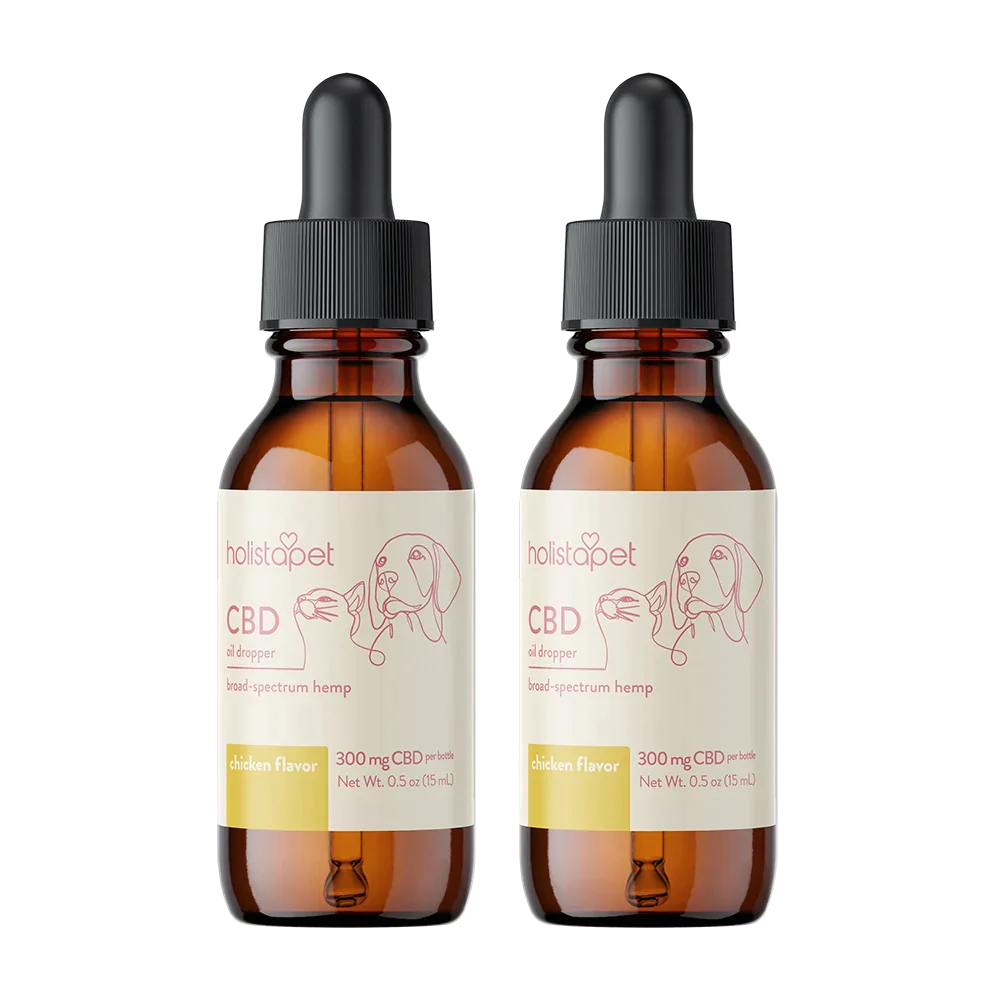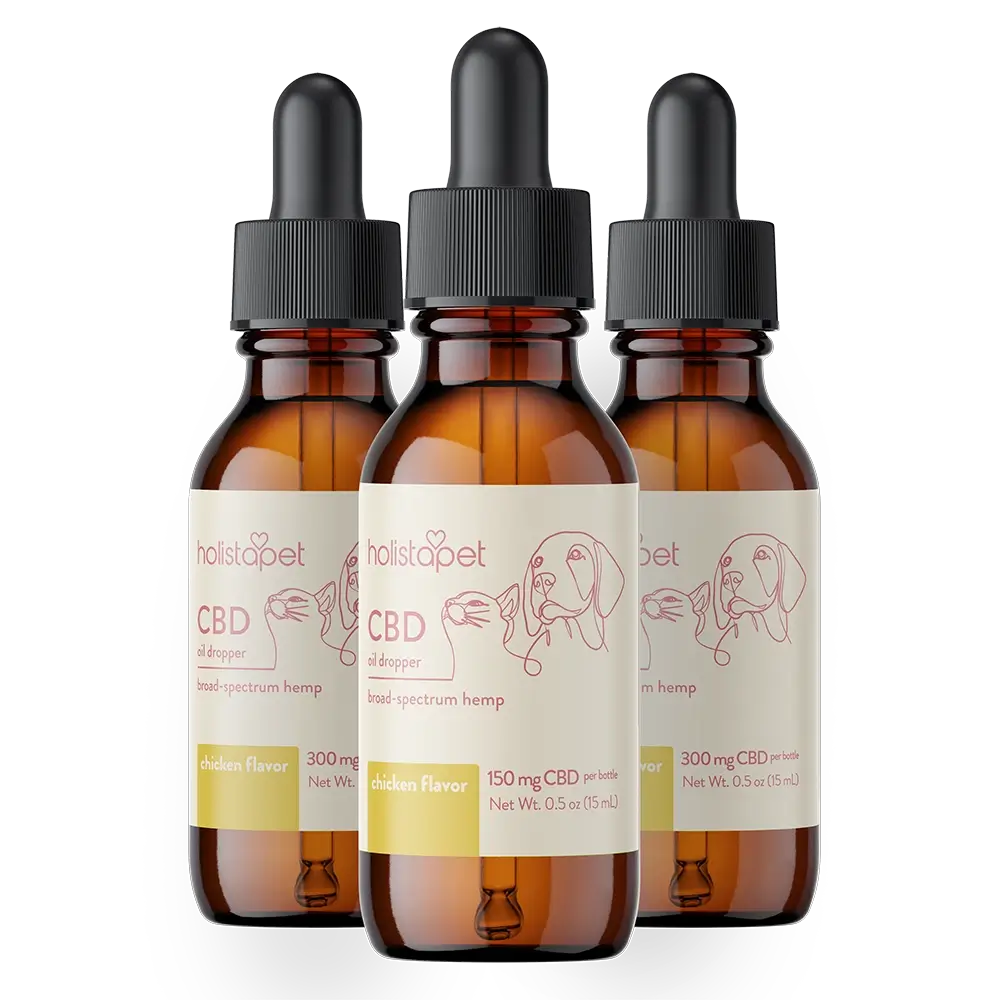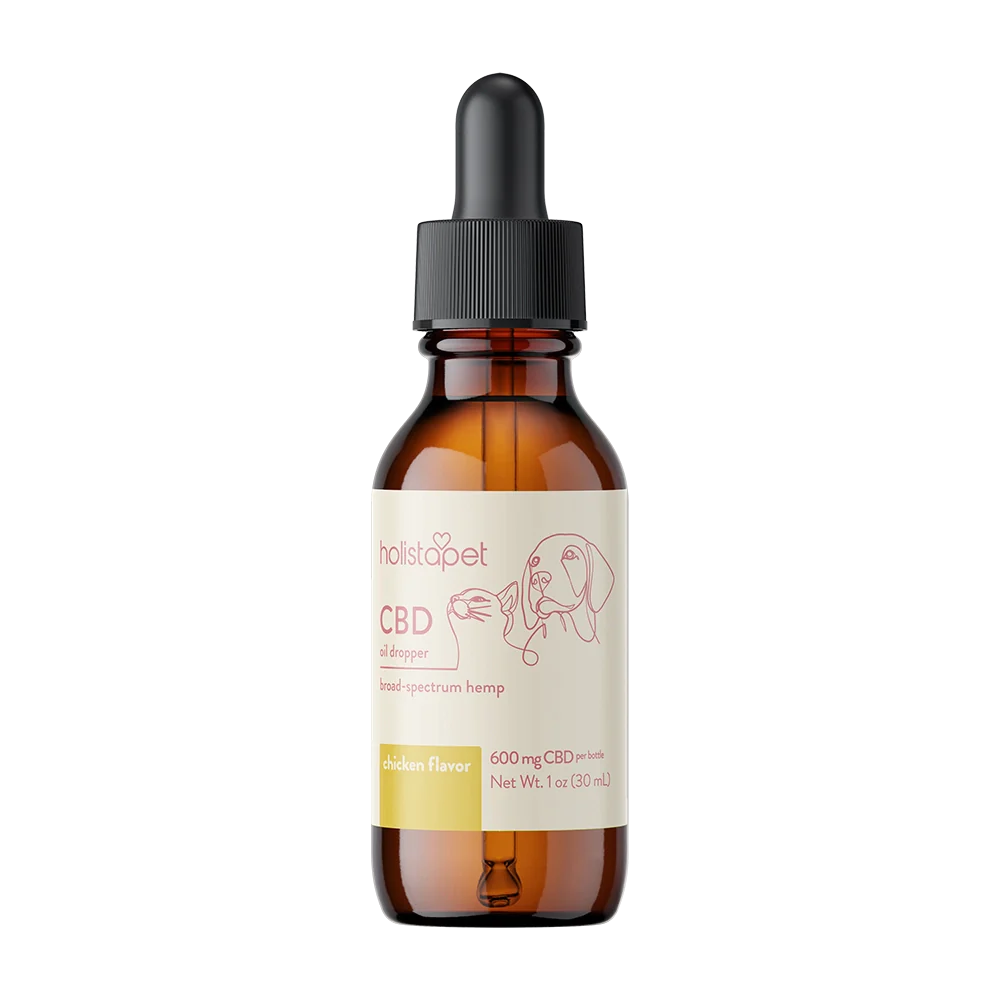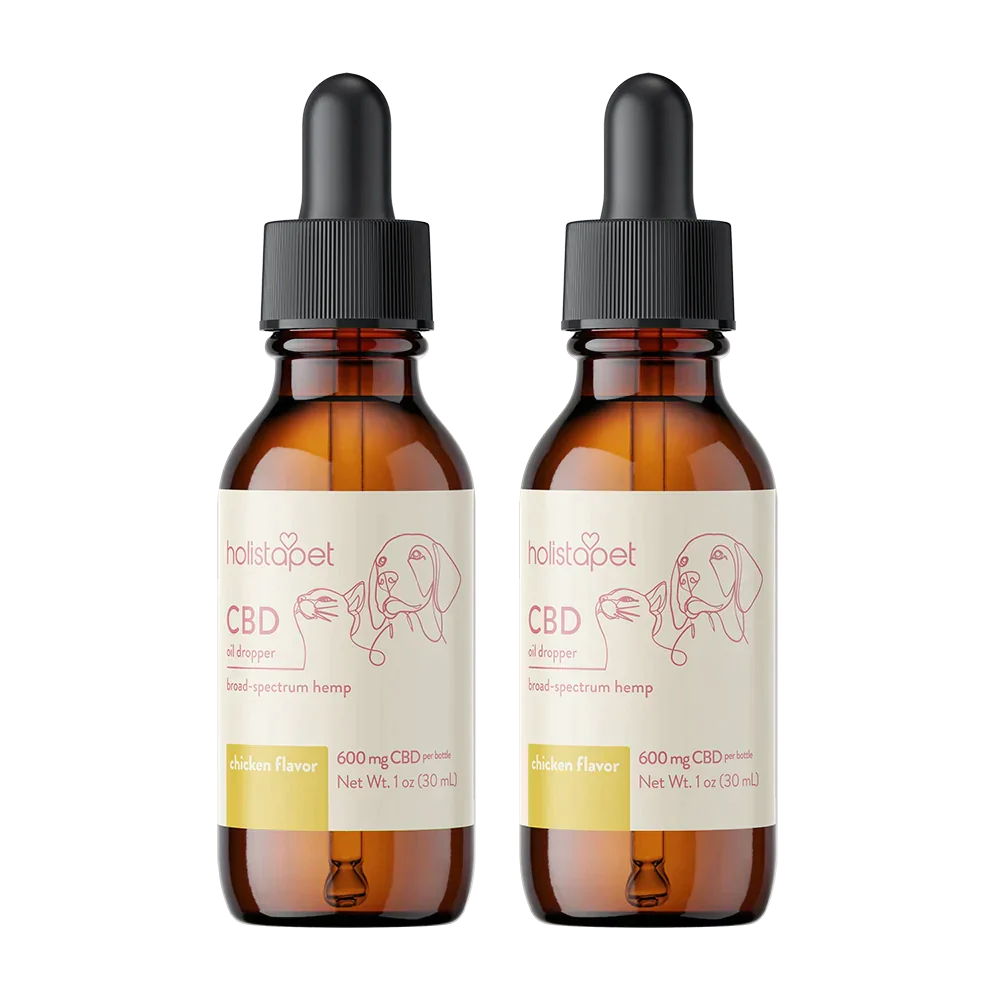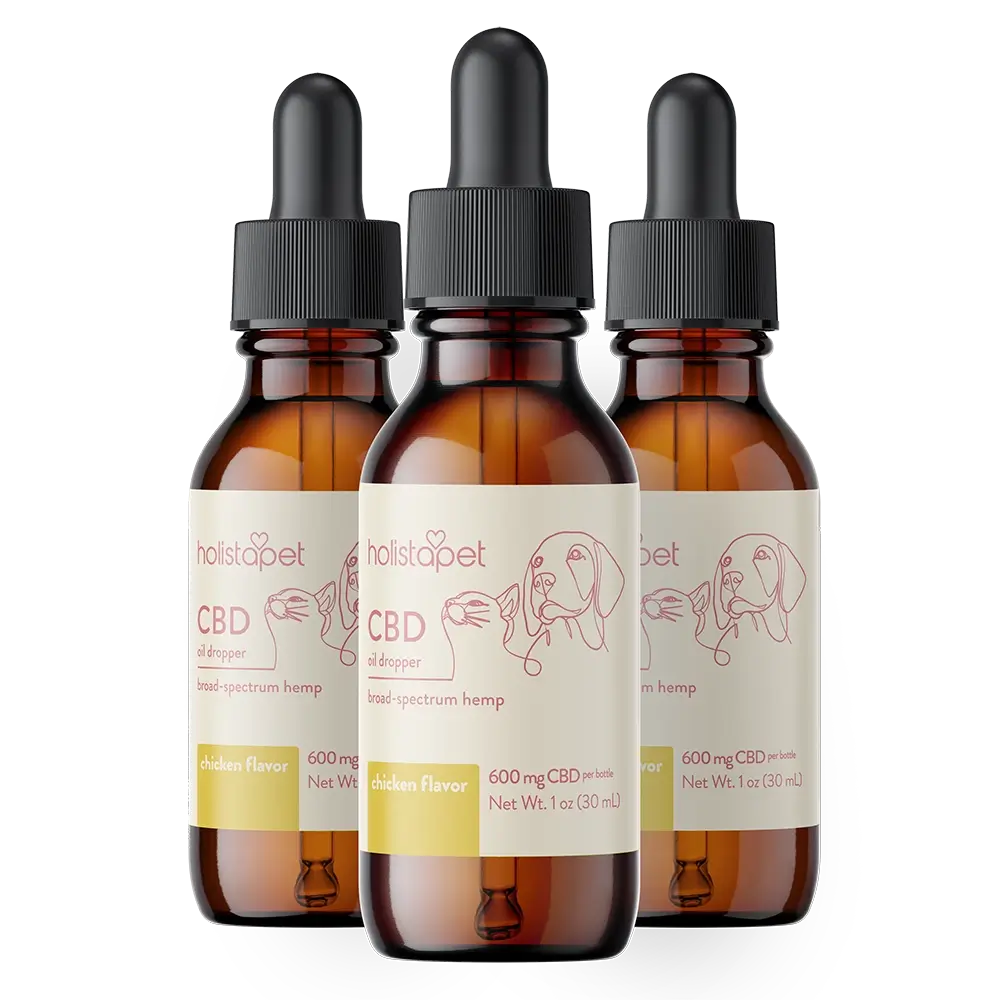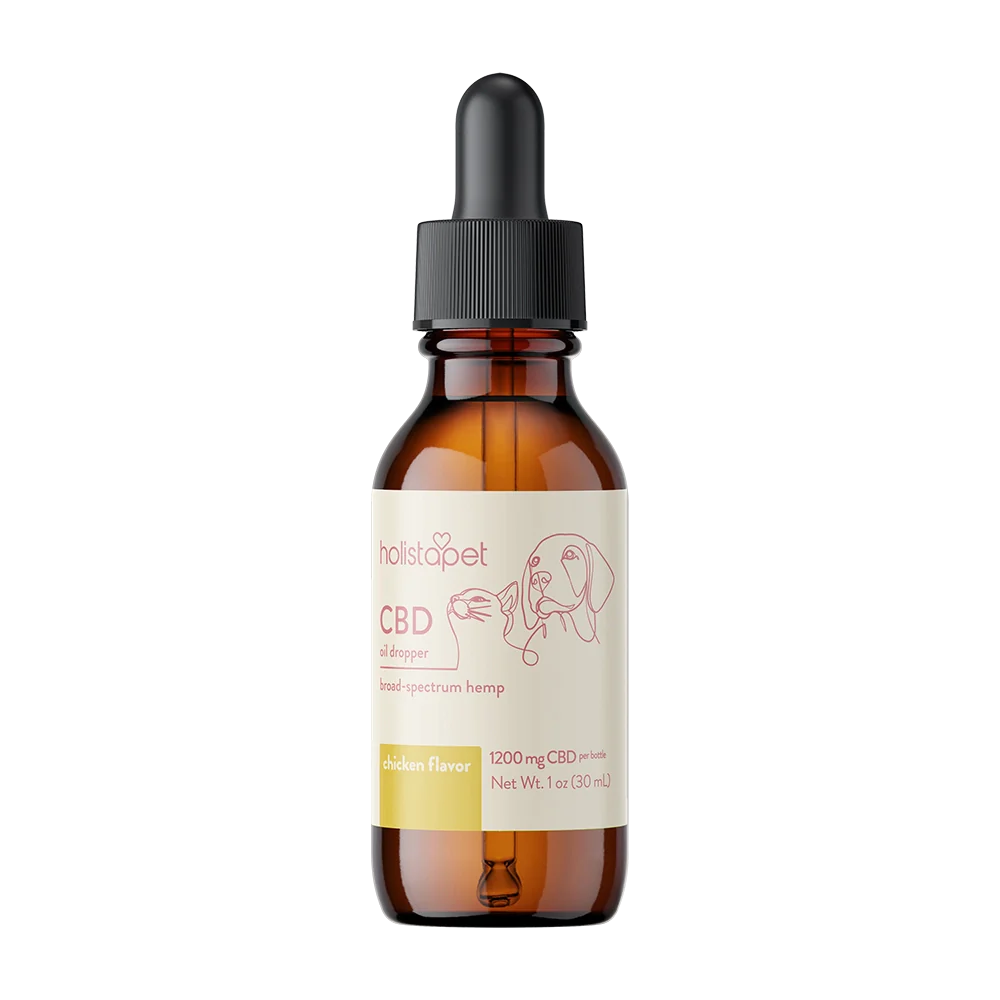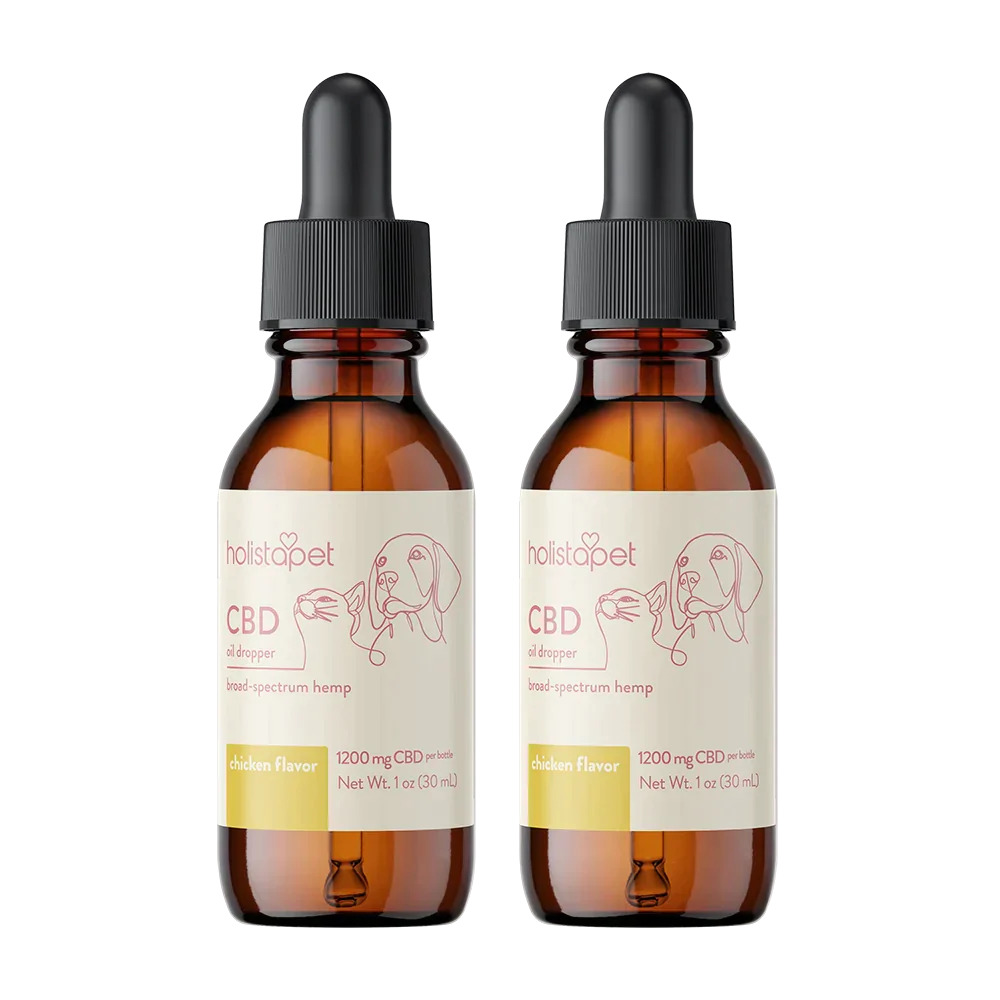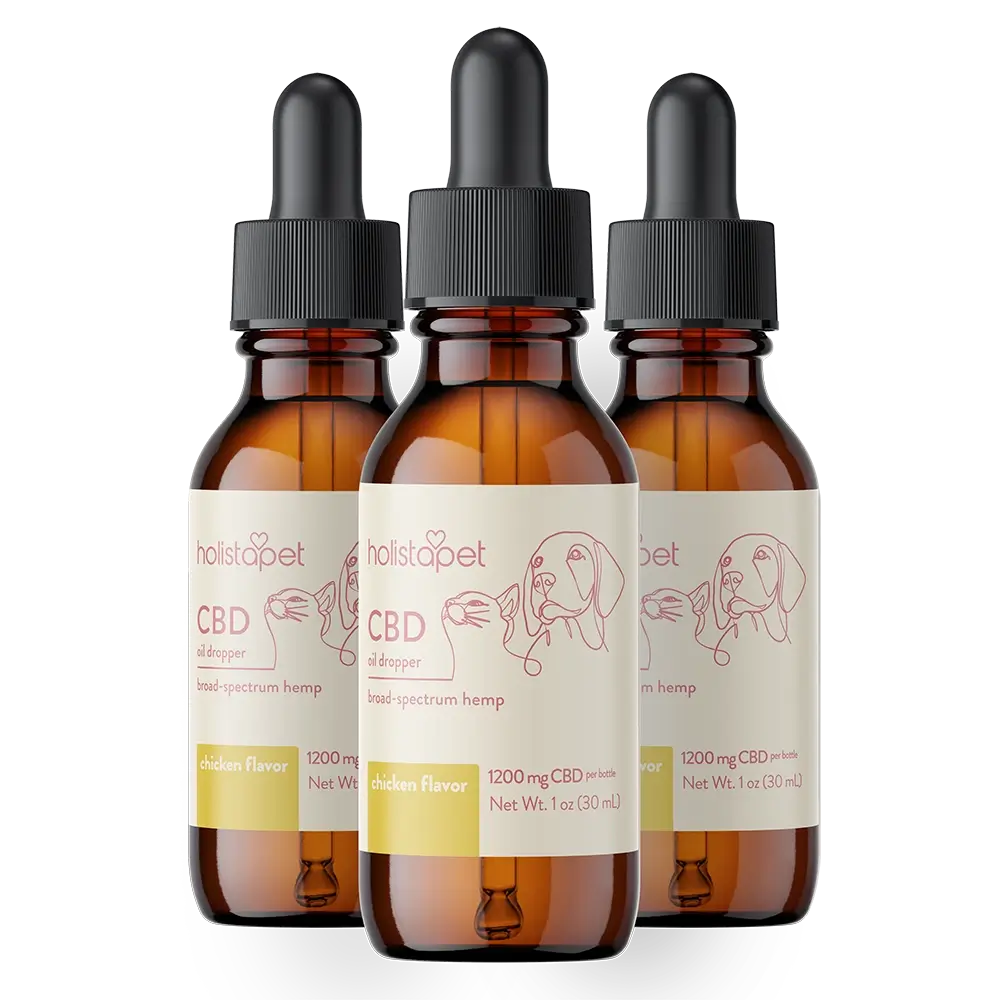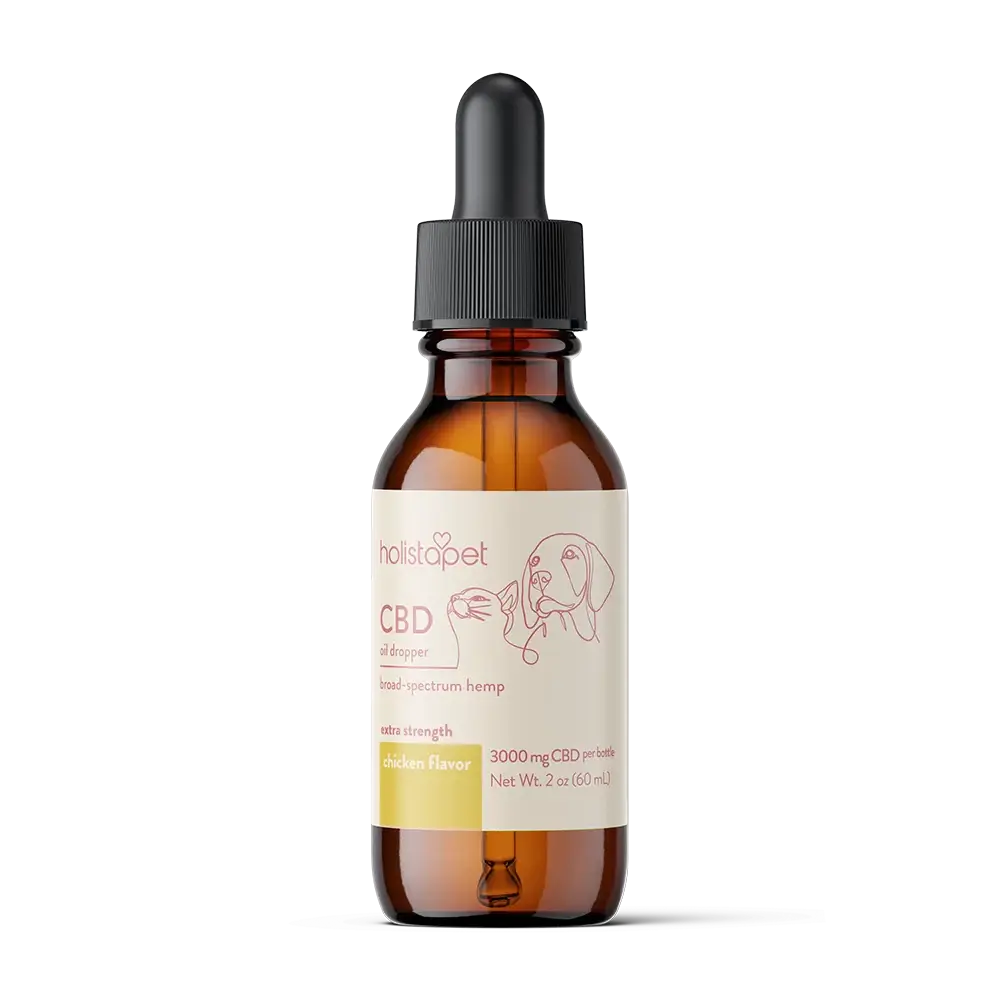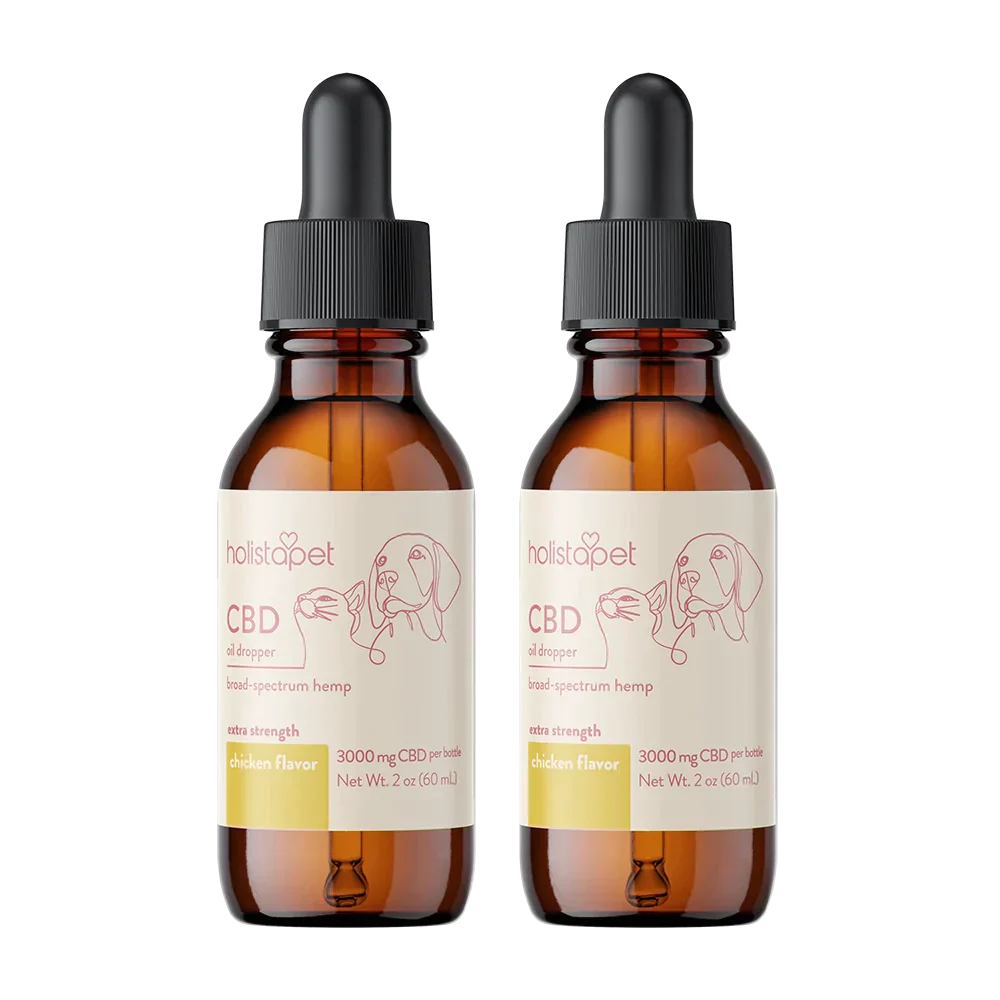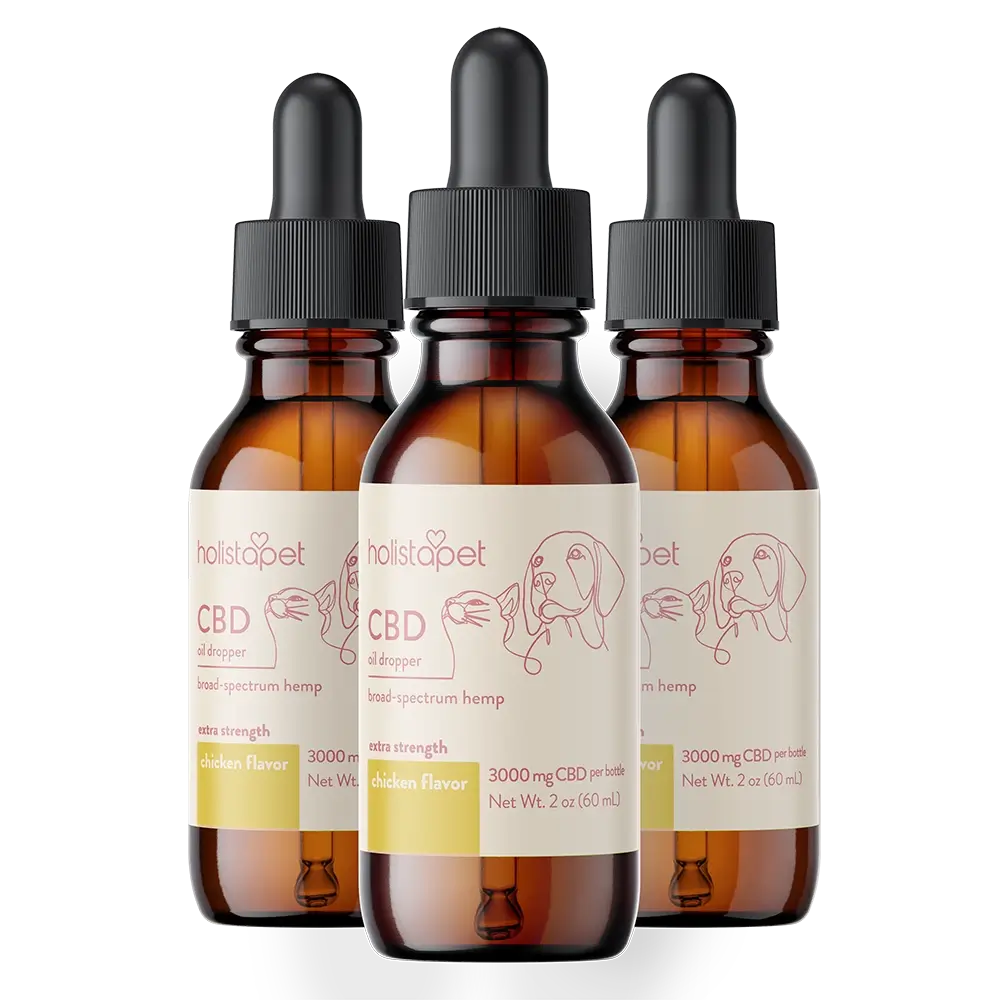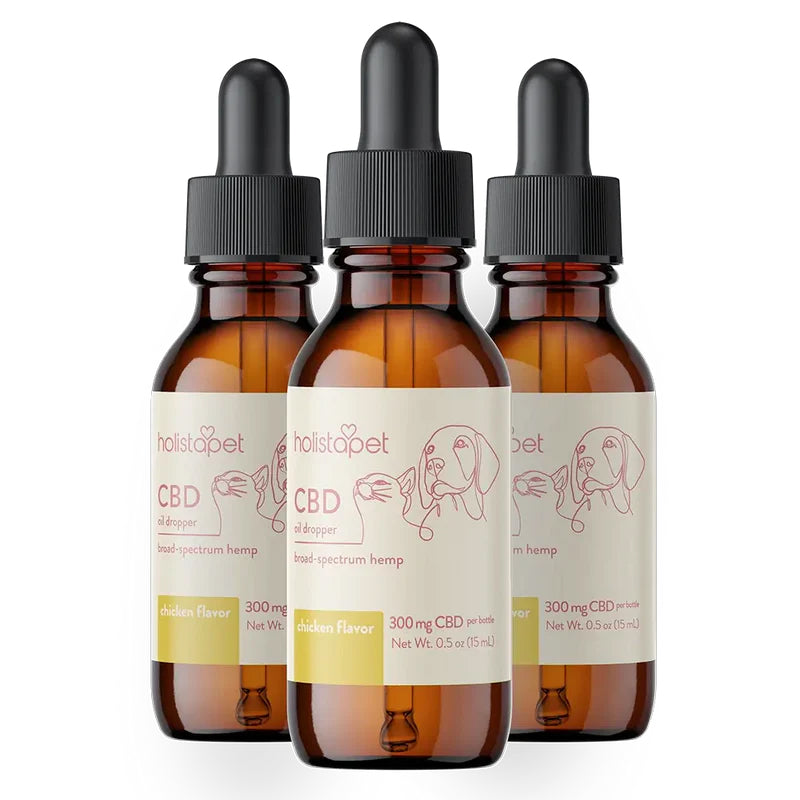 Chicken Flavored CBD Oil For Dogs
Delight your feline companion with the savory taste of our Chicken Flavored CBD Oil for Dogs. Expertly formulated for pets, this concentrated oil combines broad-spectrum CBD with other beneficial cannabinoids to support your dog's well-being.
Benefits

We generally recommend between 0.25 mg (a Regular Dose) to 0.5 mg (a Strong Dose) of CBD per every 1 lb of bodyweight. See our Pet CBD Dosing Chart for specific product dosing guidelines about your products.
Serving Size

We generally recommend between 0.25 mg (a Regular Dose) to 0.5 mg (a Strong Dose) of CBD per every 1 lb of bodyweight. See our Pet CBD Dosing Chart for specific product dosing guidelines about your products.
Unlock your full potential with HolistaPet by joining our club today - offering the most substantial discounts and exceptional rewards, all for just $95.
30% off every order
2X rewards points
FREE shipping on all orders
Exclusive special offers
We donate 10% of your membership fee to help save the lives of shelter animals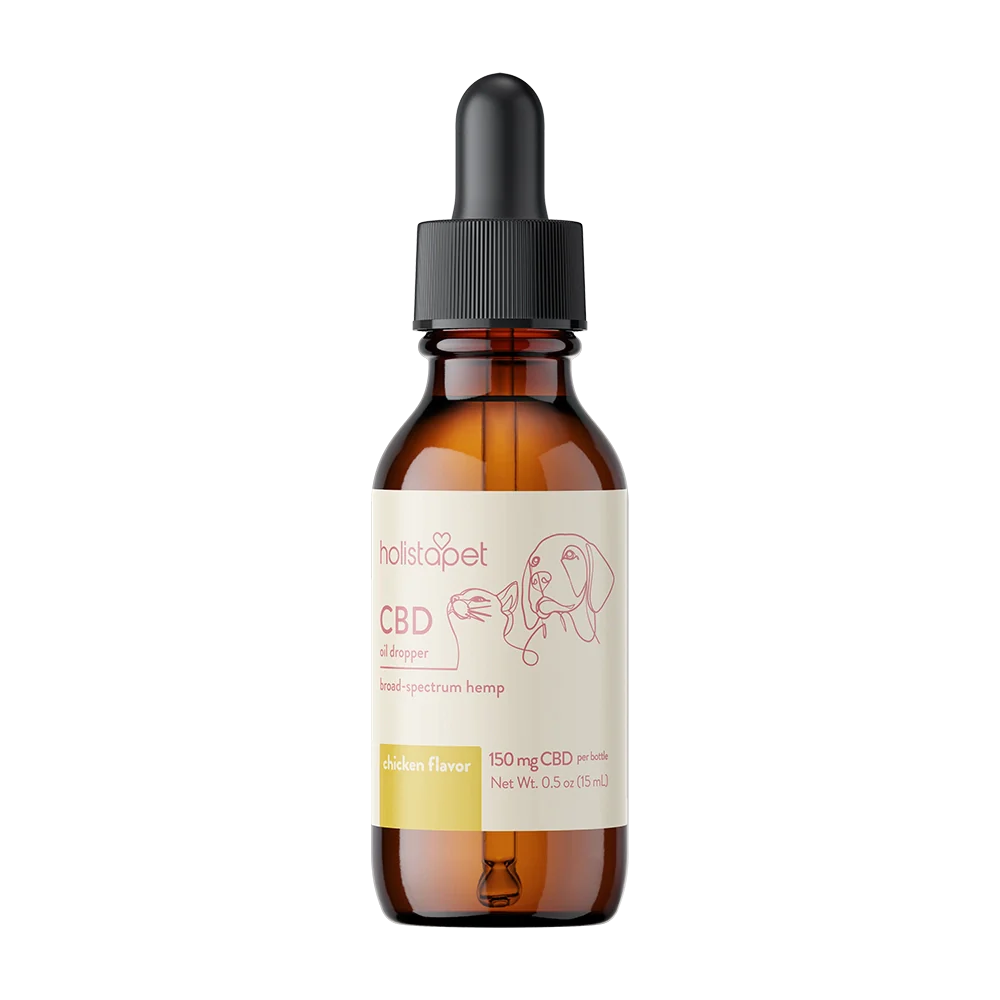 Featured In:

This product is rated 4.9 of 5.0 stars.
It has received 13 reviews.
Chicken CBD
My dog loves it and it helps her anxiety!
Love this for my chihuahuas!
This is my fourth bottle and it works great for my high energy chihuahuas. So glad I found it!
Excellent product!
I use the CBD oils for my dog who is TERRIBLE at taking medication. She had bad arthritis in her back legs. Between her arthritis meds (which is a challenge to get in her) and one tincture of CBD oil and she is a whole new dog.
I also use the CBD calming treats for our new dog that suffers from a bit of separation anxiety.
Better than before
Hopefully things will go a lot faster and smoother than they have I. The past, thank you!
Hard to cancel
I have waaaay too much of this and can't figure out how to cancel my subscription:/
$1
Of every product gets donated to help rescue shelter animals!
$53,836
Has been donated since the 2023 launch of HolistaPet Helps!
CBD Oil For Dogs Chicken Flavor
Looking for a natural way to help your pup? Then you'll want to try our premium CBD Oil For Dogs Chicken Flavor blend! This tincture is packed with healthy ingredients and can provide numerous benefits, such as mobility support, calming jittery feelings, and even a much-needed energy boost. Plus, everyone knows how important tasty treats are when caring for furry friends, so we've made sure that our blend tastes great too!
Discover the amazing pet wellness possibilities today and why our CBD Oil, with its tail-wagging chicken flavor, is so special! Stick with us as we guide you through our CBD dog tinctures made from rich hemp!
SHOP CBD OIL
What Is Chicken Flavored CBD Oil For Dogs?

Our Chicken Flavored CBD Oil for Dogs is a natural, healthy way to help your dog enjoy their best life! We extract Cannabidiol (CBD), the primary cannabinoid in the hemp plant, to make our delicious, premium Chicken Flavored CBD Oil for Dogs. Adding a few drops of our golden CBD Oil to your pup's daily routine will make them feel and look fantastic!

Ingredients In Chicken Flavor CBD Dog Tincture

All pets deserve high-quality CBD Oil with the healthiest, natural ingredients so they can enjoy a happy, robust life! That's why we use hemp-derived CBD isolate and ensure that the extract is broad spectrum and contains no THC. We also use MCT oil as the carrier oil, which helps your dog's body naturally absorb CBD faster and more efficiently for full benefit. Rounding out our broad spectrum CBD Oil for Dogs is our use of natural chicken flavor without artificial ingredients, flavors, or colors! Three simple, natural ingredients are all you will find in our Chicken Flavored CBD Oil for Dogs.
How Does Chicken Flavored CBD Oil For Dogs Work?

Our broad spectrum CBD Oil interacts with your dog's endocannabinoid system (ECS) after it is consumed and enters your furry friend's digestive tract. The ECS exists in all mammals and is a vital network of cell signaling receptors that incorporate nerves, cells, and major organs, including the brain. Your dog's ECS helps regulate important bodily functions such as breathing, temperature, mood, and more to help your four-pawed friend live a full, balanced, and vibrant life. CBD interacts with your dog's ECS receptors to help optimize their health and well-being so they can continue to live happy, carefree lives.
What Are The Benefits Of Chicken Flavored CBD Oil For Dogs?

Many people give their dogs our broad spectrum CBD Oil because it has several wellness benefits that are helpful for their overall health and wellness. From puppies to senior dogs, our CBD Oil for Dogs Chicken Flavor:

Eases discomfort and stiffness from daily activities
Has calming wellness benefits
Soothes daily stressors and jittery behaviors
Supports fuller, deeper sleep
Encourages a good appetite and healthy digestion
And more!

Adding our CBD dog oil with delicious natural flavoring and natural ingredients to your dog's daily routine is a great way to ensure they get the essentials needed to maintain their daily wellness!
How Much CBD Oil Should I Give My Dog?

You need to consider several factors before giving your dog our Chicken Flavor CBD Oil. These factors are unique to your dog and should be considered before administering. Let's take a closer look.

Factors To Consider

When buying high-quality CBD Oil for dogs, you'll notice many different sizing and portion options, plus things like broad and full spectrum CBD (at HolistaPet, we only sell broad spectrum — THC-free — products). It may initially seem confusing, but we can teach you how much pet CBD Oil to give your dog! Small, medium-sized, and big dogs can all benefit from the right amounts!

Remember that there are no official recommendations for CBD Oil portions. So if your dog is new to CBD Oil, start with a lower portion and gradually increase it until your pet feels comfortable.

 

To view the recommended dosing for this delicious hemp product, check out our CBD Oil Dosing Chart for Pets! Remember that CBD Oil for dogs dosing guidelines can be dependent on many different factors, such as:

Weight
Age
Diet
Overall health

 

In addition, we recommend speaking to your vet if you are concerned about how CBD products and portions may affect your pet.

Start With A Beginning Amount

When starting with CBD, always microdose your dog to ensure you don't give them too much. Once you see how they respond to CBD Oil, you can increase the portion to an amount that's best for them. We recommend starting with a small portion of 0.25mg per pound.

Calculating Your Dog's Regular Amount

To calculate the optimal amount of your dog's chicken flavor CBD tinctures, you need to know their weight and have a calculator handy. The formula below determines a regular portion of your dog's estimated CBD tolerance: Your dog's weight per pound x 0.25mg of CBD.

Example: If your dog weighs 25 pounds, multiply their weight by 0.25mg of CBD per pound to get 6.25mg of CBD as your dog's regular amount. (25 lbs x 0.25mg CBD/lb = 6.25mg CBD).

The general rule of thumb is to stick with 0.25mg of CBD per pound for a regular portion. For example, a dog that weighs 80 pounds can start with 20mg of dog CBD Oil.

Calculating Your Dog's Strong Amount

For a stronger dose, double the potency to about 0.50mg CBD per pound of body weight. This equates to the following: your dog's weight in pounds x 0.50mg of CBD per pound.

Example: If your dog weighs 25 pounds, multiply their weight by 0.50mg of CBD per pound to get 12.50mg of CBD as a strong portion. (25 lbs x 0.50 mg CBD/lb = 12.50mg CBD). For a strong portion, a 300mg bottle of dog CBD Oil for dogs may give you just enough for 24 doses.

As another example, an 80-pound dog will need about 40mg of CBD Oil for dogs. In this case, a 1,200mg bottle will last about 30 portions; we recommend this strength for larger dogs.

Of course, you may want to lower the dose to even less than the standard dosage recommendation, especially if your pet is new to our CBD Oil for Dogs. As always, consult a vet for more specific advice regarding CBD products. They'll be able to help examine your pet and advise on how even the best CBD Oil for Dogs will affect them.
How Do I Administer CBD Oil For Dogs?

The best part of CBD Oil products with natural chicken flavor is that you can easily administer them to your pets for fast, efficient results. Apply the CBD tincture drops directly into your pet's mouth or add them to their food bowl or water bowl.
Is Chicken Flavored CBD Oil Safe For Dogs?

Chicken Flavored CBD Oil is generally very safe for dogs. Because our CBD Oil is broad spectrum, there are no euphoric properties, and therefore there is very little risk of giving CBD Oils to your pets.
What Are The Possible Side Effects Of CBD Oil For Dogs?

One of the best things about CBD Oil is that there are minimal side effects, if any! They'll be fine even if you accidentally give your dog too much. The side effects are typically very mild and last a few hours. Some of the potential side effects your pet might experience from overconsumption of CBD Oil are:

Dry mouth
Sleepiness or drowsiness
Upset stomach or diarrhea

Remember that every pet may react differently to CBD Oil, so it's important to closely monitor them when taking it for the first time.

Again, we recommend starting with a lower dose and gradually increasing the amount until you reach the desired effects. If you're worried about how CBD Oil will affect your pet, consult a vet for more detailed advice.
Where Can I Buy CBD Oil For Dogs Chicken Flavor?

You can purchase CBD Oil for dogs with natural chicken flavor right here at HolistaPet! There are a lot of shady companies out there, so if you're looking for a reputable CBD company with high-quality, trusted CBD products, you're in the right place. In fact, unlike most companies, we use an independent, third-party laboratory to test our Chicken Flavored CBD Oil, and we even provide a Certificate of Analysis (COA) to share the results with you!

Buying online also allows you to shop from the convenience of your own home and go through our entire catalog of products to ensure you find the right one for your pup. Plus, you won't have to deal with pushy salespeople or worry about a product not being in stock.
Why Choose HolistaPet Chicken Flavored CBD Oil For Dogs?

At HolistaPet, our highest priority is ensuring your dog gets everything they need to live a healthy, happy life! All the quality assurances we told you to be on the lookout for are adopted for our Chicken Flavored CBD Oil and other products. Our CBD Oil for Dogs gives your dog gentle calming benefits while also optimizing their well-being.

We only use natural, vegan-friendly products and ensure our CBD Tincture Oil for Dogs does not contain other potentially harmful chemicals and additives. We utilized the safe and clean CO2 extraction process that is leagues ahead of cheaper extraction methods that use harmful solvents. This ensures your dog will enjoy CBD Oil free of anything they're not supposed to ingest. 

Save Up To 30% On Every Order At Holistapet!

As pet owners, we understand what it takes to care for our beloved four-pawed friends and that they always take priority in our lives. We want to help you get there and give them the healthy life they deserve! But sharing our love for pets and making premium, hemp-based CBD Oil for Dogs with a delicious chicken flavor is only part of the story.

That's why we offer the following perks when you shop with us:

Free shipping on orders of $50 or more. We make it easy to stock up and save when you join our free HolistaPals rewards program. For free shipping on all orders, make sure you upgrade to our HolistaPal+ program!
Save up to 15% on every order forever! Join our free subscription services and have your CBD Oil for Dogs delivered to your doorstep every two weeks or once a month. Want bigger savings? Join HolistaPal+ and get 30% off every order forever!
Get savings sent directly to your email inbox. Subscribe to our free newsletter and receive notifications about our upcoming sales and new products.
Easy returns. We want you to be delighted, so if you're not, return your order for a full money-back guarantee.
FAQs About Chicken Flavor CBD Oil For Dogs
Despite our best efforts at explaining all there is to know about CBD oil for dogs, we know that you may still have some lingering questions that need answering. Don't worry, we're here to cover all the bases regarding this life-changing addition to your cat's health and wellness routine. Here are some of the most frequently asked questions about CBD oil for cats and their answers.
SHOP CBD OIL
What Is CBD?

CBD is short for Cannabidiol, a naturally occurring, primary cannabinoid in the hemp plant that helps dogs, cats, horses, and people live a healthier, balanced life.
Will CBD Oil Get My Dog High?

No, CBD Oil will not get your dog high. The best thing about CBD oil is that it's non-intoxicating, so you don't have to worry about your dog getting high!
Is Chicken Flavored CBD Oil Safe For Dogs?

Yes, our Chicken Flavored CBD Oil for Dogs is safe to enjoy. If your dog consumes too much, they may experience slight discomfort that will gradually wear off.
How Long Does It Take For CBD Oil To Work In Dogs?

Your pet will typically start to feel the effects of CBD approximately 45-60 minutes after ingestion.
How Long Do The Effects Of CBD Oil For Dogs Last?

The effects of CBD Oil for Dogs will last approximately 6-8 hours after ingestion.
When Should I Give My Dog Chicken Flavor CBD Oil?

We recommend giving your pet CBD in the morning so they can benefit from its wellness benefits throughout the day. However, suppose you want to give your dog our Chicken Flavored CBD Oil before stressful events such as fireworks, parties, or other situations like leaving the house. In that case, we advise giving them CBD Oil about 45-60 minutes before the event.
Can I Give My Dog Chicken Flavor CBD Oil Every Day?

Yes, you can give your dog our Chicken Flavored CBD Oil daily! In fact, we recommend daily consumption to provide your furry friend with optimum wellness and ensure they receive the best results from CBD Oil.
How Should I Store CBD Oil For Dogs?

You need to store your CBD Oil properly to prolong its shelf-life. Always keep the tincture in its original glass dropper bottle. These bottles are sturdy and free of contaminants common in other types of storage containers and will help preserve the tincture's purity.

Always keep your bottle upright and never store it sideways to prevent leakage. It's important that you keep your CBD Oil away from direct sunlight and heat. Store it in a cool, dry place away from bright light and where children and pets can't access it.
Can I Give My Dog CBD Oil Along With Other Medications?

It is generally safe to give your dog CBD if they are taking other medications. However, CBD may impact the efficacy of certain medications, so check with your vet before implanting a CBD regimen.
Can I Give My Dog Chicken Flavor CBD Oil On An Empty Stomach?

Yes, you can give your dog Chicken Flavored CBD Oil on an empty stomach. This will also help your dog's body absorb CBD faster.
What To Do If I Give My Dog Too Much CBD Oil?

If you give your dog too much CBD Oil, the side effects will be mild and typically subside within a few hours. However, if these side effects do not subside, take your dog to their veterinarian so that they can provide appropriate medical treatment.
How Do I Know Which Dosage Strength To Choose For My Dog?

Generally speaking, you should give your pet a microdose if they are new to CBD, then ease into a regular or strong portion once you notice how your dog responds. But the ideal amount of CBD you can give your dog is determined by factors such as their body weight, health history, and CBD tolerance.
Is There A Difference Between CBD Oil For Dogs And CBD Oil For Humans?

Yes, there are differences between CBD Oil for dogs and CBD Oil for humans. At HolistaPet, our CBD Oil is so well made that it's good enough for people! However, human formulations of CBD Oil tend to be full spectrum, whereas dog formulations of CBD Oil are typically broad spectrum. It's best to stick with CBD products specifically made for people if you are considering taking it for yourself and CBD Oil for Dogs for your pup.