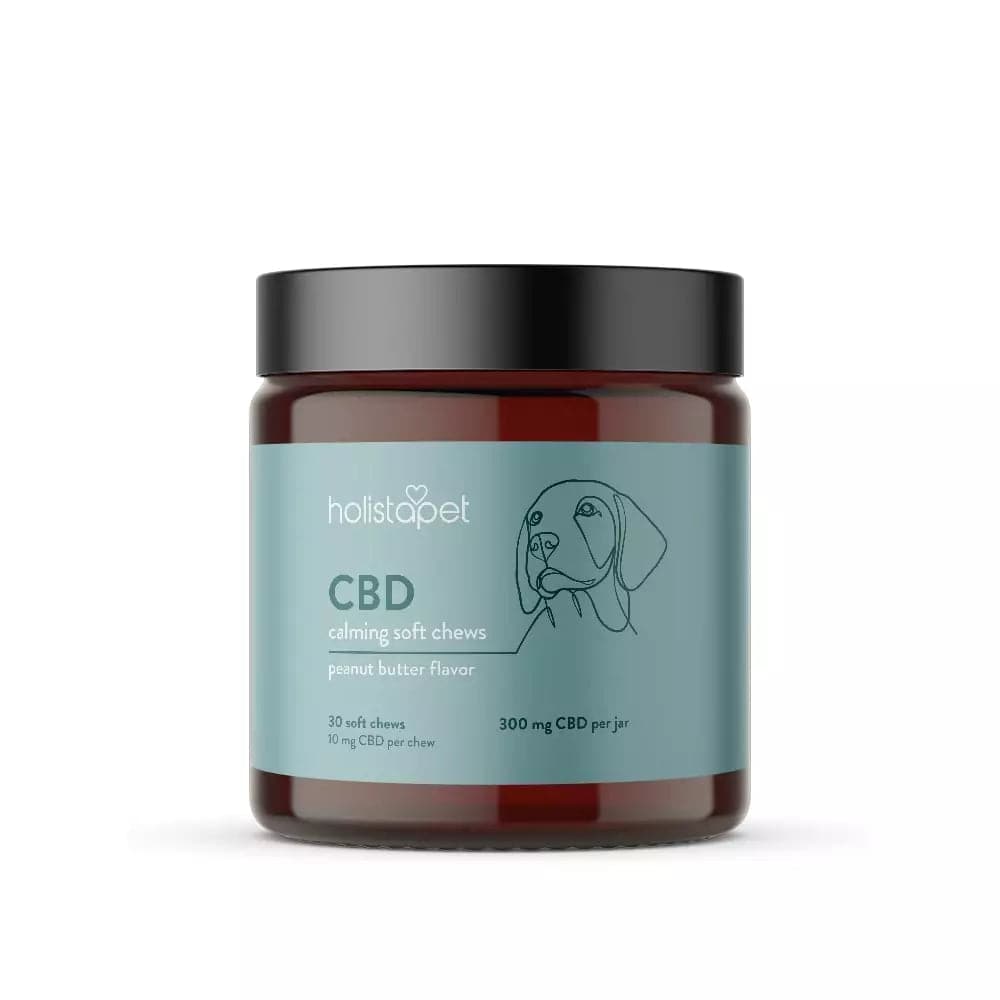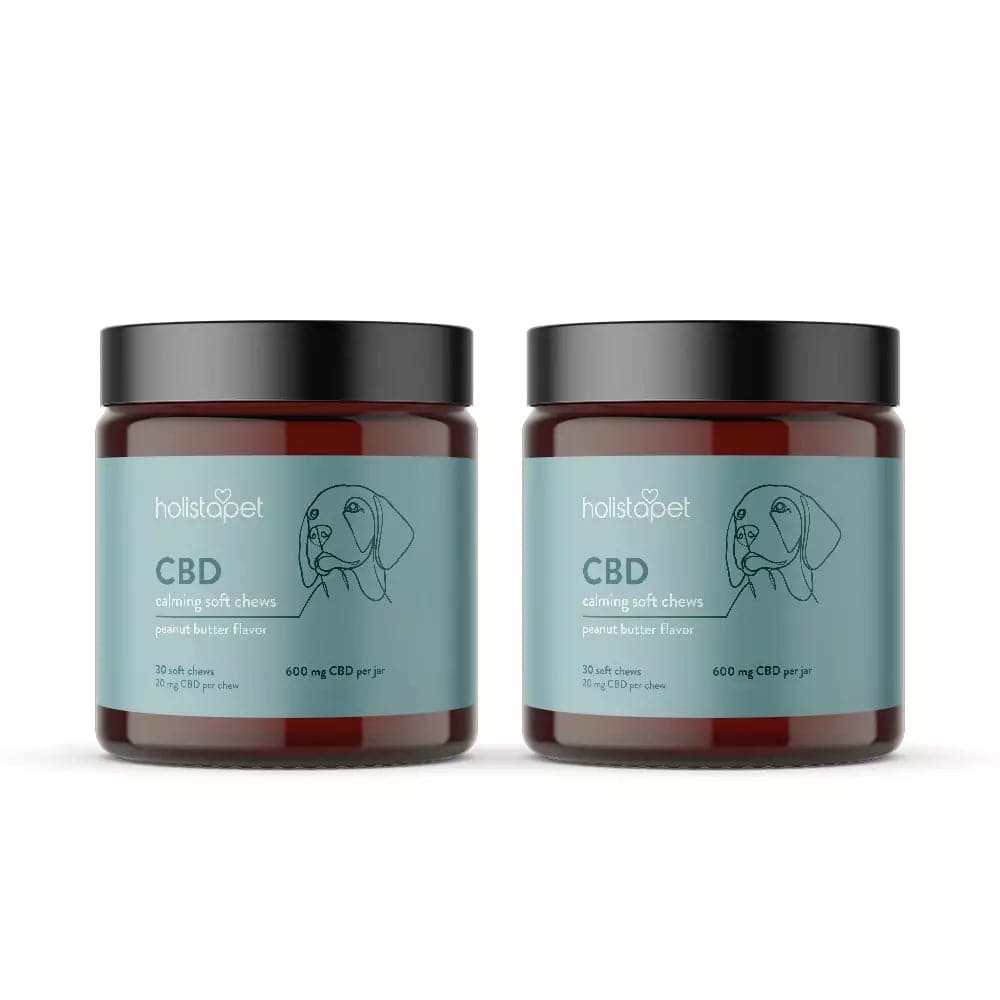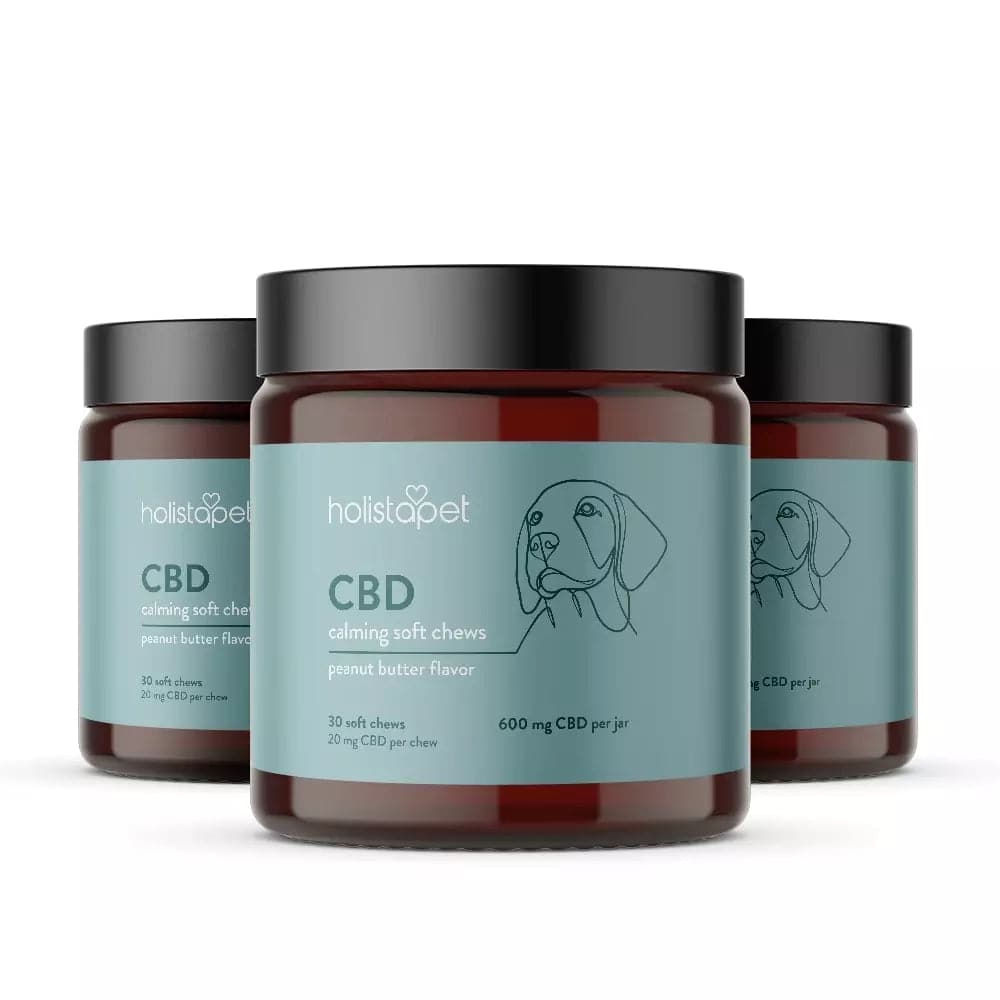 CBD Calming Chews for Dogs
Create a serene environment for your dog with our CBD Calming Chews for Dogs, thoughtfully formulated to instill a sense of tranquility and peace. Crafted with 100% all-natural ingredients and boasting a mouthwatering peanut butter flavor, each jar holds 30 soft chews that are infused with either 5mg, 10mg, or 20mg of broad spectrum CBD per chew, providing a total CBD content of 150mg to 600mg.
Benefits

100% all-natural ingredients
Delicious peanut butter flavor
Comes in 3 sizes: 150 mg, 300 mg, or 600 mg total CBD
30 soft chews per jar
Serving Size

We generally recommend between 0.25 mg (a regular dose) to 0.5 mg (a strong dose) of CBD per every 1 lb of bodyweight. See our Pet CBD Dosing Chart for specific product dosing guidelines about your products.
Unlock your full potential with HolistaPet by joining our club today - offering the most substantial discounts and exceptional rewards, all for just $95.
30% off every order
2X reward points
FREE shipping on all orders
Exclusive special offers
We donate 10% of your membership fee to help save the lives of shelter animals
Featured In:

This product is rated 4.9 of 5.0 stars.
It has received 14 reviews.
Our three dogs are big fans!
We are big believers of CBD for our dogs and love the Holistapet products. We have two senior dogs and a 2 year old dog in our household. Our 2 year old gets a piece of the Fresh Breath Dental sticks after breakfast each morning. She is obsessed. She won't let us get away without giving her one. We use both the soft and hard CBD chews for our dogs. We love the simple ingredients and our dogs love the products.
CBD Calming Chews for Dogs
Products
I use and endorse your mobility and calming chews. The
Helps my pup's anxiety at the groomer
My poor Bichon has a bit of anxiety when visiting the groomer. CBD calming chews help relax him and he's able to come home looking quite handsome
CBD chews
My dogs LOVE these and so do I!!! The chews help them calm down and sleep, instead of being anxious.


$1
Of every product gets donated to help rescue shelter animals!
$53,836
Has been donated since the 2023 launch of HolistaPet Helps!
Calming Soft Chews For Dogs
Our Calming Chews for Dogs are enriched with CBD, L-tryptophan, choline chloride, phosphatidylcholine, and chamomile to relax your dog and decrease their hyperactivity. These remarkable ingredients work together to relax overactive nerves and regulate mood. With the addition of nutritious peanut butter and sweet potato, these soft treats provide your dog with essential proteins, fats, and antioxidants to keep its nervous system balanced. It doesn't hurt that they're delicious as well!
Does your dog go nuts when you leave them alone? Are they prone to bouncing off the walls like a super ball? Scared of loud noises and car rides? Luckily, you don't have to live in anticipation of your dog's manic bursts. HolistaPet makes calming CBD dog treats specifically for your twitchy, anxious pet.
Whether they deal with separation anxiety, hyperactivity, or a phobia you can't wrap your head around, our delicious soothing chews can help your dog de-stress.
SHOP CBD CALMING CHEWS
What Are Calming Chews?​

A calming chew is a soft treat designed to relax your dog. Our relaxing treats contain soothing, natural ingredients such as CBD, chamomile, and L-tryptophan to help reduce your dog's jitters and nervousness.

There are plenty of soothing dog treats on the market, but chews are special. Many treats are firm and crunchy, which can be too much for older dogs and dogs with dental issues to handle. The tender texture of our CBD soft chews lets every dog enjoy a great CBD experience.  

How Do Calming Treats Help Dogs?
Like people, dogs deal with anxiety, fear, and overstimulation. But unlike people, dogs can't use words to express their distress. Dog anxiety often manifests in destructive behavior, like furniture shredding or excessive barking. Your dog may even act aggressively when in reality, they're just scared or overwhelmed.

Separation anxiety in dogs is one of the most frequent concerns for pet owners. It accounts for up to 40% of canine referrals to animal behavioral practices. Thunderstorms, fireworks, and strangers can also trigger extreme fear in your pet, leading to meltdowns that you may not be prepared for. One study discovered a connection between stress and lifespan in dogs, so keeping your canine's anxiety in check is key!

The active ingredients in our treats can help calm your dog, which in turn saves your house from destruction and your neighbor's ears from assault. Most importantly, our calming treats may bring your dog some peace (which is what we really want when it comes down to it). We also offer CBD-infused dog treats for stress and anxiety relief!
What Is In Holistapet's Calming Soft Chews?

L-Tryptophan

L-tryptophan is an amino acid that your body needs to produce serotonin, a neurotransmitter vital for mood. Dogs that don't get enough tryptophan are more prone to moodiness and aggression.

Broad Spectrum CBD

Cannabidiol (CBD) is a non-intoxicating cannabinoid that enhances your dog's endocannabinoid system (ECS). The ECS helps regulate several essential functions like:

Sleep
Memory
Mood
Inflammation
Digestion

Clearly, maintaining ECS health is pivotal. Our CBD comes from hemp, and all products undergo rigorous third-party testing to ensure their purity and potency.

Phosphatidylcholine

This compound fights anxiety in dogs (and people, too). Your dog's body uses phosphatidylcholine to create acetylcholine, a neurotransmitter (a chemical that transmits signals between cells). Acetylcholine affects mood and memory, encouraging mental fitness. To calm your dog, acetylcholine affects their heartbeat. If your dog's heart is racing after exercise or a nerve-wracking experience, acetylcholine can help restore their resting heart rate so they can relax.

Choline Chloride

Choline chloride is an essential building block of ceramides and phosphatidylcholine. We just went over the neurological effects of phosphatidylcholine, but what do ceramides do? Ceramides are lipids (healthy fatty acids) that improve skin condition. As you can see, our CBD treats have additional helpful effects beyond calming your dog!

Chamomile

One of the best herbal remedies around, chamomile has been used for centuries for its calming effect. When faced with nerve-wracking circumstances, this herb can help ease your dog's stress and anxiety.
How To Use Calming Treats

Each calming chew contains 5mg of broad-spectrum CBD. "Broad-spectrum" cannabidiol contains no THC whatsoever. You can give your dog calming treats as needed for their meltdowns or daily for a tasty snack or training reward. We recommend the following dosing guidelines:

SUGGESTED USE FOR PETS

Between 0.25 mg (regular serving) to 0.5 mg (strong serving) of CBD per every 1 lb of your dog's weight.

REGULAR SERVING: 1 Treat (5mg) for every 20 lbs of body weight once to twice daily, or as needed.

STRONG SERVING: 1½ to 2 Treats (10mg) for every 20 lbs of body weight once to twice daily, or as needed.

If you want to use these calming bites to help your furry friend through a stressful situation, like a long car ride or fireworks show, we recommend giving them the chew an hour before the event. This way, the effects will be in full effect by the time of the event.

You won't have to worry about your dog getting loopy or "high" when they take these treats, although some mild side effects may occur in the first few initial uses (dry mouth, diarrhea, and/or drowsiness). These effects typically disappear once your dog adjusts to the dosage.

If your dog takes medication, it's best to consult a vet before giving them these calming treats. CBD can prolong the effects of some prescriptions and over-the-counter pharmaceuticals.
Benefits Of CBD Calming Chews For Dogs​

CBD calming chews for dogs may provide many benefits for your pet! They are specially formulated with CBD, hemp seed oil, and other natural ingredients to support your pet's health and wellbeing.

CBD soft chews may help to:

Ease nervousness
Maintain your dog's positive disposition
Promote better, deeper sleep
Reduce swelling
Alleviate discomfort or soreness
Boost energy levels
Promote a healthy appetite
Help to calm hyperactive behavior
And more!
How Do CBD Calming Chews Work?

As their name suggests, CBD Calming Chews contain CBD! Once your dog eats their calming chews, the CBD will interact with their cannabinoid receptors. 

These receptors support your dog's endocannabinoid system (or ECS), which helps regulate many of their body's main functions, including mood, appetite, and even the nervous system!

By helping to support the ECS, CBD dog treats can help calm and relax your pup. This can help them achieve better sleep, make training easier, and improve you and your favorite pal's daily routines!
Where To Buy The Best CBD Calming Chews For Dogs?​

While you can find CBD dog chews and other CBD calming products at local pet stores, we always recommend shopping online instead. When you choose to shop online, you'll get to:

Easily compare prices and customer reviews
Choose the best dog calming treats for your pup's palate and overall needs
Save time and gas money by shopping at home
Have products delivered right to your door

HolistaPet's online shop gives you access to all these benefits and more! With competitive prices, free and fast shipping, and a high-skilled customer service team, the shopping experience we provide can't be beaten.
Why Choose HolistaPet?​

If you're looking for the best CBD dog treats, look no further than HolistaPet! We only use American-grown hemp in all our products and always source it from the most premium farms. Dog treats made with domestically-grown hemp are generally safer and higher quality than internationally grown hemp and comply with federal law.

All our products also only contain the best ingredients — we always utilize natural, human-grade ingredients because we believe your furry friends deserve the best of the best. We make sure all our products are dairy and gluten-free, free of GMOs, and only contain natural flavors!

We also go one step further by taking our quality product standards, and applying them to our service practices, too! We offer fast, free shipping to all customers (no matter how much you spend) and frequently share special offers with our email subscribers.

Want to read more about what makes HolistaPet so great? Check out our reviews on the BBB and Trustpilot!
Frequently Asked Questions
Got questions? Well we've got answers! We've been pros in the pet CBD community for a long time now, but what good's all that knowledge and experience without someone to share it with? Below you'll find expert advice for commonly asked questions.
How Long Does It Take For Calming Treats To Work?

Our calming treats should take effect in about 45 minutes to one hour, although the time may vary depending on your dog's size and metabolism.
How Long Do The Effects Last?

Your canine friend can say goodbye to their nervousness for about 4-8 hours. The amount of CBD consumed, your dog's activity level, and weight influence the duration of effects.

Other Benefits

Crushing dog anxiety isn't the only thing these treats are good for! Since the treats have a doughy consistency, they're easy for dogs to chew and swallow. If your dog is older (or has some dental issues), these treats won't pose any trouble for their mouth.

These treats are darn tasty! Dogs can't get enough of them. The chewy texture and savory flavor make them a hit with our four-legged friends. We think it's something about the sweet potato that drives them nuts.

Did we mention that each ingredient has its own health benefits? The treats have healthful benefits beyond the anxiety-calming effects we mentioned. They contain chickpea flour and sweet potatoes. Chickpea flour is a fantastic source of protein, while sweet potatoes are rich in fiber and antioxidants.

Plus, each treat has a pre-measured dosage of CBD, so owners don't have to worry about weighing and administering CBD in its oil form! HolistaPet's CBD Calming Soft Chew for Dogs offers convenience, nutrition, and flavor all in one package!
Can CBD Calming Chews Help My Hyper Dog?

Absolutely! We invented our calming chews specifically to soothe mental distress and hyperactive urges! If your dog is a ball of endless energy, as many puppies are, they can have a hard time calming down at the end of the day. A hyperactive dog disrupts your life, especially at night when they disturb your sleep. Restless nights can sour your mood, so calming your dog benefits both of you at once.

Giving your dog a calming chew is a great way to end the day on a high note. The CBD relaxes the body and calms the mind, eliminating racing thoughts. HolistaPet's soft chews take it one step further with the addition of other natural relaxing aids. Chamomile and L-tryptophan are especially good at encouraging restful nights. That's why both are popular supplements for people as well.
Are CBD Calming Chews For Dogs Legal?

Let's be honest here — all treats are good for dog training. A tasty snack is a powerful motivator, especially when it's packed with irresistible peanut butter. Look, dogs will stick their whole face in a peanut butter jar, and while that makes for a great Instagram post, it's not the easiest thing for your pup. When your dog discovers HolistaPet's calming chews, they'll do just about anything for a taste.

Calming chews are also a great way for your dog to wind down after an intense training session. Your dog can work up a lot of energy doing tricks and exercising, so a cool-off period is important. If your dog goes to a training center full of new dogs and people, they might freak out a little. Try giving them a calming chew before training class, so they go in with a calm, positive mindset.
Are CBD Calming Chews Good For Dog Training?

Let's be honest here — all treats are good for dog training. A tasty snack is a powerful motivator, especially when it's packed with irresistible peanut butter. Look, dogs will stick their whole face in a peanut butter jar, and while that makes for a great Instagram post, it's not the easiest thing for your pup. When your dog discovers HolistaPet's calming chews, they'll do just about anything for a taste.

Calming chews are also a great way for your dog to wind down after an intense training session. Your dog can work up a lot of energy doing tricks and exercising, so a cool-off period is important. If your dog goes to a training center full of new dogs and people, they might freak out a little. Try giving them a calming chew before training class, so they go in with a calm, positive mindset.
Why Choose CBD Calming Chews Over CBD Oil For Dogs?

CBD oil is a good general use product, but CBD calming chews are specially designed for anxious dogs. The additions of L-tryptophan, phosphatidylcholine, choline chloride, and chamomile enhance the calming effect. If your dog struggles specifically with mental distress, calming chews will target their unique needs.

Many people also find that calming chews are easier to administer than CBD oil. Opening your dog's mouth and dropping oil straight in can be a stressful experience for both parties. The last thing you want to do is agitate your dog more, but what dog doesn't love a tasty treat? The rich flavor of our calming chews makes taking CBD a pleasure in and of itself!
Can My Dog Get High If I Give Them CBD Calming Chews?

No, your dog should not get high from any federally legal CBD products. As we mentioned before, HolistaPet's CBD pet treats are broad-spectrum, meaning they contain no THC whatsoever. THC is the compound in marijuana that, when taken in excess, gets people "high." CBD itself has no intoxicating effects. You can rest assured that your dog will not get high from a CBD treat.
Ingredients To Look For When Buying CBD Soft Chews For Dogs

The best CBD dog treats only contain natural ingredients! It's best if they're too, ensuring they don't contain any pesticides. HolistaPet's soft chews are peanut butter flavor and contain natural ingredients like:

Chamomile
L-theanine
Natural peanut butter flavor
Premium hemp extract
And more!

The best CBD begins with the highest quality hemp as far as efficacy goes. No matter what kind of CBD products you are buying, try to find out the potency and source of the hemp if you can.

You can easily find hemp potency by looking for Certificates of Analysis (or COAs). These third-party lab reports specifically test for potency and quality and will help you ensure that your pet's CBD products are as potent as advertised.

Domestically-Grown Hemp

Dog treats made with domestically-grown hemp are generally safer and of higher quality. When you get U.S.-grown hemp, you can rest assured that it was grown in compliance with federal law. HolistaPet only uses domestic hemp sourced from farms in Oregon and Colorado.
What's The Best Age To Give CBD Calming Chews To Dogs?

CBD calming chews for dogs can be given to dogs of all ages! CBD is generally well-tolerated by animals and should not make your pet feel "high." CBD calming chews may help alleviate nervousness and worry in dogs and provide other benefits to support their wellness.

That said, we generally advise seeking professional advice before giving any CBD to puppies. Puppies under 8 weeks shouldn't receive supplements of any kind since their organs are still developing, but those over 8 weeks should be alright as long as their vet gives the OK.

If you are considering giving CBD to your puppy or dog — especially if they've never tried it before — you can always consult with your veterinarian first to ensure it's the right option for your pet.
Are Natural Dog Chews Safe For Dogs?

Natural dog treats are generally well tested and positively received by dogs of all shapes and sizes around the world! Though, all chews could be a potential choking hazard, so puppy parents should always remember to monitor their furry babies while enjoying them.

A report issued by the World Health Organization (WHO) found that "CBD is generally well-tolerated with a good safety profile." The report also noted that animals typically do not build up a tolerance for CBD, indicating that it is highly unlikely to develop a physical dependence toward CBD. It is not addictive and carries no risk of withdrawal symptoms.

These days, many dog owners give their pets CBD on a daily basis. There has never been a case of CBD overdose, and reported side effects are usually very mild. If you have further questions about how CBD affects dogs, you can always ask a vet!
How Much CBD Should You Give Your Dog?

The correct CBD dose depends on your dog's weight. We generally recommend a regular dose of 0.25 mg CBD per pound of body weight or a strong dose of 0.5 mg per pound. For the most accurate dosing information, check out our handy Dosing Chart. If you want to give your dog CBD to deal with a specific issue, ask a vet whether a smaller or stronger dose would be best.
What Other Types Of CBD Dog Products Are There?

These days, you can find an incredibly wide array of safe CBD dog products in stores and online. Some are tried and true favorites like CBD oil for dogs, while you may find newer products like pet soft chews. At HolistaPet, we offer these popular products for you and your furry friend:

CBD Oil

If you're looking for versatility, grab a bottle of CBD tincture. The possibilities are endless. You could keep it simple and give your dog CBD oil on its own (just place a few drops under their tongue). Then again, you could get fancy and mix it into their meals or use it to make homemade dog treats!

CBD oils combine hemp-derived CBD extract with a carrier oil to improve bioavailability (how much CBD the body can absorb). At HolistaPet, we use hemp seed oil as a carrier. Hemp oil is a rich source of vitamins, minerals, and plant-based protein. It also contains omega fatty acids, which have health benefits ranging from lowering blood pressure to improving skin and fur quality.

CBD Dog Treats

Treats don't have to be a guilty pleasure when they're made from healthy ingredients and packed with the therapeutic power of CBD. Give your dog a CBD treat or two each day to support their long-term wellbeing.

HolistaPet's CBD dog treats are plant-based, gluten-free, and non-GMO. They are 100% and contain no artificial ingredients or preservatives. Choose from tantalizing flavors like Blueberry & Sweet Potato, Pumpkin Spice & Cinnamon, and Apple Pie & Peanut Butter! Each type of CBD treat targets a specific issue, so your dog gets exactly what they need.

CBD Soft Chews

Our crunchy CBD treats aren't for every pet. Sometimes, older dogs or those with tooth or jaw conditions have difficulty chewing crunchy snacks. Never fear, Holistapet offers tender CBD soft chews! These soft treats are made with natural ingredients and are perfect for dogs of all shapes and sizes.

CBD Capsules

CBD capsules are exactly what they sound like – pill capsules filled with CBD isolate. Isolate means they contain nothing but pure cannabidiol. They are an easy way to give your dog a precise dose of CBD whenever they need it.

CBD Shampoo

Did you know that your dog has cannabinoid receptors in their skin and fur? It's true! A healthy endocannabinoid system supports a healthy coat. Skin issues and allergies are common concerns for dog owners.

Let's be honest, dogs don't usually love bathtime, and you don't want to do it more often than necessary. So, bathe your dog with a shampoo that will support their skin and fur long after bathtime is over. Everyone wins!