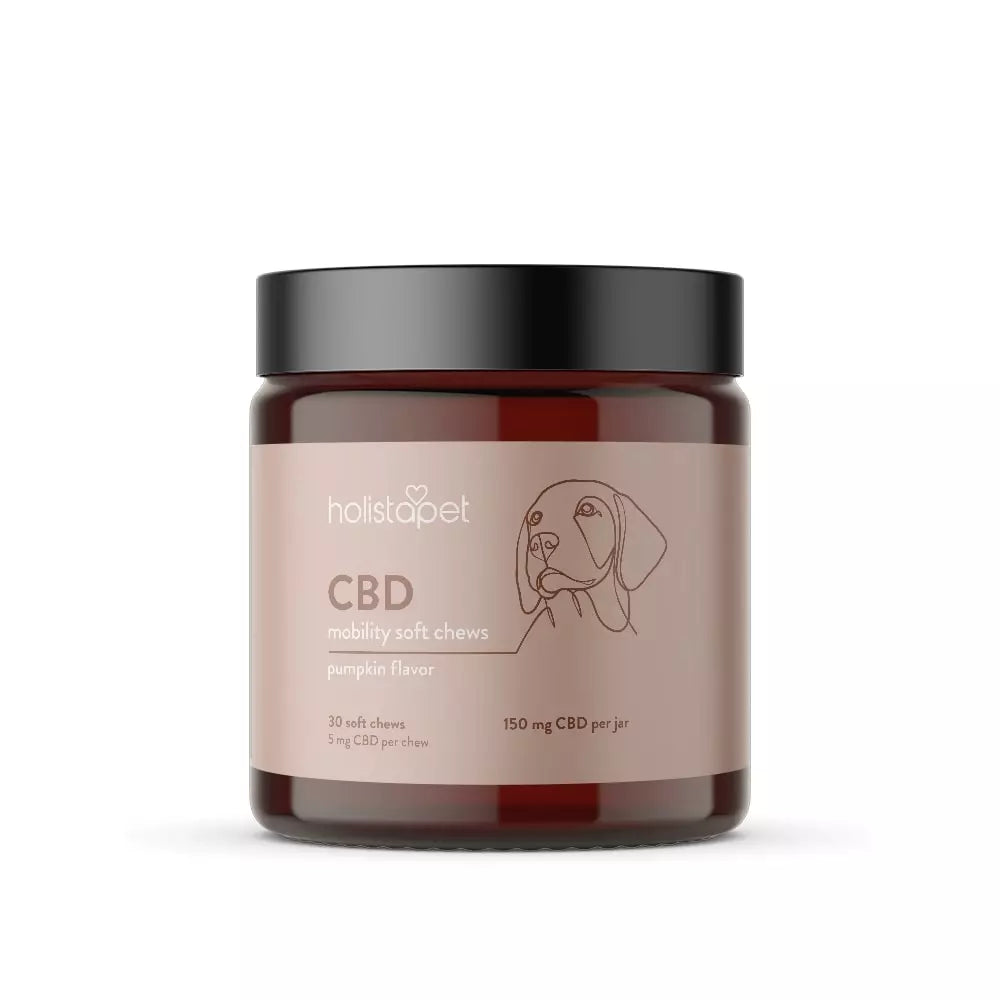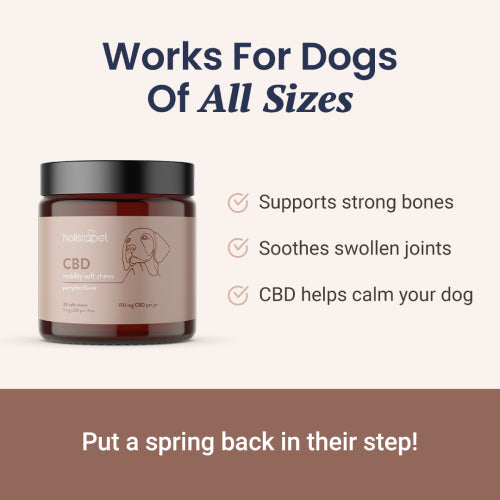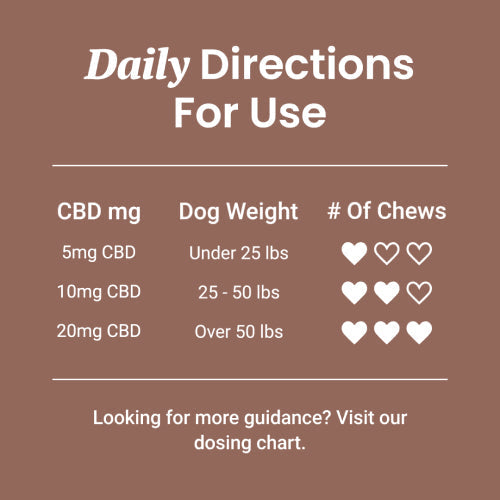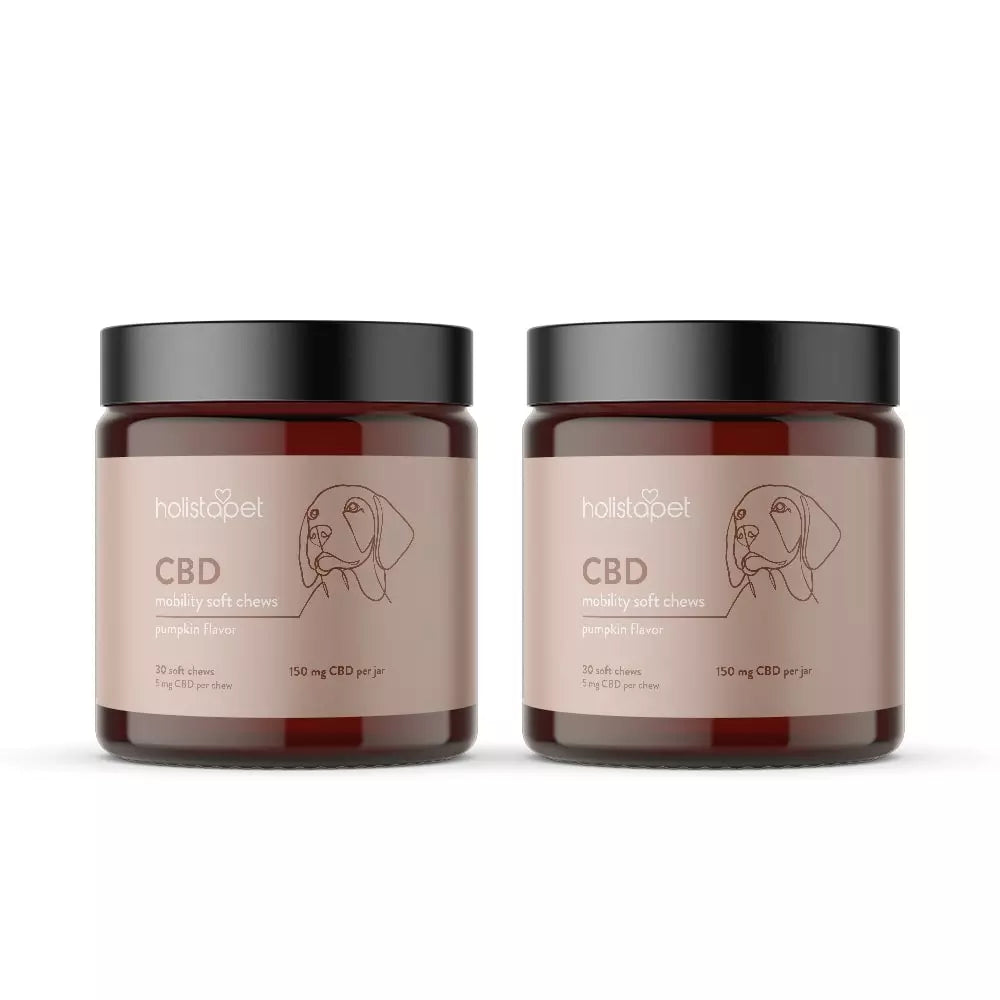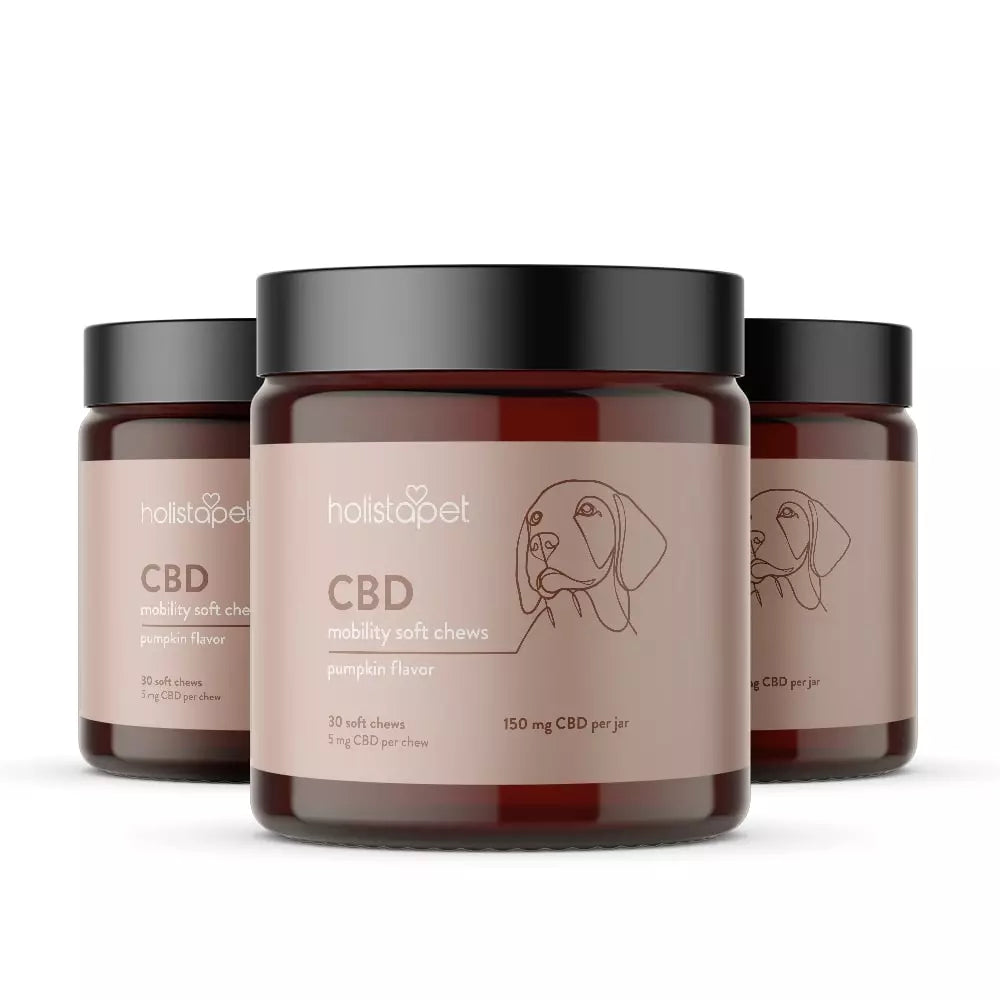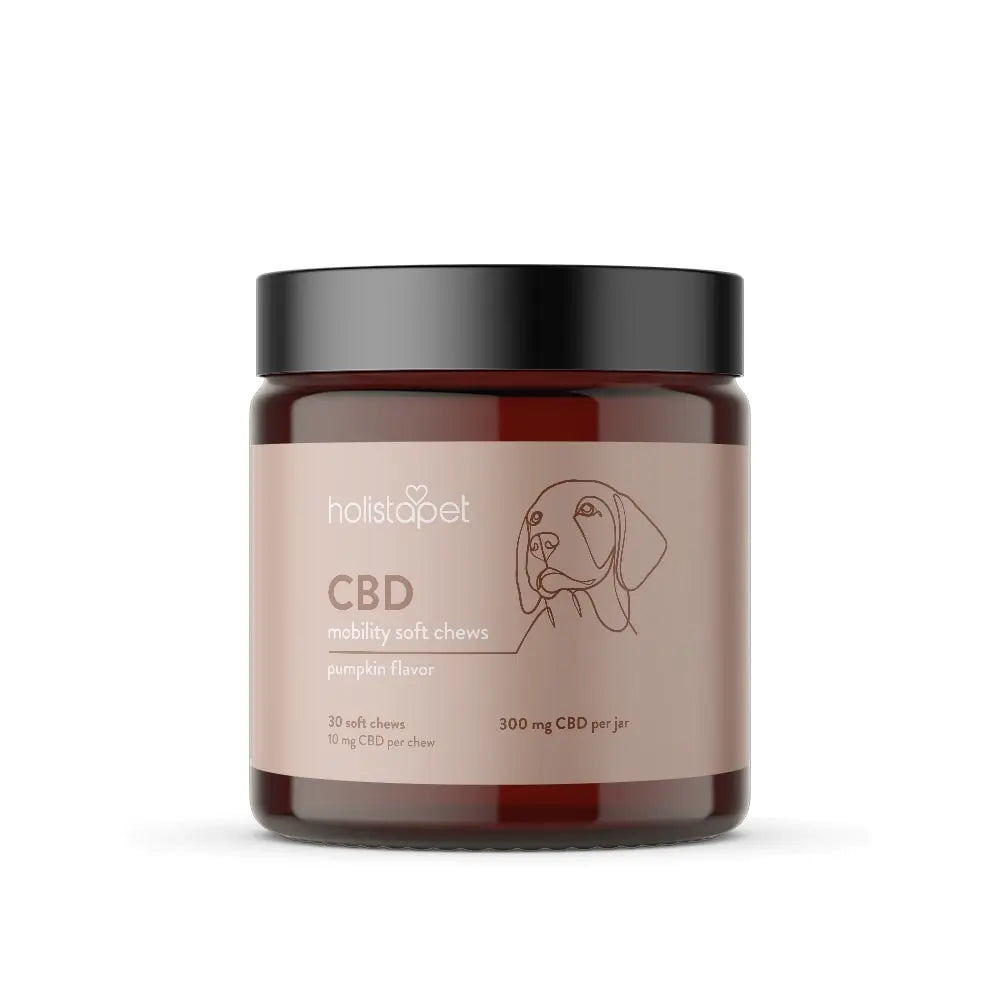 CBD Mobility Chews for Dogs
Enhance your dog's mobility with our CBD Mobility Chews, expertly formulated using only the finest natural ingredients and infused with broad-spectrum CBD. Our vet-approved soft chews, boasting a delightful smoky pumpkin, apple, and cinnamon flavor, come in three strengths—5mg, 10mg, and 20mg—to address your dog's mobility needs. 
Benefits

Mobility soft chews for dogs
100% all-natural, superfood ingredients
Made with broad-spectrum CBD
Delicious smoky pumpkin, apple, & cinnamon flavor
Vet-approved
Comes in: 5 mg, 10 mg & 20 mg strengths
30 soft chews per jar
Serving Size

We generally recommend between 0.25 mg (a regular dose) to 0.5 mg (a strong dose) of CBD per every 1 lb of bodyweight. See our Pet CBD Dosing Chart for specific product dosing guidelines about your products.
Unlock your full potential with HolistaPet by joining our club today - offering the most substantial discounts and exceptional rewards, all for just $95.
30% off every order
2X rewards points
FREE shipping on all orders
Exclusive special offers
We donate 10% of your membership fee to help save the lives of shelter animals
Featured In:

This product is rated 4.9 of 5.0 stars.
It has received 45 reviews.
Mostly good
The web site is/or was a bit awkward to navigate. Our first order of the CBD chews was chicken flavored which my dog liked. I didn't realize the last order was pumpkin flavor which she does not like. Can I specify chicken flavor for future orders?
LOVE these chews for my pit mix
My 100lb blue labrabull absolutely loves these! He gobbles them up and gets excited to eat them everyday. The cute heart shapes are a sweet little touch. The sales that happen often are awesome and allow for me to buy extra to ensure my fur baby never runs out. Love love love! 💕
Great product, Worst Customer Service
If you don't care that no one responds to emails or phone calls, if you don't care that there is no place in cart or payment information in which to place the discount codes offered via email, resulting in NO discount, no buy one get one free, et cetera, then sure. It's a great product. Just expect to ALWAYS pay full price regardless of the so-called sale claims. And NEVER expect anyone to assist if you have an issue. This has been my experience repeatedly. This last time I finally learned my lesson and will be ordering from King Calm from now on.
Amazing product
Helps my elderly boxer so much with his walking!
Great product!
I give these treats to my 10 year old pup everyday and it keeps him moving well!


$1
Of every product gets donated to help rescue shelter animals!
$53,836
Has been donated since the 2023 launch of HolistaPet Helps!
What Are Mobility Chews?
If your dog is having trouble walking or has joint stiffness, try our new Canine Mobility Soft Chews! Made with boswellia, turmeric, and other great all-natural ingredients, our carefully researched formulation will ease joint tension and promote better mobility. Your dog will absolutely love the smokey pumpkin, apple, & cinnamon flavor combination! These tasty soft treats are easy to chew and digest.
These Mobility Chews are soft and easily consumed by dogs of all ages, especially older canines with dental issues. These treats come predosed (available in 5 mg CBD, 10 mg CBD, or 20 mg CBD formulations) and are packed with the savory flavors of smokey pumpkin, apple, and cinnamon. Help maintain your dog's normal joint function and increase their mobility by feeding them these scrumptious soft chews!
Mobility Chews are soft baked, heart-shaped chews infused with broad spectrum CBD that promotes joint wellness and encourages mobility in dogs. In addition to CBD, which supports your dog's ECS, these treats also contain several natural ingredients like Boswellia, which helps to mend your dog's injured joint tissue, and turmeric, which reduces joint stiffness, swelling, and tenderness.
Here are some ways mobility chews can benefit your furry friend:
Promote joint wellness
Maintain normal joint function
Relieve occasional joint stiffness
Aid natural cartilage development
Supports youthful mobility
GET CHEWS NOW
How Do CBD Mobility Chews For Dogs Work?

Cannabidiol, more commonly known as CBD, is a naturally occurring cannabinoid found in hemp plants that helps to support your dog's ECS. Whether it's a dog, cat, horse, livestock, or human, every mammal on earth has an ECS. This complex network of cellular receptors is located throughout your dog's central nervous system (CNS) and peripheral nervous system (PNS) and aids in key biological processes integral to your dog's overall wellbeing.

Such important processes include:

Mood
Appetite
Digestion
Mobility
Sleep

When a CBD Soft Chew is ingested, the CBD slowly makes its way through your dog's digestive tract and eventually ends up in their circulation. Once there, CBD finally becomes available to interact with your dog's ECS receptors to help ease discomfort, promote healthy joints, and aid mobility.
What's Inside Holistapet's Mobility Soft Chews?

HolistaPet's Mobility Soft Chews for dogs are packed with 100% all-natural ingredients. The active ingredients that make up these yummy treats are broad spectrum hemp extract CBD to aid your dog's ECS and support joint health and mobility. There is also Boswellia to mend your dog's damaged joint tissue and promote immunity. Lastly, turmeric reduces swelling and discomfort.

Apple cider vinegar
Apple sauce
Cinnamon
Flax oil
Glycerin
Liquid smoke
Mixed tocopherols
Pumpkin flour
Sunflower lecithin
Tapioca flour
Water
Why Choose HolistaPet?​

The real question is, why wouldn't you use HolistaPet? When it comes to premium quality CBD dog products, there's no better company than us! All of our CBD dog products are made with your furry friend's health and wellness in mind. Here's why you should shop with us!  
Lab Testing Results

For the latest third-party Lab Test Results of our CBD Capsules for Dog & Cats. Click Here.
Frequently Asked Questions
Got questions? Well we've got answers! We've been pros in the pet CBD community for a long time now, but what good's all that knowledge and experience without someone to share it with? Below you'll find expert advice for commonly asked questions.
Will CBD Mobility Chews Get My Dog High?

Rest assured, dog owners, your canine compadre should not get high from our CBD Mobility Chews.

At HolistaPet, we only use broad spectrum CBD to make our Mobility Chews for dogs. Broad spectrum CBD products do not contain THC, the intoxicating cannabinoid found in abundance in marijuana plants responsible for producing its high. As a result, your furry friend won't get high. The only feeling of euphoria your dog will get will be from the relief they get from our Mobility Soft Chews!

Our CBD Soft Chews are third-party lab tested to ensure their efficacy and quality. A Certificate of Analysis (COA) is available for our mobility chews to guarantee your dog is consuming a safe product.

Do CBD Mobility Chews For Dogs Have Any Side Effects?

Pet parents rest assured; your CBD Mobility Chews have very little to no side effects! However, that's not to say that side effects won't occur. Although uncommon, some possible side effects may occur when you give your dog too many CBD Soft Chews.

Some of the potential side effects associated with giving your dog high doses of CBD may include:

Dizzyness: A small but concerning drop in blood pressure may occur in your dog, leading to light-headedness and dizzy spells.
Dry Mouth and Thirst: Reduced saliva production will cause your dog's mouth to dry out and make them thirsty.
Drowsiness: The calming effect associated with CBD may lead to drowsiness in some dogs. If lameness worsens, immediately discontinue use and consult your vet.

How Can I Limit CBD Side Effects In My Dog?

You should always follow the appropriate dosing guidelines for your dog to reduce any potential side effects that may occur due to giving them Mobility Chews.

Here are some ways you can limit these side effects from occurring in your dog:

Determine your dog's regular and ideal dose of CBD to ensure proper dosing.
Maintain a regular dosing schedule.
Separate doses by several hours.
If you miss a dose, wait until your dog's next dose to give them a chew.
Be aware of your dog's medical history and any underlying medical conditions that might impact the efficacy of CBD.

Will CBD Mobility Chews For Dogs Conflict With Other Medications?

No. Any medications your dog is currently taking will not conflict with our chews. Our Mobility Soft Chews are made with 100% all-natural ingredients.

The active ingredients of our chews are CBD, Boswellia, and turmeric. These ingredients do not conflict with other medications your dog may be taking, and they utilize a completely different biochemical pathway to deliver much-needed relief to your dog.

Can I Replace My Dog's Current Mobility Medications With CBD Soft Chews?

Our CBD Mobility Chews for dogs are not meant to replace any medications your dog may be taking, nor are they meant to be a substitute for any life-saving treatments your dog may need for their mobility.

If your dog suffers from severe hip pain from hip dysplasia, osteoarthritis symptoms resulting in joint pain, reduced cartilage development in their hind legs, or other issues impacting their mobility, then it's recommended you see a veterinarian immediately to get your canine companion evaluated.

Our CBD Mobility Chews are meant to support your dog's general wellness by easing their joint discomfort and reinforcing their mobility. But don't take it from us. Our Mobility Chews were formulated with licensed veterinarians to provide the optimal means of support for your dog's mobility issues.
How To Use CBD Mobility Chew For Dogs

Calculating Your Dog's Ideal CBD Dose

To determine how much CBD you can give your dog, you must calculate how much CBD they can handle. Use the following formulas to determine your dog's regular and strong dose of CBD:

Your Dog's Regular Dose of CBD = (0.25 milligrams) x (Your dog's weight in pounds)

Example: If your dog weighs 20 pounds, multiply his weight by 0.25 milligrams to get 5 milligrams of CBD (20 lbs x 0.25 mg = 5 mg CBD).

Your Dog's Strong Dose of CBD = (0.50 milligrams) x (Your dog's weight in pounds)

Example: If your dog weighs 20 pounds, multiply his weight by 0.50 milligrams to get 10 milligrams of CBD (20 lbs x 0.50 mg = 10 mg CBD).

Attention All Dog Owners! When giving your dog any CBD product, always start low and go slow. Start your dog on their regular dose of CBD when giving them mobility chews. If your dog responds well to CBD or if you feel the dose isn't enough, gradually increase their dose until you settle on an optimum dose without exceeding your dog's strong dose.
Five Ways To Naturally Improve Joint Health For Dogs

1) Exercise

Always remember that dogs need to be active. This is an absolute necessity for their health. They're descended from wolves, remember? That means taking them out, letting them run, and giving them plenty of exercises. Exercise can be beneficial both as a preventative measure and for rehabilitation from an injury or procedure. 

There are several types of exercises to enjoy with your furry friend. Switching up activities can help to stimulate the joints in different ways (as well as stimulate the mind). Walking your dog is always a nice exercise for both of you. Another great traditional exercise for your dog is playing fetch. Dogs absolutely love fetching basically anything you can throw. You can use your own toy or even a stick will work up a frenzy in almost any dog.

If you are not feeling too energetic yourself, you can always take your dog to the dog park and let him expend all his energy with all his little dog friends. Socializing is also important for a healthy dog.

2) Weight Loss

It's absolutely vital that your dog stays at a healthy weight. As a 2012 study indicates, dogs are undergoing an obesity epidemic and it's causing rates of premature joint wear and stiffness to skyrocket. Research also indicates that weight reduction can help treat limping in dogs with these joint issues. 

If you want a healthy weighing dog then it is best to monitor its diet and exercise. Obesity in dogs is defined as weighing more than 30% above their ideal weight. If your dog is obese or on the verge then you should probably limit its access to food and increase its exercise routine.

Stop feeding it table scraps if you do and opt for some healthy premium dog food. Feeding your dog smaller portions more often can help to burn calories quicker resulting in a weight decrease.

 

3) Glucosamine

It's a natural substance in your dog's body, with large concentrations deposited in healthy cartilage. Your doggy's body produces glucosamine (glycosaminoglycan) for the formation and repair of tissues such as cartilage. Sadly as dog ages, glucosamine production slows down. Although, by providing extra glucosamine to your dog's diet you can help to counteract this. 

 

You can purchase glucosamine supplements for dogs and incorporate it into your dog's diet. Dosing sizes can vary between products so we recommend always following the manufacturer's dosing directions.

Glucosamine is a common supplement that may help treat various joint problems. Additionally, many veterinarians will prescribe it as a substitute for nonsteroidal anti-inflammatory drugs (NSAIDs).

4) Boswellia

This is a remarkable nutritional supplement with powerful anti-swelling properties. Recent research has indicated that it is highly effective in treating canine joint problems, including a study in 2012, and one in 2019. Boswellia is proving itself to be incredibly effective!

Boswellia is sold in three different forms which are resin, pills, and creams. Each of these applications can help sooth or improve joint health in dogs. You can rub the cream topically on joints to help relieve pain and promote mobility. You can add the pills or resin to your dog's diet. This will supply Boswellia internally which may help reduce inflammation surrounding the joints.

Additionally, you can opt for convenience and quality and get yourself some CBD dog treats for Joint & Mobility. They are made with Boswellia, along with Turmeric and CBD. That's 3 amazing ingredients listed here combined into one powerful product to help improve joint health for dogs.

5) Turmeric

The root of the turmeric plant contains a powerful yellowish compound called curcumin with remarkable anti-swelling properties. Numerous studies have indicated that it is highly effective at treating premature joint wear and joint swelling in dogs, including a study from 2003 (with the curcumin in the form of an extract called P54FP), and one from 2017.

There is also research indicating that curcumin is highly effective at treating osteoarthritis when combined with Boswellia. This is why we choose to combine both Tumeric and Boswellia into our Joint and Mobility dog treats. Whether you choose our convenient treats or some other turmeric product always follow the dosage directions that come with your product. 
Our CBD Dog Products Are Made From 100% All-Natural Ingredients

If you're looking for products that contain acetic acid, Arabic gum, calcium sulfate, hydrolyzed vegetable protein, or other additives and preservatives, then you're out of luck! We are proud providers of 100% all-natural CBD dog products!
We Use Safe And Clean Production Methods To Make Our Dog Products

Our CBD products are 100% federally legal and made from USA-grown hemp farmed in compliance with the 2018 Farm Bill. We also offer free and fast shipping across the continental United States.
We Offer Third-Party Lab Tested COAs To Guarantee Our Quality

Holistapet is a company that is 100% transparent. We care deeply about your dog's safety and wellbeing. To demonstrate this, we offer a COA for every single one of our products to guarantee the quality of the product. A third party laboratory conducts these detailed lab tests and you can download the results from our website.
100% Federally Legal CBD Products

Our CBD products are 100% federally legal and made from USA-grown hemp farmed in compliance with the 2018 Farm Bill. We also offer free and fast shipping across the continental United States.
Save 25% On Every Order All The Time!

Yes, you read that right! When you buy more of our CBD dog products, you will save more money! The best part is that you don't need to wait for a coupon, super sale, or exclusive promotion. 

Become a member of our free subscription services and have our CBD dog products shipped directly to your doorstep before you run out. Whether you have a small dog, big dog, younger dog, or senior dog, they'll love our CBD products and love you even more!

Take advantage of our free and fast shipping and aid your dog's joint health and mobility by purchasing some of our CBD Mobility Chews today! Your dog will love you for it.