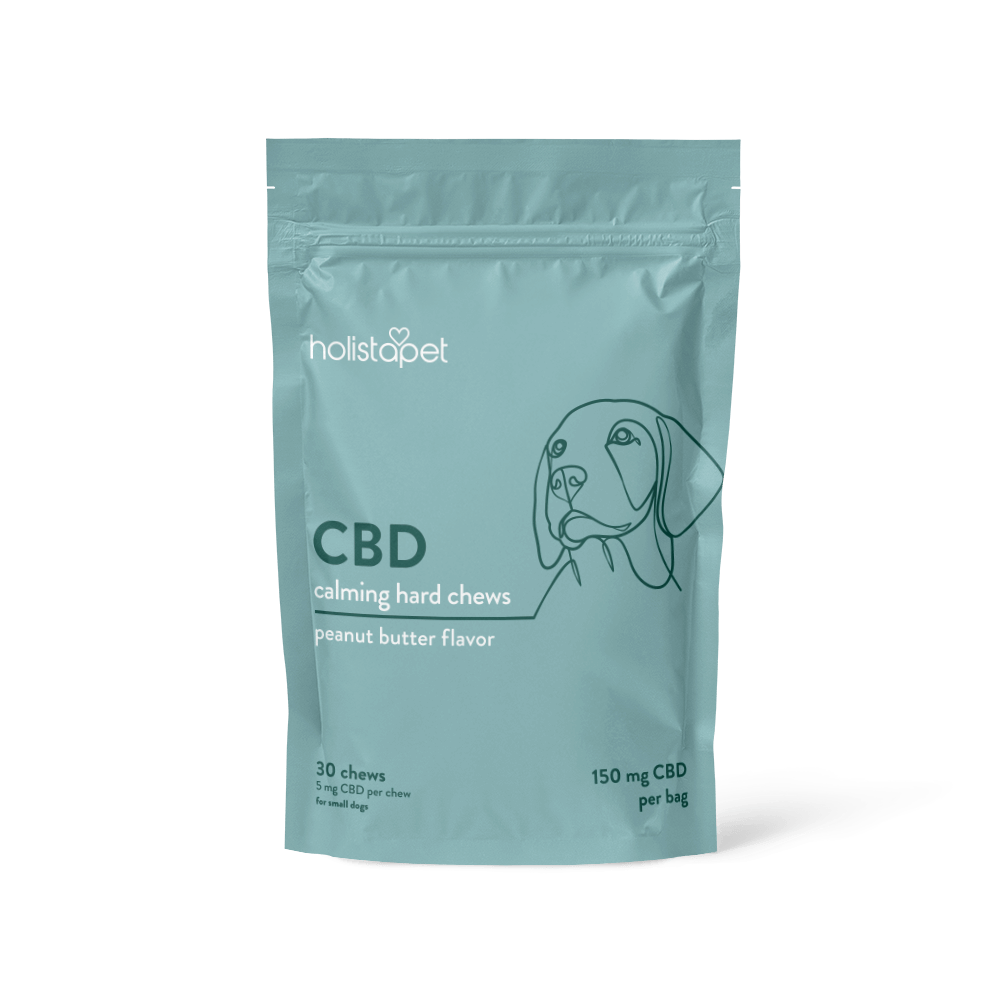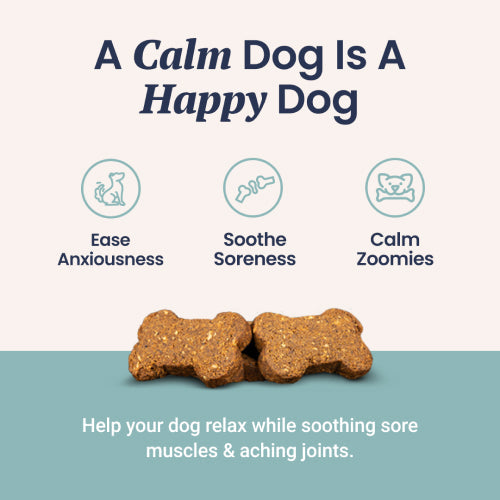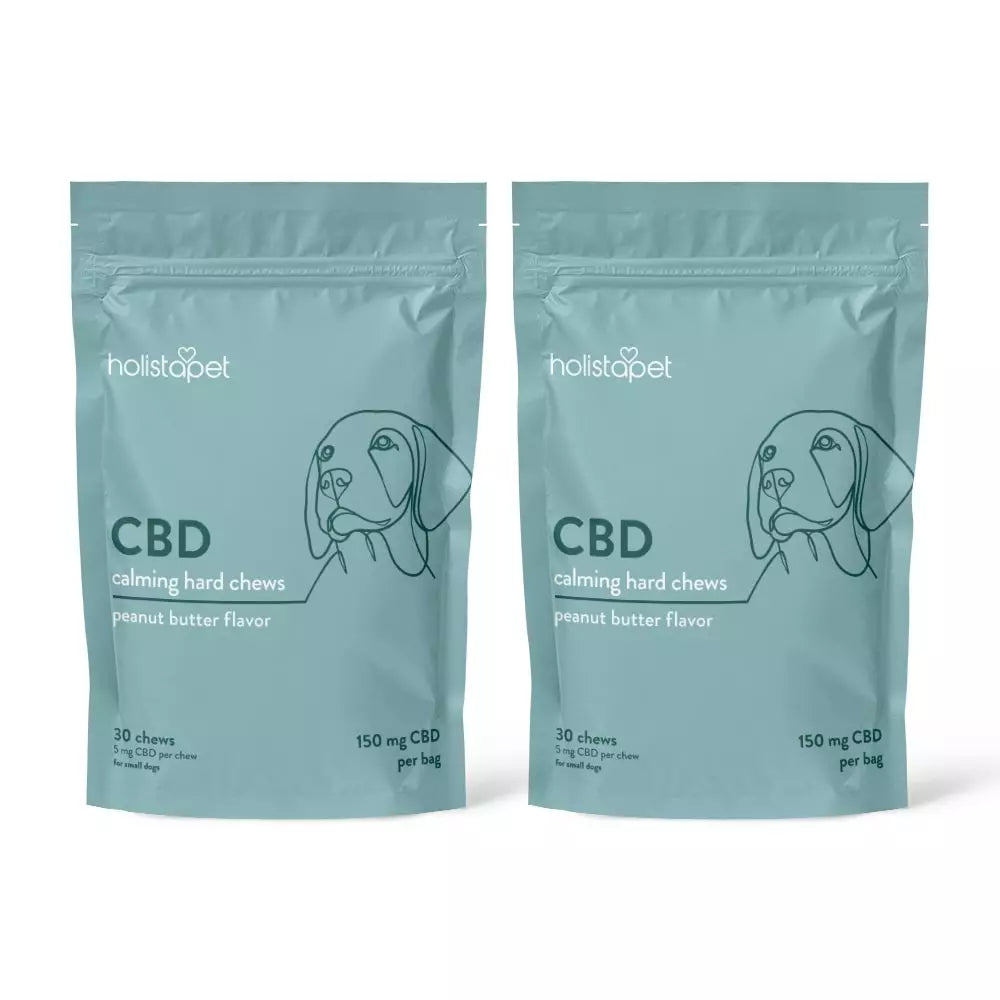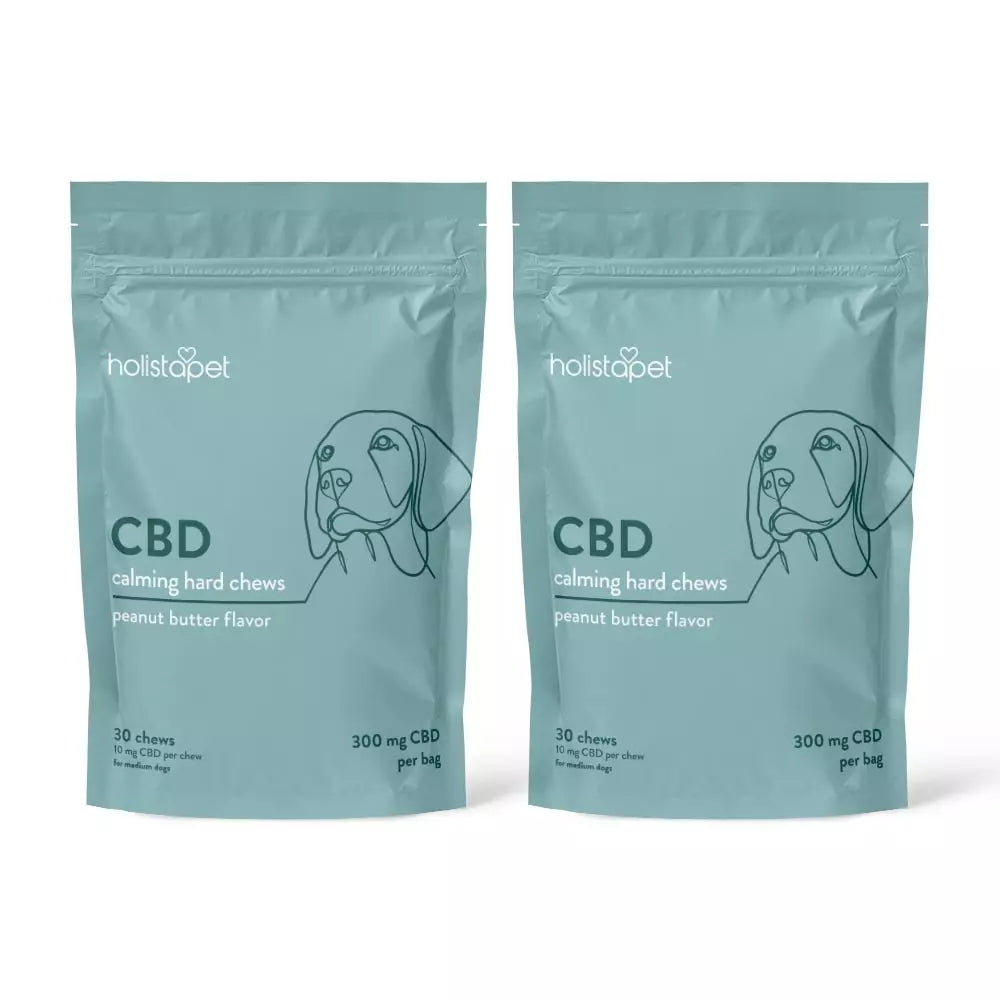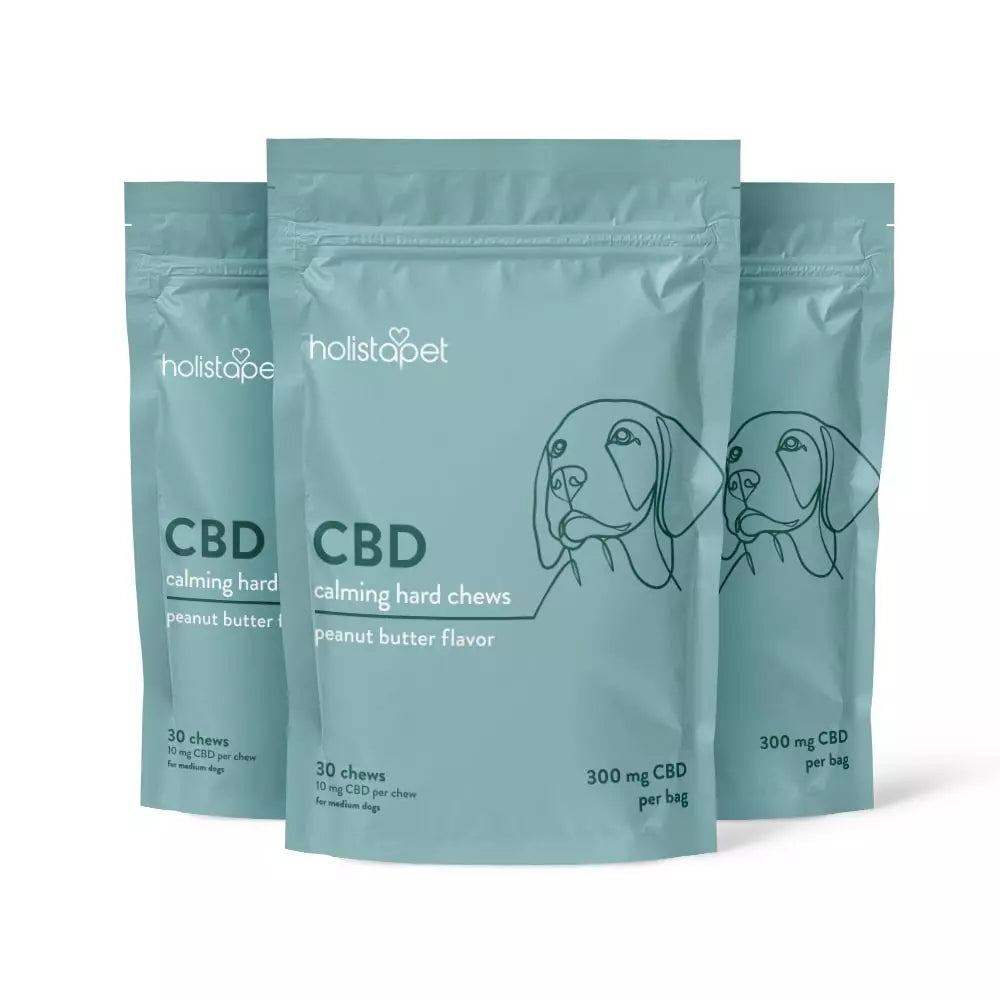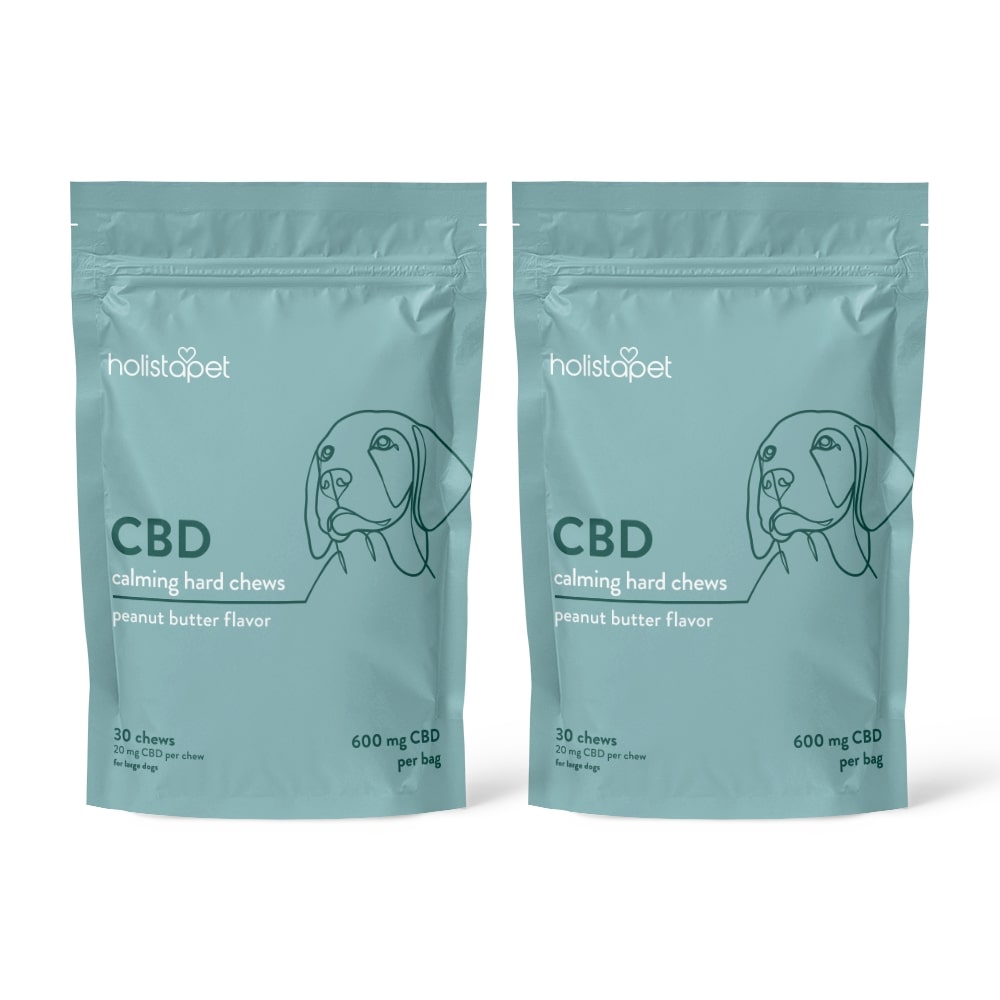 CBD Dog Treats for Anxiety
Provide comfort and relaxation to your furry companion with our CBD Calming Hard Chews 
crafted from natural ingredients and featuring the irresistible flavors of green apple and peanut butter.
Benefits

Reduces stress & anxiety
100% all-natural ingredients
Yummy green apple & peanut butter flavor
Vegan & superfood
Non-GMO, gluten-free, dairy-free
30 treats per bag
Serving Size

We generally recommend between 0.25 mg (a regular dose) to 0.5 mg (a strong dose) of CBD per every 1 lb of bodyweight. See our Pet CBD Dosing Chart for specific product dosing guidelines about your products.
Unlock your full potential with HolistaPet by joining our club today - offering the most substantial discounts and exceptional rewards, all for just $95.
30% off every order
2X rewards points
FREE shipping on all orders
Exclusive special offers
We donate 10% of your membership fee to help save the lives of shelter animals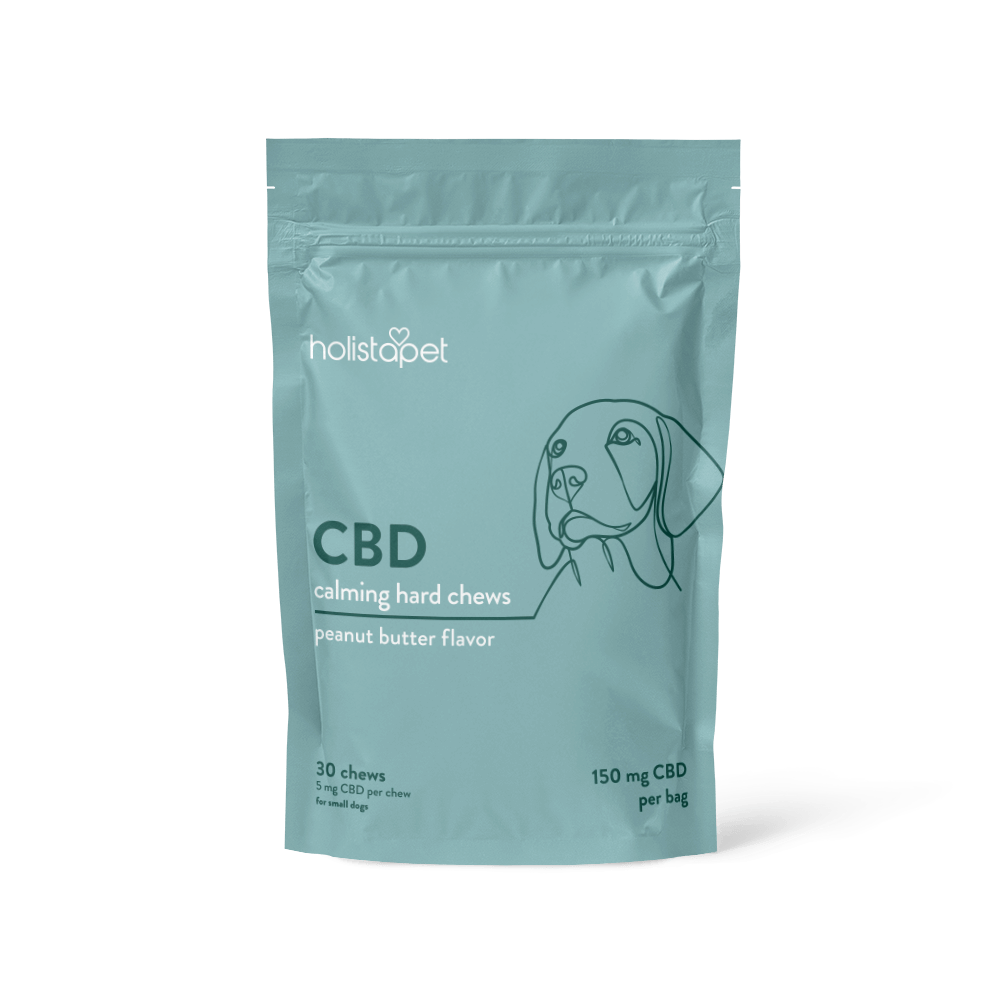 Featured In:

This product is rated 4.9 of 5.0 stars.
It has received 63 reviews.
Great for separation anxiety
We just adopted a new dog this year. She's a tripod and spent the first few years on her own on a reservation with a broken leg. She's so much happier now without the leg, but she was bullied really bad and had to fend herself so long that now she suffers from separation anxiety when we go to work. This, along with her training, has helped her a ton!!
CBD Dog Treats for Anxiety
Excellent customer service
I had the opportunity to place an order for calming treats for my little miniature Schnauzer. I made a mistake in the order. The customer service representative was so helpful to take care of the situation right away.
Game changer for my dog!!
My dog is finally sleeping through the night because of these holistipet cbd treats. They are seriously life saving and our dog gets excited every time we open the bag. 10/10 recommend!!
Love this brand
Love their products and so do my pets. I've tried the oils and the treats and both are winners for cats and dogs.


$1
Of every product gets donated to help rescue shelter animals!
HolistaPet CBD Dog Treats + Calming Relief
Our Peanut Butter + Apple CBD dog treats are enhanced with L-Theanine and Chamomile to increase alpha wave generation and lower your pet's anxiety. These unique flavors and calming herbs are combined with other key superfoods like Hemp Seed Powder and Pure CBD Oil to help your dog maintain calm energy and a peaceful relaxed state in any stressful or nerve-racking situation.

This formula is perfect for animals who suffer from anxious and nervous behaviors. That includes pets who fear loud noises like thunder or pets with severe separation and traveling anxiety. Also helps animals with a nervous stomach.
SHOP TREATS NOW
What Are The Benefits Of CBD For Dogs?

CBD dog treats offer a multitude of wellness benefits for your anxious pet. Taking CBD every day helps to support homeostasis, which is the optimal internal balance of the body. It also has the power to help a wide variety of short and long-term needs. 

The beneficial effects of CBD products include:

Encouraging a calm and relaxed mood
Promoting natural sleep
Supporting appetite and digestive function
Offering relief from aches and discomfort
Soothing swelling and muscle tension 
L-Theanine – Decreases anxiety. promotes stress relief and relaxation.
Chamomile – Calms the nerves and reduces nervousness & fearful behaviors.
Hemp Seed Powder – Helps reduce anxiety. Extremely high nutritional value.
CBD Oil (Cannabidiol) – May promote overall wellness.
Serving Recommendations

CBD dosage is dependent on body weight and the type of condition which you are using it for. To view the recommended dosing for this product, visit our CBD Dosing Chart for Pets.
5 Tips For Calming A Nervous Dog

Give Your Nervous Dog A Relaxing Massage

Just like in humans, a good massage will help calm your dog's nerves. A massage helps in controlling and minimizing anxiety. Give your dog a good massage using long and slow strokes, so as to soothe and comfort them. Talking to your dog in a calming tone will help while you are giving them a massage.


Exercising To Calm Down A Nervous Dog

In human beings, exercising will help in relieving stress and tension. The same applies to dogs too, and therefore it is advisable that you expose your dog to regular exercising.

Exercising is good not only for physical health but also to relieve stress & nervousness. When a dog is exercising, there is a release of serotonin, a hormone that helps improve mood. Serotonin has been known to increase the levels of calmness in a dog.

Secondly, the excess pent-up energy is released to help calm them down. Based on those two factors, activities like a game of fetch, running around the compound, or even jogging regularly with your dog helps to relieve the tension and promote calmness.

Distraction Method To Calm A Nervous Dog

If your dog gets nervous, especially when meeting new people or traveling, you can distract the dog's brain to calm it down. When you cause a distraction, the attention will shift to the activity you have introduced the dog to, helping control the situation. The best distraction can be introducing a game that your dog likes. For example, a game of fetch or even rubbing the dog on the neck area to cause a sensational feeling. Involve the dog with familiar activities that they already know to be rewarding.

These methods work well since the divided attention allows the dog to become accustomed to whatever was causing the nervousness. While using the commands method, you can treat the dog with some nice food that it likes so that it can quickly calm down.

Another good distraction method is to introduce familiar toys like a favorite animal or chew toy. This will help the dog to tolerate whatever was causing the nervousness.

Use Of Slow Music Rhythms To Calm A Nervous Dog

Music works wonders, not only for human beings, but also for pets. Your nervous dog will be calm when you introduce some soft music to its ears. Consider leaving your radio on when you leave the house. Try making a soothing playlist of soft classical music and put this on repeat for your dog to enjoy while you're gone. While traveling, you can also play some nice music in the car to keep your dog engaged. Music helps the dog forget their separation anxiety.

Calming a nervous dog is never easy, but by trying some of these methods, you should be able to ease the anxiousness naturally and effectively. Always remember to give your dog a reward when they behave as expected.

Use Calming CBD Dog Treats For Anxiety

You can find many dog treats that are formulated especially for anxiousness & nervousness. These treats include supplements and ingredients that promote calmness and help aid symptoms of anxiety. Some of these supplements include l-theanine, chamomile, and hemp seed powder, to name a few.

At HolistaPet, we carry the #1 vet recommended CBD dog treats formulated with superfood ingredients specifically to help limit anxiety and calm your dog. Before we started HolistaPet, we noticed a lack of high quality dog treats being sold online. We decided to fill that void. Every single batch of our dog treats is lab tested by a third party for potency to ensure that your dog receives a precise dosage.

We only use natural & vegan ingredients in our calming dog treats. Our ingredients are always NON-GMO and we NEVER put any wheat, animal by-products, corn meal, artificial flavors or colors in any of our products. We believe your dog deserves to be eating just as healthy as you are!

HolistaPet is a brand you can trust to always deliver consistent and quality products, on time. We offer a 100% satisfaction guarantee on all of our products or your money back!


Nervous Dog? These Natural Calming Tips May Help

Anxiety is a very common problem in most dogs. Even the calmest dog will experience some nervousness from time to time. A nervous dog will exhibit several symptoms which need to be identified early and treated before the problem develops further.

An anxious dog can be more difficult to manage. It is good for the owner to know the common causes of nervousness in dogs and have some knowledge of the symptoms in order to correct the problem. So, what are some of the causes of nervousness in dogs and what are the symptoms? First, let's look at the causes.

Social Anxiety In Dogs

You might experience your dog getting nervous when in the company of other new dogs. For example, taking your dog to the dog park or jogging with another friend's dog. These are situations where your dog can experience nervousness from either sexual frustration (wanting to mate) or wanting to play, sniff, and lick the other dog. Social anxiety can also occur when your dog meets a new person as well. New faces can sometimes cause nervousness or anxiety.

What Causes My Dog To Become Stressed Or Nervous?

Many factors may cause your dog to get nervous or agitated. We will break these down into three categories: environmental factors, previous trauma, and underlying health conditions. If you can't tell the cause of your dog's distress, we recommend talking to a vet. Usually, the cause relates to one of the following:

Environmental Factors

When you want to find the cause of your dog's distress, start by considering environmental factors. These are things in the dog's daily environment (your home, the park, doggy daycare, etc.) that may scare or irritate them. Here are some common environmental causes of stress in dogs:

House Guests: Consistency is very important to dogs. When a new person enters their environment, it disrupts the world as they know it. It is quite common for dogs to act aggressive towards strangers or hide from them out of fear.
New Pets: Just as new people can disturb your dog's sense of security, so can introducing a new pet to the house. Stressed-out dogs might be afraid of the newcomer or angry at them for what they perceive as invading their environment.
Loud Noises: Loud noises are a common stress factor for many people, and consider this: dogs can hear sounds over four times the distance that a human can! Their sensitive ears are especially vulnerable to sudden noises like thunder, fireworks, vacuum cleaners, sirens, and car alarms.
Sudden Changes: As we previously mentioned, dogs need consistency in their environment to reinforce the idea that it's a safe space for them. Making abrupt changes to the home, such as moving furniture or relocating their food and water bowls, can confuse and distress your pet.
Separation Anxiety: Separation anxiety is one of the most common problems for dogs, especially when they are puppies. Your dog loves you deeply and relies on you for a sense of safety and security. When you leave your dog home alone, they might panic because they're afraid that you won't come back.

Previous Trauma

Some pets develop anxiety from past experiences. This is a particular concern for rescue dogs, who often come from troubled backgrounds involving abuse or abandonment. Finding a stable home and a loving owner is the most important thing for these pets. However, they may continue to be triggered by certain things, such as meeting strangers or hearing noises that remind them of their bad experiences.

Underlying Health Conditions

We mentioned before that mental and physical health go hand-in-hand. Just as anxiety can cause physical symptoms, a physical condition can cause anxious behavior. Here are some underlying health issues associated with stress:

Injuries: Understandably, sudden injuries like cuts, burns, and fractures can distress your pet. Pain is scary, and it is natural to be anxious after an injury. Most wounds heal completely after a short time, but the recovery process can still be stressful. Recovery may limit your dog's mobility (especially if they are in a cast) and prevent them from engaging in their normal routine. In these trying times, a soothing treat is just what they need.
Thyroid Conditions: The thyroid gland produces hormones that regulate many physical and mental functions. If the thyroid gland isn't working properly, it can change your dog's brain chemistry. Too many hormones can cause restlessness and anxiety. Too few can cause fatigue and depression.
Hearing or Vision Loss: Like humans, many dogs experience hearing loss and/or vision loss as they age. Losing one of their senses can make them uncertain of their environment, which often leads to anxiety. For example, a deaf pet won't be able to hear you approach them from behind, so they might get startled when you suddenly enter their field of vision.

Travel Anxiety In Dogs


Dogs aren't always up fortraveling. Some dogs can become very anxious if ever faced with traveling, especially in a car. Car rides are scary for a dog who isn't used to the motions, sounds, and vibrations that a car can create. Travel can cause many reactions including; car sickness, barking, yelping, panting and excessive drooling.
Symptoms Of A Nervous Dog

How do you know if your dog would benefit from our calming CBD treats? There are a few signs that you should look out for. Nervous behavior is a common concern for many pet parents, and it can occur in both the short term and the long term. If your pup is a little on the anxious side, they will display some of the following behaviors.

Excessive barking or howling
Excessive whining or whimpering
Aggression towards others
Destructive behavior
Pacing back and forth
Excessively licking their nose and mouth
Panting (unless they have exercised recently)
Hiding from others
Restlessness
Poor impulse control
Urinating or defecating in the house
Digging or scratching
Trembling or shaking
Compulsive and repetitive behavior

The symptoms of anxiety can significantly impact your dog's health overall. Mental health and physical well-being are naturally tied to one another. Prolonged anxiety and distress can disrupt energy levels, leading to sleeplessness and appetite changes. Compulsive behaviors like overgrooming can cause problems with your pet's skin and fur. Calming treats for dogs don't only soothe distress; they support your dog in all respects.

These are some of the common symptoms that show your dog needs calming. So how do you go about the issue? We have some natural tips that will help calm your dog.
Lab Testing Results

Just like in humans, a good massage will help calm your dog's nerves. A massage helps in controlling and minimizing anxiety. Give your dog a good massage using long and slow strokes, so as to soothe and comfort them. Talking to your dog in a calming tone will help while you are giving them a massage.
Frequently Asked Questions
Got questions? Well we've got answers! We've been pros in the pet CBD community for a long time now, but what good's all that knowledge and experience without someone to share it with? Below you'll find expert advice for commonly asked questions.
How Much CBD Should I Give My Dog?

We generally recommend giving your dog between 0.25 mg of CBD (regular dose) to 0.5 mg of CBD (strong dose) for each pound of their body weight. The ideal dose for your pet depends on their size and their needs. For example, dogs experiencing intense and constant nervousness or agitation would probably benefit from taking a larger amount of CBD.

If you want to get a precise dosing recommendation for your pet, check out the handy Dosing Chart on our website under the "Learn More" tab. You can take a brief quiz to determine the perfect amount for your dog. We recommend talking to a vet about the severity of your dog's condition and whether it may call for a larger dose.

Whatever size dose your dog needs, you can find it here at HolistaPet. We offer Calming CBD Dog Treats in three sizes to support a variety of breeds and needs:

For dogs under 20 lbs: 5 mg CBD per treat | 30 treats per bag | 150 mg total
For dogs 20-60 lbs: 10 mg CBD per treat | 30 treats per bag | 300 mg total
For dogs over 60 lbs: 20 mg CBD per treat | 30 treats per bag | 600 mg total.
Is CBD Safe For My Dog?

CBD is well-tolerated across species. It is just as safe for dogs as it is for humans. There has never been a reported instance of any person or pet overdosing on CBD. We discussed the possible side effects earlier in this guide, but those should be the only potential consequences. You can generally avoid these by sticking to the appropriate dose.

Will CBD Get My Dog High?

No, CBD treats should not get your dog high. Many people are concerned about this because CBD comes from hemp, which is a form of the cannabis plant. However, hemp is different than marijuana, and it is not intoxicating. The "high" that marijuana delivers comes from a compound called THC, or tetrahydrocannabinol. At HolistaPet, none of our products contain any THC, meaning that your pet should not get high from them.

Are There Any Side Effects From CBD?

As with any consumer product, CBD may present certain side effects, but these are exceedingly rare and mild. Potential complications include:

Drowsiness
Increased appetite and/or thirst
Upset stomach

As you can see, these are very mild consequences, and it is quite unlikely that your dog will experience them in the first place. Side effects from CBD treats are very rare. The key is to determine the right dose of CBD for your dog and stick to it. If you want to raise or lower the dose, do so incrementally so your pet's body can have time to adapt. Even if you give your dog too much CBD, the worst that could happen is that they will sleep it off over the span of a few hours.
What To Look For When Buying CBD Dog Treats For Anxiety?

You don't want just any old CBD dog treat; you want the best, and here's how to find it! You need to pay attention to multiple factors and make sure the product meets the highest standards. Here are the key things to pay attention to:

Quality Ingredients

The best CBD dog treats start with high-quality ingredients. We pay close attention to nutrition labels at the grocery store, and we should do the same when we shop for our pets. Follow common sense and avoid any artificial ingredients or preservatives. Always look for natural, organic ingredients.

Extraction Method

To make the best CBD dog treats, we need to extract cannabidiol from hemp plants. There are multiple ways to do this, but one method is clearly the best: the CO2 method. This process involves running liquid carbon dioxide through hemp leaves and flowers to strip away the CBD. Then, we evaporate the CO2, leaving CBD extract for us to use in our products. Beware of companies that use chemical solvents like butane in their extractions, potentially contaminating the final product.

Hemp Source

The best hemp comes from local farms right here in the U.S. Some companies import cheap hemp from other countries. The brand saves a buck, but the consumer gets a low-quality product. Imported hemp may not even comply with America's laws regarding cannabis and CBD.

Customer Reviews

When you're shopping, the best authority is other customers like you. Before you purchase any products, research the brand's reputation. Look for as many five-star reviews as possible. HolistaPet has thousands on TrustPilot alone. Consumer reviews are also a great way to read about the CBD experience and learn new tips.

Certificates Of Analysis (COAs)

Reputable CBD companies have all of their products tested by a third-party lab. Independent researchers run tests to make sure the product actually contains the amount of CBD it says on the label. Labs record their results in Certificates of Analysis (COAs). If you want to confirm a brand's label claims, look for COAs on their website.
Why Should I Choose HolistaPet?

We take pride in making quality CBD treats right here at our facility in Southern California. When you buy from HolistaPet, your dog reaps the benefits of organic, canine-approved treats that support their body. Here are just a few reasons why our formula kicks the competition. Not to brag, we have the best CBD dog treats on the market. We mail them straight to your door, so you don't even have to leave the couch to shop! What makes us stand out? We'll tell you right now:

High-Quality Products

In the last section, we told you what to look for when you shop for dog CBD treats. We're proud to say that we tick off all the boxes. We make our calming treats with natural, organic ingredients and hemp from American farms. We use the clean CO2 extraction method to make our CBD products, so you don't have to worry about your dog eating chemical solvents.

If you want proof of our quality products, check out the thousands of five-star reviews we have on TrustPilot, Google Reviews, and the Better Business Bureau (BBB). For further evidence, you can read COAs for every single one of HolistaPet's products. We send everything to third-party labs to ensure that our labels are accurate.

Variety

We offer a wide array of CBD products for pets. In addition to our calming treats, we have the best CBD dog treats for mobility and general wellness. We also carry CBD oil, calming soft chews, CBD capsules, and much more. Discover our entire collection at the HolistaPet shop.

Great Deals

We also love pet owners (that's you!), which is why we offer several benefits for our customers. For starters, you automatically get free shipping on each order, with no minimum purchase necessary. Every product is protected under our 30-day money-back guarantee.

But that's not all! We also offer 25% off on your first order. Returning customers can get a 25% discount by signing up for any of our subscription deals. You can get regular shipments of your favorite HolistaPet products for a special discount price! Scheduling regular shipments means you don't have to worry about running out of CBD. We certainly don't want you stressing over calming treats (oh, the irony!).
How Do CBD Pet Treats Work?

CBD treats support your dog's endocannabinoid system (ECS). The ECS is a vast network of receptors that are present in the brains and bodies of all vertebrate species. It regulates some of the most important physical and mental functions, including the following:

Mood
Memory
Immune response
Appetite
Digestion
Sleep
Is There THC In CBD Dog Treats?

No! HolistaPet products contain broad spectrum CBD oil, which means they contain all of the natural compounds in hemp except for THC. That's right; there is absolutely zero THC in HolistaPet's CBD treats for dogs. That's why your pet won't get high from them!