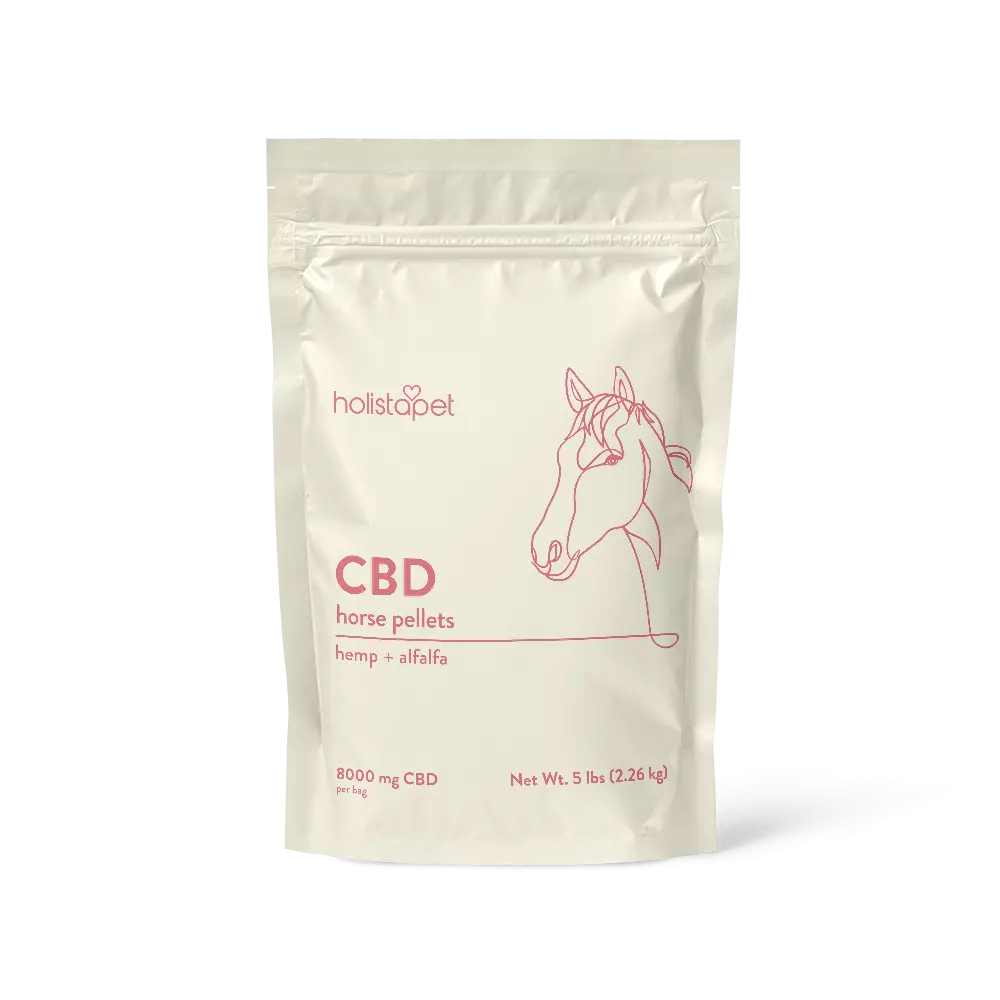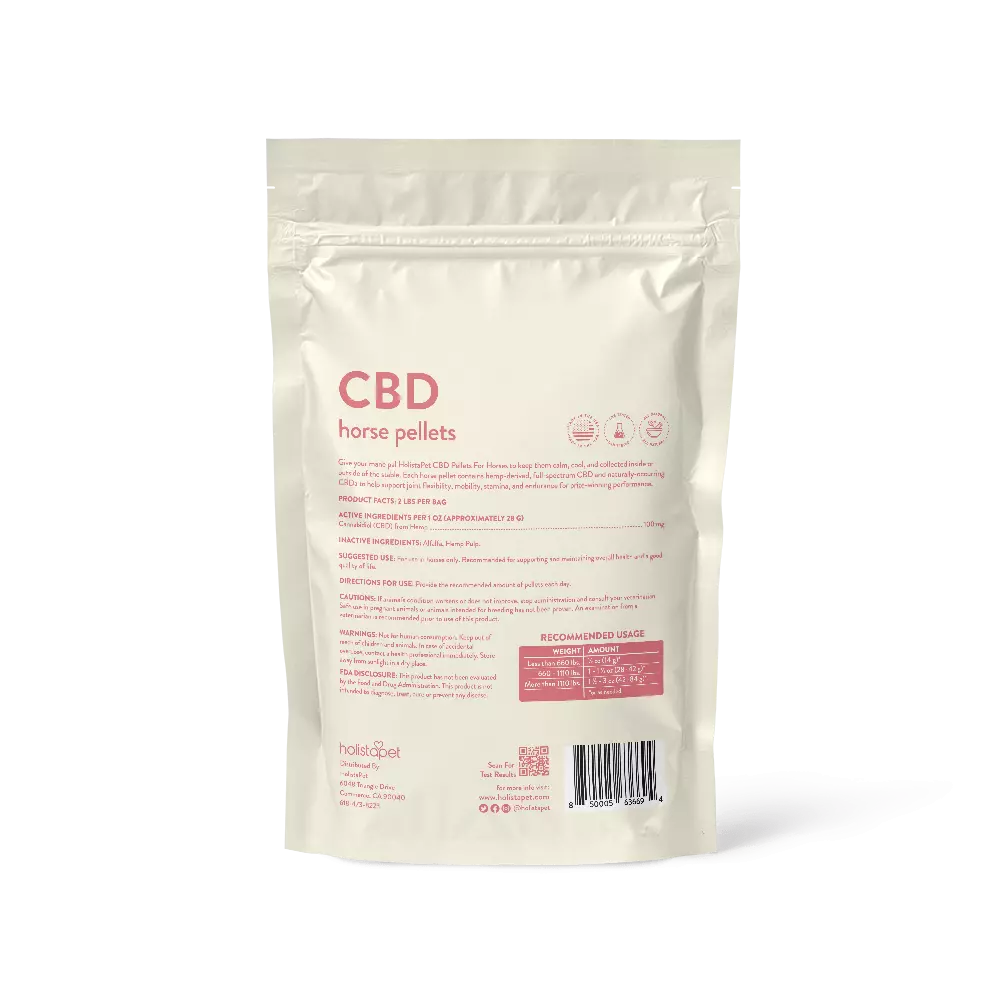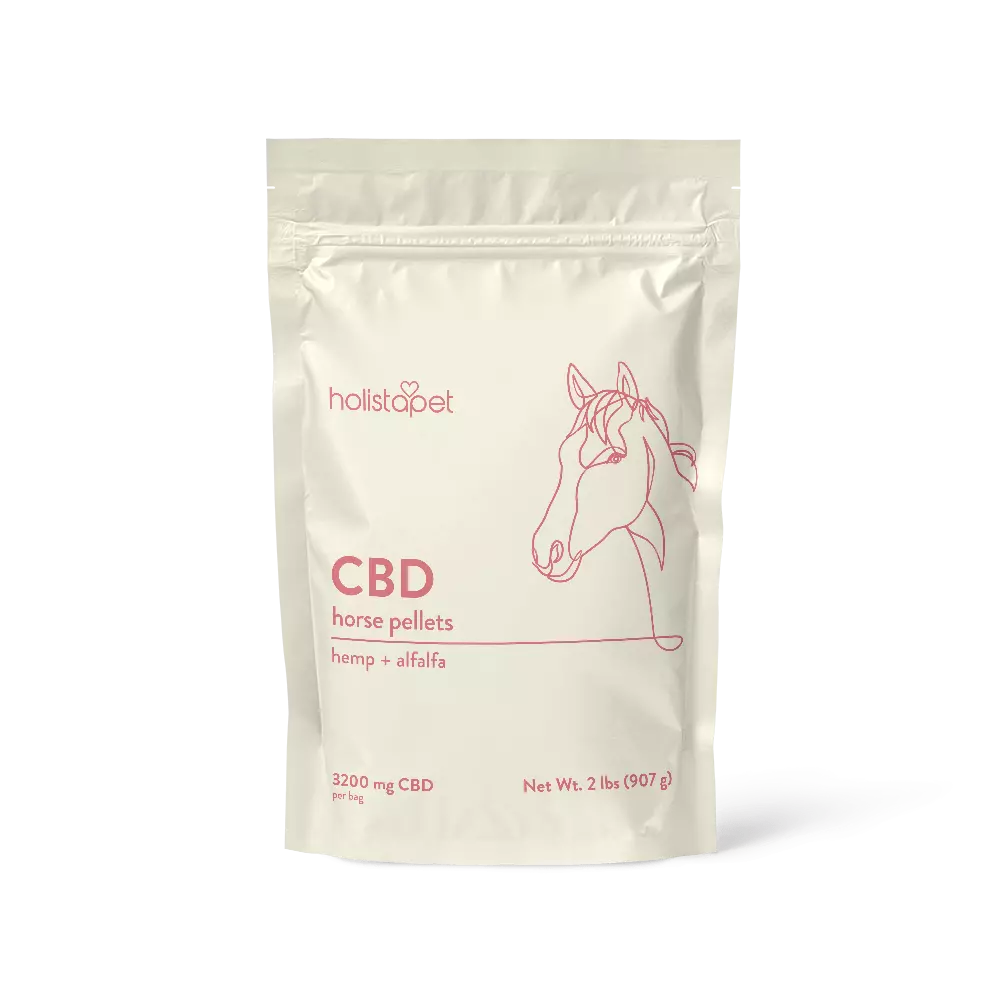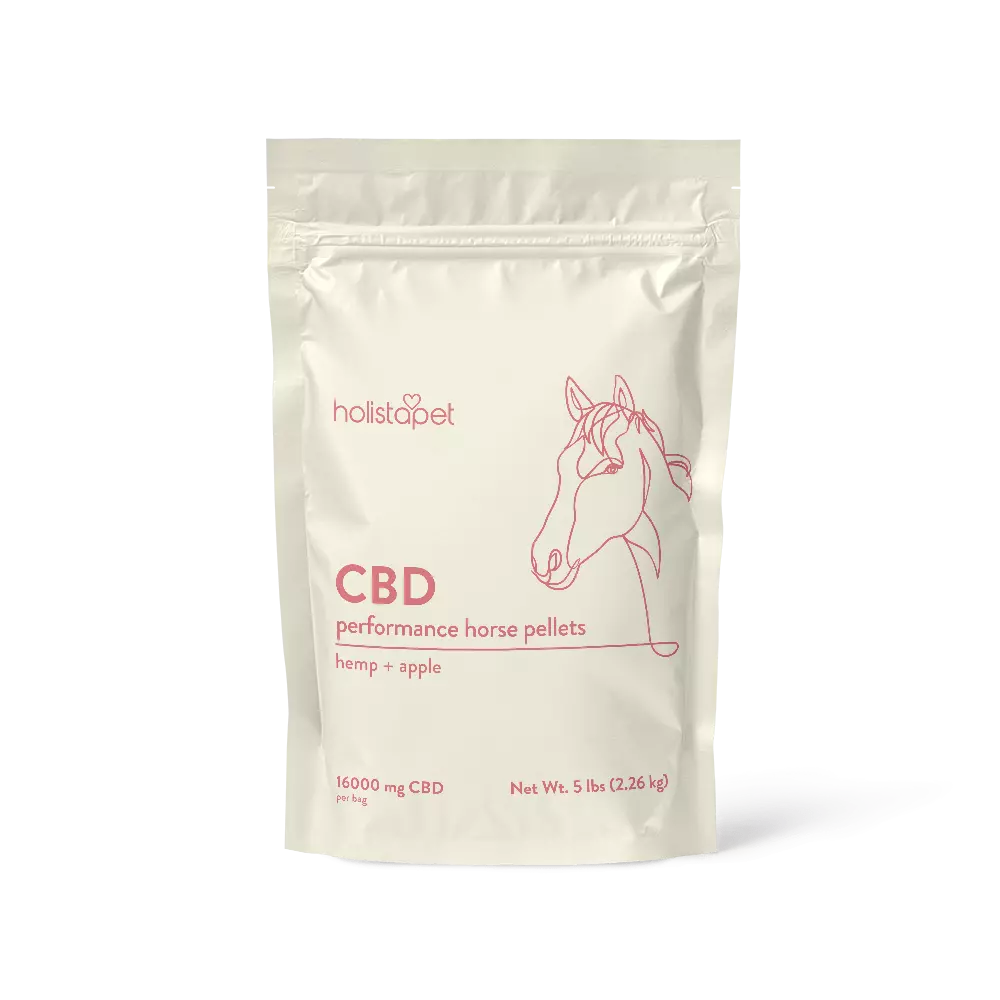 CBD Pellets for Horses
Enhance the wellness of your majestic horse with our CBD Pellets for Horses, carefully formulated using premium broad-spectrum CBD extract and packed with Omega 3-6-9 fatty acids. 
Benefits

CBD rich pellets for horses
Made with broad-spectrum CBD extract
3rd party lab tested for potency, quality, and efficacy
Rich in Omega 3-6-9 fatty acids
CBD extract via supercritical CO2 extraction process
100% all-natural ingredients
Pesticide free, non-GMO, no additives or preservatives
NOT available for sale/shipment in California
Serving Size

We generally recommend between 0.25 mg (a regular dose) to 0.5 mg (a strong dose) of CBD per every 1 lb of bodyweight. See our Pet CBD Dosing Chart for specific product dosing guidelines about your products.
Unlock your full potential with HolistaPet by joining our club today - offering the most substantial discounts and exceptional rewards, all for just $95.
30% off every order
2X rewards points
FREE shipping on all orders
Exclusive special offers
We donate 10% of your membership fee to help save the lives of shelter animals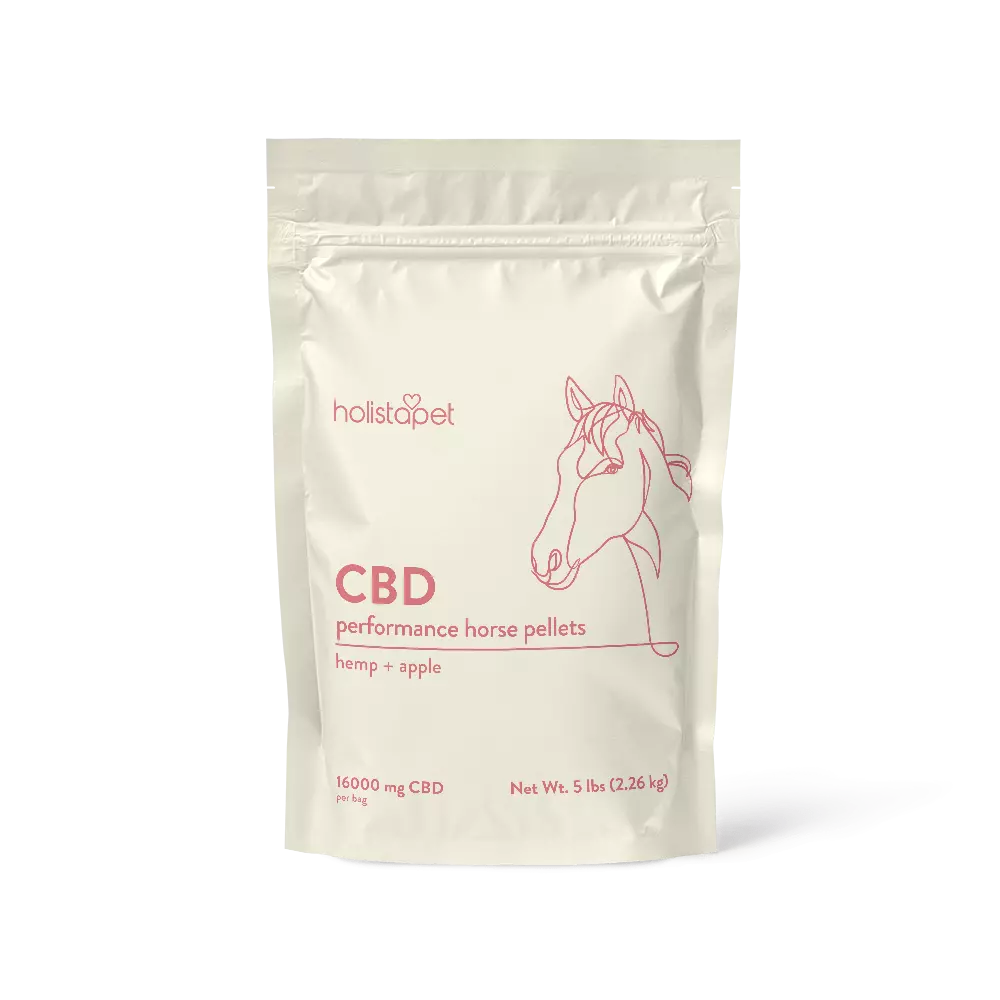 Featured In:

This product is rated 5.0 of 5.0 stars.
It has received 6 reviews.
One month down and so far so good. I started a 15 year old mare on Holistapet just to see if it would help. She seems more agile and wanting to extend out more. I am excited to see what the second bag to see if she continues doing well. Price is good. Shipping was insanely fast.
This works amazing for my mare when she cycles. I've tried other products-some of which made it worse- and nothing comes close to this. Her symptoms (cranky, uncomfortable, pain) are gone. Thank you so much!
I was looking for something to support my geldings overall joint health and mobility due to his size and conformation (we love him, but even the best can have their faults!) and to help his relax and calm hos occasional anxiety, and this has been wonderful! He has been calmly jumping like a dream and his flatwork has improved tremendously. An older retired mare at our barn has also been using this and she has gone from plodding around her pasture to kicking up her heels and playing like a teenager! Thank you for this- you've earned at least 2 long term customers!
My morgan has been showing signs of aging for the past year and isn't moving as gracefully as her younger days. Her rear right leg has mild arthritis and I did some research online and decided to give these cbd pellets these a try. She ended up liking the pellets. After 3 weeks I already see an improvement and she seems much more agile. This is good stuff, will be buying more thank you
Getting Ralph to the vet is a problem. He hates the car ride, and hates the carrying cage even more. I tried to entice him into the carrier with catnip but it makes a mess. I found this catnip spray that I can put on his toy to entertain him and kind of lure him into the carrier. This stuff actually works, he went right in and started licking the toy. This stuff also has CBD, which kept him calmer and quieter. I'm happy and Ralph loves this stuff. This is my second purchase.
$1
Of every product gets donated to help rescue shelter animals!
$53,836
Has been donated since the 2023 launch of HolistaPet Helps!
HolistaPet CBD Pellets for Horses
Contain a broad spectrum, CBD-rich hemp extract from the hemp plant. Manufactured under the strictest standards and developed in parallel with the newest research, these hemp pellets are perfect for horses of every size, breed, and class. Loaded with essential omega fatty acids, our pellets are an excellent source of essential nutrients and supplemental protein.
BUY HORSE PELLETS NOW!
Product Specs

1500 mg of hemp extract per pound
Broad spectrum hemp extract obtained via supercritical CO2 extraction
0.3% PCR hemp extract
Third-party lab tested for potency, quality, and efficacy
Rich source of Omega 3, 6, and 9 fatty acids
Hemp sourced from Oregon-based, family-run, farms
Derived Farm Bill compliant hemp, legal in all 50 states
Antimicrobial and mold inhibitors added to ensure freshness
Molasses added for natural flavoring
Dosing Recommendations

We recommend a general daily serving of 15 grams (2 tablespoons) of horse pellets. This is based on an average of 25 mg CBD per 7.5 grams of pellets. At this amount, a 1-pound bag of pellets should last your horse for one month.

Each pound of your horses' CBD pellets contains approximately 1500 mg of CBD. To determine the optimal servings, you should consider your horse's body weight and wellness needs. Here are general serving guidelines broken down by weight class:

Miniature (<350 lbs) = 10 mg CBD
Pony (350 – 900 lbs) = 20 mg CBD
Horse (900 – 1500 lbs) = 50 mg CBD
XL/Draft (>1500 lbs) = 65 mg CBD

 

Feed your horse the proper amount of hemp pellets twice a day. We recommend that you begin by feeding them 1/3 of the serving on day 1 on gradually working your way up from there to a full serving. For more severe conditions, you can give your horse a larger serving as needed.

Aside from horses, you can also use these CBD hemp pellets for many different species, including donkeys, mules, goats, sheep, swine, poultry, rabbits, dogs, and caged pets such as birds and pocket pets.
Why People Use CBD Pellets For Horses?

The primary reasons people give CBD to horses are to provide relief, offer a better quality of life, and help maintain overall balance and wellness. The reason people choose to use CBD hemp pellets for their horses comes down to a matter of preference or convenience.

As mentioned earlier, the common ways to apply CBD for horses are by tincture or capsule form. To administer a serving of CBD tincture oil to a horse, you will either have to use an oral syringe and manually put it in their mouth or drip the oil on some of their food or drinking water. Although all these methods will work, they may also seem like an inconvenience for some horse owners.

For many owners and trainers, CBD pellets for horses are the most convenient and efficient way to give CBD to their horses. The hemp pellets are very easy to administer. Simply count out the suggested amount and feed it to your horse. No preparation is needed, and no waste results. Hemp pellets are a clean and easy way to administer CBD to horses.
How Do CBD Pellets For Horses Work?

Most people who ask this question are really asking, "how does CBD work in horses"? To understand how CBD works in horses, you may need a vague understanding of how cannabinoids work within the ECS. As previously addressed, cannabinoids are compounds capable of interacting with the ECS, and almost every living creature is born with this system.

There are 3 types of cannabinoids: endocannabinoids, phytocannabinoids, and synthetic cannabinoids. However, we will only be focusing on endocannabinoids and phytocannabinoids. Here is a brief description of each to explain them:

Endocannabinoids: These are cannabinoids created naturally by cells within the body. The prefix "endo" means "within" as within the body.
Phytocannabinoids: These are cannabinoids that come from plants. "phyto" means "of a plant" or "relating to plants."
Synthetic: Synthetic cannabinoids are fake and should never be consumed. They can be harmful to your health since they aren't natural. ALWAYS read the ingredients label and do the proper research.
Other Benefits Of CBD Pellets For Horses

The hemp plant naturally contains various nutrients that may be beneficial to horses. Naturally, broad spectrum CBD products will include antioxidants, essential fatty acids (Omega 3 & 6), amino acids, and minerals like phosphorus, magnesium, potassium, calcium, sulfur, iron, and zinc. Broad spectrum CBD oil should also contain natural vitamins such as vitamin A, C, E, and B complex vitamins.

All these dietary nutrients may be helpful to any horse. These nutrients may help to enhance a horse's performance, avoid a vitamin E deficiency myopathy, and so much more. The list goes on.

Since CBD comes from the hemp (cannabis) plant, you may wonder, "is it safe?" The general answer is "yes," meaning it may come with only minimal side effects. CBD is natural and non-intoxicating. According to the Mayo Clinic, "it is often well-tolerated, CBD can cause side effects, such as dry mouth, diarrhea, reduced appetite, drowsiness, and fatigue."

In addition, most of these side effects are only temporary. Mild side effects may arise as the body is becoming accustomed to CBD. Once accustomed, the side effects usually subside and do not return.

Practically all horse owners and trainers are familiar with horse pellets, and some of them might be familiar with CBD oil for horses. However, most are not aware of the combination of the two: CBD horse pellets.

CBD stands for cannabidiol. It is an compound from the hemp (cannabis) plant. CBD is a cannabinoid capable of interacting with a horse's endocannabinoid system (ECS).

Essentially, there are 3 variations of CBD: full spectrum, broad spectrum, and isolate. When searching for the right product for your horse or pet, you should pay attention to the type of CBD it contains. Our Pellets contain only 100% Broad Spectrum CBD Oil Extract.
More About The Endocannabinoid System In Horses

The ECS in a horse's body is constantly at work. This is because the main priority of the ECS is to keep many of the body's functions in proper balance regardless of external or internal factors. This proper "balance" or "harmony" is the body's natural homeostasis.

To perform this large task, the ECS uses specific enzymes to create and break down endocannabinoids (like Dopamine and Anandamide). A horse's ECS is constantly creating and breaking down cannabinoids in order to send signals via cannabinoid receptors (CB1 and CB2) to specific parts of the body. Thus initiating, halting, increasing, or decreasing certain functions.

The ECS is a component that helps modulate the nervous system, digestive system, skeletal system, mood regulation, immune health, and inflammatory response. What ties CBD and the ECS together is the fact that phytocannabinoids, like CBD, are capable of interacting with the ECS in basically the same way as the body's natural endocannabinoids do.

Sometimes the ECS can struggle to keep up with the demand of keeping the body in complete homeostasis. This is when problems can start to arise. Additionally, the ECS could not function correctly. Specialists refer to this as a Clinical Endocannabinoid Deficiency (CED).

CBD Isolate

This is CBD in its purest form. CBD isolate should test between 96-99% pure CBD, which means it is pure CBD containing no other cannabinoids, terpenes, or flavonoids from the plant. It contains zero THC, which is the intoxicating part of the plant. Without the other cannabinoids, CBD isolate by itself has less of an effect. 

Broad Spectrum CBD Oil

This variety of CBD contains all the plant's natural compounds (cannabinoids, terpenes, and flavonoids) minus one, which is THC. With a broad spectrum product, you will get all the benefits the plant has to offer minus the THC.

Full Spectrum CBD Oil

Full spectrum CBD oil includes 100% of the plant's compounds (cannabinoids, terpenes, and flavonoids), including the smallest amounts of THC. However, the amount of THC will not exceed the legal limit of 0.3% or less. This is a minimal amount, and it will not get your horse "high" or "intoxicated" but will provide all of the benefits in combination that the cannabinoids, as a whole, have to offer.

When all cannabinoids of the plant are taken together, it creates what researchers refer to as the "entourage effect." To put it simply, the effects of taking the full or broad spectrum extract will exceed the effects of taking any single compound. Full spectrum and broad spectrum CBD extracts are considered the most effective ways to use CBD.
California Law

NOT available for sale/shipment in California due to state legislation.
CBD Pellets For Horses FAQ
If you haven't given CBD to your horse before, you undoubtedly have some questions. We're here to answer your queries and shine a light on the endless potential of cannabidiol. Take a look!
Will CBD Get My Horse High?

No, it will not because CBD is a non-intoxicating compound. If you worry about your horse getting high, you're in good company. Many people share this concern because CBD comes from hemp, a form of cannabis.

However, hemp is different than marijuana. Marijuana gets people high because it contains high levels of THC (tetrahydrocannabinol). Hemp contains very low levels of THC, so it naturally should not get your horse high.

However, we at HolistaPet take it one step further. Remember that our horse pellets contain broad spectrum CBD extract, meaning they have zero THC whatsoever. Zero THC means there is zero chance of our products making your horse high.
Can I Give My Horse CBD Every Day?

Yes! You can give your horse CBD daily to support their long-term wellness. CBD is great for soothing aches and distress in the immediate term, but you don't have to wait until your horse has problems to take advantage of the benefits.

We recommend giving your horse two servings of CBD pellets per day. It helps to space these out into morning and evening servings so that you can care for your horse 'round the clock.

Daily servings of CBD may help support your horse's mind and body, including encouraging healthy skin and fur, positive mood and mindset, a sense of calm, restful sleep, proper digestive function, and more! It is also a key part of maintaining their homeostasis for the long term.
What Other Types Of CBD Products Are There For Horses?

CBD horse pellets are just the tip of the iceberg. There's a vast world of CBD care products out there for you to explore. You can sample different CBD remedies for your horse and determine what works best for their needs.

If you are looking for a simple and versatile wellness product, consider HolistaPet's CBD oil for horses. It comes in a glass bottle with a dropper in the lid, so measuring the perfect dose is easy.

You can give your horse CBD oil in two different ways. The first is to place a few drops directly in their mouth. Ideally, place the CBD oil under their tongue. The mucous membrane lining their mouth is packed with blood vessels that can transport the CBD throughout their body in a matter of minutes. Alternatively, you can mix CBD oil into your horse's food at their regular mealtimes.

At HolistaPet, we make our CBD oil for horses using only two ingredients: CBD extract and hemp seed oil. Hemp seeds are packed with vitamins, minerals, fiber, and plant-based protein. They are also an excellent source of Omega 3, 6, and 9 fatty acids.

Hemp seeds are the keys to the powerful omega fatty acids in our horse pellets. By making our CBD tincture using hemp seed oil, we're delivering the same potent therapeutic power in each bottle!

CBD capsules are another popular product that makes dosing simple. CBD capsules look just like a generic vitamin pill, but they're made of potent CBD extract. Some capsules contain cannabidiol isolate, while others are made from full spectrum or broad spectrum extract. They come in precise servings, so you don't have to do any measuring yourself.
Will CBD Make My Horse Sleepy?

CBD should not make your horse drowsy if you stick to the proper servings. Remember that one of CBD's most incredible benefits is the fact that it supports a much-needed restful sleep cycle. With the proper amount, CBD pellets (and other CBD products, for that matter) may help support adequate sleep when they are supposed to but not make them drowsy during the day.

Very large amounts of CBD may cause fatigue. If you notice that your horse seems sleepy at the wrong times after taking CBD pellets, it probably means you should lessen the amount a little. They should respond well to a smaller serving in the future.
Can I Give My Horse Too Much CBD?

As we just alluded to, it is possible to give your horse the wrong-sized serving of CBD. Too much could make them tired. However, if this happens to your horse, they can simply sleep it off. They should wake up refreshed and active.

The worst-case scenario is that your horse gets drowsy and needs a nap. If you think you gave your horse too much CBD, it also helps keep them well-hydrated. They'll bounce back in no time.

So, what are the potential side effects of CBD? As we've previously mentioned, CBD is well-tolerated by horses, humans, and seemingly all animals, for that matter. The risk of experiencing side effects is very low, and those who do experience them report only mild, short-lasting complications. The potential side effects of CBD include:

Fatigue/drowsiness
Dry mouth/increased thirst
Lightheadedness
Change in appetite
Upset stomach/diarrhea

It is also worth noting that CBD is not addictive because it does not have intoxicating properties. You don't need to worry about withdrawal symptoms if you decide to lower your horse's CBD serving amount.
Can I Give My Horse CBD If They Are On Other Medications?

It depends on what the other medications are. As we previously mentioned, CBD has rare and minimal side effects, and it should be well-tolerated alongside most medications. However, there is one potential complication to be aware of.

However, CBD may inhibit certain cytochromes. Cytochromes are proteins whose main role is the transfer of electrons in metabolic pathways. Cytochromes help the body metabolize certain medications. CBD might slow the metabolization of a certain medicine, reducing its onset time or efficacy.

If your horse takes other medications, it never hurts to ask their veterinarian before giving them CBD. In some cases, CBD can be a great addition to pharmaceuticals. It may promote support from discomfort and mental anguish during stressful times and medical procedures. It all depends on the medicine or therapy in question, so consider this question on a case-by-case basis.