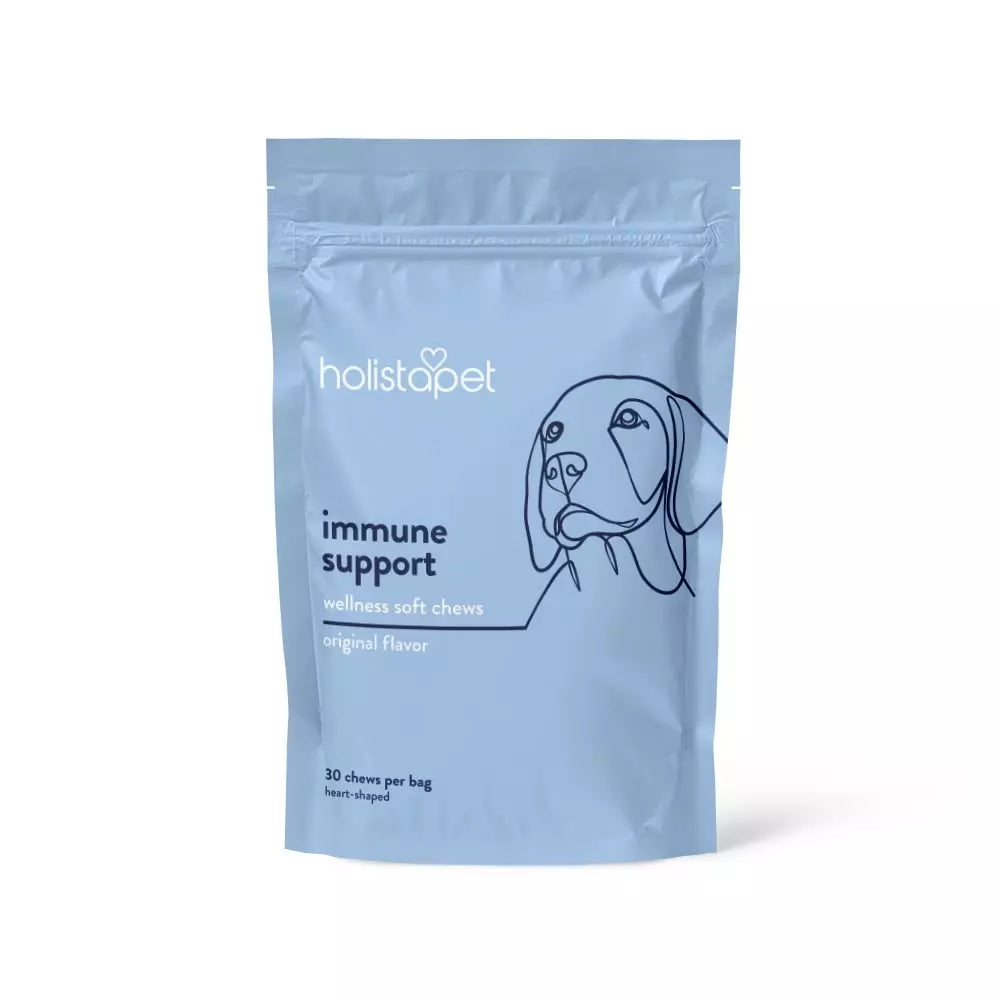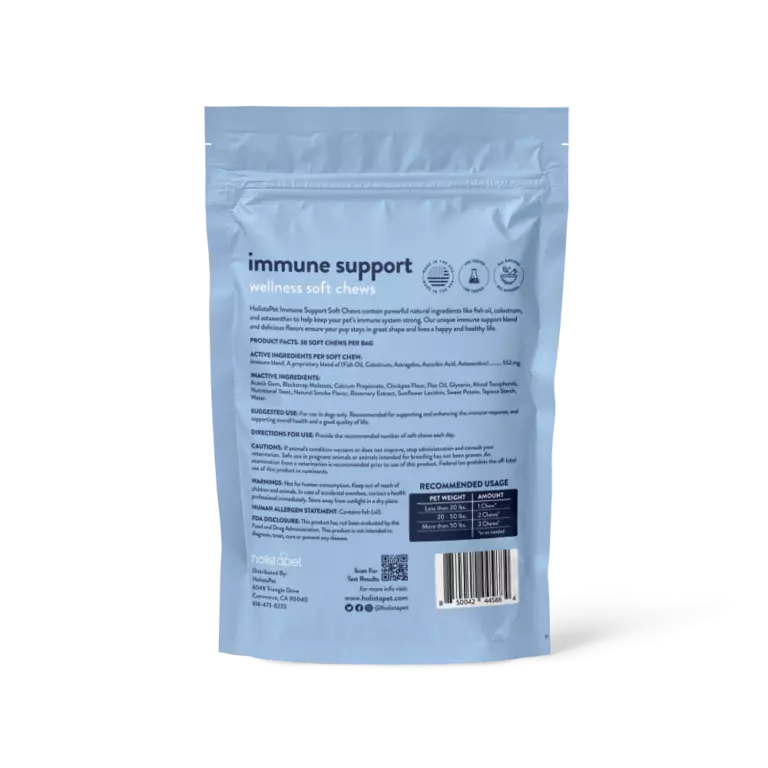 Immune Support Soft Chews For Dogs
Our Immune Support Soft Chews for Dogs contain natural ingredients, including colostrum, vitamin C, astragalus, DHA, EPA, and algae-derived astaxanthin for enhanced immunity. These vegan-friendly treats come in a bag of 30, with no gluten, or dairy, helping to ensure your pup's overall wellness and health.


Benefits

100% all-natural ingredients
Colostrum, vitamin C, and astragalus for broad immunity support
Includes DHA and EPA from fish oil to support immune cells
Powerful addition of algae-derived astaxanthin for enhanced immune system
Vegan & superfoods
Non-GMO, gluten-free, dairy-free
30 chews per bag
Serving Size

Less than 20 lbs = 1 chew*
20-50 lbs = 2 chews*
More than 50 lbs = 3 chews*

*or as needed
Unlock your full potential with HolistaPet by joining our club today - offering the most substantial discounts and exceptional rewards, all for just $95.
30% off every order
2X rewards points
FREE shipping on all orders
Exclusive special offers
We donate 10% of your membership fee to help save the lives of shelter animals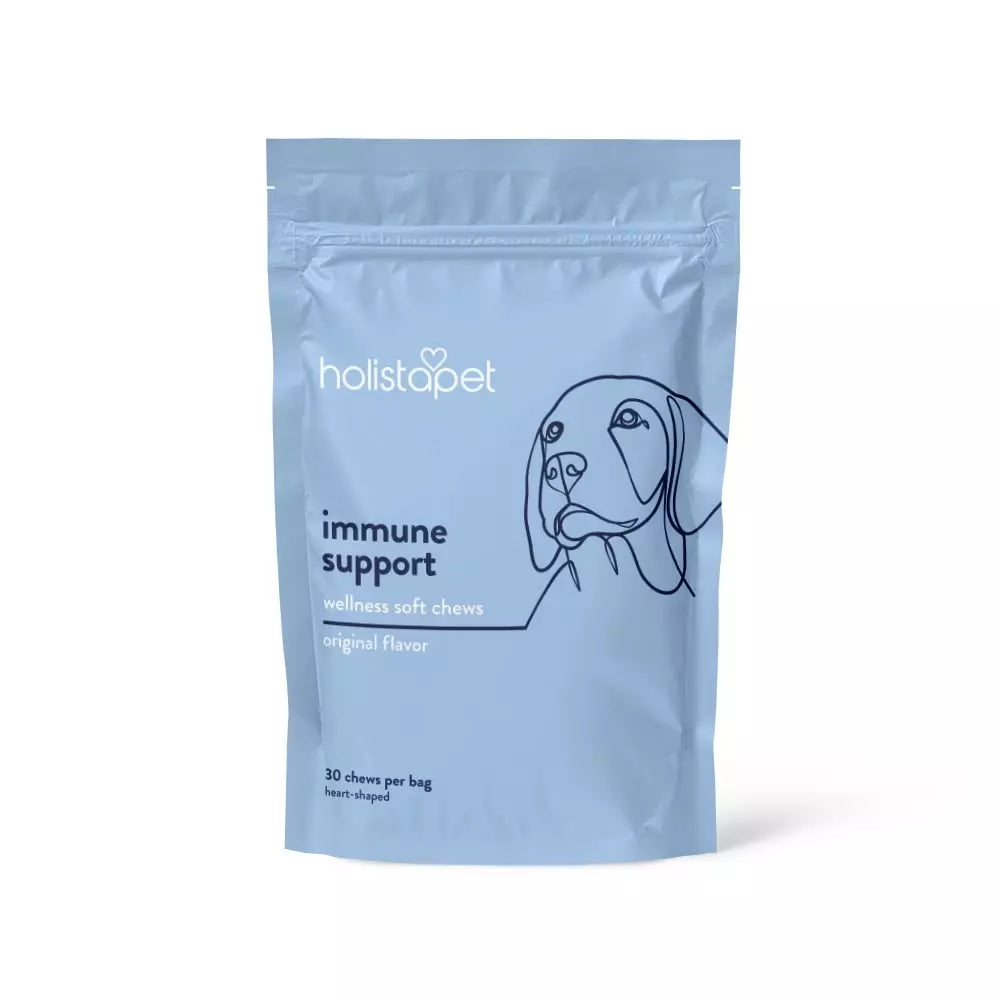 Featured In:

This product has no reviews yet.
$1
Of every product gets donated to help rescue shelter animals!
$53,836
Has been donated since the 2023 launch of HolistaPet Helps!
What Is Colostrum And What Does It Do?
Colostrum is a type of milk produced by mammals during the early stages of lactation. It is often referred to as "first milk" and is incredibly rich in nutrients, antibodies, and other immune factors that protect newborns from infection by providing passive immunity.
Ingredients

HolistaPet Immune Support Soft Chews for Dogs contain the following naturally-derived ingredients:

Active Ingredients:

Fish Oil (DHA & EPA) – 300 mg
Colostrum – 100 mg
Astragalus – 75 mg
Ascorbic Acid – 75 mg
Astaxanthin – 2 mg

Inactive Ingredients:

Acacia Gum, Blackstrap Molasses, Calcium Propionate, Chickpea Flour, Flax Oil, Glycerin, Mixed Tocopherols, Nutritional Yeast, Natural Smoke Flavor, Rosemary Extract, Sunflower Lecithin, Sweet Potato, Tapioca Starch, Water
Directions For Use

We recommend you give your dog Immune Support Soft Chews once a day or as needed. Here are the recommended serving suggestions based on your dog's weight:

Under 20 pounds = 1 chew
Between 20-50 pounds = 2 chews
Over 50 pounds = 3 chews

 
Why Is Colostrum So Important For Puppies?

Puppies are born without immunity to diseases, so colostrum helps give them a necessary immunity boost when they're most vulnerable. Without enough colostrum, puppies can become more susceptible to diseases and may even die. That's why it's important for mother dogs to have plenty of colostrum available for their pups after they give birth and for breeders to have colostrum on hand in case the mother does not produce enough. 
How Much Colostrum Should I Give My Dog?

The amount of colostrum your dog needs will depend on several factors unique to your pup. However, most dogs will generally need between 5-10 mg of colostrum per 1 kg (2.2 lbs) of body weight. Our Immune Support Soft Chews for Dogs contain 100 mg of colostrum per chew, along with other essential ingredients to support your pup's immunity.