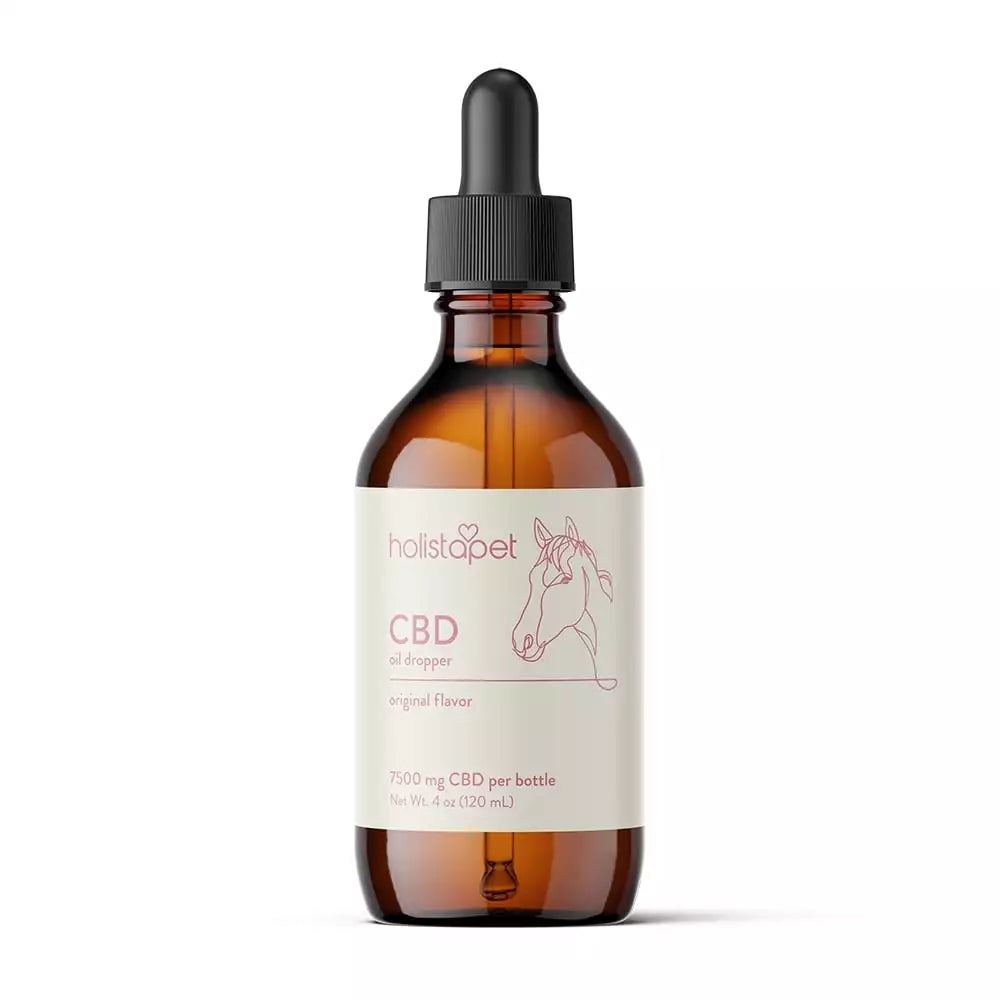 CBD Oil for Horses
Harness the natural benefits of our CBD Oil for Horses, designed to enhance the well-being of your equine friends. Our concentrated oil, with 7500mg of broad-spectrum CBD, is packaged in a convenient dropper bottle. Made with natural ingredients without artificial additives or preservatives, our oil is meticulously manufactured in the USA to ensure the highest quality. 
Benefits

Broad-spectrum CBD
7500 mg of CBD
Concentrated in a convenient dropper bottle
Easily drop directly into mouth or in water/food
Formulated for horses & other livestock
100% all-natural ingredients
Superfoods + CBD
No additives or preservatives
Manufactured in the USA
Not available for sale/shipment to California
Serving Size

We generally recommend between 0.25 mg (a regular dose) to 0.5 mg (a strong dose) of CBD per every 1 lb of bodyweight. See our Pet CBD Dosing Chart for specific product dosing guidelines about your products.
Unlock your full potential with HolistaPet by joining our club today - offering the most substantial discounts and exceptional rewards, all for just $95.
30% off every order
2X rewards points
FREE shipping on all orders
Exclusive special offers
We donate 10% of your membership fee to help save the lives of shelter animals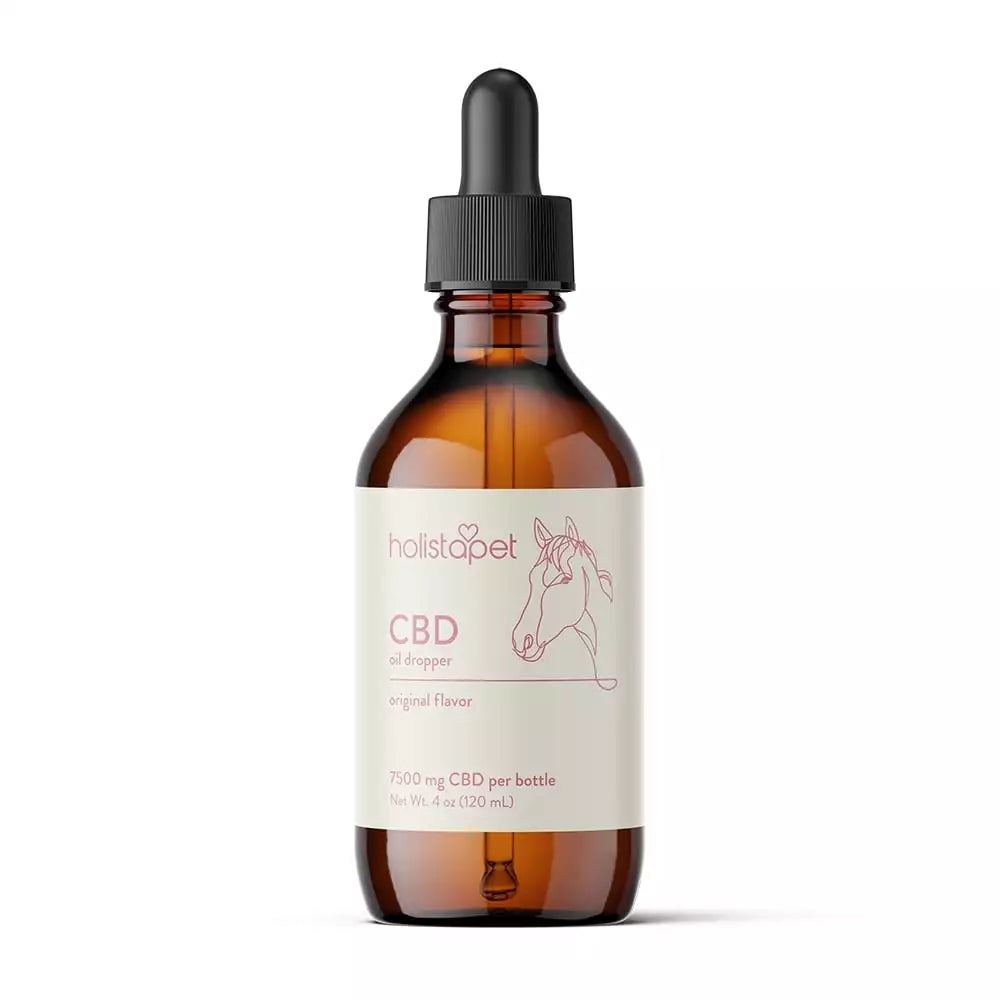 Featured In:

This product is rated 4.0 of 5.0 stars.
It has received 1 review.
Needs marks on the dropper
I switched over to holistapet from another brand. The oil itself seems to be working as well as the previous one, only downside is there are no indicators on the dropper. I've been using a medicine dropper that I happened to have, but it gets messy and oil ends up getting everywhere.
$1
Of every product gets donated to help rescue shelter animals!
$53,836
Has been donated since the 2023 launch of HolistaPet Helps!
HolistaPet CBD Oil for Horses
Is formulated with safe and clean CO2 extracted cannabidiol (CBD) hemp extracts and hempseed oil. This creates a powerful concentration of CBD that you can easily give to your horse in several different ways. Apply the our broad spectrum CBD oil drops directly into your horse's mouth or coat your horse's favorite food or snack. CBD oil quickly absorbs into the body to help provide fast relief to your equine companion.
Our CBD oil for horses is always plant-based with absolutely no GMOs. We believe that all pets deserve only the highest quality in healthy ingredients, just as we humans do. Keep reading to find out how you can use CBD oil to help add balance to your horse's health.
SHOP CBD OIL FOR HORSES
Ingredients

Hemp Seed Oil – Contains essential fatty acids and a common carrier oil in many CBD oils.
CBD (Isolate) – May promote overall wellness.
Product Specs

CBD Oil for Horses 7500 MG – Bottle Size: 120 mL / 4 oz | Provide the recommended amount orally each day: 1 mL for horses weighing less than 660 pounds, 2 mL for horses weighing 660 – 1110 pounds, or 3 mL for horses weighing more than 1110 pounds. Adjust amount as needed.
Broad Spectrum CBD Oil – Contains No THC
Serving Recommendations

How much CBD you give your horse depends on their body weight and the type of condition which you are using it for.
To view the recommended serving for this product and determine how much CBD oil you can give to your mane man, visit our CBD Serving Chart.
Lab Testing Results

All of our high-quality CBD products, like our broad spectrum CBD oil for horses, comes with third-party lab tests to ensure quality and safety. For the latest third-party Lab test results. Click Here!
What Is Cannabidiol?

Cannabidiol, more commonly known as CBD, is a naturally occurring compound found in the hemp plant, a type of cannabis sativa plant. CBD belongs to a class of chemical compounds known as cannabinoids. All mammalian bodies naturally produce certain cannabinoids. These cannabinoids that naturally occur in the body are known as "endocannabinoids" (Anandamide, 2-arachidonoylglycerol, 2-arachidonyl glyceryl ether, etc.). CBD, however, is considered to be a phytocannabinoid since it's derived from a cannabis plant.

 Phytocannabinoids come from sources outside the mammalian body, particularly plants. Hemp is an example of a plant with high levels of phytocannabinoids. Farmers grow and harvest hemp for its high level of CBD production. Most research and studies revolve around the phytocannabinoids CBD and tetrahydrocannabinol (THC). This is because experts believe these cannabinoids have the most wellness advantages and potential.
Benefits Of CBD Oil For Horses

Recent studies have found how CBD works with your horse's endocannabinoid system to potentially help improve overall wellness. CBD oils are a great way to ensure your horse receives the benefits of cannabidiol in an easily consumed way. Veterinarians nationwide are recommending HolistaPet CBD products as the top holistic choice for helping promote a healthy life for your four-legged friend. HolistaPet offers the best CBD oil for horses backed with our 100% satisfaction guarantee or your money back, no questions asked.
Do Horses Have An Endocannabinoid System?

Yes! All mammals, including horses, have an endocannabinoid system (ECS). This regulatory system in the horse's body is comprised of an internal network of cannabinoid receptors. 

The two basic types of receptors are:

CB1 receptors: located primarily in the horse's central nervous system.
CB2 receptors: located primarily in the horse's gut and immune system.

 The ECS helps to regulate many essential functions of the body and maintain a natural and healthy balance. This natural balance is known as homeostasis. The ECS is a governing system that helps regulate the nervous system, digestive system, mood response, appetite, metabolism, immune health, and more.

 Interestingly enough, the vast majority of all animals have an ECS. This includes really primitive species that have very basic anatomies. Biologists have identified that the most basic animal with an ECS and cannabinoid receptors is a sea-squirt. This primitive animal evolved and developed these physiological parts almost 600 million years ago!

You can see that this ECS and its cannabinoid receptors are universal amongst the animal kingdom. Consequently, CBD may interact with the many receptors of your horse's ECS for better equine wellness.
California Law

NOT available for sale/shipment in California due to state legislation.
Why HolistaPet Has The #1 CBD Oil For Horses For Sale
Simply put – we carry the most recommended & highest quality CBD pet tinctures online. Before we started HolistaPet, we noticed a lack of high-quality CBD hemp products for animals online. We decided to fill that void. We only use the best American-grown hemp and extract CBD using the safe and clean CO2 extraction method. Every single batch of our CBD is lab tested by a third party for potency to ensure that your pet receives a precise amount with a potent CBD concentration. 
We only use non-GMO, cruelty-free ingredients in our CBD pet tinctures and all CBD broad spectrum products we make. We never put any wheat, animal by-products, cornmeal, artificial flavors or colors in any CBD product. After all, a healthy pet is a happy pet. HolistaPet is a brand you can trust to always deliver consistent and quality products, on time.
Buying CBD hemp oil or any CBD product for that matter should never be hard or stressful. That's why we offer a 100% satisfaction guarantee on all of our CBD products or your money back!
SHOP CBD OIL FOR HORSES
Can CBD Oil Help Horses?

Broad spectrum CBD Oil for horses can be used as an addition to your horses diet. Because of the universality of how it works in all mammalian bodies, it may have the same calming effects as it does on the human body.

 Below are several common conditions in horses. Although CBD is not yet federally approved as a treatment for any conditions, we can take a look at how the ECS comes into play in these certain cases. 

Gastric Ulcers 

Approximately 90% of horses will be diagnosed with a gastric ulcer at some point in their lifespan. Researchers and veterinarians are not entirely certain why it is so common, but it can prove to be challenging to treat.

 It is officially known as equine gastric ulcer syndrome (EGUS) and is incredibly disruptive to the horse's health and wellbeing. The ECS, in this case primarily the CB2 receptors found in the mammalian gut, may be responsible for the immune response associated with the gut.

Laminitis

This is another common ailment in horses. Horse veterinarians diagnose hundreds of laminitis cases on a daily basis. It is the swelling of the tissues located within the horse's hooves.

In a sense, laminitis is similar to other similar degenerative joint issues that similarly causes a great deal of discomfort and distress. This is especially true because it is occurring in the hooves, making it virtually impossible to even attach horseshoes. Much like other inflammatory conditions, the ECS may be responsible for regulating the inflammatory response in the body.

Colic

This is a medical condition that is present in many mammals (including humans, particularly young children). It is another chronic inflammatory condition, this time present in the gastrointestinal tract of the horse.

 Researchers are not entirely clear about what causes Colic in horses, but it may have to do with an imbalance of healthy bacteria (also known as gut flora) in the digestive tract. It causes bloating and abdominal discomfort. The ECS receptors in a horse's gut may play a role in improving the symptoms of this issue.

Desmitis

Desmitis is yet another inflammatory condition, this time in the horse's ligaments (most frequently in the legs and/or coffin joint). As with all other forms of inflammation, the ECS may have a regulatory response within the body.

Skin Conditions And Allergies

The ECS may be responsible for regulating allergies and various skin conditions that are related to inflammation or auto-immune disorders. These include pruritis and hives.
Is CBD Oil Safe For Horses?

Broad spectrum CBD oil is considered very safe for horses. Although the FDA has not given an official ruling on CBD, there is no evidence that CBD is harmful to humans or other mammals.

There are few cases where administering CBD may result in some minimal side effects, including: 

Increase or decrease in appetite
Mild agitation and/or restlessness
Mild gastrointestinal distress and/or temporary diarrhea
Slight fatigue and/or drowsiness and/or fatigue at high amounts
Increased thirst due to a dry mouth

These side effects are typically uncommon. Most horses do not exhibit them, and even if they do, side effects pass as soon as the horse's body gets used to the new addition. These side effects usually disappear as the body familiarizes itself with the CBD. Once your horse's system has properly integrated CBD oil into their daily functioning, these side effects may disappear entirely. 

CBD is generally considered to be safe! This is especially true if you purchase it from a reliable company that subjects its products to rigorous testing. Many companies have CBD oil for horses for sale, but not all of them live up the same quality standards. At HolistaPet, we consistently test our CBD for:

Potency

This ensures that each product you purchase contains the proper amount of CBD oil.  Monitoring the potency and amount of the CBD oil allows owners like you to provide CBD to your horses effectively and safely.

Purity

Manufacturers extract CBD from hemp plants via the use of carbon dioxide (CO2). This is a green method of production that results in no harsh chemicals or toxins remaining in the final product. 

These various tests are always undertaken by impartial third-party companies in order to get Certificates of Analysis (COA) for the various products manufactured and sold. Because CBD is not inebriating, it will not make your horse out of control. There is no known toxic serving amount of CBD. Furthermore, there have been no reports of any people or animals fatalities from taking too much CBD.

As with most products, there is a point at which administering additional CBD will have no additional beneficial effect for your pet. It is always advisable, therefore, to give your pet small amounts of the CBD tincture first and then monitor the effects before increasing their serving.

Can I Give My Horse Too Much CBD Oil? 

One of the big advantages of CBD products is that it is extremely well tolerated by all animals with no long-term effects. There have been no reported fatal cases of people or animals taking too much CBD, including horses! There is also no evidence indicating that taking high amounts of CBD may result in a euphoric or overtly mind-altering effect.

However, horses have an exceptionally sensitive digestive system, unlike humans, cats, and dogs. Because of this, administering the correct amount of CBD is extremely important. Carrier oils may be difficult for digestion. When taken in large amounts, CBD oil may provoke stomach cramps or other digestive discomforts, but this is due to the ingredients of the oil rather than the CBD itself.

Taking too much CBD may result in some other unintended side effects. More often than not, these effects will not be serious and should reduce in severity rapidly. Still, you should know what some side effects could look like should they occur. Some side effects that might come from taking too much CBD include:

Dry mouth
Red eyes
Fatigue
Upset stomach
Reduced appetite

 Disclaimer: If your horse experiences more serious side effects or the effects listed above increase rather than decrease in their severity, we recommend that horse owners contact their veterinarian immediately for more assistance. 
CBD Oil Recommendations For Horses

You should always work with your veterinarian when administering CBD oil for horses. This is especially true if the animal takes any other medications. Besides that minor precaution, CBD oils are generally safe for horses. If the amount you give happens to be too high, your horse may simply sleep it off.

 We recommend that you consult with your vet before giving any amount of CBD oil to your horse. However, you can determine a good starting amount by using one of these two formulas:

Regular Serving

1/4 milligram (0.25 milligrams) for every one pound of body weight. This is a "regular serving".

Strong Serving

1/2 milligram (0.5 milligrams) for every one pound of body weight. This is a "strong serving" and you can use it to increase effectiveness.

For more information, please visit our CBD Dosing Chart page.

Additional Recommendations

You can collaborate with your veterinarian to safely adjust these servings and increase them in increments that result in maximum potency for your horse. You know your animal best, so just monitor their behavior and see if they are getting the relief they need from their distress or discomfort. 

CBD oils generally benefit your horse best when administered twice a day (one serving in the morning and one serving in the evening). You can also give CBD oil to your horses on an empty or full stomach.

How To Give CBD Oil To Horses 

One of the main benefits of CBD hemp oil is its flexibility. CBD oil can be given to your horse using various application methods, each of which comes with its unique advantages. Still, some methods work better than others, and your horse might come to prefer one method over another.

Direct Feed

This method is self-explanatory and should be relatively straightforward to accomplish. To administer CBD oil this way, all you have to do is drop the oil directly into your horse's mouth, and they'll be ready to go! This method works best when your horse is relaxed, so be gentle when administering it so that your horse is comfortable taking the oil directly.

Add To Their Feed

If your horse is fussier with a direct feed administration of CBD oil, you can give them their serving subtly by including it in their feed! All you have to do is squeeze the serving into their feed, and you're good to go! Administering CBD oil this way allows horse owners to give picky horses CBD without requiring much extra effort.

Put It On A Snack

Similar to adding it to their feed, incorporating CBD oil into their snacks is a great way to get a horse who doesn't prefer the flavor of CBD to take it anyway. Find your horse's favorite snack, measure out the required serving, combine the two, and your horse will be on its way to better wellness!

Add To Water

You can also add CBD oil to water. Simply measure out the appropriate serving and then drop it into your horse's water trough. Be aware that this method will not be as efficient as direct feeding or adding it to food. Some of it may go to waste by being left behind, spilled, or stuck to the side of the water container. Because of this, we only recommend adding CBD oil to water if your horse does not take it any other way.

When Will My Horse Feel The Effects? 

CBD oil has the added benefit of a very fast onset time, especially if you can administer it under the tongue. If administered under the tongue, the CBD should take effect almost instantly but can take as long as 15 minutes. If you give your horse CBD oil but let them swallow, it will take slightly longer: approximately 45 minutes to one hour depending on how much feed your horse ate before, along with their body chemistry and weight.

How Long Will The Effects Last?

The effects of CBD oil also vary from one horse to another. However, horse owners can generally expect the effects to last for somewhere between 4-6 hours at a time. This allows for relief lasting throughout the day without needing to constantly re-serve.

Does CBD Oil Go Bad?

CBD oil can generally last for around 12 months to two years at a time, depending on how it is stored! Leaving your CBD oil exposed to the wrong conditions can make the oil go bad faster. Some factors that might make your oil degrade quickly are heat, exposure to sunlight, and leaving the bottle open for extended periods. To avoid this and keep your oil fresh for a longer time, try storing your CBD oil away from sunlight in a cool dark place. If you keep your CBD oil in this condition, it will likely last for much longer!
Is Shipping Really Free For All Orders?

Yes! We offer free shipping on all orders, no matter how small or large your order is. Always! This means that after placing your order, you should expect to receive your CBD products within 3 to 5 business days. Not many sites can offer a deal like this. Yes, this is what we meant by filling the void. Take advantage of our free shipping and buy our broad spectrum CBD oil today!
Where Do You Ship CBD Products?

HolistaPet strives to deliver the best CBD oil for your horse straight to your door no matter where you live in the United States. To find out where we ship our hemp CBD products, visit our FAQs page. Our products ship to all 50 states in the US. We can ship to you no matter which state you live in. We make our CBD oil for horses from 100% industrial hemp and it contains no THC. You can rest assured that our CBD oil will not get your horse inebriated.

We ship our CBD oil for horses, along with our other hemp CBD products, everywhere including Los Angeles, California; Denver, Colorado; New York, New York; Chicago, Illinois; Houston, Texas; Philadelphia, Pennsylvania; Phoenix, Arizona; San Antonio, Texas; San Diego, California; Detroit, Michigan; San Jose, California; Austin, Texas; Jacksonville, Florida;  San Francisco, California; Columbus, Ohio; Charlotte, North Carolina; Seattle, Washington; Dallas, Texas; Boston, Massachusetts; Nashville, Tennessee; Kansas, Kentucky, Louisiana, Michigan, Minnesota, and many more!

Other CBD Oil For Horses Products

If your horse doesn't like taking CBD oil, or you would prefer to give them their serving in a different way, there are other options you can check out. The other CBD products for horses we provide here at HolistaPet include:

CBD Pellets for Horses
CBD Capsules

Why People Trust HolistaPet 

Most brands off-source their production to cut costs, but because we want to make a product that we would give to our pets, we make our products ourselves, using our proprietary recipes! Our products use premium CBD derived from only the highest quality hemp to provide the consumer, in this case your horse, with the best benefits.

At HolistaPet, we take it upon ourselves to give our customers the most perks when they order from us, including 25% off all first-time orders! We also offer 25% of all products if you decide to buy them through our free customizable subscription service, along with a 30-day money-back guarantee on all orders.

 Because we like to keep full transparency with our customers, we also provide COAs for all of our products. A COA lets you see everything in the products you consume, down to every cannabinoid. Additionally, we provide great live customer service to answer any questions or concerns you might have, so please, feel free to contact us when you need help.
Share Your Experience With HolistaPet

Whether you buy CBD oil or CBD pellets for your horse, we highly encourage all of our customers to share their experiences with others. Because of this, we have received so many positive reviews and testimonials. See all of the verified reviews of our CBD oil for yourself!