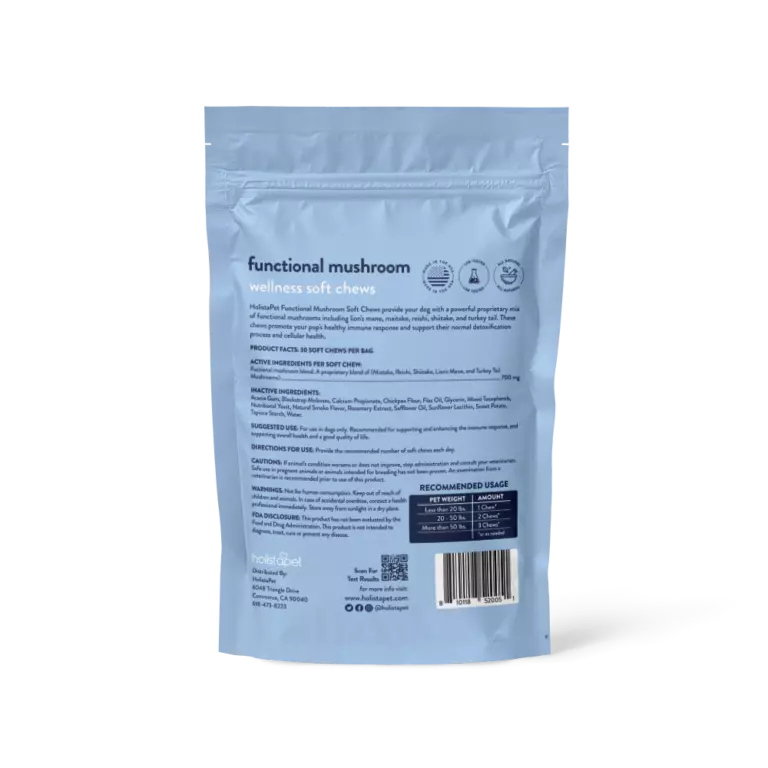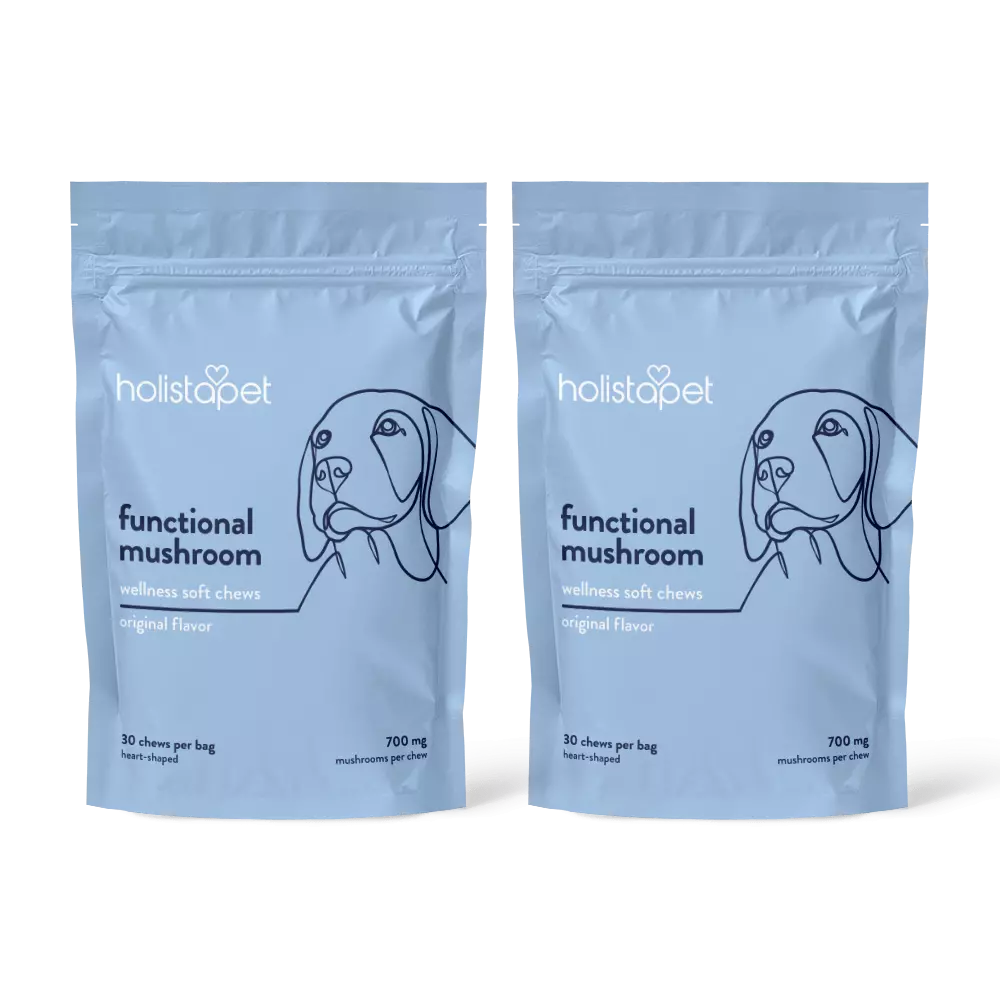 Functional Mushroom Soft Chews For Dogs
Our Functional Mushroom Soft Chews provide your dog with broad immune support in one small, soft-baked treat. Each heart-shaped morsel contains a 700mg proprietary blend of Lion's Mane, Maitake, Reishi, Shitake, and Turkey Tail functional mushrooms, helping to ensure a happy and healthy life for your pup with just one chew a day.


Benefits

100% all-natural ingredients
700 mg proprietary blend of lion's mane, maitake, reishi, shitake, and turkey tail functional mushrooms for dogs
Vegan & superfoods
Non-GMO, gluten-free, dairy-free
30 chews per bag
Serving Size

Less than 20 lbs = 1 chew*
20-50 lbs = 2 chews*
More than 50 lbs = 3 chews*

*or as needed
Unlock your full potential with HolistaPet by joining our club today - offering the most substantial discounts and exceptional rewards, all for just $90.
30% off every order
2X rewards points
FREE shipping on all orders
Exclusive special offers
We donate 10% of your membership fee to help save the lives of shelter animals

This product has no reviews yet.
$1
Of every product gets donated to help rescue shelter animals!
$53,836
Has been donated since the 2023 launch of HolistaPet Helps!
What Is Super Mushroom Complex Good For?
Super functional mushroom complex blend is great for dogs because it can help support their immune system, digestive health, and energy levels. This all-natural supplement is made from a combination of several different functional mushrooms known for their health-supporting properties. Adding a super mushroom complex to your dog's diet can help your furry friend stay healthy and active, both mentally and physically. 
Ingredients

HolistaPet Super Functional Mushrooms Soft Chews for Dogs contain the following naturally-derived ingredients: 

Active Ingredients:

Mushroom immunity blend: A proprietary blend of Maitake, Reishi, Shitake, Lion's Mane, and Turkey Tail mushrooms – 700 mg

Inactive Ingredients:

Acacia Gum, Blackstrap Molasses, Calcium Propionate, Chickpea Flour, Flax Oil, Glycerin, Mixed Tocopherols, Nutritional Yeast, Natural Smoke Flavor, Rosemary Extract, Sunflower Lecithin, Sweet Potato, Tapioca Starch, Water.
Directions For Use

We recommend you give your dog Super Functional Mushrooms Soft Chews once a day or as needed. Here are the recommended serving suggestions based on your dog's weight:

Less than 20 pounds = 1 chew
Between 20-50 pounds = 2 chews
Greater than 50 pounds = 3 chews
What Are The Benefits Of Taking Mushroom Supplements?

Adding functional mushroom supplements to your dog's diet can offer several benefits, including providing essential vitamins and minerals, reducing the symptoms of acute and chronic inflammatory conditions, and improving digestion. But one of the main benefits of taking functional mushroom supplements is that they can support your dog's immune system. 
Are There Any Side Effects Of Mushroom Supplements For Dogs?

While mushrooms are generally considered safe for dogs, there is always the potential for side effects with any type of supplement. The most common side effect reported with excess consumption of mushrooms is an upset stomach. Your dog may also experience diarrhea or vomiting. These symptoms are typically mild and temporary. 
How Long Does It Take For Mushroom Supplements To Work In My Dog?

It can take a while for the benefits of mushroom supplements to take effect in your dog. Patience and consistent feeding are key to your dog's success with functional mushrooms. Depending on your dog's physiology, it may take a few weeks to a few months for the benefits of mushrooms to be noticeable. 
Which Mushrooms Best Help With Immune System Support?

The mushrooms that best support your dog's immune system are Maitake, Reishi, Shitake, Lion's Mane, and Turkey Tail. All of these varieties are included in our Super Functional Mushrooms Soft Chews for Dogs.