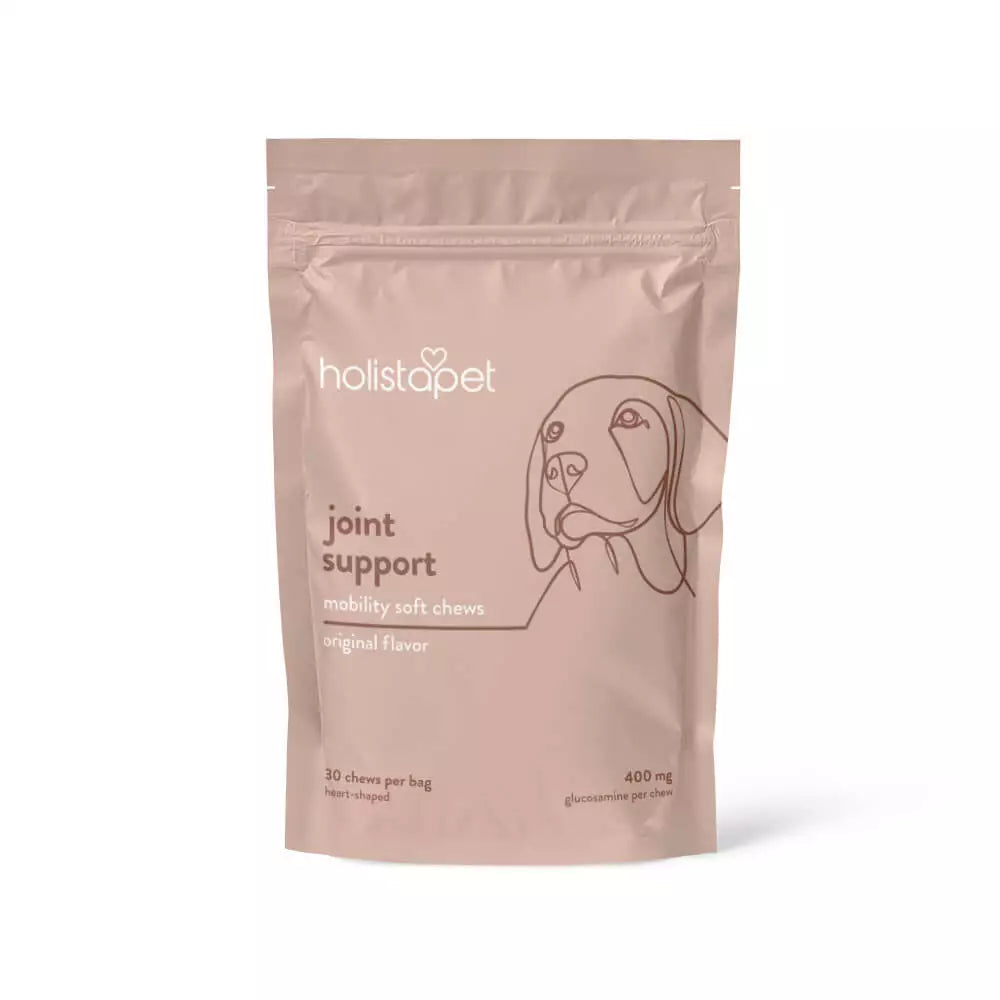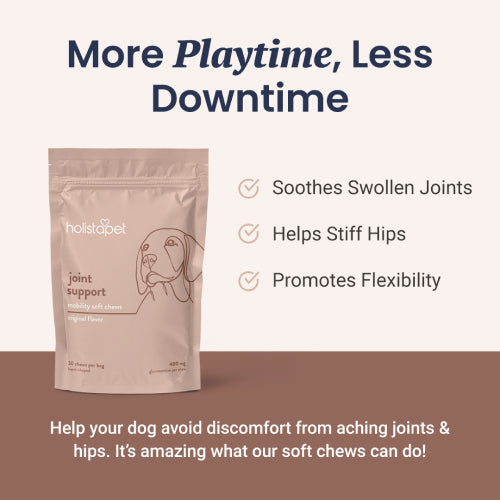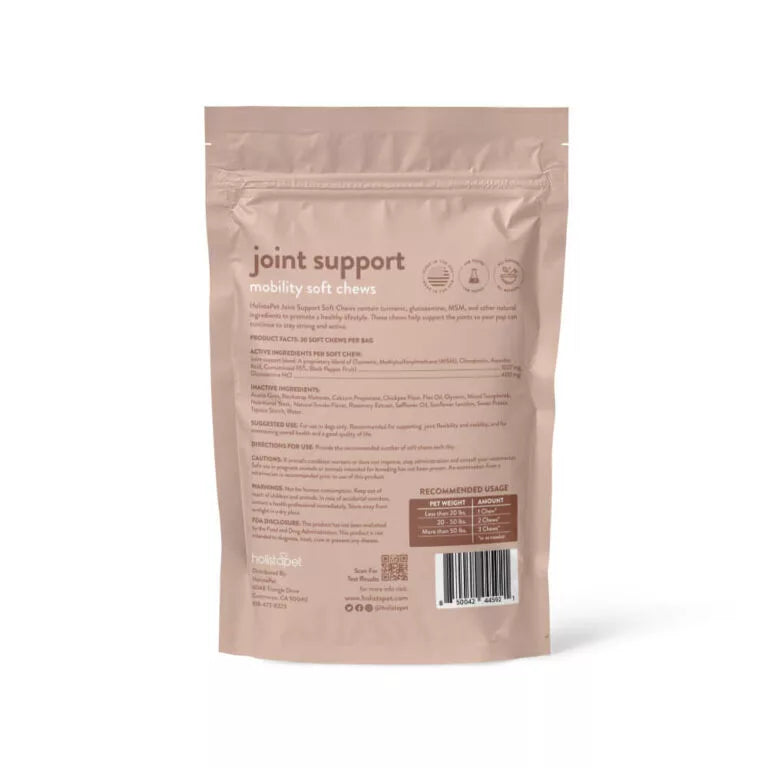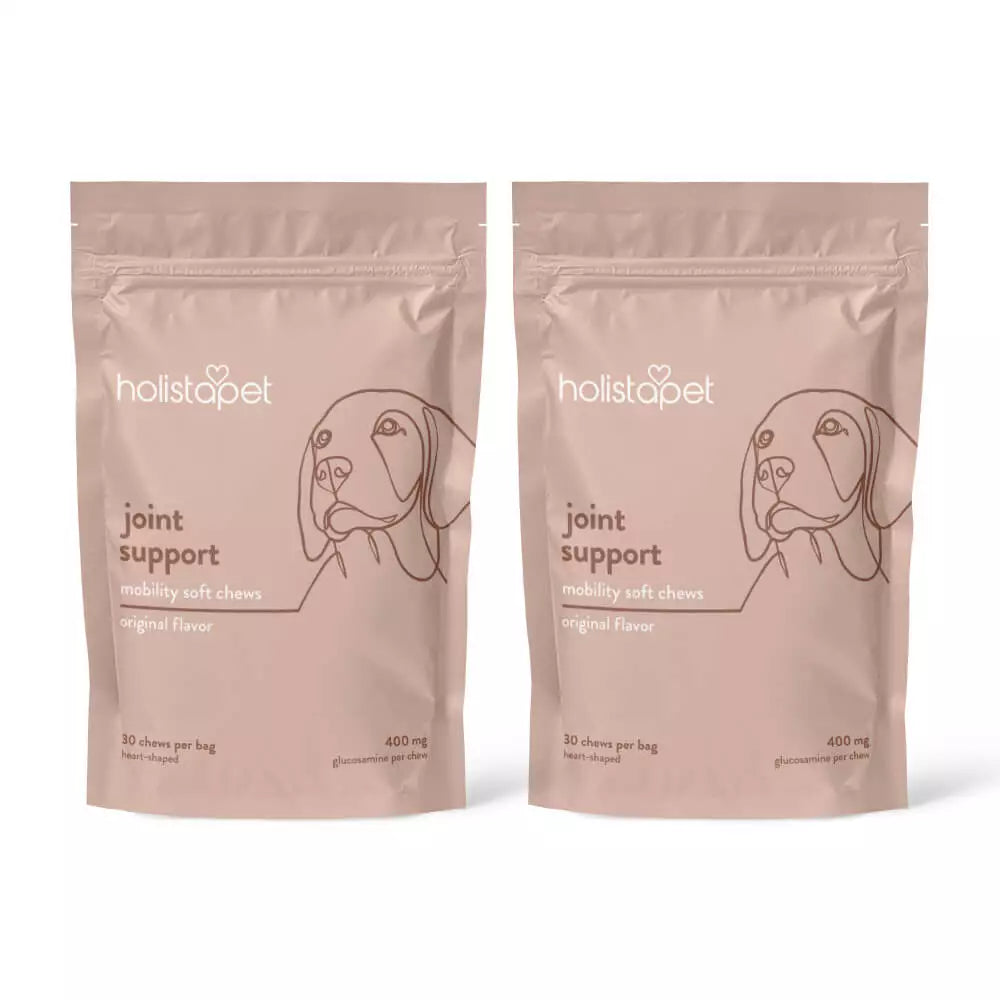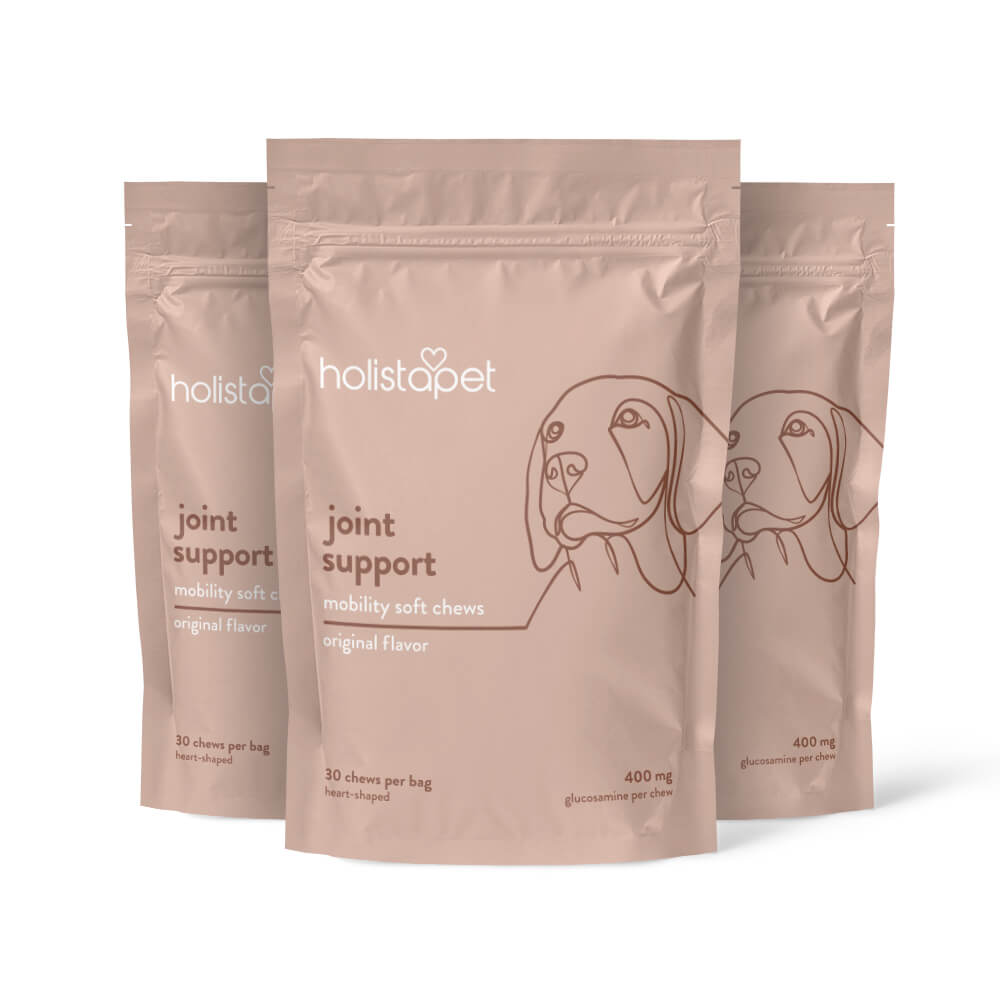 Joint Support Soft Chews for Dogs
Our natural Joint Support Soft Chews for Dogs contain chondroitin, MSM, curcuminoid, and turmeric, promoting nimble joints and an active lifestyle. 

Our vegan-friendly treats are perfect for daily use and are especially beneficial for older dogs to help maintain their youthfulness. They come in a bag of 30, without gluten or dairy.
Benefits

100% all-natural ingredients
Joint-supporting natural ingredients: chondroitin, MSM, curcuminoid, and turmeric
Promotes nimble joints and active lifestyle
Suitable for daily wellness regimen
Beneficial for older dogs to stay young and nimble
Vegan & superfood
Non-GMO, gluten-free, dairy-free
30 chews per bag
Serving Size

Less than 20 lbs = 1 chew*
20-50 lbs = 2 chews*
More than 50 lbs = 3 chews*

*or as needed
Unlock your full potential with HolistaPet by joining our club today - offering the most substantial discounts and exceptional rewards, all for just $95.
30% off every order
2X rewards points
FREE shipping on all orders
Exclusive special offers
We donate 10% of your membership fee to help save the lives of shelter animals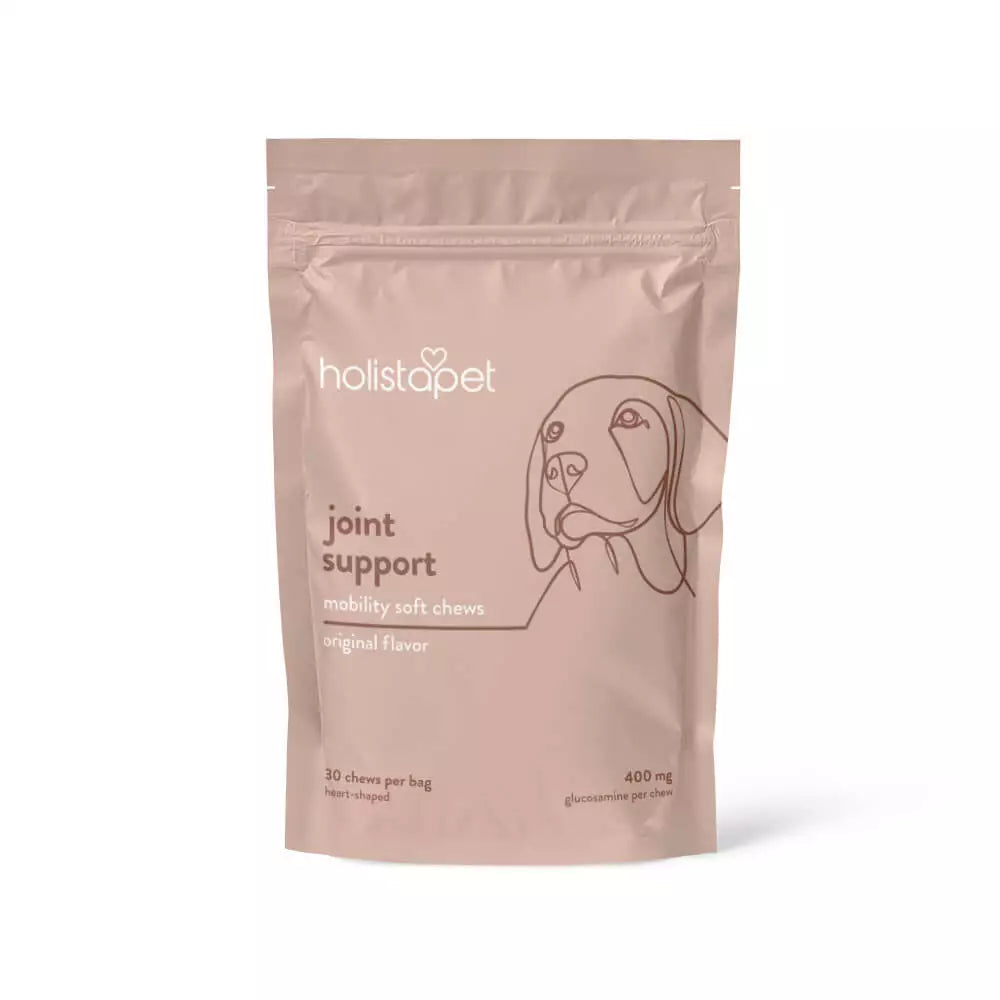 Featured In:

This product is rated 5.0 of 5.0 stars.
It has received 8 reviews.
Joint supplement
Works great ! My fur baby loves the taste and it seems to help her movement!
Highly Recommend
We have been purchasing cookies and soft chews for our rescue from HolistaPet for over a year and can't be happier with their assistance in helping us decide which product would be best for our specific needs.
great products
The subscription process is very convenient. Easy to set up and very prompt on getting the products shipped on time. My dog absolutely loves his CBD treats. Both the soft chews and crunchy treats are a hit.
I have always found their products to
I have always found their products to be excellent. The soft chews for the littlest mouth member of our family. Works well dogs love them!!
Ordered CBD joint and mobility treats
Ordered CBD joint and mobility treats for my elderly Poodle. They work great. I highly recommend them. She is now running up the stairs.
$1
Of every product gets donated to help rescue shelter animals!
$53,836
Has been donated since the 2023 launch of HolistaPet Helps!
Joint Support Soft Chews Description
Let's face it – dogs love to play, explore, and roam around. These activities can take a toll on their delicate joints and potentially cause long-term mobility issues leading into old age. However, you can keep your dog's joint health in tip-top shape and support their mobility with our Joint Support Soft Chews! 
Ingredients

HolistaPet Joint Support Soft Chews contain the following naturally-derived ingredients.

Active Ingredients:

Turmeric (500 mg)
Glucosamine HCl (400 mg)
Methylsulfonylmethane (300 mg)
Chondroitin (120 mg)
Ascorbic Acid (75 mg)
Curcuminoid 95% (17 mg)
Black Pepper Fruit (15 mg)

Inactive Ingredients:

Acacia Gum, Blackstrap Molasses, Calcium Propionate, Chickpea Flour, Flax Oil, Glycerin, Mixed Tocopherols, Nutritional Yeast, Natural Smoke Flavor, Rosemary Extract, Safflower Oil, Sunflower Lecithin, Sweet Potato, Tapioca Starch, Water
Directions For Use

We recommend you give your dog our Joint Support Soft Chews once a day or as needed. Here are the recommended serving suggestions based on your dog's weight:

Under 20 pounds = 1 chew
Between 20-50 pounds = 2 chews
Over 50 pounds = 3 chews
Does These Joint Supplements Really Work For Dogs?

Yes, glucosamine works wonders for dogs! That's because glucosamine is a natural substance that helps build and repair cartilage for better elasticity and strength. As dogs age, their bodies produce less glucosamine, which can lead to joint issues. Glucosamine supplements help to replenish a dog's body with this important joint-supporting substance. 
What Are The Side Effects Of Dog Supplements That Has Glucosamine?

Glucosamine is well tolerated by dogs. However, side effects may develop if too much glucosamine is given or if your dog has an allergy to it. Side effects in dogs are typically very mild and temporary. Dogs may experience: 

Vomiting
Lack of appetite
Gas
Constipation
Diarrhea
Drowsiness

If your dog experiences these symptoms and they don't subside, stop giving them glucosamine and contact your veterinarian. But don't stress it! As long as you give it according to your dog's needs, glucosamine is a great addition to their health and wellness regimen and helps support healthy joints.
Can I Give My Dog Supplements For Joint Pain Every Day?

Yes, you can give your dogsupplementsfor joint painevery day! In fact, many veterinarians recommend giving glucosamine to dogs daily, especially as they get older. 
How Do I Know If My Dog Needs Joint Support?

If your dog is showing any of the following signs, they may benefit from joint support products:

Limping
Favoring one leg when moving
Reluctance to exercise or play
Stiffness after exercise
Difficulty getting up from sitting or lying down
Sensitivity to touch around the joints

 

If you notice any of these signs, it's important to talk to your veterinarian. They can help you determine whether or not joint support products are good for your dog or if there is a more serious underlying condition.