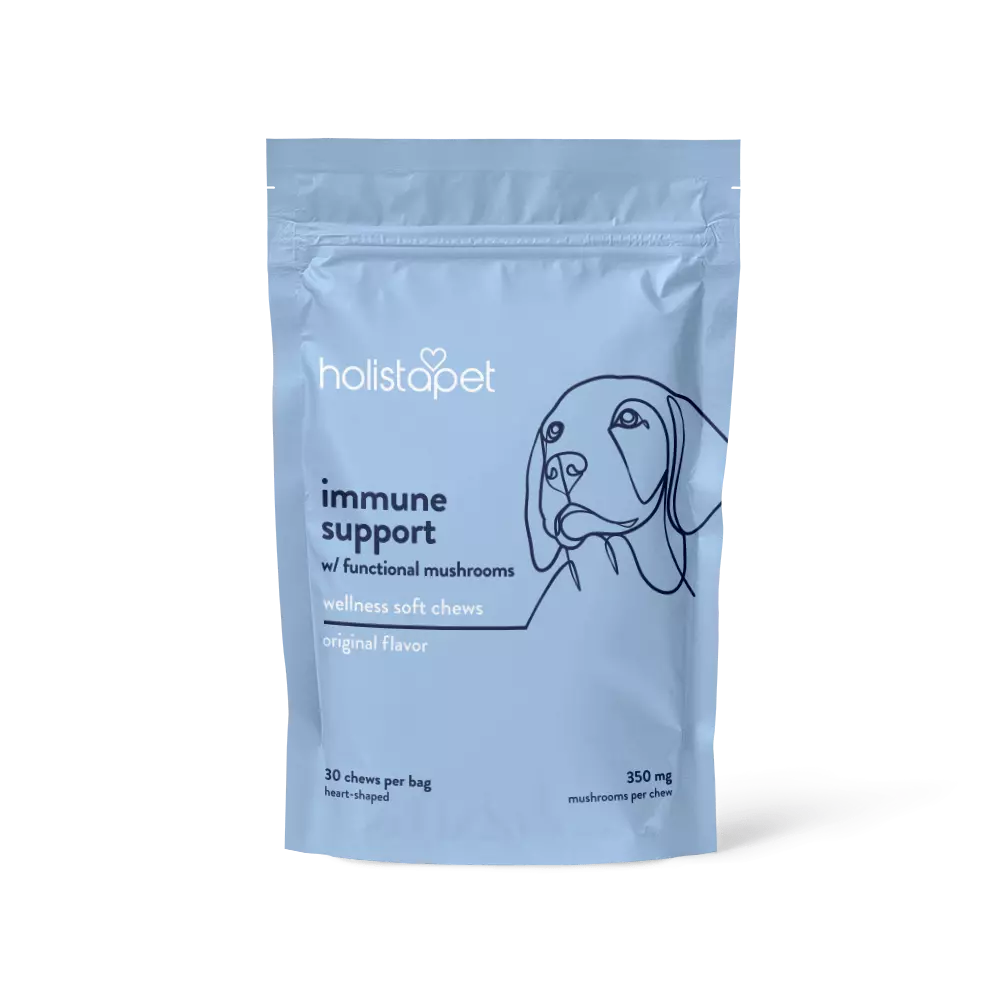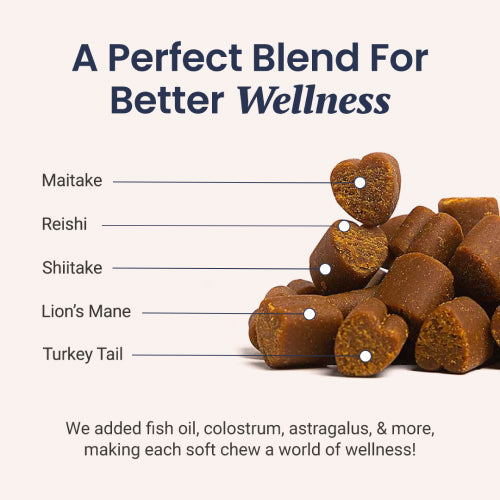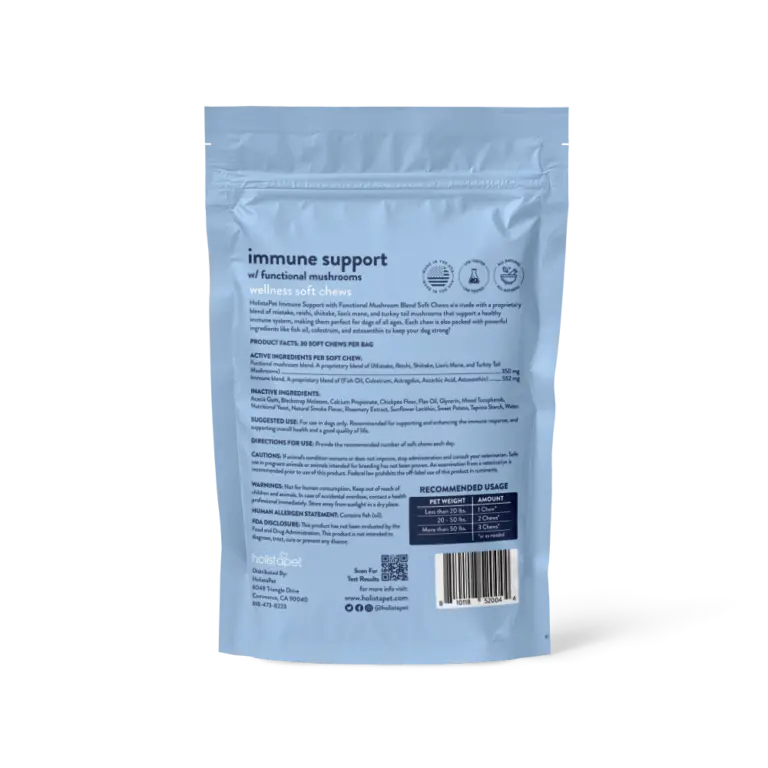 Immune Support + Functional Mushroom Soft Chews for Dogs
Our natural-flavored soft chew treats combine the benefits of Immune Support Soft Chews with a proprietary blend of functional mushrooms, including Lion's Mane, Maitake, Reishi, Shitake, and Turkey Tail, totaling 350mg! This provides powerful immune support for your pup's overall wellness. Each chew contains natural ingredients like vitamin C, astragalus, colostrum, DHA, EPA, and astaxanthin, elevating your best friend's defenses to the next level.
Benefits

100% all-natural ingredients
Colostrum, vitamin C, and astragalus for broad immunity support, along with DHA and EPA from fish oil
Includes lion's mane, maitake, reishi, shitake, and turkey tail, totaling 350mg
Combined with algae-derived astaxanthin
Vegan & superfood
Non-GMO, gluten-free, dairy-free
30 chews per bag
Serving Size

Less than 20 lbs = 1 Chew*
20-50 lbs = 2 Chews*
More than 50 lbs = 3 Chews*

*or as needed
Unlock your full potential with HolistaPet by joining our club today - offering the most substantial discounts and exceptional rewards, all for just $95.
30% off every order
2X rewards points
FREE shipping on all orders
Exclusive special offers
We donate 10% of your membership fee to help save the lives of shelter animals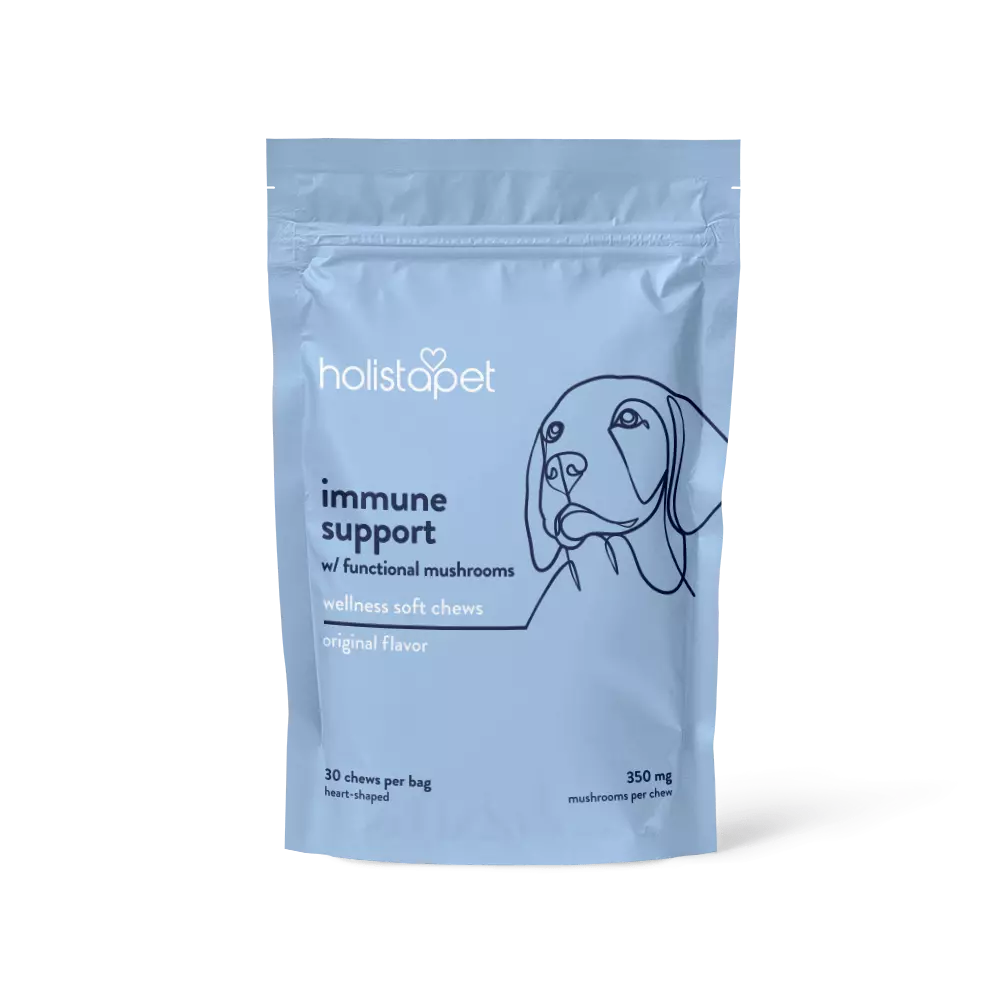 Featured In:

This product has no reviews yet.
$1
Of every product gets donated to help rescue shelter animals!
$53,836
Has been donated since the 2023 launch of HolistaPet Helps!
Are Mushrooms Beneficial For Dogs?
Yes, mushrooms are beneficial for dogs because they contain compounds that can help support their immune system and provide other health benefits. Mushrooms are a great natural source of antioxidants, which can help protect your dog's cells from damage. They're also a good source of dietary fiber, which can help keep your dog's digestive system strong and healthy.
Ingredients

HolistaPet Immune Support + Functional Mushrooms Soft Chews for Dogs contain the following naturally-derived ingredients:

 

Active Ingredients:

Mushroom immunity blend. A proprietary blend of (Maitake, Reishi, Shitake, Lion's Mane, and Turkey Tail mushrooms) – 350 mg
Fish Oil (DHA & EPA) – 300 mg
Colostrum – 100 mg
Astragalus – 75 mg
Ascorbic acid – 75 mg
Astaxanthin – 2 mg

 

Inactive Ingredients:

Acacia Gum, Blackstrap Molasses, Calcium Propionate, Chickpea Flour, Flax Oil, Glycerin, Mixed Tocopherols, Nutritional Yeast, Natural Smoke Flavor, Rosemary Extract, Sunflower Lecithin, Sweet Potato, Tapioca Starch, Water
Directions For Use

We recommend you give your dog Immune Support Soft Chews + Functional Mushrooms Soft Chews once a day or as needed. Here are the recommended serving suggestions based on your dog's weight:

Under 20 pounds = 1 chew
Between 20-50 pounds = 2 chews
Over 50 pounds = 3 chews
Are There Any Side Effects In Mushrooms For Dogs?

Mushrooms are generally very well tolerated by dogs and are a great addition to their health and wellness regimen. However, if given too many mushrooms, your dog may start experience some mild, temporary side effects. Some of these side effects may include: 

Upset stomach
Diarrhea
Vomiting

If your dog experiences any of these side effects, reduce the amount of functional mushrooms you give them. 
How Much Mushrooms Are Toxic To Dogs?

Generally speaking, most dogs can safely consume up to 1 gram of functional mushrooms per day. However, this can vary depending on the size of the dog. It's always best to introduce functional mushrooms slowly to your dog's diet to avoid any potential problems. Start with a small amount and gradually increase over time.
Can Mushrooms Help Dogs With Allergies?

Yes, mushrooms may help dogs with allergies. For example, reishi mushrooms contain antihistamine properties that may help to reduce allergy-related itching in dogs. In general, functional mushrooms help support your dog's immune system, which can benefit your furry friend's overall well-being, including helping to reduce the symptoms of some allergies.