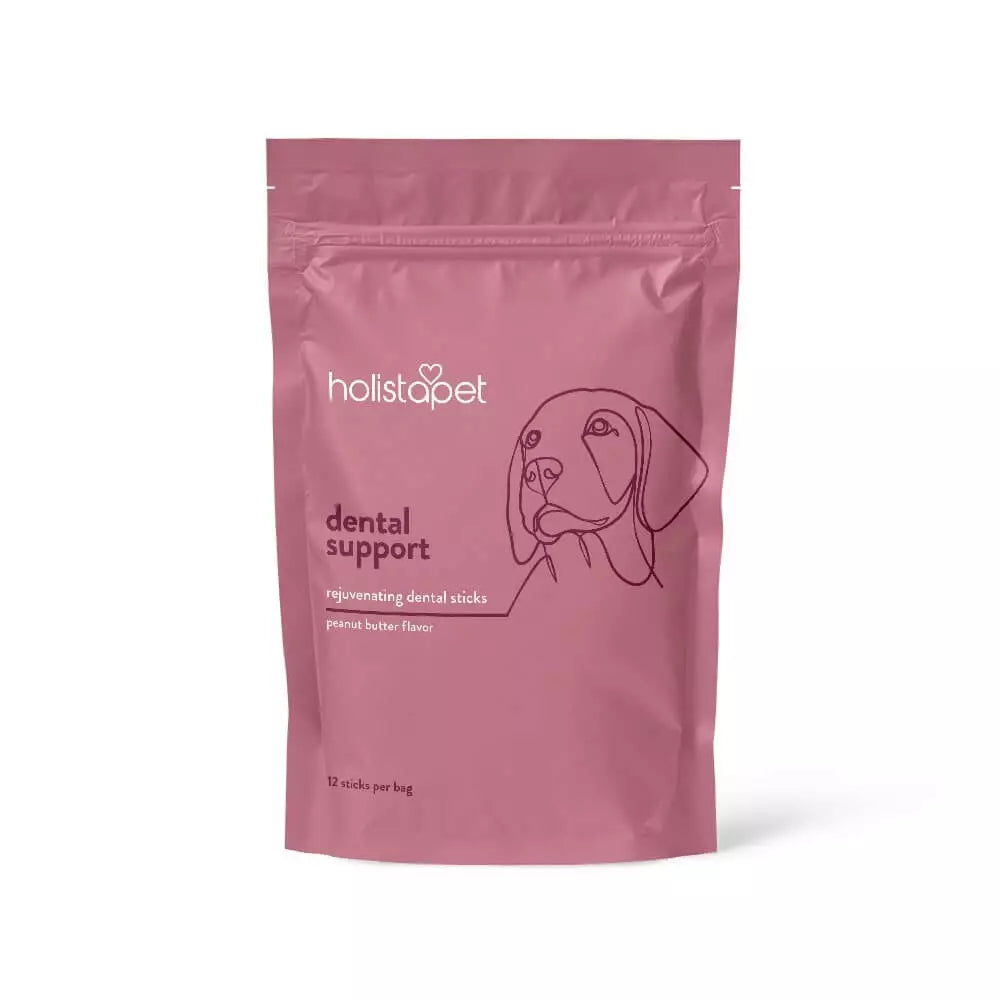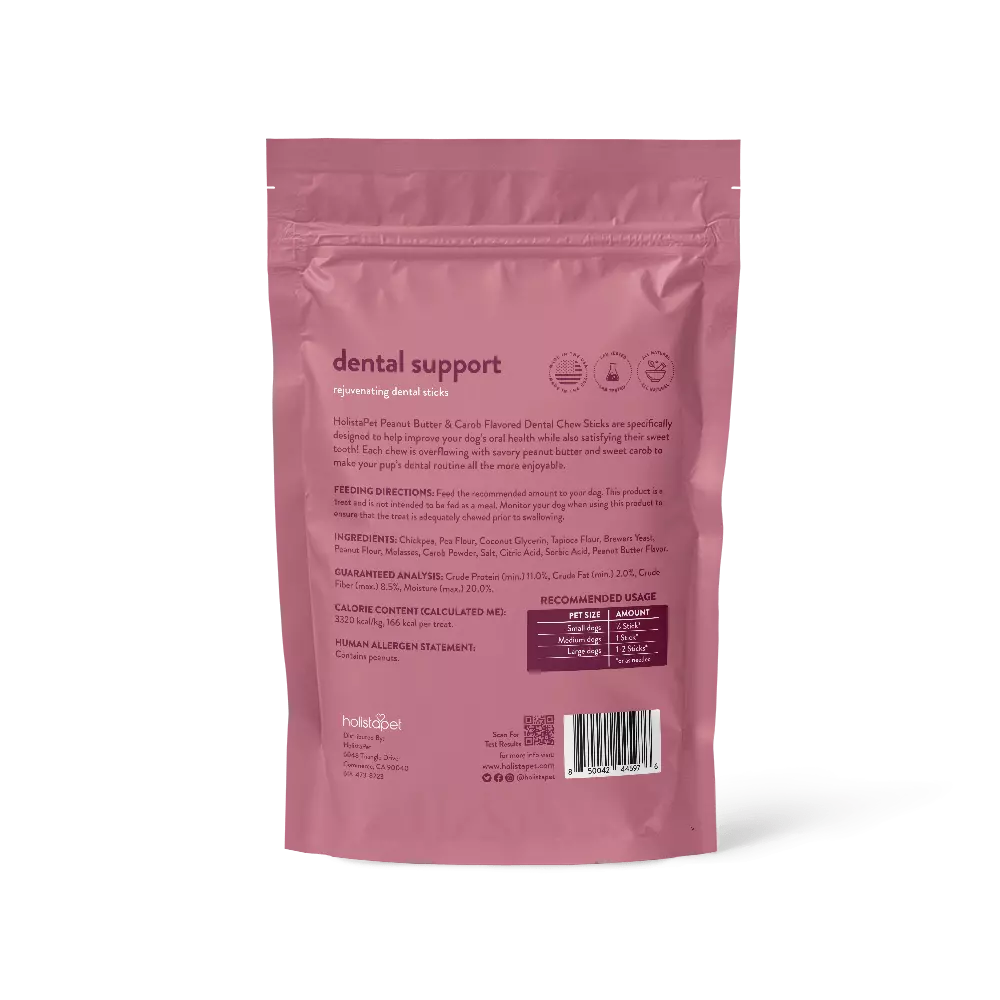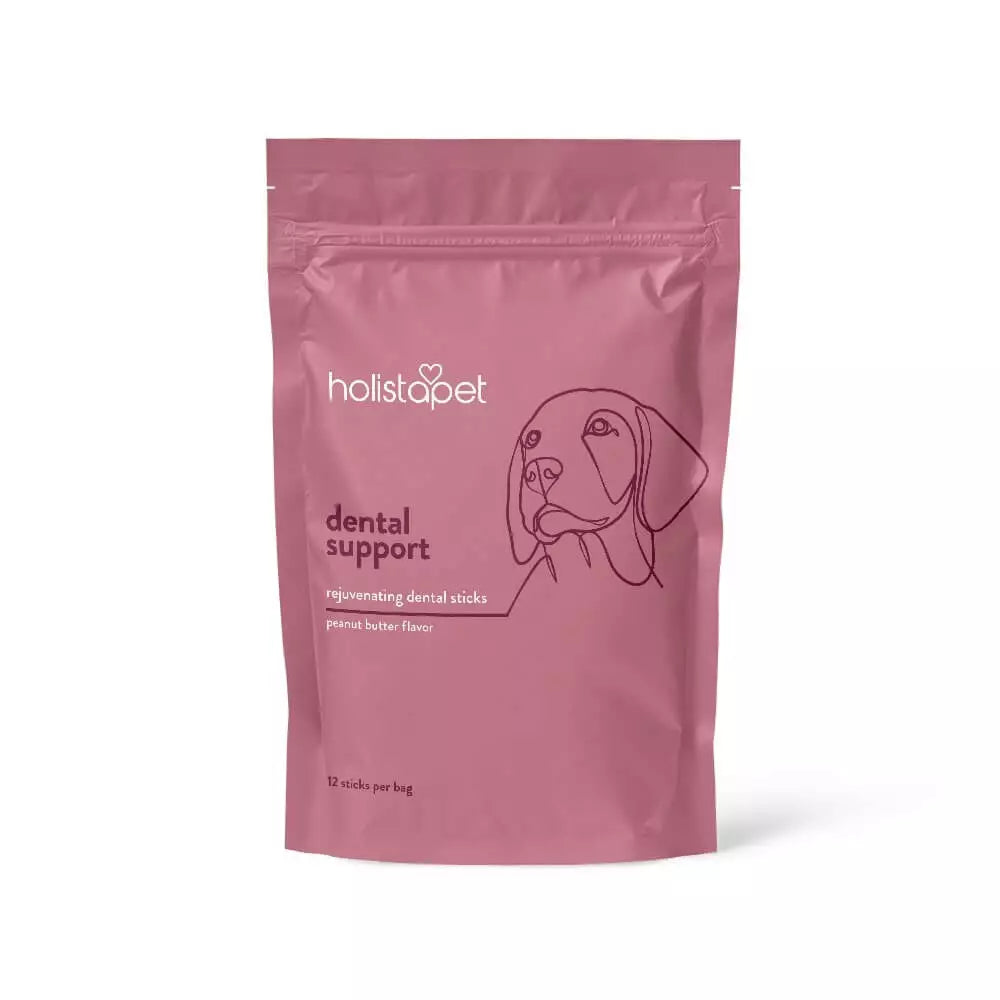 Peanut Butter Dental Sticks For Dogs
We created our Peanut Butter and Carob Flavor Dental Chew Sticks to keep your dog's teeth strong, clean, and fresh-smelling breath. Our long-lasting sticks help remove tartar and plaque buildup for, fresher breath, supporting good oral health for dogs of all sizes.
Benefits

100% all-natural ingredients
Long-lasting sticks to remove tartar and plaque buildup on your dog's teeth
Freshens breath while providing a savory peanut butter treat
Carob addition for a chocolate-like taste without side effects
Suitable for dogs of all sizes
Helps maintain good oral health
12 sticks per bag
Serving Size

Small dog = 1/2 stick*
Medium dog = 1 stick*
Large dog = 2 sticks*

*or as needed
Unlock your full potential with HolistaPet by joining our club today - offering the most substantial discounts and exceptional rewards, all for just $95.
30% off every order
2X rewards points
FREE shipping on all orders
Exclusive special offers
We donate 10% of your membership fee to help save the lives of shelter animals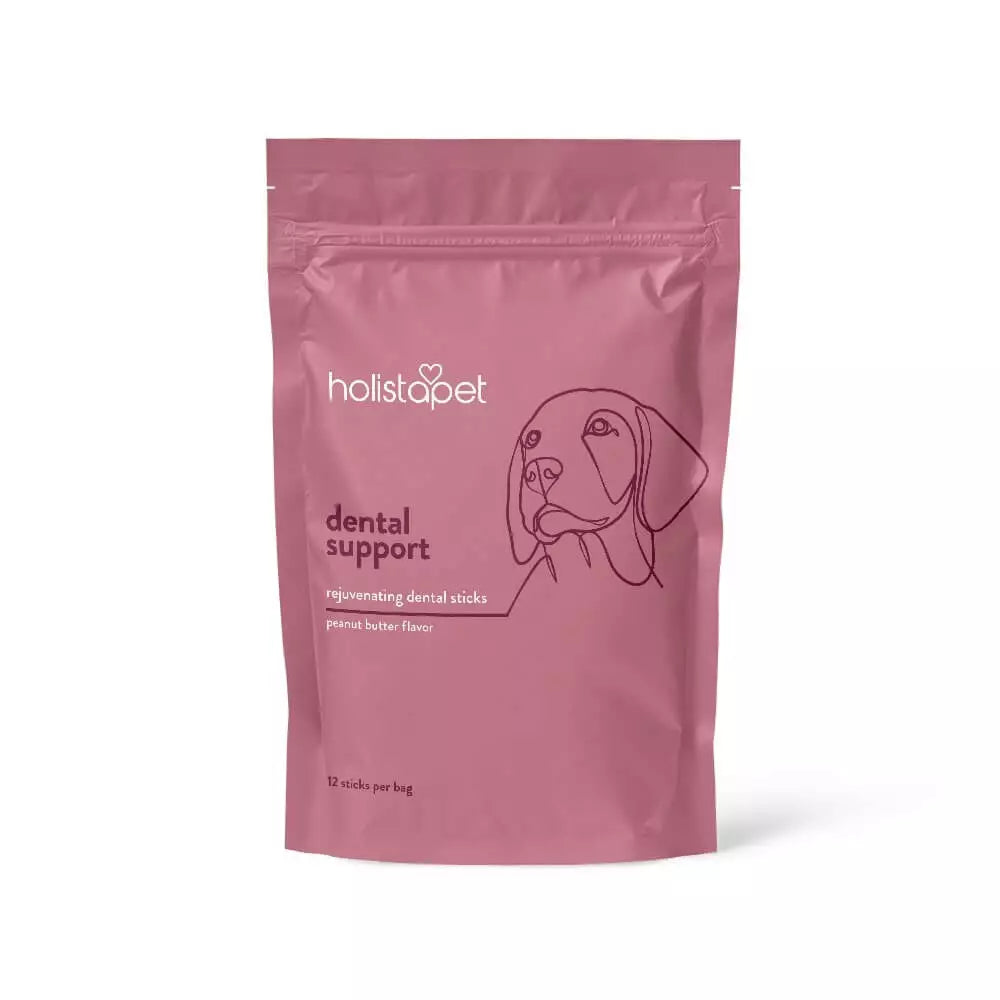 Featured In:

This product has no reviews yet.
$1
Of every product gets donated to help rescue shelter animals!
$53,836
Has been donated since the 2023 launch of HolistaPet Helps!
Peanut Butter Dental Sticks For Dogs Description
Help keep your dog's teeth strong and clean with our Peanut Butter and Carob Flavor Dental Chew Sticks! These long-lasting sticks are the perfect way to remove tartar and plaque buildup on your pup's teeth while keeping their breath smelling fresh.It's no secret that peanut butter for dogs is a savory treat, so your four-legged friend will jump at the chance to chomp on these chews. And with the addition of carob, which tastes just like chocolate but without any of its side effects, your dog will be chewing their way to better oral health! Our chew sticks are great for dogs of all sizes and will help them maintain a lifetime of good teeth.
Ingredients

Ingredients: Chickpea, Pea Flour, Coconut Glycerin, Tapioca Flour, Brewers Yeast, Peanut Flour, Molasses, Carob Powder, Salt, Citric Acid, Sorbic Acid, Peanut Butter Flavor.

*Human Allergen Statement: Contains peanuts. (you don't need to include this if you don't want to or if you need space)

Guaranteed Analysis: Crude Protein (min.) 11.0%, Crude Fat (min.) 2.0%, Crude Fiber (max.) 8.5%, Moisture (max.) 20.0%.
Calorie Content (Calculated ME): 3320 kcal/kg, 166 kcal per stick
Directions For Use

We recommend you give your dog Peanut Butter and Carob Flavor Dental Chew Sticks as needed. This product is a treat and is not intended to be fed as a meal. Monitor your dog when using this product to ensure that the treat is adequately chewed prior to swallowing.

Here are the recommended directions for use based on your dog's weight:

Small dogs (5-20 pounds) = 1/2 stick
Medium dogs (20-50 pounds) = 1 stick
Large dogs (50+ pounds) = 1-2 sticks
Is Peanut Butter Safe For Dogs?

Yes, Peanut Butter Is Safe For Dogs! In Fact, It Can Be A Healthy And Delicious Treat For Your Pup. Just Be Sure To Choose Peanut Butter Without Any Artificial Ingredients Or Additives.
What Peanut Butters Contain Xylitol?

Xylitol Is A Sugar Alcohol Often Used As A Sugar Substitute In Some Food And Medicines. Avoid Any Peanut Butter Brands That Contain Xylitol Because It Can Cause A Sudden Drop In Blood Sugar Levels In Your Dog, Leading To Weakness, Loss Of Coordination, And Other Health Issues.

HolistaPet Peanut Butter & Carob Dental Chews Don't Contain Any Xylitol And Is Made With Only Natural Ingredients, Making It Safe For Your Dog To Chew!
How Much Peanut Butter Can I Give My Dog?

It's Recommended To Give Your Dog About 1 Tbsp (One Tablespoon) Of Peanut Butter A Day. However, That Amount Can Differ Based On Your Dog's Size And Dietary Needs.

Start With A Smaller Amount, Like 1 Tsp (One Teaspoon) Of Peanut Butter, And See How Your Pup Does Before Increasing The Portion Size. Also, It's Very Important To Remember That Peanut Butter Is High In Fat. Too Much Fat Can Lead To Weight Gain And Other Health Problems For Your Dog, So It's Important To Feed It In Moderation.