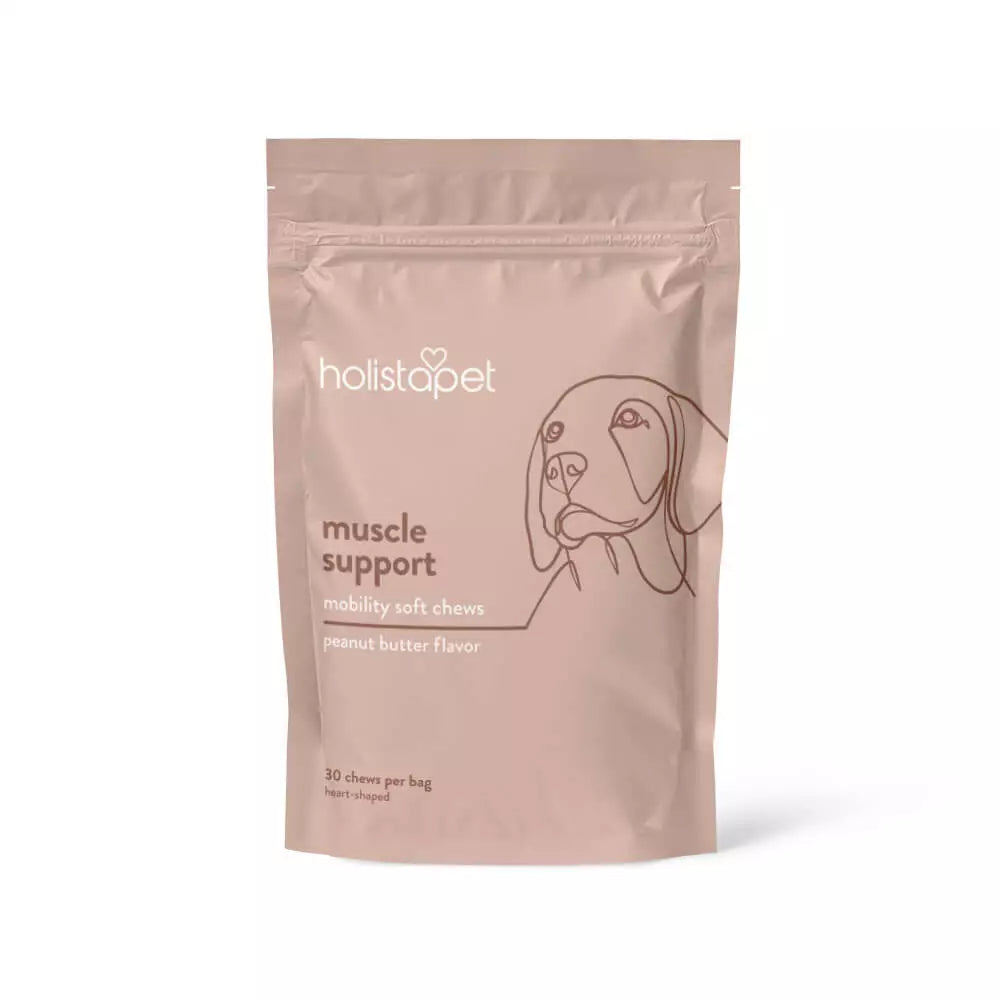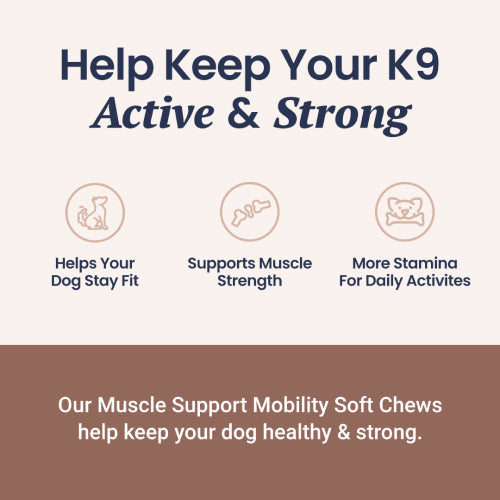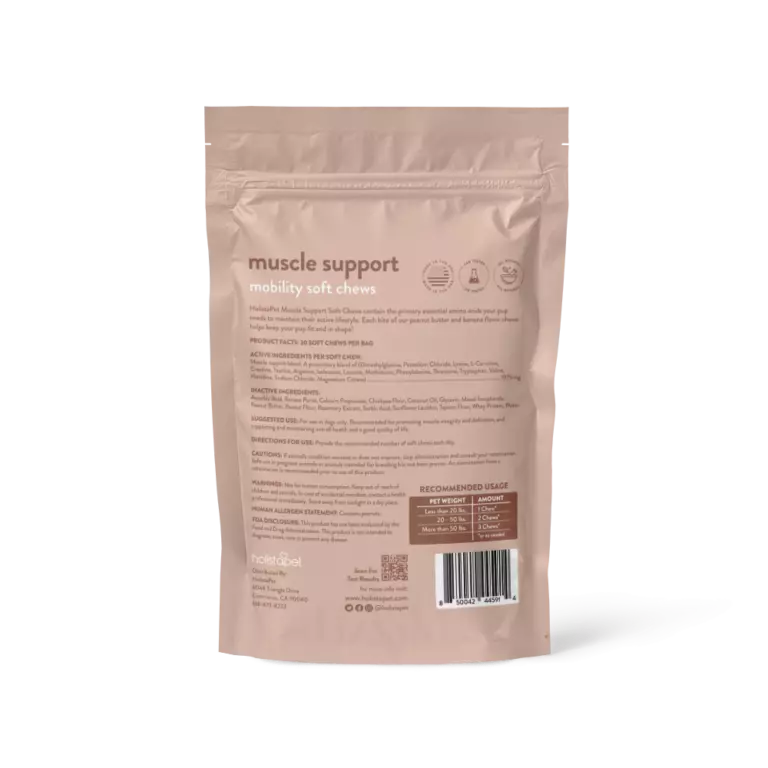 Muscle Support Soft Chews for Dogs
We make our holistic Muscle Support Soft Chews for Dogs with a natural blend of amino acids and muscle-building ingredients to support your dog's active lifestyle. Plus, your pup will love the peanut butter and banana flavor these soft-baked heart-shaped chews are loaded. 
Benefits

100% all-natural ingredients
Peanut butter and banana flavor
Supports your dog's active lifestyle
Natural blend of amino acids and muscle-building ingredients
Keeps your pup strong and fit
Provides a tasty way to support your dog's well-being
30 chews per bag
Serving Size

Less than 20 lbs = 1 chew*
20-50 lbs = 2 chews*
More than 50 lbs = 3 chews*

*or as needed
Unlock your full potential with HolistaPet by joining our club today - offering the most substantial discounts and exceptional rewards, all for just $95.
30% off every order
2X rewards points
FREE shipping on all orders
Exclusive special offers
We donate 10% of your membership fee to help save the lives of shelter animals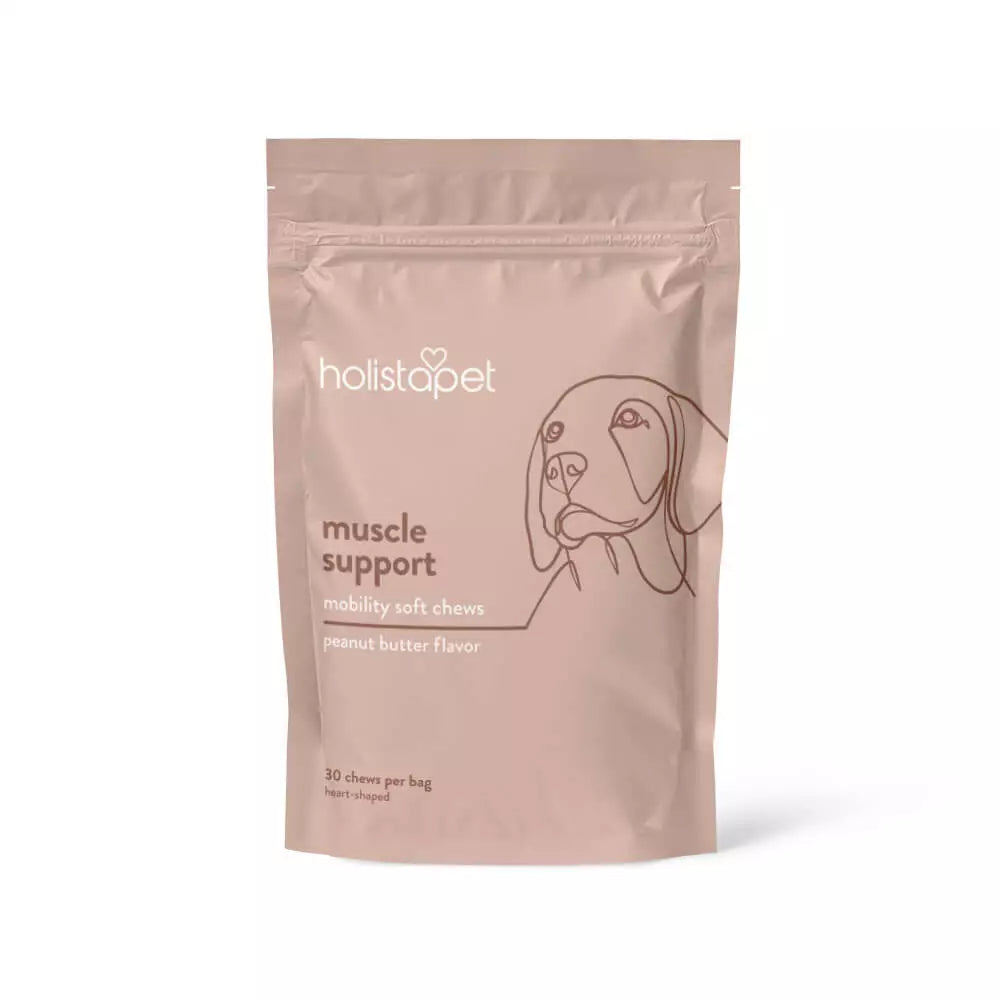 Featured In:

This product is rated 5.0 of 5.0 stars.
It has received 1 review.
Great experience. Great deal when Holistapet has their specials. Stocked up on the calming treats...
Great experience. Great deal when Holistapet has their specials. Stocked up on the calming treats(biscuits) for my dogs. I find they work better for my dogs than the calming soft chews.
Vet recommended this company as one that actually does research with their products.
Great purchasing and delivery experience as well.
$1
from every product purchased gets donated to help rescue shelter animals!
$53,836
Has been donated since the 2023 launch of HolistaPet Helps!
Muscle Support Soft Chews
So before you take your furry friend on a brisk morning walk or head to the dog park for a lively game of catch, give them these daily treats to help support proper muscle formation, endurance, and function. Just one chew a day will help keep your pup's mobility issues at bay!
Ingredients

HolistaPet Muscle Soft Chews contain the following naturally-derived ingredients.

Active Ingredients:

Dimethylglycine (DMG) – 150 mg
Potassium Chloride – 125 mg
Lysine – 100 mg
L-Carnitine – 100 mg
Creatine – 75 mg
Taurine – 75 mg
Arginine – 50 mg
Isoleucine – 50 mg
Leucine – 50 mg
Methionine – 50 mg
Phenylalanine – 50 mg
Threonine – 50 mg
Tryptophan – 50 mg
Valine – 50 mg
Histidine – 12.5 mg
Sodium chloride – 25 mg
Magnesium citrate – 12.5 mg

Inactive Ingredients: Ascorbic Acid, Banana Puree, Calcium Propionate, Chickpea Flour, Coconut Oil, Glycerin, Mixed Tocopherols, Peanut Butter, Peanut Flour, Rosemary Extract, Sorbic Acid, Sunflower Lecithin, Tapioca Flour, Whey Protein, Water.
Directions For Use

We recommend you give your dog our mobility support Muscle Soft Chews once a day or as needed. Here are the recommended serving suggestions based on your dog's weight: 

Under 20 pounds = 1 chew
Between 20-50 pounds = 2 chews
Over 50 pounds = 3 chews
Do Joint Supplements For Dogs Really Work?

Yes, joint supplements for dogs work! However, there is no one-size-fits-all answer to this question because every dog is different and will respond differently to various joint and mobility supplements.
What Joint Supplements Can I Safely Give My Dog?

One of the most important things to consider is the ingredients in your dog's joint supplements. Choose supplements that contain natural, plant-based, cruelty-free ingredients, with no artificial ingredients or harsh chemicals in them either!
Are Joint Supplements Recommended By Vets?

Yes, joint supplements are highly recommended by veterinarians. However, it's always a good idea to consult your dog's veterinarian before you start giving your pup any type of supplement. Vets can help you determine if a particular supplement is right for your dog based on their individual needs, health history, and other conditions unique to your four-legged friend. 
What Age Can I Give My Dog Joint Supplements?

If you own a breed predisposed to developing joint and/or mobility problems, you might want to consider starting them on these supplements as early as 8 weeks of age. Our joint and mobility supplements are typically given as early as one year for all other dogs.